Pokemon GO's Best Pokemon in Jim Defense Combination of Practice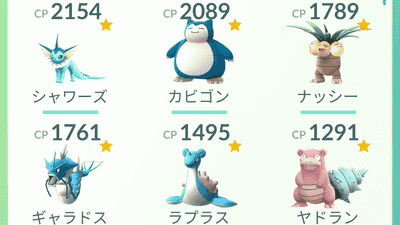 In "Pokemon GO", in addition to catching Pokemon by walking around the real world, place Pokemon that he brought up in "Jim" built in various places, and play Pokemon with other Pokemon trainers You can do. If you succeed in defending your gym in this gym and defending your gym for 21 hours, you can get pocket coin × 10 and Hoshino sena × 500 that you can use in the game.

You can place more than 10 Pokemon in the gym, but the maximum bonus you can get in defense is Poké Coin × 100 and Hoshino Sen × 5000, it looks like 10 Pokemon.

Today I could defend 10 gyms ~# Pokemon GOPic.twitter.com/EnxfEMTtk 2

- I want to lose weight with Pokemon GO (@ takutakuch)August 11, 2016

However, because there are many strong Pokemon that is over 2,000 CP and there are 151 kinds of Pokemon of primary origin, there are many people who say "what kind of Pokemon should be raised and placed in the gym? . Under such circumstances, "DPS" which shows the attack performance per second of Pokemon's work, and "HP" and "Bokyo" which tended to be neglected until now are included and "Pokemon that is best for Jim defense × combination of the top 50 "was determined.

Best Pokemon with Best Moves (hp and defense also taken into account): pokemongodev
https://www.reddit.com/r/pokemongodev/comments/4wsfl7/best_pokemon_with_best_moves_hp_and_defense_also/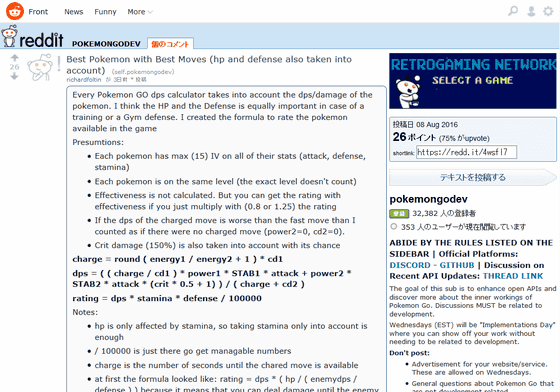 "DPS" is an abbreviation for damage per second, which is a numerical value indicating the amount of damage per second. It is this number that you frequently see in Pokemon GO's strategy site, but when you actually do a Pokemon battle, not only DPS but also Pokemon's "How many HPs are there?" And "How much is the number of the boat?" "Becomes important as well. there,RedditUser'sRichardfoltinThinks of each PokemonIndividual valueAnd the level (CP) is Max, considering all the statuses of each Pokemon such as DPS, HP, and Boko, "Combination of Pokemon and Mozza ideal for Jim Defense" is calculated .

Ranked rankings are as follows. The last number digitizes (ratings) the evaluation of each combination.

01th place: Kai Lew(Duke no Ibuki, Dragon Claw): 2353
02th place: Cabigon(Lick licking, Hakamaiken): 2331
03th place:Chileus (Ruu no Ibuki, Ryu no Hadou): 2234
04th place:Chileus (Ruu no Ibuki, huge cow): 2233
05th place:Cabigon (licking with lots, approaching): 2091
06th: Shower(Mizuto's way, Hydro pump): 2039
07th place:Cabigon (lick with shit, jijin): 1933
0th place:Shower (Mizuto's, Aqua Tail): 1874
09th place:Cabigon (Shinkun no Shoten, Hakusho Soken): 1837
10th place: Windy(Bite, Daigoji): 1752
11th place:Cabigon (Shinnon noodles, mountains): 1718
12th place: Laplace(Ibuki of wind, Fubuki): 1677
13th place:Cabigon (shinane noodles, jijin): 1676
14th place: Kamekusu(Mizuhira, Hydro Pump): 1661
15th place:Windy (Honoko no Kiba, Dai moji): 1627
16th place: Gallados(Ruby Ibuki, Hydro Pump): 1627
17th place:Gallados (biting, hydro pump): 1627
18th place:Windy (biting, turning): 1600
19th place:Chileus (Wings of Hagane, Duro no Arata): 1564
20th place:Windy (Honoko no Kiba, Currance): 1560
21st place: Fushigibana(Vine of whale, solar beam): 1559
22nd place:Laplace (Ibuki of taste, Duro no Hadou): 1558
23rd place:Laplace (Ibuki of the taste, Reed beam): 1551
24th place:Chileus (Wings of Hagane, Heteroskeiken): 1536
25th place:Kai Liu (Wings of Hagane, Dragon Kra): 1527
26th place:Shower (Mizuhara, how about the Mizuno): 1517
27th place:Kamex (biting, hydro pump): 1497
28th place:Laplace (fist of the wind, futsuki): 1490
29th: Yadran(Mizuhira, Psychokinesis): 1487
30th place: Betteton(Dokuki, dust shoot): 1464
31st place:Bet vetton (skull, sludge wave): 1464
32nd place:Fushigibana (Vine noodles, Hanabuki): 1462
33rd place: Puclin(Hatake, hiagai koshien): 1445
34th place:Yadoran (Mizutoreu, Reeto Beam) 1438:
35th place:Laplace (fresh smoked cucumber, duplicate flour): 1429
36th place: Nidoquin(Bite, Stone Edge): 1426
37th place:Laplace (collision of the wind, Reed beam): 1424
38th place: Gorduck(Mizuete, Hydro Pump): 1408
39th place: Nyo Robbon(Mud shot, hydro pump): 1406
40th place:Windy (Hono no Kiba, Honori): 1386
41st:Nidoquin (Skull, Stone Edge): 1372
42nd place:Kamekkusu (Mizuetei, Reeto Beam): 1364
Rank 43:Nyo Robon (Awa, Hydro Pump): 1358
44th place:Gallados (Ruu no Ibuki, Ryu no Hadou): 1350
45th place:Gallados (biting, drunkard): 1350
46th: Gologna(Mud shot, Stone Edge): 1349
Position 47(Hatake, Moon Force): 1339
48th: Rizzadon(Depressed with Tsubasa, Daitoji): 1311
49th place:Nidoquin (biting, sludge wave): 1311
50th place: Nassie(Suzunodate, solar beam): 1311

However, the above ranking seems not to consider the type compatibility of Pokemon. When you want to reflect type compatibility in the rating, it is OK if each number is multiplied by 0.8 (when type compatibility is bad) or 1.25 (when type compatibility is good). Looking at the rankings, I understand that "It is suitable for gym defense if the CP is high", or I notice that Pokemon that I often see in the gym is not ranked in. In the ranking, Kaiulieu Cabigon monopolizes the upper rank, but since the Pokemon which is not seen so much in the gym has come out from about 30 th, some challenge to defense Jim with a different composition from other Pokemon Trainer It seems to be helpful as well.

Each rating is determined using the spreadsheet below.

Best Pokémon with Best Moves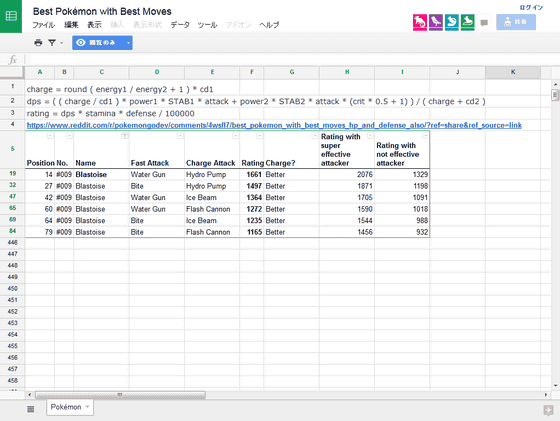 in Game, Posted by logu_ii