Siri himself leaked inadvertently the possibility that Siri will be installed in the Mac OS


Apple's Developer Conference, which opens on June 13, 2016 (Japan time on June 14, 2 am) "WWDC 2016Before, a familiar personal assistant on the iPhoneRumor that "Siri" will be installed in OS X (Mac OS)But it is a chicken. WWDC is expected to announce "Siri for Mac"Siri himself has shown a response suggesting its existence, one user points out.

Siri spilled the beans, Siri is coming to MacOS X! - Medium
https://medium.com/@brianroemmele/siri-spilled-the-beans-siri-is-coming-to-macos-x-d11424fafaa1#.575580lg3

When Brian Romeru talks to Siri of the iPhone and talks to "Siri open setting in the window (Siri, open the window setting)" Siri is "It does not look like you have an app named 'Finder' ( There seems to be no application named Finder) ".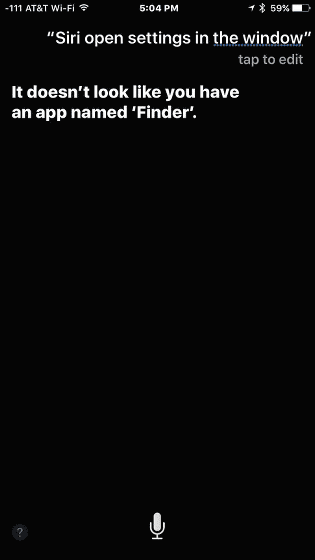 Actually seeing the phrase "Finder" from Siri can be seen in the following Twitter embedded movie.

Here is the video of Siri looking for Finder. Proof that someday real soon she will be on# MacOS# WWDC 2016# Siri 2Pic.twitter.com/RLJszpW5c7

- Brian Roemmele (@ Brian Roemmele)June 11, 2016

Speaking of Finder is a representative file manager software of OS X, it has nothing to do with iOS. Because Mr. Lommer's question is that the phrase "Finder" is not used, Siri himself uses the word "Finder", so Mr. Romer is improved to accommodate the new terminal by Siri I guess that I mentioned about Finder among them, and I point out that it suggests that WWDC will be installed in Mac OS.

This is not the first time Siri inadvertently gives unpublished information, but it is not the first time that "Siri for Mac" is announced It was an unprecedented fact that the date of rich WWDC 2016 was inadvertently "leaked out" before official release there is.

Siri breaks the timing of Apple's developer event "WWDC 2016" - GIGAZINE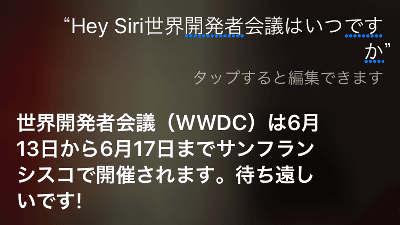 · Continued
8 new functions such as Siri correspondence and automatic unlock are added to Mac OS X to the new name "macOS" - GIGAZINE