I have eaten "Watermelon" and "Lemon Grazed & Old Fashion Banana" of Crispy Cream · Donuts, which is felt as if the watermelon became a donut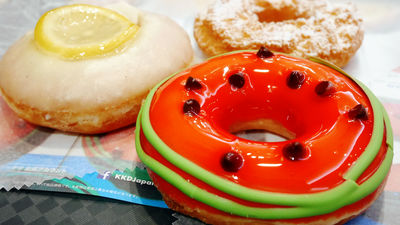 Krispy · cream · donuts, two fresh fruit donuts in the early summer "Watermelon & lemon glazed"And a donut like a banana cake"Old fashion bananaWe are selling it from June 8, 2016. "Watermelon" covered with jelly with a reddish color like watermelon, "lemon glazed" with the lemon round as it was, and even the old fashion "bold fashioned Old Fashion banana", none of the rare flavors It was a donut, so I actually ate at Krispy · Cream · Donut.

Krispy Kreme Donuts | Campaign
http://krispykreme.jp/campaign/ringringsummer/

Krispy Kreme Donuts | WHAT'S NEW
http://krispykreme.jp/news/index.html#wn160601

So, I came to Krispy · Cream · Donut to eat 3 new donuts.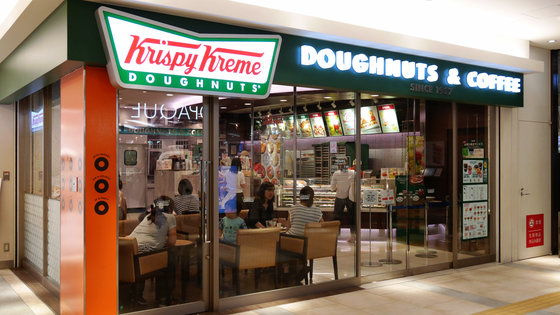 When you arrive at the store, order immediately. The red donut in front is "Watermelon (230 yen tax included)", the lemon is sliced ​​in "Lemon glazed (230 yen tax)", the powder in the back is covered with dumplings sugar "Old fashion banana (210 including tax It is yen.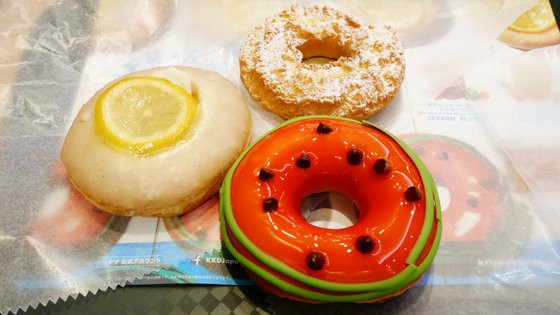 A donut covered with a bright red jelly is "watermelon." Watermelon seeds with chocolate chips, green chocolate to represent watermelon leather.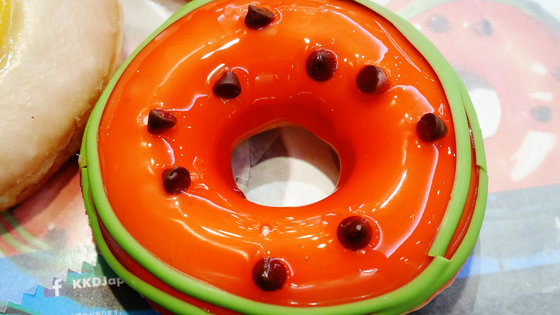 Compared with iPhone 6, this is about this size.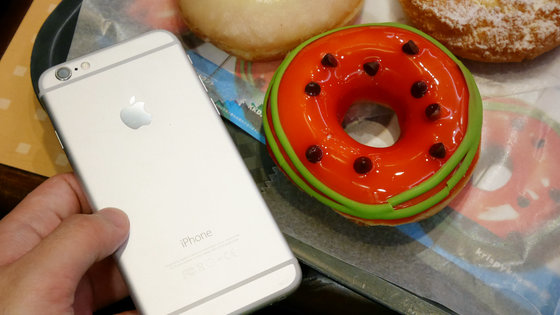 There is no jelly of watermelon on the reverse side, you can see the same fluffy donut fabric as original glazed.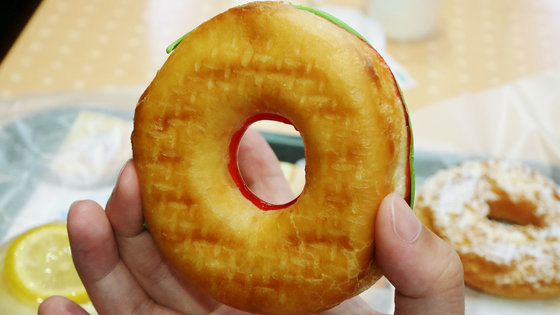 When eating, the refreshing scent of watermelon style and the flavor of topped chocolate are just like "donut version watermelon bar". I was excited about the combination of watermelon and donuts, but it is better than the imagination of the watermelon flavor and the donut fabric. However, because it looks like the flavor of the watermelon too, I could not feel the impact as much as it looked from the taste of the donut.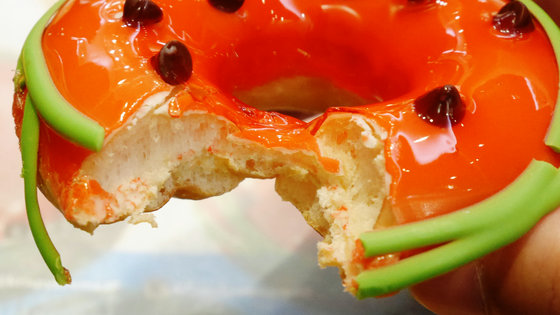 Next time I will eat 'Lemon Grated'.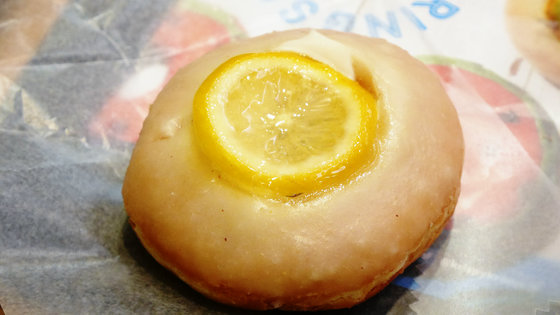 There is a slice of lemon on top of the donut, plenty of syrup is put together.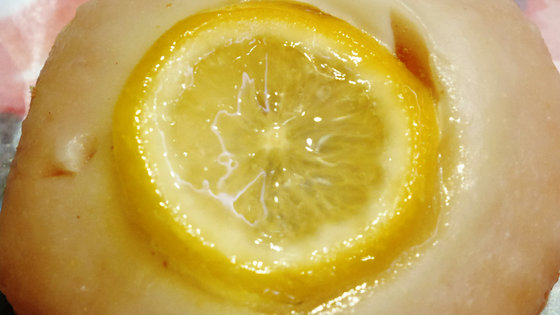 The back side looks like this. Also use the same donut fabric as the original glazed.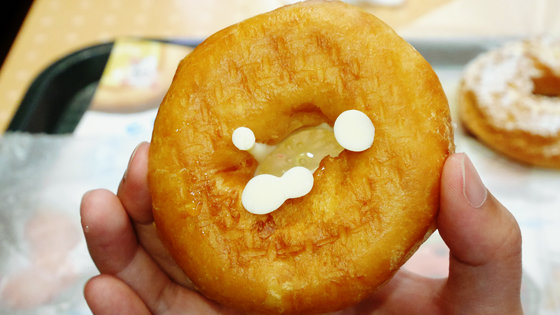 When eating it actually, I feel fruity sweetness and sourness of lemon very strongly. There is plenty of syrup on the sliced ​​lemon which is on top, I think that this is the true sweetness and sourness, if you eat alone, there is not such a strong flavor. So, when I tried donuts without having a slice of lemon, I found that the intense sweet and sourness comes from the glazed part with lemon juice covering the donut. This glazed part is a fresh taste beyond imagination, it is quite good work which feels a bitterness of a little lemon. The donut fabric is soft donut fabric that is used for original glazed as well as watermelon, compatibility with lemon-flavored glazed is outstanding. Combination of lemon and donut is refreshing and exquisite, so if you like sour fruit, I definitely want you to eat once. Also, be careful not to bite teeth with a slice of lemon, be careful.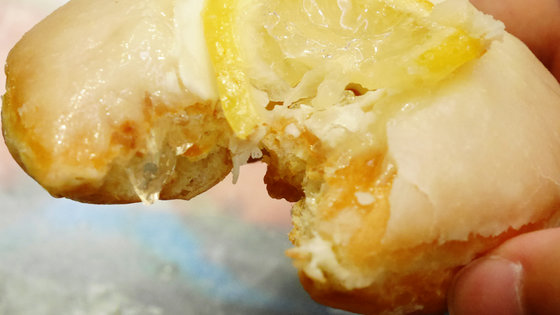 And finally we eat "Old Fashion Banana".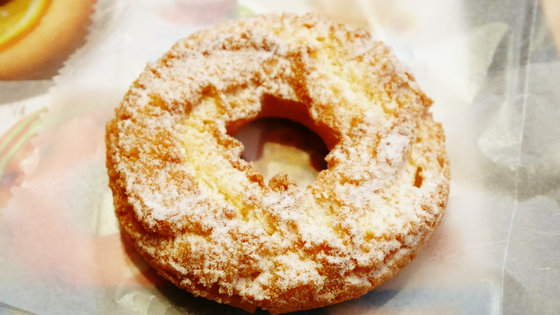 The surface of the donut is slightly yellow and it creates a banana-like atmosphere.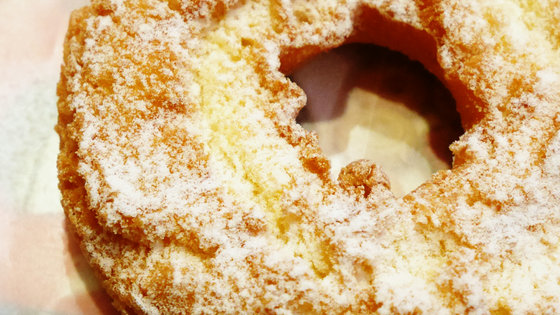 The back side was such a feeling, having a size feeling about one size smaller than the Old fashion of Mr. Donuts in hand.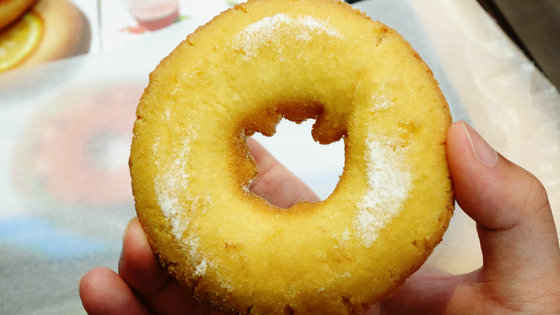 Actually eating, it is not crispy texture, soft and soft. The gentle sweetness of the banana and the compatibility of the donut are good, it is as if you are eating a banana cake. The sweetness is modest and easy to eat, but in the editorial department of GIGAZINE, the opinion that "I do not know what kind of fruit I can not say is a banana" has heard thrillahara.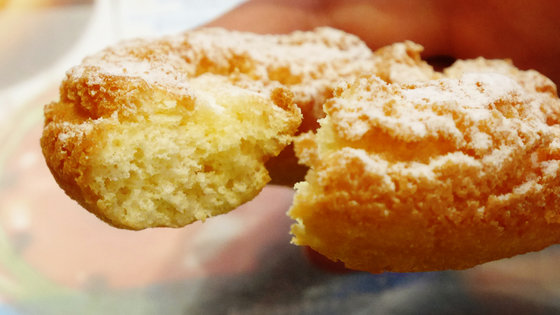 There is also a 12-piece set of "Ringling Summer Dazzen (tax included 2000 yen)" that includes the newly released "Watermelon", "Lemon Greed" and "Old Fashion Banana".