I tried all 5 kinds of Mister Donut's 'Sweet potato' such as sweet 'Sweet potato do university potato' where honey drips down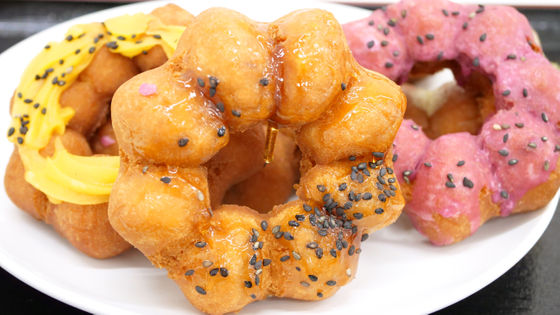 The donut 'Sweet potato do ', which is based on the image of sweet potatoes from Mr. Donut, a donut specialty store, appeared on August 27, 2021. And soaked the syrup
honey potatoes
well and finished as a 'honey potato', that of the variation of the five in total, such as 'honey potato butter flavor,' 'purple potato', 'University of potato,' 'sweet potato' can enjoy So, I actually tasted everything.
Sweet potato do | New product | Mister Donut
https://www.misterdonut.jp/m_menu/new/210827_satsumaimodo/
Arrived at Mister Donut.


At the store, there was a poster introducing sweet potatoes that emphasized 'honey potatoes'.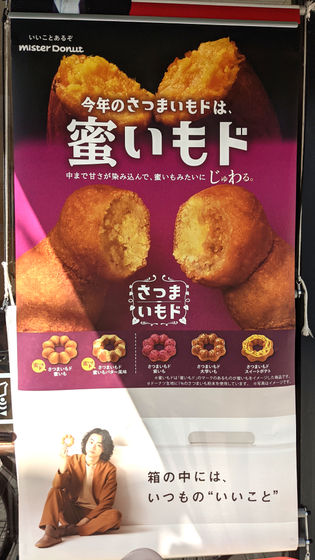 I bought it at takeout this time. From the top left of the image are 'honey potato' and 'honey potato butter flavor', and from the bottom left are 'purple potato', 'daigakuimo' and 'sweet potato'.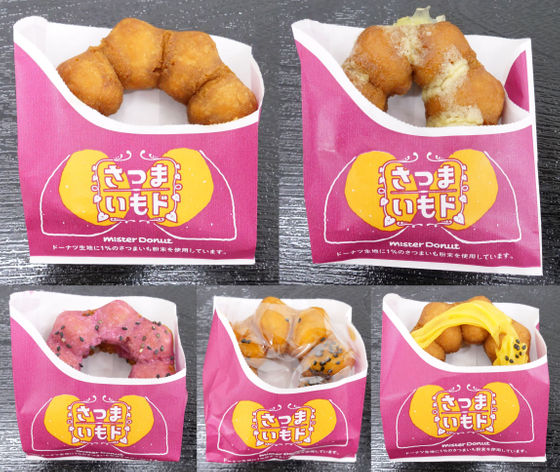 First of all, tasting from 'honey potato'. It looks like this, like a soft
pon de ring
with a slightly sticky texture.


He said, 'I made it look like honey by soaking it in syrup.' I was wondering how much syrup was soaked in and looked at the cross section. I was able to confirm that the honey was soaked in.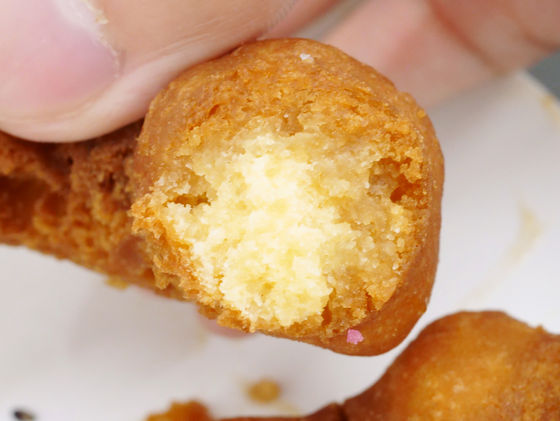 When I ate a bite, it didn't go as far as 'sweet potato itself', but the sweet flavor close to that of sweet potato spread softly in my mouth. The texture is very soft, and the part soaked with honey crumbles on the tongue. It was a simple sweet potato-style sweet that wasn't as sweet as it was.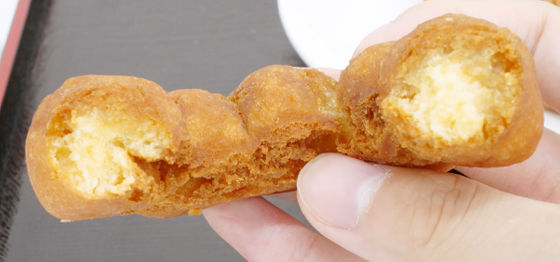 Next, sample the 'honey potato butter flavor'. The base is 'honey potato', but the scent of butter is fluffy and the taste is different from 'honey potato'. Butter is a little hardened and produces a crunchy texture, and it is a dish that enhances guilt with sweetness and moderate saltiness.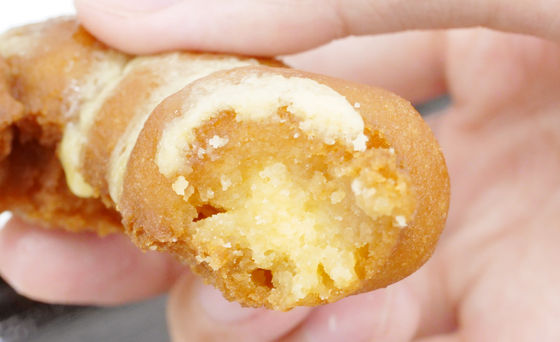 Next, I will try 'purple potatoes'. The surface is coated with purple potato-flavored glaze. Sesame seeds are also sprinkled.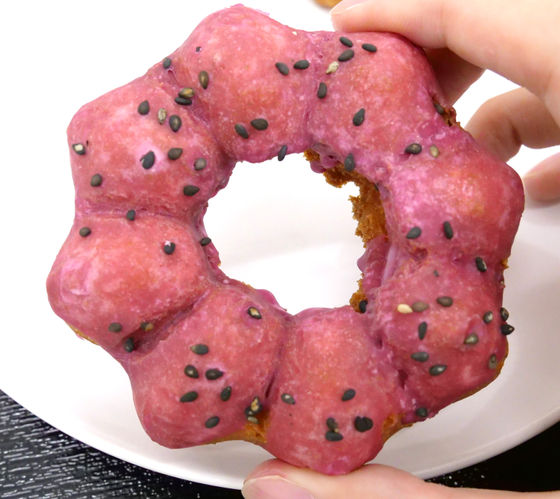 When you eat a bite, it tastes more like sweet potato than 'honey potato', probably because of the sweet grace. Unlike 'honey potato' and 'honey potato butter flavor', there was no syrup, and the taste was a little less sweet.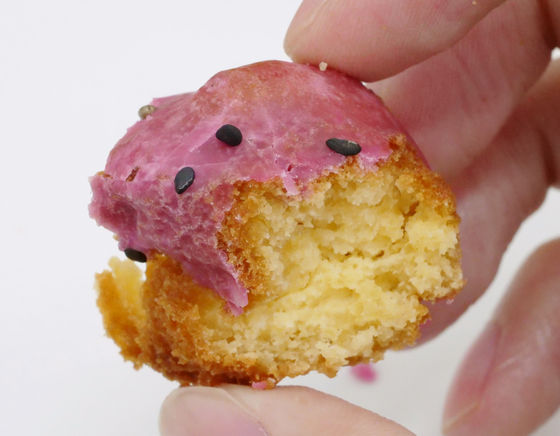 'Daigakuimo' is a dish that looks sweet to see, with thick honey and sesame sprinkled on the surface. When you actually eat it, the sweetness of honey spreads in your mouth as it looks, and the overall finish is sweeter than any variation. The flavor is adjusted with sesame seeds, so the taste is not all about sweetness. However, the flavor of sweet potatoes was light, and the editorial staff who tasted them said, 'Purple ones are more like Daigakuimo.'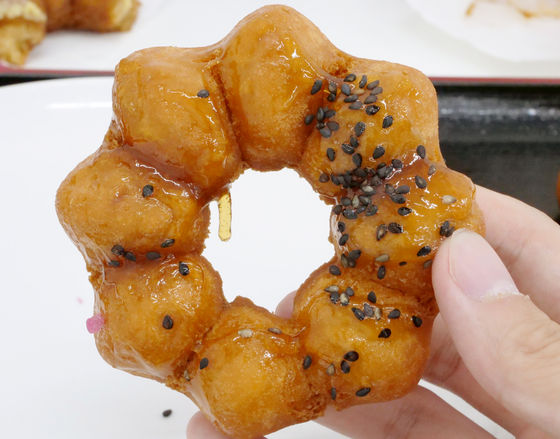 Finally, I will eat 'sweet potato'. On the surface is sweet potato cream.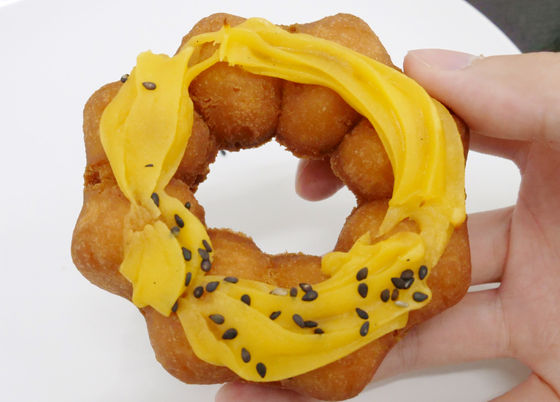 When you put it in your mouth, it has a sweet potato scent that makes you feel like you're in the nose. The cream itself is a little sticky and has a strong sugar flavor. It had a sesame flavor and was finished with a refreshing sweetness.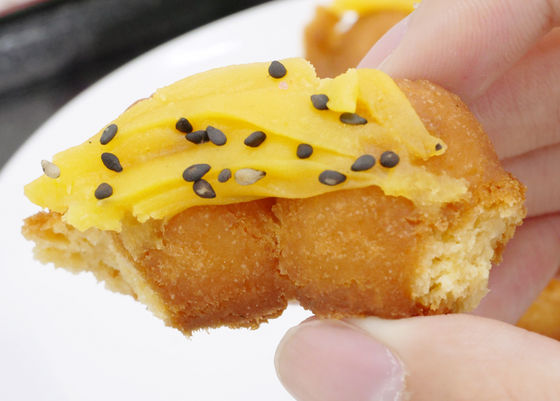 The price of 'Sweet potato do' is 130 yen excluding tax for 'honey potato', 'purple potato' and 'daigakuimo', and 140 yen excluding tax for 'sweet potato butter flavor' and 'sweet potato'. It is on sale at Mr. Donuts.