I tried a couple of "Cotton Snow Candy" quickly with fluffy ice with flesh melting in a moment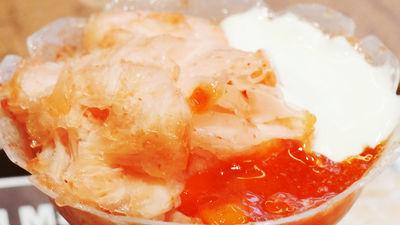 Mr. Donut also offers dumplings and ice cream besides donuts and pie, but since 1st June (Wednesday) a cold dessert "Perfect for a hot season"Cotton Snow Candy"Will appear. Since the tasting ceremony was held ahead of the nationwide launch, I have eaten five new cotton snowy candies.

Cotton Snow Candy celebrates its 3rd year in 2016, and 5 types including Cotton Snow Candy, which used fresh fruit juice and flesh mixed ice cubes, are added. "Half-price trial meeting" which can eat cotton snowy candy which appeared new before nationwide release was held in Tokyo and Osaka.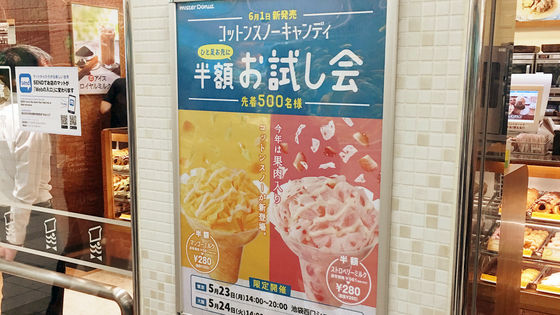 First, slice thinly slices of strawberry pulp and fruit juice and topped with strawberry sauce and yoghurt sauceStrawberry YogurtFrom (669 yen including tax) from.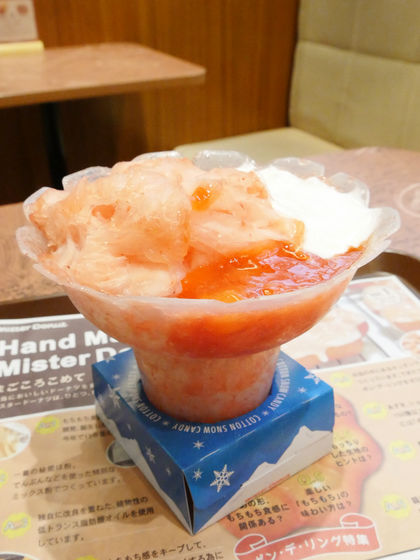 The container of the cotton snowy candy is shaped like an open flower like the top, and it is about this size when you take it in your hand.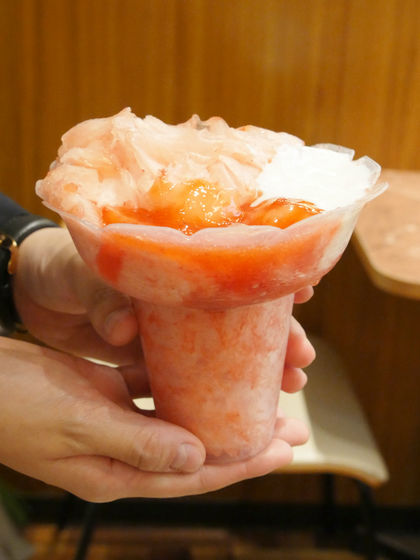 Ice and sauce with fruit juice and pulp are very colorful. It seems that it takes time and effort to shave ice thinly because melting method and thinness when scraped change depending on ice temperature.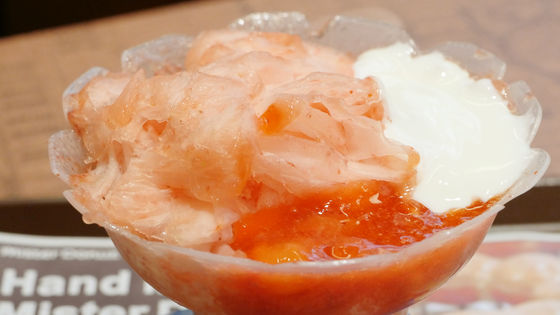 When you scoop with a spoon, you can see that the thinly scraped ice overlaps several layers. First of all, when trying to eat only the ice part, it is not a rough texture like a shaved ice made at home, but even if you scoop it in a spoon with a heap, the fluffy ice will melt with a moment at the moment you put it in your mouth . Together with the sourness of strawberries, it is a very refreshing taste.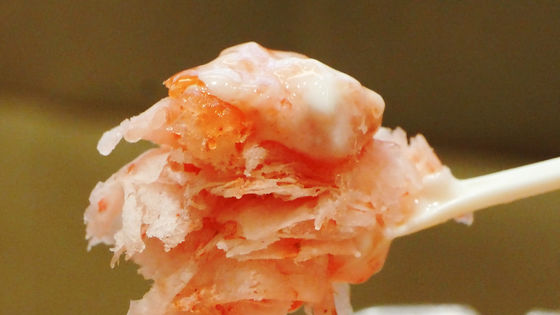 When you eat strawberry sauce and yoghurt sauce mixed with ice, the sweetness of the pulp in the sauce and the refreshing acidity of the yoghurt are added to change the taste. You can enjoy various balance of sweetness and sourness by eating alone with ice, eating with sauce, mixing all.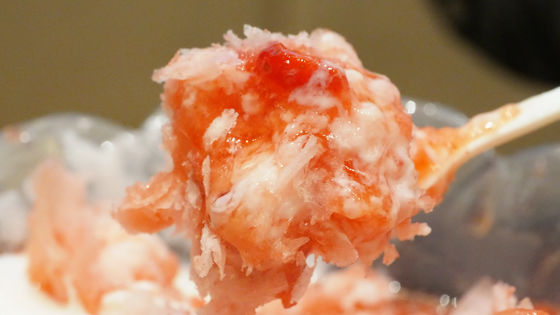 If it is a general shaved ice, syrup may be applied only to the surface and the inside may be pure white, but since the cotton snowy candy is scraping ice with flesh and fruit juice, the taste is staining firmly on the inside It is Good.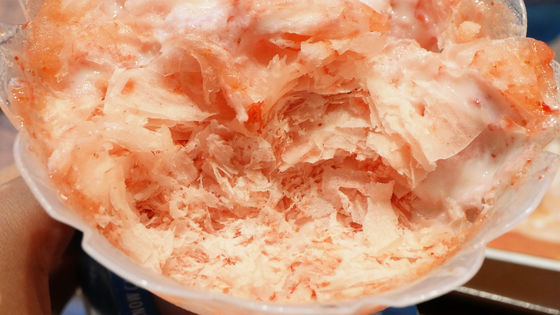 Even if the ice melts, the taste does not become thin, so you can taste the sweet and sour taste of strawberries till the last bite.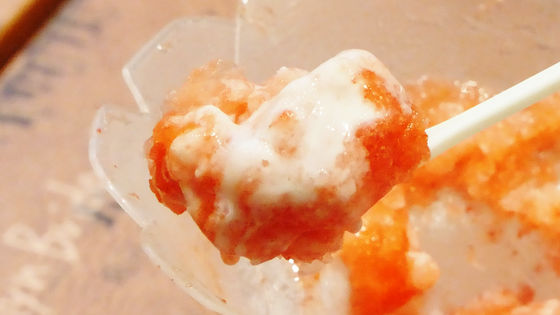 "Mango yogurt"(669 yen including tax) topped with mango sauce and yoghurt sauce to sliced ​​mango meat and fruit juice ice.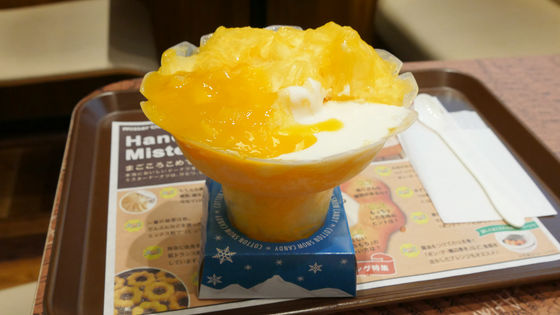 Mango sauce contains mango flesh.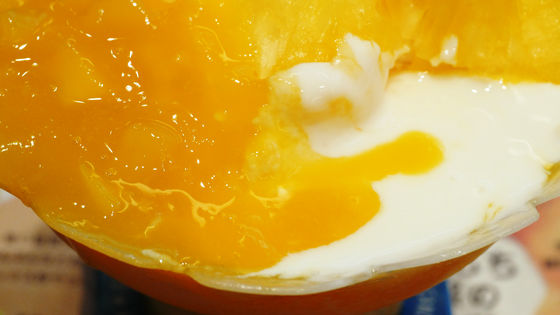 Scooping only the ice part with a spoon, it seems like a bonito at the first glance of ice scraped thinly. When you eat, you melt in a moment like a strawberry cotton snowy candy, you can enjoy a fruity sweetness of mango.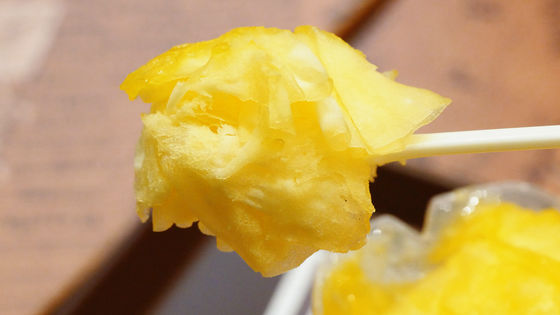 Mango sauce can enjoy the rich and sweetness of mango's lewdness, it contains a lot of flesh and it has excellent eating response.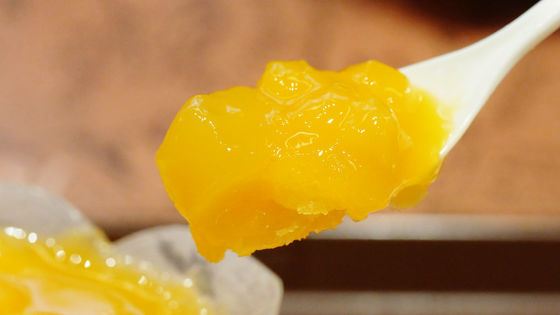 Yogurt sauce further complemented the sweetness of mango.



As you continue to eat, the inside is bright yellow as shown below.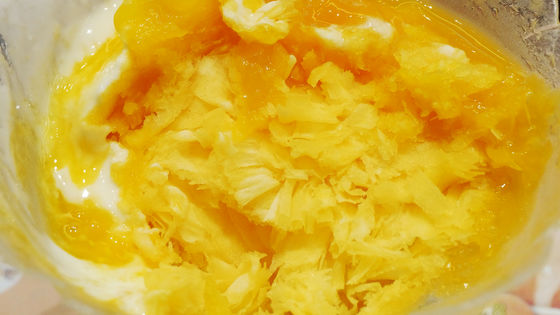 In a slightly melted state, it changes to a smooth texture like sherbet. You can taste the rich sweetness of mango, so you can eat deliciously even if the ice melts.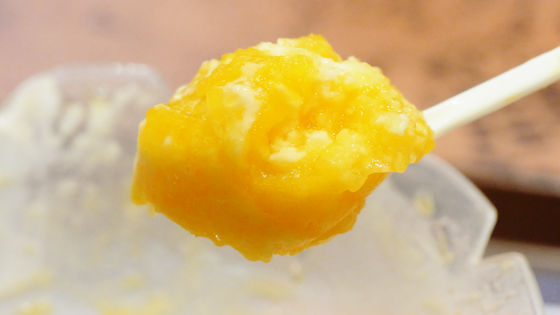 "Strawberry Milk"(561 yen including tax) is a strawberry flavored ice surface with condensed milk.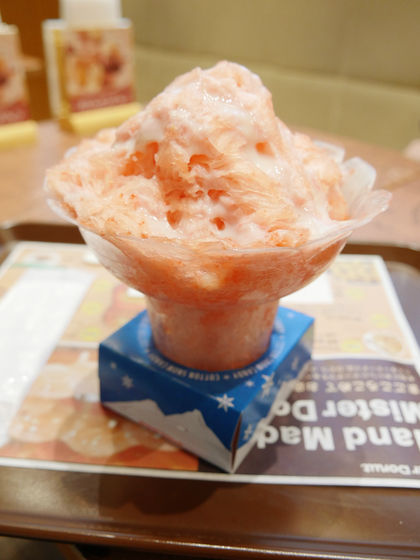 The white condensed milk shines well on pink ice.



The sweet and sour taste of strawberries and rich condensed milk, excellent compatibility when eating together. When I eat cold things at once, my head aches with KeeneIce cream headacheAlthough it may happen, cotton snowy candy was good because ice was fluffy, ice cream headache almost did not happen.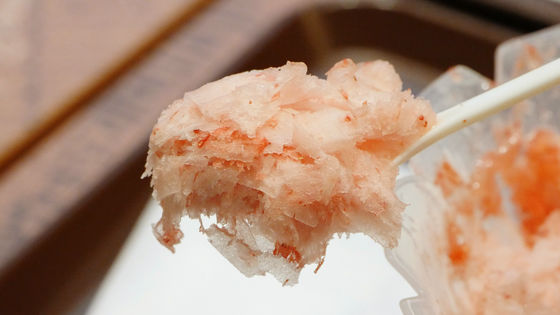 When you look closely at ice, you can see that flesh and grains of strawberries are thinly scraped with ice.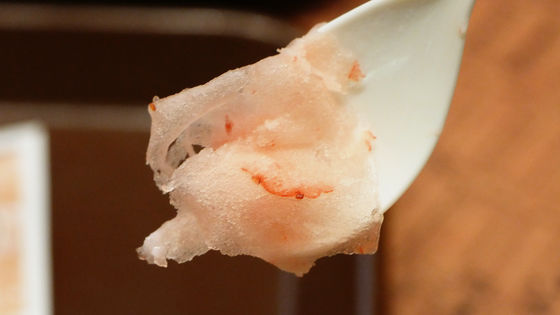 Sliced ​​ice thin with mango and condensed milk is "Mango milk"(561 yen including tax).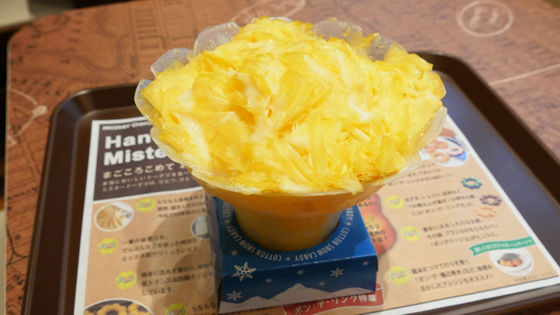 By adding condensed milk, the sweetness of mango is enhanced and you can enjoy the sweetness of the double of mango and condensed milk.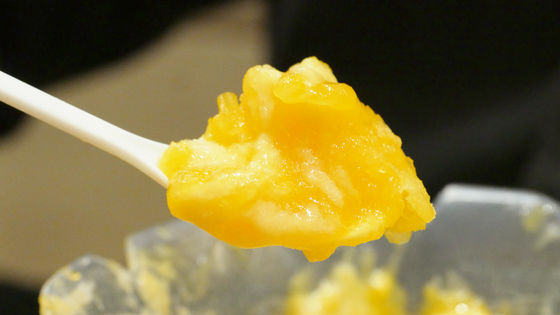 "white peach"(561 yen including tax) is sliced ​​thinly of milk-flavored ice and topped with white peach sauce with pulp.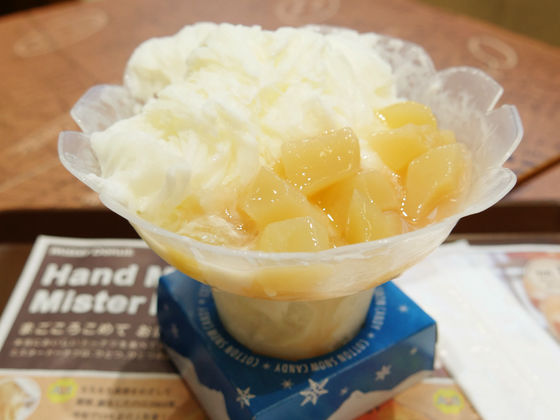 The flesh of white peach that was cut to a large extent is rustling. As a result of prototyping a combination of various fruits and cotton snowy candies, it seems that white peach was chosen in consideration of balance with ice of milk flavor.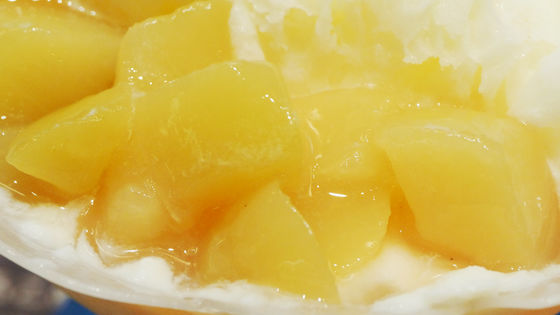 Ice is slightly creamy white.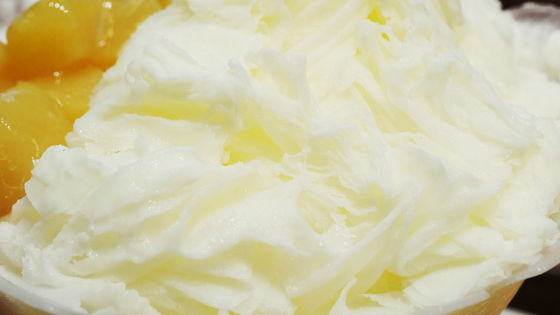 First of all, when eating with only ice, the flavor of milk is rich and sweetness is also felt to its fullest, but the aftertaste is a magical finish called Sappari.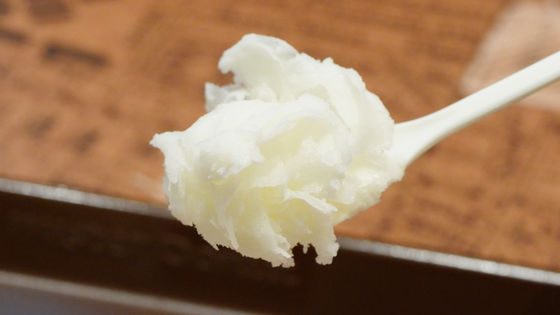 The white peach sauce had a strong sweetness, a trolley and a viscosity, and the sweetness was the most sweetest among the cotton snowy candies that I tasted this time.



In addition, I had my kitchen show where I actually made cotton snow candy. A machine for scraping ice is kore.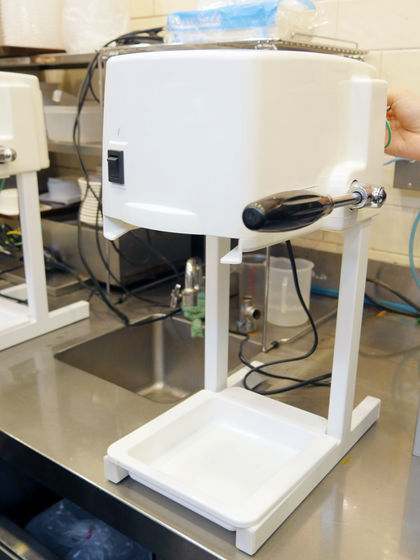 The raw ice is a size that can make one cotton snow candy per ice.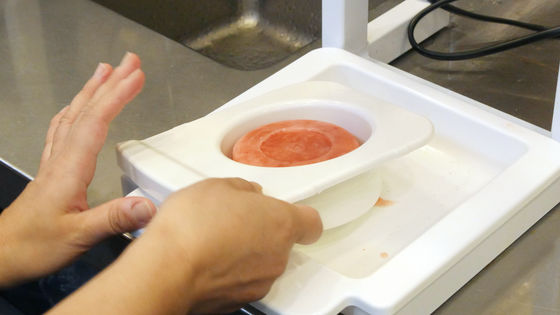 Set the dishes with ice on the machine.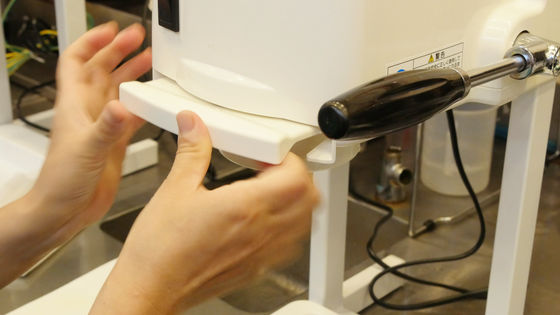 The appearance of making cotton snow candy can be seen from the following movies.

Scraping ice thin and fluffy like a ribbon, Mr. Donut 's "Cotton Snow Candy" in production - YouTube


When you turn on the switch, the ice is scraped off and comes out with a sliced ​​thin sliced ​​like a ribbon. While the clerk turned the container with his hands with dexterity, the cotton snowy candy was served.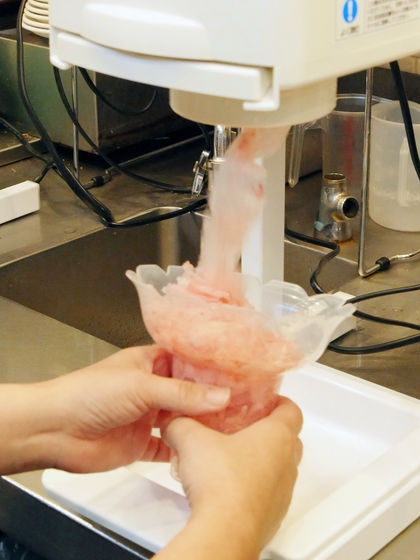 When completed, it looks like the following.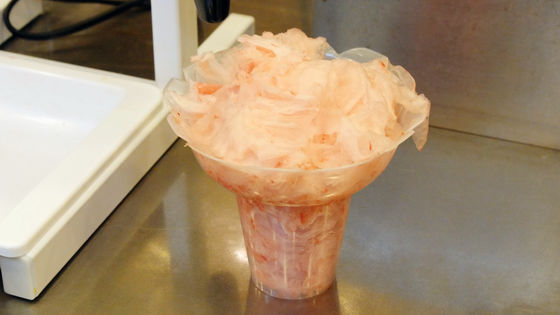 In addition to the above five types of cotton snow candy, a total of 8 types of cotton snow candy, "mango" "strawberry" "chocolate" based on milk-flavored ice, are scheduled to appear, the sales period is June 1 (Wednesday) until late August.