What is "Animation" born from "Bonds of Abusive Battle"?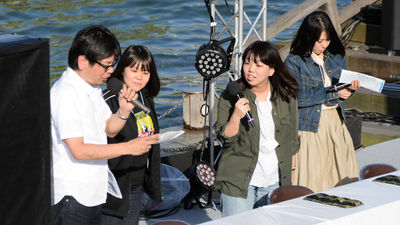 From the robot actions such as "Lasephon" "Symphonic Psalm Eureka Seven" "STAR DRIVER shine no tact", "Different car alchemists" "DARKER THAN BLACK - black contractor -" "Soul Eater" Sanrio's "SHOW BY ROCK !!" and the original girls' manga "Snow White of Red Hair" are animated as animation studiosBondsis. Mr. Minami Masahiko who is the representative director and producer of Bonds talks about the development of the animation currently on air and the future Bonds along with the producers of the site "Talk at Bonds 2016 Spring"ButMachi ★ Asobi vol.16It took place in.


【Machiavisi vol.16】 ④ Talk at Bonds 2016 Spring "My Hero Accademia" & "Bunka Stray Dogs" Talk Show Schedule: May 4th 16: 00 ~ Location: Shincho East Park Cast: Masahiko Minami President (Bonds), Suzuki Mari Producer (Bonds), Okamura Kazukana Producer (Toho) and others ♪

- TV anime "Bunbu Stray Dogs" Official (@ bungosd_anime)April 29, 2016

So, a South producer who will be hosting the "Talk 2016 Spring at Bonds" appeared. In this talk event, I will talk about the current 2016 spring animation which is currently on air, so I will ask a question as to what kind of animation BONS is producing for the venue. Then, from the venue "Conlebaum! (Concrete · Revolutio ~ Superman illusion ~) "First jumped in and unexpectedly southern producer also said" I love you "and it is niccoli.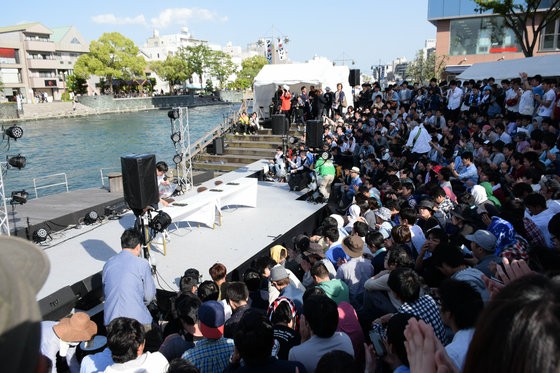 PV of "concrete · revolutio ~ superhuman illusion ~ THE LAST SONG" currently on air can be seen from the following.

"Concrete · Revolutio ~ Super fighter illusion ~ THE LAST SONG" PV01 - YouTube


In other words, Bonds is currently in the weekly "Shonen Jump"My Hero Accademia"And Young Ace's series"Bungo Stray DogsWe are making such things as. In addition, "When it comes to the broadcasting work from July ...", South producers hesitate, "Mobusiko! (Mobsuiko 100) "The voices came up again from the venue," South Korea producer is also happy with "I love you"!

Although that Mobsuiko 100 is a manga that is serialized in an application called Shogakkan's Manga One, as animations related to a major publisher such as Shueisha and Shogakukan are rare as Bonds, "What's wrong Bonds?" South producer himself commented.

The PV of Mobusaiko 100 is as follows.

TV animation "Mobusaiko 100" PV - YouTube


It is Mobsuiko 100 which starts broadcasting from July, but the original is ONE Mr. ONE PANMAN and he is using an interesting animator. Also, in July the new short anime seriesSHOW BY ROCK !! Sho ~ with !!It is said that the broadcast will start.

Then three female producers appeared as guests. From left, Mr. Okamura Kazaki of TOHO animation who is a producer at my hero academy, Binz Mari Suzuki animation producer and Mr. Kurakami Chief of Kadokawa entered from Bungo Stray Dogs.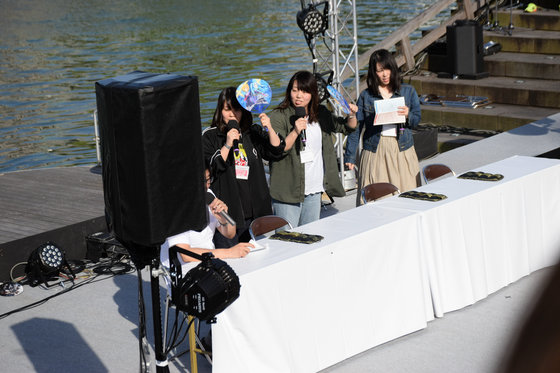 The first topic is "About the beginning of the project". Talk first started from Kazuki Okamura producer of my hero academy. Originally Okamura producer worked with Bonds on the Blood Front Front, its Blood Battle Front and my Hero Accademia are the same Shueishashi works, and it can be said that the Bonds' true spirit in the process of creating a Bloodfront Frontline " "&" Directing the character to the stage "I was touched by things like that, my hero academy is definitely in Bonds ... It is said that it became the flow.

"The" different ability battle is Bonds! "The plan is decided like this!" When the South producer speaks, laughter will happen at the venue. In addition, it seems that this time it is the first time Bonds animates weekly Shonen Jump Pieces.

It seems that my hero academia's animation project started from about a year and a half before broadcasting, which seems to have been about a moment when 1 volumes of paperbooks came out. The preparation period of about one and a half years seems to be of a rather short category as a weekly magazine based animation project, but from that there is a form that can run through from start to broadcasting at a stroke.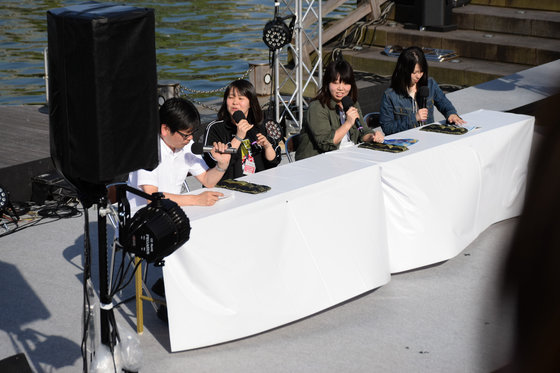 Next on Bungo Stray Dogs. It seems that animation conversion plan started to move at about the time when 1 volume of paperbook was published. At the beginning, it started from the point where Young Ace's person in charge brought Bungo Stray Dogs into the seat of the seat next to Kurakawa's warehouse and producer. At that time, the warehouse and producer seemed to have been in charge of making animation projects for men, such as light novels, so that they wanted to engage in works like Bungo Stray Dogs, "If you continue to say that you want to do it It is said that. And when thinking about which studio to animate, it seems that it was supposed to have made a production to Bonds by saying "Bonz if a disparate ability battle!"

And Announcer Producer Suzuki. When Bungo writer Stray Dogs was brought in Bonds, there were other robot actions and other powerful things. Southern producer asked "Which is interesting?" Among the multiple works, Suzuki seems to have promoted Bungo writer Stray Dogs. Although he never said "doing" directly, he realized that he became an animation producer if he realized it.



Next is the oversight of each work. It is the producer who is communicating closely with the first director on the scene, so the impression that each director has in the director is very helpful. First of all, my hero academyKenji NagasakiAbout the director. Director Nagasaki was the director of "Gundam Build Fighters" and "Classroom ☆ Crisis", and the first impression of the Okamura producer seems to be "shy."

On the other hand, the director of Bungo Stray Dogs said that "Seoul Eater" and "STAR DRIVER Shining Tact"Takuya IgarashiMr. The first impression of director Igarashi of warehouse and producer is "person drooling", it seems that it is a talkative type director who makes words to convince the surroundings what he / she wants to do.

Both directors sound the opposite type, but the South producer says that it is so serious that there is a common point of seriousness against the work. In addition, Okamura producer revealed that Nagasaki is loading my hero academia to the extent that it thinks "the world is reading the world?", He says that he is said to be a very seriously facing person against the original It was.

In addition, the south producer who has worked with a number of animation directors, so to speak, the most serious one was the director at "Theater Escaflowne" and "Code Geass Akito"Kazuki AkaneAbout things.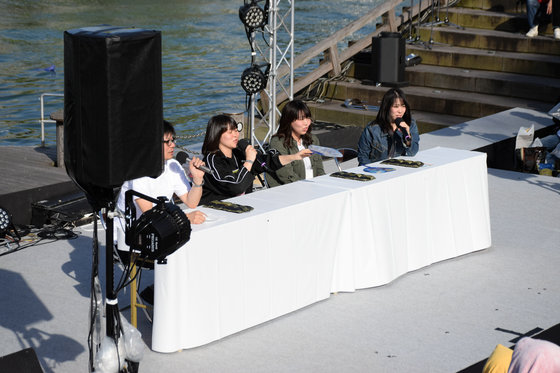 Because animation is made by the original author's desperately made animation work with an original is very difficult. South producers pointed out that it was very important that the warehouse and producer "liked the director!" Was said, "IShinichiro WatanabeI love you if I love you or not. If it is not so, it will not hold. "

All three producers who came as guests this time are women, but in particular, "women are deeply affectionate" is a feature. Kadokawa's warehouse and producer said that thanking everyone when we saw the episode, they revealed the episode that "love is heavy", and other female producers also say "it's useless, heavy" There seems to be something to be said. However, it seems that such a heavy love is supporting the work making.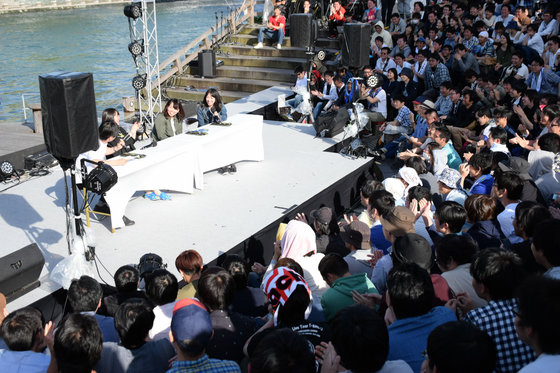 The opening theme and ending theme of animation are often tie-ups with other genres such as music industry. When I tie up, "I hope there is a good thing", it seems that heavy thought leads to making a work without compromise, as a big boss has been reworked even by the opponent.

Bungo star Stray Dogs seems to have basked out from Osaka to Tokyo for the rack life where the same debut will be the major debut when making the ending theme "Call me name." Mr. PON who is a vocal of rack life seems to have read Bunko Stray Dogs from the beginning, he talked directly to the director and finished the songs in a breath at once in the returning Shinkansen.

Luck Life TV animation "Bunbu Stray Dogs" ED Theme Song "Call Your Name" Music Video Full size - YouTube


The opening theme of my hero academy is Porno Graffitti's "THE DAY". Director Nagasaki seems to have never talked directly to pornografite, but he seems to have written a letter to convey my view of the world of my hero academia. In addition, it is said that Don Pissha's thing came out without meeting with "HEROES" of the ending theme.

Animation "My Hero Accademia" Opening Picture - YouTube


Brian the Sun "HEROES" Music Video - YouTube


Suzuki producer thinks that Bungo writer Stray Dogs thinks it is for girls, but the series compositionYoji EnokidoAnd there is no way the director Igarashi made the original as it is. Since it is said that there are also intense action scenes unique to Bonds in the future, it seems that he wants to see without being caught in prejudice.

My hero academia is broadcasting on Sunday evening, but it does not seem to be making it for children only. Since the future of the 6th episode, plenty of action scenes where characters and personality explode will appear, it means that it is really a work that everyone wants to see.