"Talk at Bonds" the president told the latest situation of the 2015 year of the action boasting animation studio "Bonds"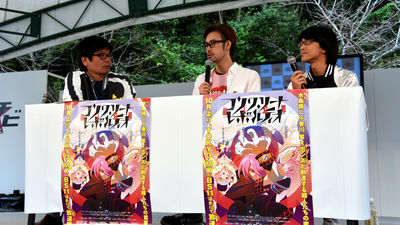 Original works such as "FULLMETAL ALCHEMIST" and "Blood Battle Front" and original works such as "Symphonic Psalm Eureka Seven" "Deadly Zamdo" "Strangea Empress Edge Tan", especially reputed as animation with action An anime studioBondsis.Machi ★ Asobi vol.15So, Mr. Minamihiko Minami, the producer and representative director of Bonds, took a talk stage, told us about the reflections until 2014 and September 2015 and the thoughts I had on the program that started in October.

A table prepared before the event starts a new work "Concrete · Revolutio ~ Superman illusion ~The poster of.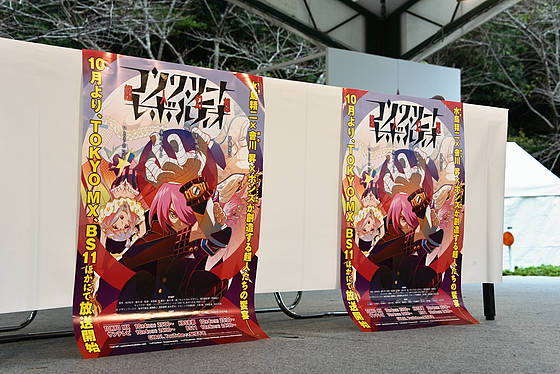 First of all, it is a South producer who looked back on 2014. "Noragami","Coffee princess Taika","Captain Earth","Soul Eater Not!","Space ☆ Dandy"Although it is Bonds of 2014 which produced a wide range of works, among them, the South producer who usually has a name in" Planning ", but he worked as a" Producer "for a while in the" Space ☆ Dandy. " However, this work was "It was seriously overkilling", Bonds in 2015 was made based on reflection on reflection that "You can not do only things you like".

Speaking of the work that Bonds took charge in 2015,Blood of Blood Front"Will come out. As soon as Mr. Minami, who was concerned about the reputation just before the event, asked the customer "How was it?" Applauds applauded and the voice saying "It was good!" It was.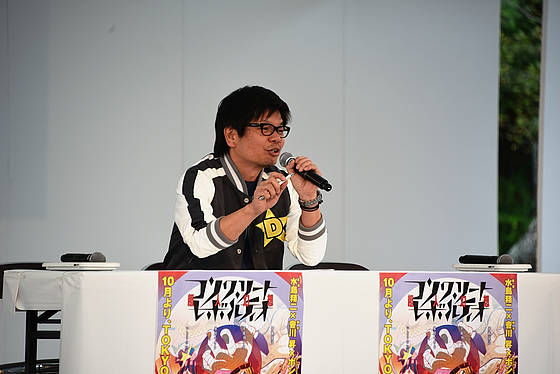 It is no wonder that Bonds produces this work because there is an action, but in fact it is the first time that Bonds is in charge of the work of Shueisha's original work. According to Mr. Minami, "It is the first time with Shueishasa, so I decided to take it for granted." The director was responsible for Toei animation "Kyōsōgiga"madeRie MatsumotoMr.

Even though the series continues today, when thinking about what to do with one cool at a time, first of all it is impossible unless you can not add the original elements, and at the same time, thinking that it is necessary to complete one as an animation work, White and black which are the characters of the movie will be put in the work. It seems that there was a moment when the production was "it is the whole Bonds is only a blood-bound front line", and it is said that "Noragami ARAGOTOMr. Toshihiro Kawamoto who was in charge of directing the opening and ending of "Nogragami" at the end of the work finally told Mr. Minami "Blood field, I have left! (Crying)" and the last He said he was helping people. Besides this, since it is said that the name of an interesting person is included when looking at the ending, please try reviewing the person who recorded.

Next comes the "SHOW BY ROCK!". Bonds that "eyes are long in the long animation" so far are not doing so much, and only eyes in landscape are the eyes. Moreover, although the character did not do animation like saying "Nya", it is said that the original is Sanrio, "If you miss this opportunity, you may never meet with Sanrio for the rest of your life" He said that he received it from things.

Furthermore"Snow White with Red Hair"We made a work. This work is not an action, and it is a girl's manga of the royal road of the royal road, which takes 2 or 3 episodes before the two main people connect hands. This is what I underwrote with an unknown sense of mission that "this must be done!" Against now that animation of such a girl's cartoon original is not produced much. For the line-up of the first half of this year,Bands to be strayed"It seems there was a voice saying" What happened to Bonds! "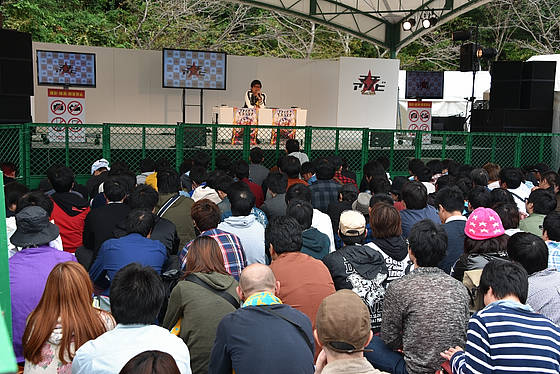 Thus Bonds, who has been running safely until September 2015, has two works, "Noragami ARAGOTO" and "Concrete · Revolutio ~ Extraordinary illusion ~", which started in October. On the stage, Avex Pictures 'Izumi Producer and Bandai Visual' s Midway Producer entered and appealed their work.

"Noragami ARAGOTO" is the second period of the TV series following the broadcast of January - March 2014. It is a work full of actions like Bonds, and has a drama of crying.Tamura KotaroDirector's original love is so terrible that the depth is coming out thanks to the fact that the original is being loaded so much as to "come out with that line of words and how many pages on the original page". There are 13 restrictions on animation, unlike the original, so there is a need to sort out things that can be done in the original episode and those that can not be done, but in that case "Why can not this line be cut?" "Sometimes it is said that it is returned as soon as" This is a hint of the place because it is useless ". As the original author Yoda or the teacher and editorial department asked to ask the question "Please tell me what is going on here" by painting between the serial series, "Understanding the work, the original author It is the secret of hit to be able to cooperate, "Izumi Producer.

From the left, South, Mr. Iizumi, Mr. Nakaji.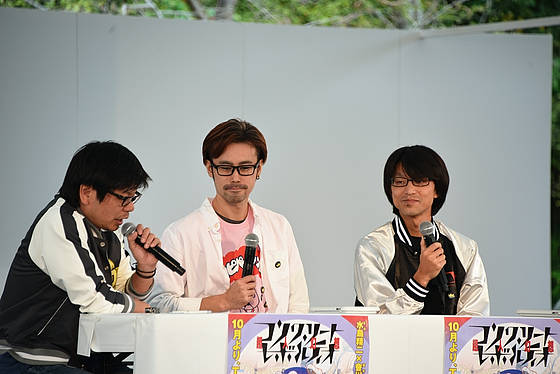 Noragami ARAGOTO's PV is like this.

TV anime "Noragami ARAGOTO" 2nd PV - YouTube


On the other hand, "Concrete · Revolutio ~ Extraordinary illusion ~"Shimji Mizushima·Noboru Shinkawa·Yoshiyuki ItoThat is,Full Metal Alchemist"Works by Golden Trio of (1st film). At the same time with the action, a bone story made by Mr. Shinkawa's hand is also a highlight. The original draft characterCowgirl·Hikawa Hekigiru·Ryo HiraoMany people have been doing it, but this is the director Mizushima made "Oedo rocketExperience of living is alive, and combining the various kinds of characters' pictures into one can also be done by saying that it is an expression method which can only be done with animation.

On the production side, Mr. Shinkawa's scenario production is very fast, Mr. Shinkawa is in charge of most of the whole story. As a guest writer known for screenplay of TV anime version "Sazae-san" first episodeMr. Tsuji, Mr. Kirurakiru'sKazuki NakajimaTheir names came. Middle path producer who is in charge of this work,P. A. WORKSRepresentativeKenji HorikawaSays "If you ask from Mr. Minami, you have two choices," Yes "or" YES ". I heard that you are challenging by receiving advice from you that you only need to keep in mind.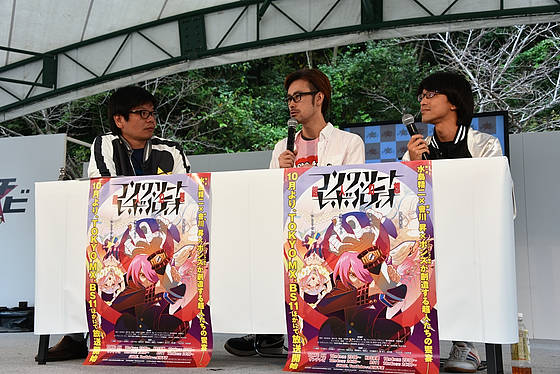 Bandai Visual distributes images on YouTube official account.

"Concrete · Revolutio ~ Fantasy of the superhuman" Episode 1 Witch of Tokyo (Majo nocturne) - YouTube


Although these are currently being broadcasted, the second phase of 'Red Hair Snow White' is decided as a future work. Also,"STAR DRIVER shining tact"ofTakuya Igarashi· Yoji Enokido "Bungo Stray Dogs"Is also abbreviated. In addition, it is planned to be doing a series of original projects starting from 2017 with the announcement in 2016 with large projects in motion moving, planning to release a new series of TV series about December. It was said that he wanted me to look forward to future announcement because there are many information that can not be revealed even by South Producer yet.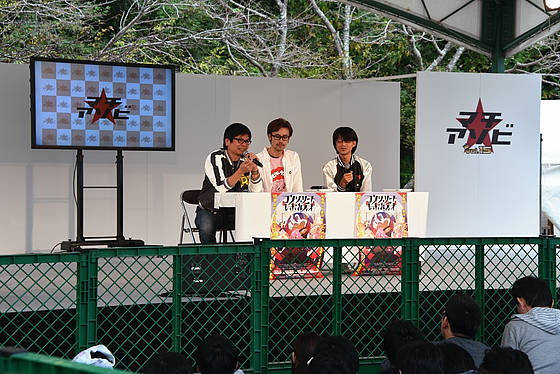 Although it is not a new program, "Space ☆ Dandy" is BS Fuji and TOKYO MXSelection broadcastingOngoing. In addition, special price with only the main part recordedBD-BOXIt is said that it is on sale January 29 (Fri) of 2016 with tax of 18,000 yen, so please also check here if you want to immerse yourself in Bonds.

"Space ☆ Dandy" 1/29 released Blu-ray BOX CM 15 seconds - YouTube