"Kindle Oasis" unnecessary for charging is released with the thinnest, lightestest & built-in battery cover in Kindle history for several months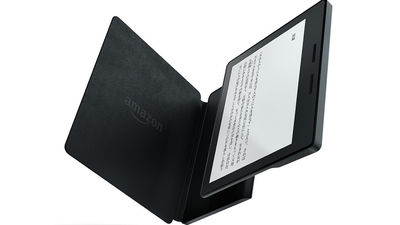 Since entering April 2016Amazon's Jeff Bezos CEO announced, 8th generation new model Kindle "Kindle OasisFinally came out. InitialRumorThe main body of Kindle Oasis is thin, comes with a special cover with built-in battery, so you can enjoy reading with e-books without worrying about the battery condition further than before.

Kindle Oasis - The thinnest and lightest. Innovative design
http://www.amazon.co.jp/dp/B010EJWHUC/

This is the new generation of the eighth generation Kindle 'Kindle Oasis'. The bezel is wide only on the right side of the main body, different terminal design than the previous Kindle that two physical buttons for page turning are arranged here.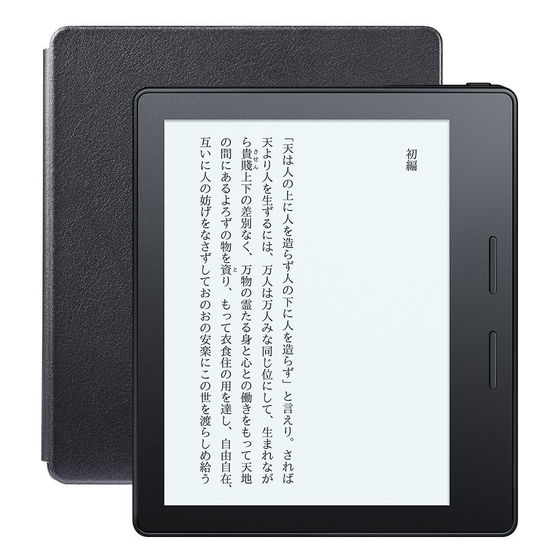 Kindle Oasis comes with a built-in cover with built-in battery, you can use it without charge for several months when you use brightness setting 10 · wireless connection off for 30 minutes every day.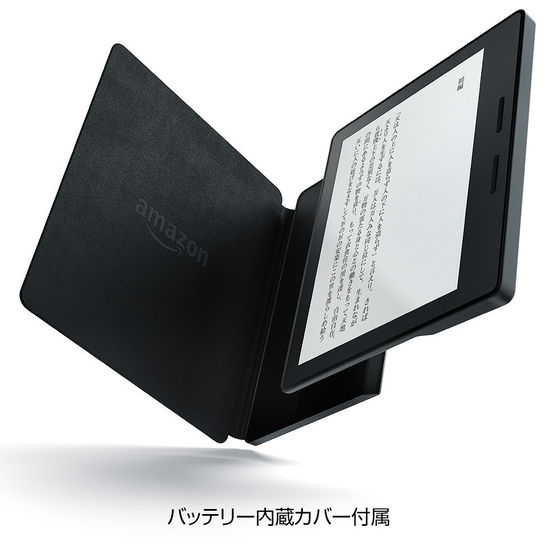 When looking at the main body from the side, the thin design of Kindle Oasis stands out, but it is lighter by 20% or more than the conventional Kindle so that it feels light like paper, and on average the terminal has become thinner by more than 30% . Different designs of thinness on the left and right based on ergonomics are characteristic.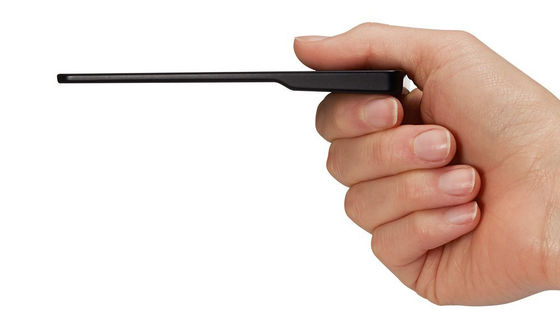 The size of Kindle Oasis is 143 mm in length × 122 mm in width × 3.4 to 8.5 mm in thickness. The main body weight is 131 g Wi - Fi model, 133 g of Wi - Fi + free 3 G model, 107 g special cover. The Kindle so far is also sufficiently thin and lightweight design, but Kindle Oasis realizes lightness and durability by adopting the very light frame with the strongest cover glass and high rigidity plating in Kindle history .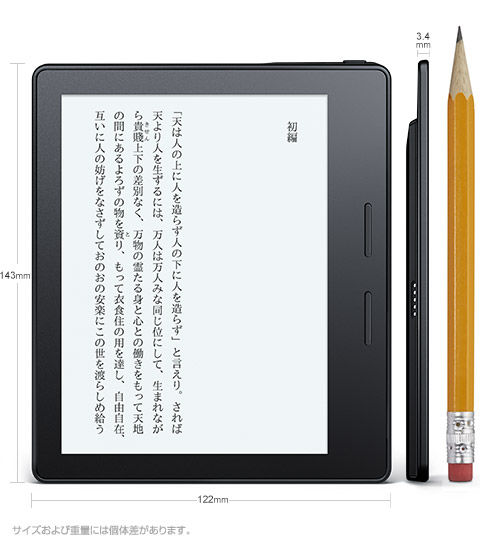 It actually feels like this in your hands. The page turning button is arranged at the position of the thumb when holding the main body with the hand and the center of gravity of the main body is settled in the hand by the terminal design with different thinness on the left and right, so hold with one hand Even though it does not feel the weight, and the terminal settles down slowly in the hand. Although the grip part is located on the right side, even if you invert the terminal and grip with your left hand OK.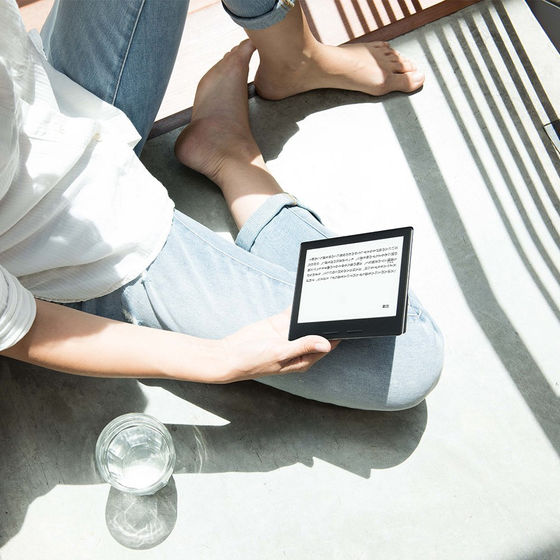 Battery built-in cover is removable ......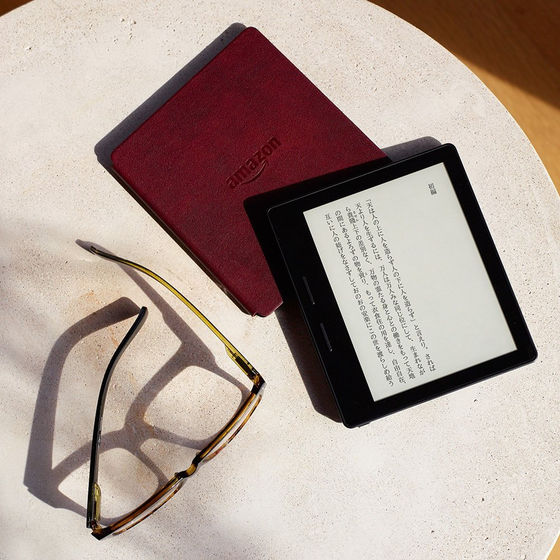 From the left color is walnut (suede) · black · Merlot three colors. The surface of the special cover is made of leather, when the cover is opened, the terminal is released from sleep, and when it is closed it automatically sleeps. The housing part of the Kindle is weak to doing, and as many scratches increase as you use it, it is also a point to be able to protect the body from scratches with the special cover attached from the beginning.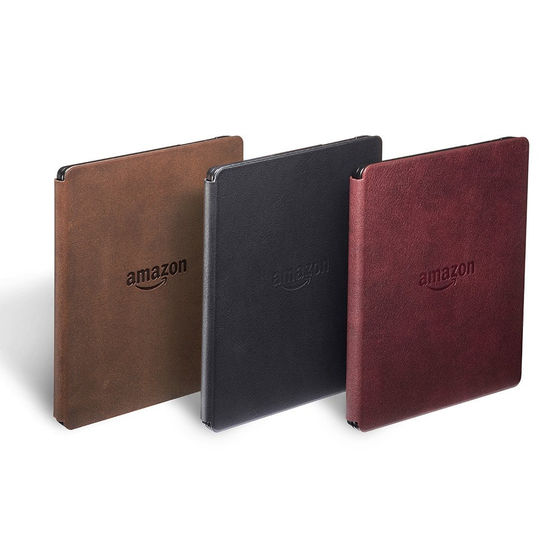 The detailed specs of Kindle Oasis are as follows.

display:Carta electronic paper technology adopted 6 inch Amazon Paperwhite display, resolution 300 ppi, built-in light, font optimization technology, 16 tone gray scale
size:143 mm × 122 mm × 3.4 to 8.5 mm
weight:Wi-Fi: 131 g / Wi-Fi + free 3 G: 133 g / cover: 107 g
System requirements:Wireless connection compatible, PC unnecessary when downloading contents
capacity:4 GB / thousands of volumes can be stored in the main body (in the case of general books)
Cloud:All Amazon content can be stored in the cloud for free
battery:Battery built-in cover installed, when setting brightness 10, wireless connection off for 30 minutes a day, you can use it for several months with one charge. The time available depends on the use of wireless connection and light
charging time:About 3 hours by charging from PC via USB
Wi-Fi connection:WEP, WPA and WPA 2 security and WPS with public and private network or wireless LAN spot, password authentication using 802.11b, 802.11g, or 802.11n standard
Supported file format:It corresponds to Kindle format 8 (AZW 3), Kindle (AZW), TXT, PDF, unprotected MOBI, PRC. Convert HTML, DOC, DOCX, JPEG, GIF, PNG, BMP
User Help:Getting Started Guide(Included, PDF),Kindle User's Guide(Pre-installed on terminal, PDF). For other informationHelp pageYou can refer to
Warranty and service:1 year limited warrantyWith. For domestic, optional sold separatelyExtended warrantyYou can use. When using KindleTerms of serviceWill be applied
Included contents:Kindle Oasis, battery built-in cover, USB 2.0 charge cable, warranty card,Getting Started Guide(PDF)

Specification of the new Kindle OasisKindle·Kindle Paperwhite·Kindle VoyageCompared with the following. Although the number of built-in LEDs is increasing and it has evolved to a brighter display, the resolution of the display is 300 ppi and there is no change from Kindle Paperwhite · Kindle Voyage.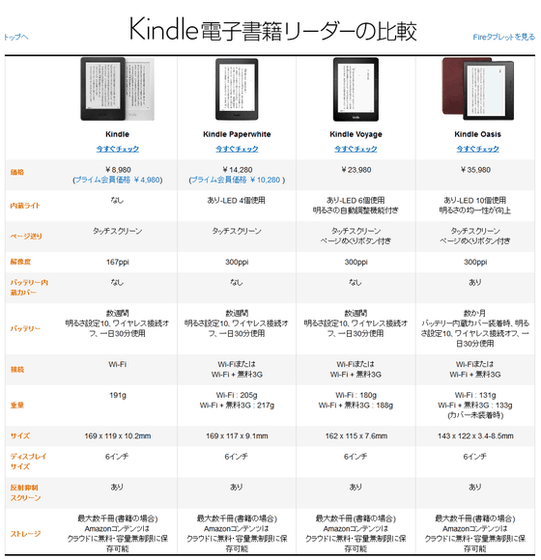 "Kindle Oasis (with cover only)" is currently undergoing reservation, Wi-Fi model with campaign information is 35,980 yen, without campaign information is 37,980 yen. It is scheduled to be released on April 27, 2016 with Wi-Fi + free 3G model campaign information with 40,1190 yen, without campaign information 40,190 yen.

Kindle Oasis - The thinnest and lightest. Innovative design