In commemoration of the 100th anniversary of Japanese animation, the project "for anime culture after 100 years" started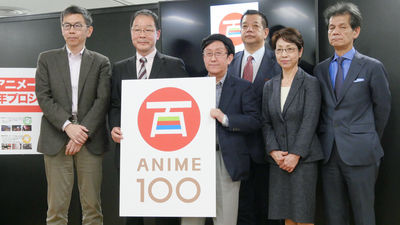 In 2017, Japanese animation celebrates 100th anniversary. In celebration of this memorable year, we are planning to leave Japan's animation technology, which is drawing attention from all over the world, in future generations, and to further evolve and develop "Japan's animation 100th anniversary projectThe start of the announcement was announced. This is to create a creative foundation for Japanese animation carriers who will be 100 years later, and to people around the generation, sex and borders "Dreams and Bonds, Love and Courage, Mindful Impression and Life Power" It is a project aimed to tell.

Japan's animation 100th anniversary project
http://anime100.jp/

The speaker at the presentation was Mr. Hiroshi Sasagawa, advisor of Tatsunoko Pro Co., Ltd. from the left, Mr. Akira Tochigi, Director of Movie Manager, Film Center, Tokyo National Film Center, Mr. Masuro Ueda, President Aniplex Corporation, Mr. Yasuo Miya, President of Sunrise Co., Ltd., Kazuko Ishikawa, President and Representative Director of Nippon Animation Co., Ltd., and Mr. Toshio Yoshida, Senior Executive Officer, Toms Entertainment, Inc.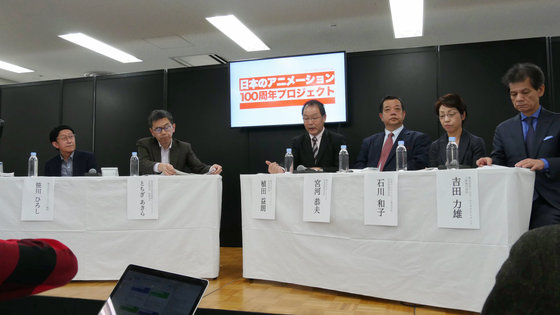 In the history of Japanese animation 100 years, as of January 1, 2016 the number of titles which are known has exceeded 16,000 episodes in terms of the number of stories, which is 11,546 works. These have been gradually increasing since 1917, when it is said that Japanese animation started, and 33 works were produced during the period from 1917 to 1919, whereas from 2010 to 2015 The number of titles produced in 5 years until the year is 3564, which is increasing the number of works at a phenomenal pace.

A piece that cuts out the history of such Japanese animation, that is, animation made in Japan 100 years ago is "Damn swords"is. Mr. Togi served as a conference advisor for promoting the 100th anniversary project of Japanese animation, the work is a work that can see many contrivances such as comical touch and balloons that can not be thought of as 100 years ago.

In addition, the origins of Japanese animation and Kentaro Kitayama created by Japanese people before "Tezuka Osamu Teacher's Astro Boy" appeared many people tend to think "Urashima TaroAnd "Tobacco story",Yasushi Muratathe work,Kuon Star TruepofKenzo Masaoka"Sakura" who served as director,Mitsuyo Seoof"Momotaro's sea eagleTo "Momotaro Sea god soldier"And introduces excellent early animation works such as" EX EXPRESSION "of Shige Ogino who created" 9.5 mm film used in the home rather than 35 mm film "color art art tone animation work" amateur ". In reviewing these early excellent works and learning from these, it revealed that the idea of ​​"Japanese animation comprehension" was born, which is one of Japan's 100th anniversary project of animation . The details of "Japanese animation comprehension" will be described later.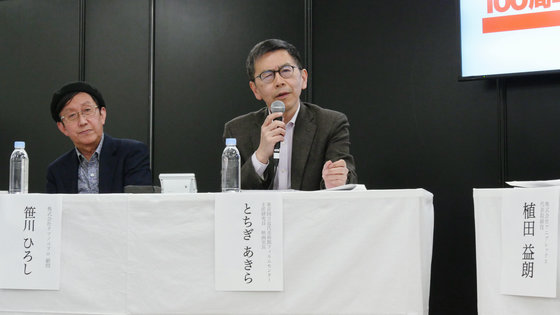 Next, Mr. Ueda, who is chairman of the promotion meeting of the 100th anniversary project of animation in Japan, explained the overall picture of the project. Mr. Ueda is a person who became involved in animation production from Mobile Suit Gundam and was surprised at the beginning by the fact that "I am surprised to hear that it is the 100th anniversary of Japanese animation", and that the Japanese animation will celebrate the 100th anniversary as soon as possible And at the same time, he seems to have felt a sense of crisis when thinking about the future animation industry. In addition, the sense of crisis is explained not only by Mr. Ueda but "What the whole industry is recruiting" explains. In order to overcome this crisis with the spirit of All Japan, promotion meeting of Japanese animation 100th anniversary project was formed.

However, this promotion meeting seems to be close to the "volunteer group" where volunteer companies among the Japan Motion Picture Association gathered, as a role as a producer of the project, cooperation of the site and stakeholders We strongly urge cooperation that there is nothing without it. The biggest thought is that the problems that the Japanese animation industry has are two things "depletion of human resources" and "vulnerability of the management foundation", but from the world wide viewpoint Japan's technical capabilities are still outstanding It is said to be things. Amid such problems and strengths, "How will you compete in the world with future competitiveness?" "How will you survive?" "Is it still possible to expand the possibilities of animation?" It seems that it focused on the point that "Can you add value?"

And the project has three concepts roughly divided into three. The concept is that one is "to know history and to organize and archive what has been accumulated," which means that it will be accessible to people all over the world. This is "Japanese animation comprehensive", but for further details after this. And the second concept is "Discover and nurture human resources". It seems that it is a purpose to have young talent in Japan and primary school students experience the joy of making animation and to produce creators who will carry the industry as soon as possible even one day. And the third concept is "collaboration with advanced technology", and it is planned to collaborate beyond region and industry on various aspects such as event · archive · contents.

In addition to these three concepts, he seems to want to further appeal the point of "Japan's 100th anniversary of animation", so Ueda is the chairman of the Ueda who will need cooperation and efforts beyond the corporate profits to do so. While it is painful to start new things, Japan said that he wanted to push forward with the project in order for children and adults to be able to enjoy animation everyone.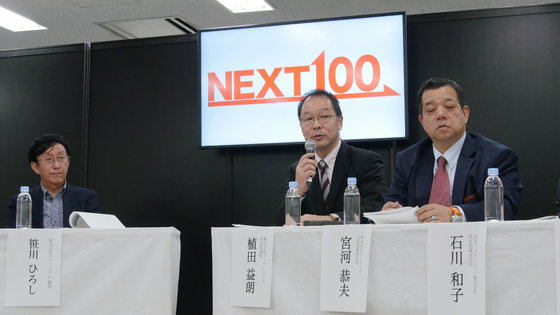 Next, Mr. Yoshida from Tom's Entertainment explained about 'Japanese animation comprehension' which is one of measures to achieve these three concepts.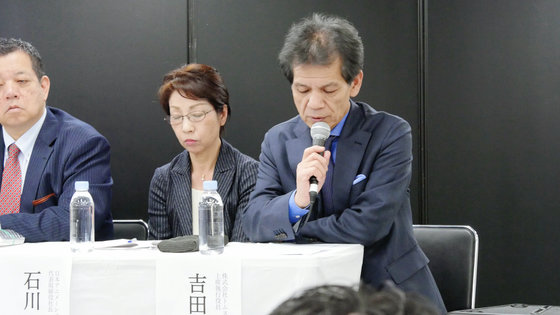 "Japanese animation comprehensive" is set up to convey excellent work and know-how of "Japanese animation" recognized worldwide as representative content of Japan. Anime comprehension has three main points, and one is "Japanese animation comprehensionRole as. This will be a database that will be an animation chronology of Japan, and it will be a tool to systematically deliver Japanese anime to the world. The second is "Oral History". It will be a message for the future in 100 years and it will gather the feelings, technologies, times, society, works and so on of the people who should be handed down. And the third one is "International symposium"It seems that we will set up a place to send Japanese animation towards the world.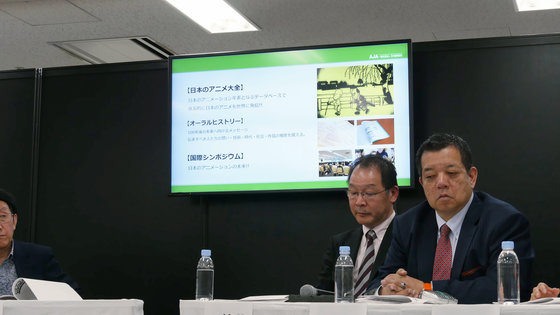 Next on "Discovering and nurturing human resources". It is said that he is considering starting an animation education project for teaching, raising and enjoying to children. Specifically, in the summer of 2017, he seems to be planning a project called "Japanese animation · Summer Jean Polly", this is a project to collect small children and have them participate in creators and animation production boot camp It is likely to become. The aim is to make you interested in animation production by having the experience of actually moving the picture when you are small. Besides this, animation seminars for people with disabilities, message animation production for children who create the future 100 years later, digital animation project and so on are planned.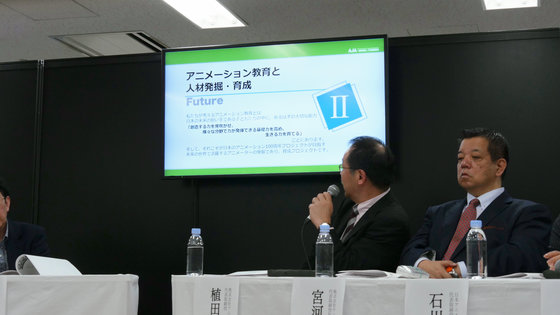 In talk about the future of animation and education, Ishikawa, president of Japanese animation, says, "Many things are gained from animation production", "I will work on educational curriculum to incorporate something of animation".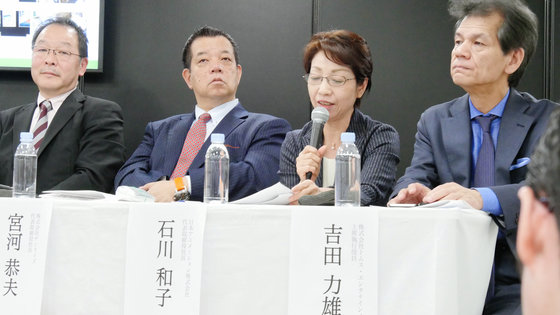 Subsequently, as "anime NEXT 100", as a measure for Japanese animation 100 years later, I am citing that Japan's animation culture and power will be disseminated both in Japan and abroad. Sunrise President Miyagawa said that "overseas deployment and domestic deployment are considered separately," and the new relationship between animation and industry such as "International Festival × International Tourism Exhibition" and "Planning Screening × Symposium Seminar Conference" We are revealing that we will concentrate on people, collaboration between animation and advanced technology, and so on.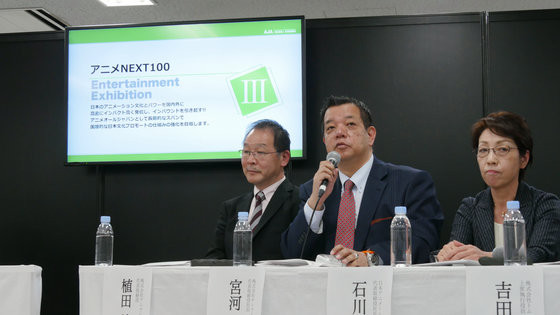 Talk session with Mr. Hiroshi Sasagawa of Tatsunoko Pro began as a guest talk when I finished talking about the whole project. When asked about impressions of the 100th anniversary project, Mr. Sasagawa said "It is surprisingly popular"Morning DoraI was boiling the venue with a crowd of quizzes quoted from the dialogue. Also, in 2017, Tatsunoko Pro will celebrate the 55th anniversary, "Although the future of animation industry is serious, this project will give courage to people who want to jump into the animation industry in the future." Also, despite the introduction of digital into hand-drawn animation, color painting etc. can be finished at a stretch quickly, the viewpoint of the production side that "still no picture at the time of dubbing" still continues A comment that I wanted to solve these problems somehow.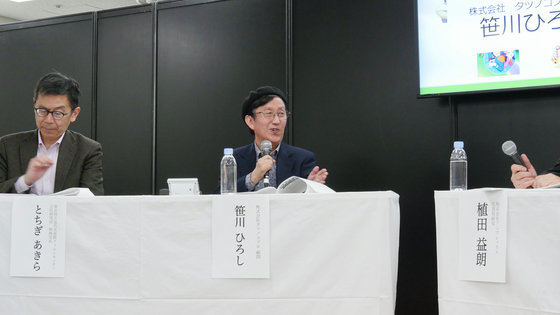 Furthermore, Mr. Sasagawa began talking about the episode that he was sending manga manuscripts to Professor Osamu Tezuka from local Aizuwakamatsu because he wanted to be a manga artist when he was young, "This is certainly an oral history of animation full" Uchida's chief actress with a keen tsukkomi entering.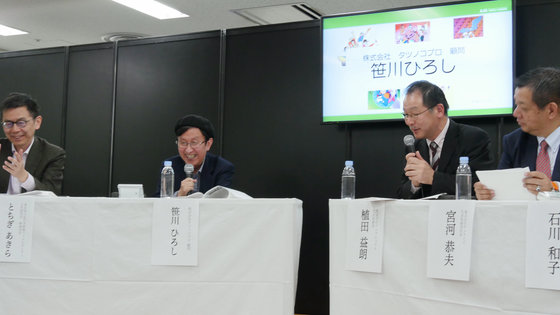 After that, the logo of the Japanese animation 100th anniversary project was announced, the photo session with the speaker was also done and the presentation was completed successfully.