"Petit ★ Assobi Vol.4" report which had Linear Shikoku's first landing, Fate / zero cafe screening etc.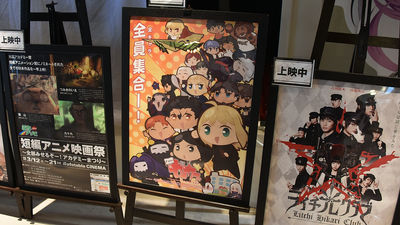 A reduced version of the event "Machi ★ Asobi" being held in Tokushima in May and October is "Petit ★ Associa"is. On March 19th and 20th, we went to Tokushima in spring as Petit Assassin Vol.4 was held.

Petit ★ Asobi "The 4th" 2016.3.19 - 3.20
http://www.machiasobi.com/events/petit.html

On March 18th the day before the event, the featured was featured in the Tokushima Shimbun.

I posted the first Petit ★ Assobi special feature at today's morning newspaper!
The interview is wonderful.Pic.twitter.com/BBD2a74uN3

- Oh no. The Tokushima Shimbun (@ ohenro_tp)March 18, 2016

At Machi ★ Asobi is Shinchochabashi Higashi Park, which is one of the main venues, but Petit ★ Asobi does not use it.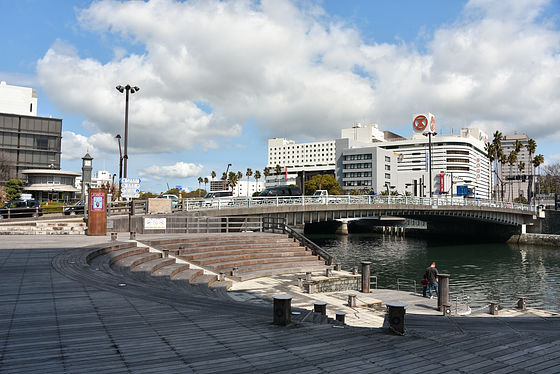 The same is true for board walks along the river from Shintomachihashi Tokaido. The umbrella was in a folded state.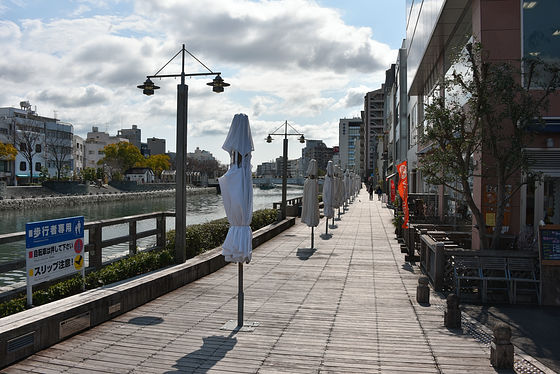 However, since the cosplay event has been held, there was a group of people who are interested in shooting in the north side of the river.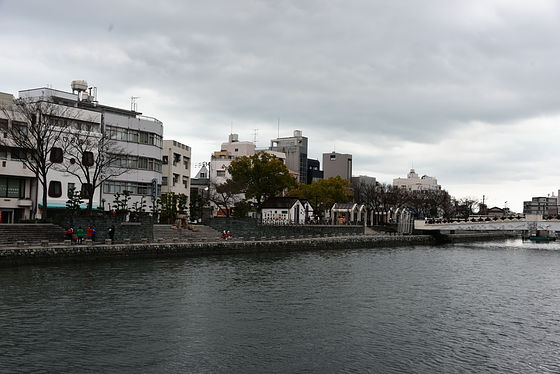 Petit ★ At the center of Asobi, Tokushima City Higashi Shinmachi ArcadeUfotableCINEMAI came to.幟 is "Petit ★ Assobi" specification.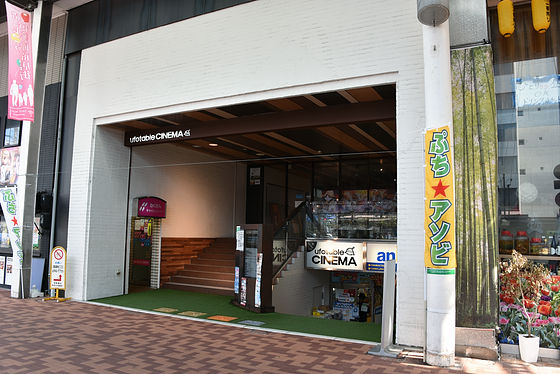 On the opposite side of CINEMA, there is a huge banner linking illustration of successive Awa dance poster.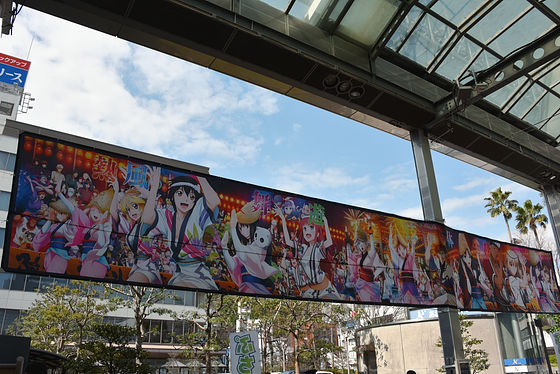 And since CINEMA is March, characters of Fate / Zero celebrating White Day were waiting.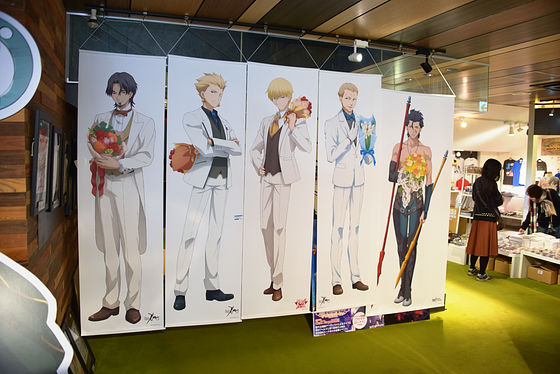 From this day "Fate / Zero CafeScreening starts. It is screened 5 times a day on 19th and 20th, 21st on 3rd day screening, and after 22nd on 1st day screening.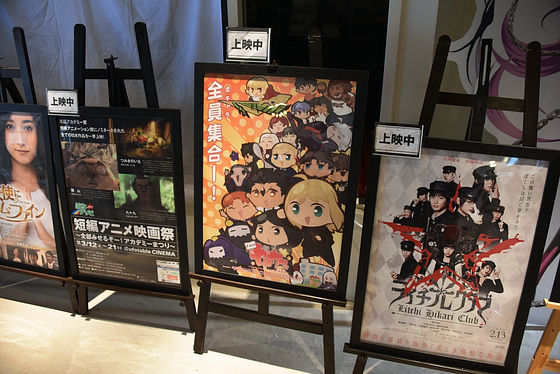 The "Fate / Zero Cafe" goods which were tightly prepared ... ...

【Merchandise information】
Screening begins today from Saturday 19th! We deal with abundantly theater sales of "Fate / Zero Cafe" as well. Please come and take a look!
※ We plan to start selling merchandise at 8: 30 ~.# UfotablePic.twitter.com/33l5l9oHui

- ufotable_CINEMA (@ ufotablecinema)March 18, 2016

In the afternoon it was decreasing like this.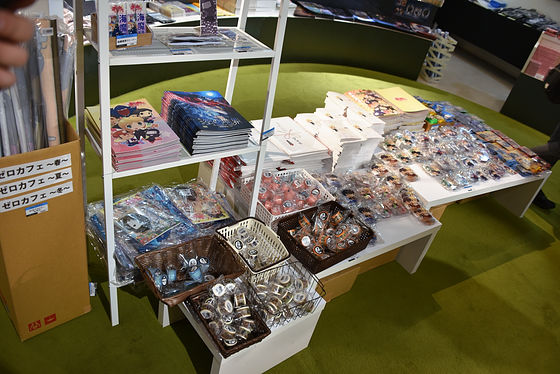 At the "Fate / Zero Cafe" schedule from 17 o'clock, the stage greetings were given by Kondo Producer and Yukiko Seto who was in charge of character design. Actually appearing in the work, the luncheon mat that is placed before the cash register is actually different for each talk number, so all information on the screen is necessary check.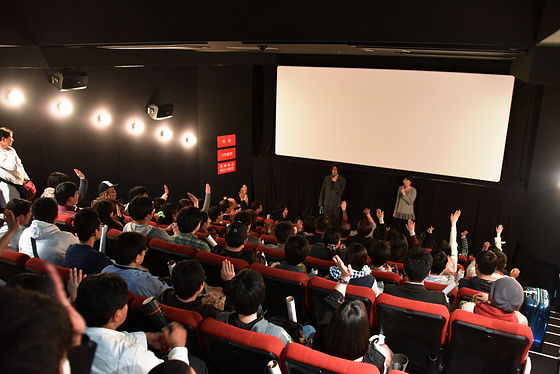 ◆"Fate / Zero" Naemi Yuri New product launch
http://www.machiasobi.com/events/petit_03zerogoods.html

In "Petit ★ Asobi Vol.4", a new product release was held that commences preparation in commemoration of ufotable 15th anniversary. People gathered in the lobby of ufotable cinema, and Kondo Hikari Producer.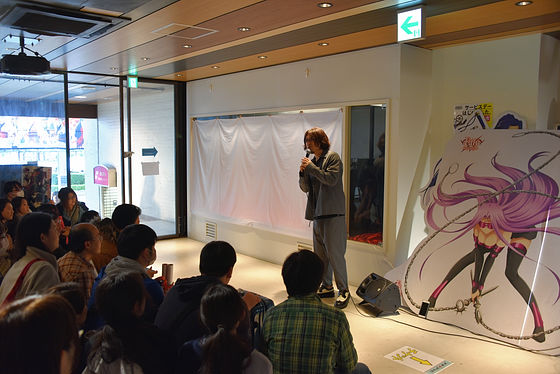 "Fate / ZeroKondo producer who felt that the leading goods are less than those of other characters despite being the guy who is Miyamiya Kirigta. Just because art director Koji Eto was brought in the illustration of Kiritsugu, "Producing art director · Koji Eto Koji MAX let's try out" suggested that this new It seems to be a product.

That's why the first show in this lobby was "Fate / Zero Miyajimi Kiriga - Common day of magician killing ~"is.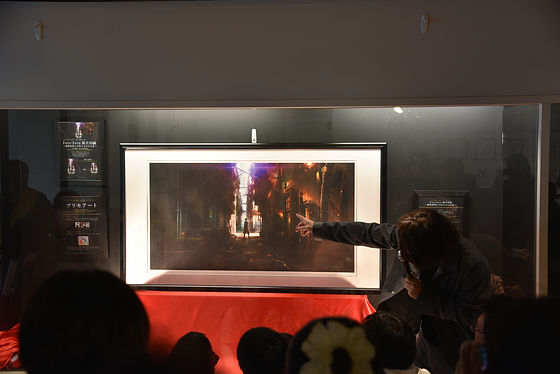 The size of the picture is 683 mm × 1300 mm. When framing it is 944 mm × 1694 mm × 56 mm, weighs 20 kg. Dai Nippon Printing says that printing technology has been improved to the utmost limitDNP high-resolution output technology Primo artMr. Eto's fine brushstrokes are reproduced by using. The price is 300,000 yen including tax, special design A4 clear file and B2 poster are also included for owner of this product.

Fans who saw this picture on the spot were commenting that "they are too wonderful, no words come out, they are just amazing," "I'm about to cry." Incidentally, "Because it is not something to put out in large quantities" to make-to-order and quantity-limited items. Because it is a shooting prohibited item, please visit ufotable cinema and see the real thing. On March 26th and 27th we will be showing off at the venue of AnimeJapan 2016.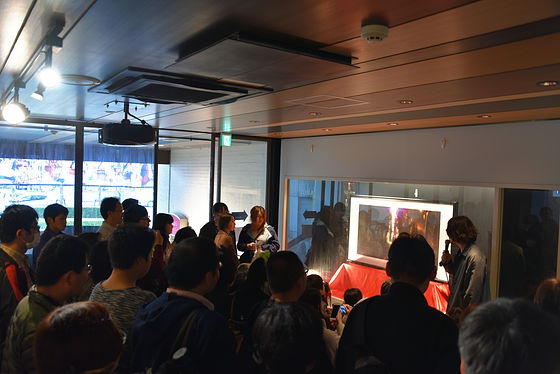 Although it is said to be "the first series of GOLDEN ART series", it seems that the second and subsequent rounds are still undecided at this time.

◆Linear motor car experience
A linear motor car was installed in the arcade, and an experiences ride was held. This is the first landing in Linear Shikoku.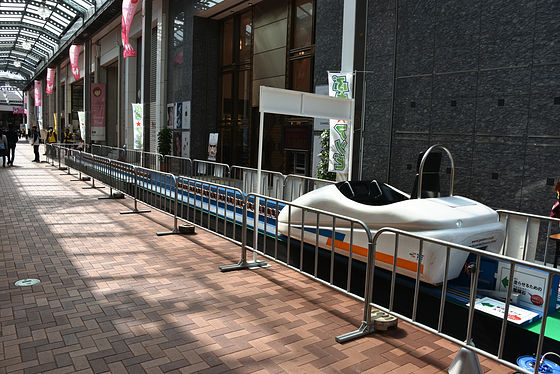 Although it is a mini version, the mechanism is the same as the actual linear motor car. It's tough to drop a cell phone or magnetic card.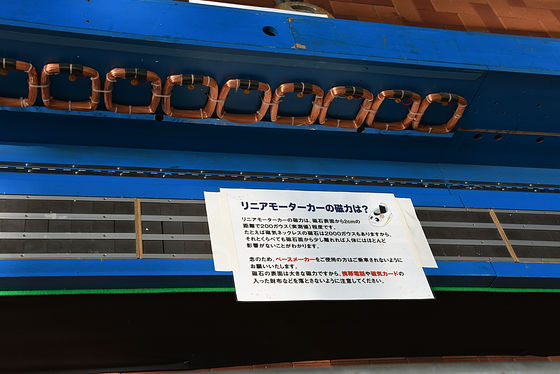 The linear central Shinkansen, which JR Tokai constructs between Shinagawa and Nagoya, has a maximum speed of 505 km / h, but this mini linear motor car is 8 km / h. It is a bicycle sense linear motor car.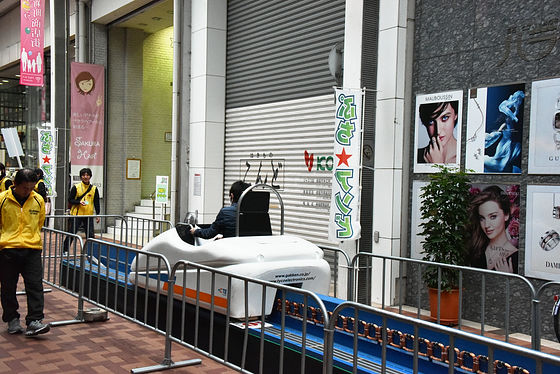 ◆"Let's play in the world of Hinomaru!"
This is "Let's play in the world of Hinomaru" booth.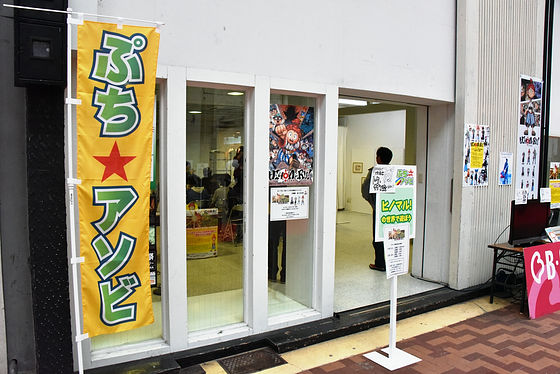 "Hinomaru"Is the monthly Gao! It is manga which is serialized in.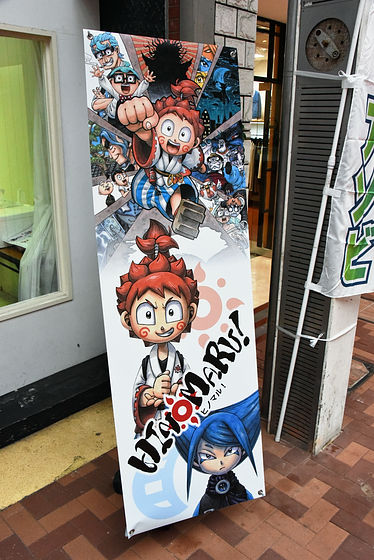 This is the monthly Gao! . The first issue is distributed free, and the second is 100 yen.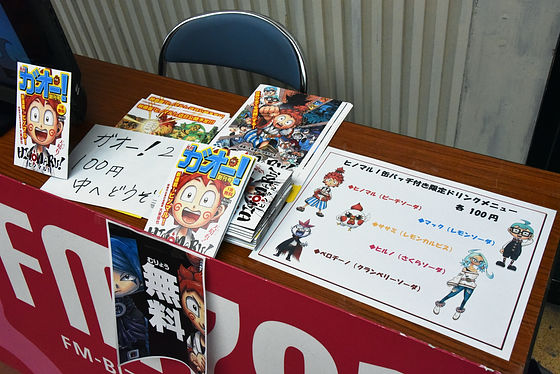 At the booth, you can experience voice actor Ateko.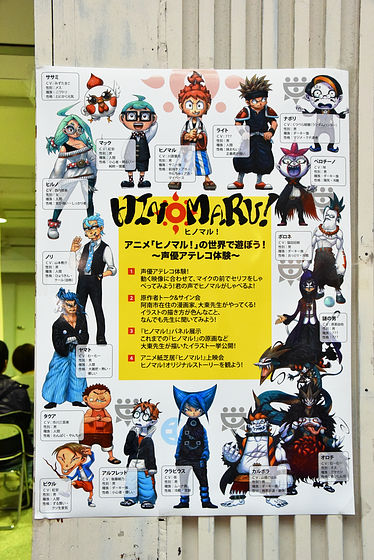 Tokushima City Image Up CharacterToxyIt seems that he was also coming to Atereko experience.

Toksy came to the Atereko experience! ︎

It was very good! ︎Pic.twitter.com/rKeulYTAQf

- Takanari Maruyama @ monthly Gaa! Editor-in-chief (@ marco_808)March 19, 2016

Also, the author'sYuya DaitoHe was from Anan city, so we had a talk & autograph session at the booth this day.

Dr. Yuya Daito's autograph sign! ︎Pic.twitter.com/b95pAgKfYz

- Takanari Maruyama @ monthly Gaa! Editor-in-chief (@ marco_808)March 19, 2016

Furthermore, in addition to performing an animated picture-story show screening at the booth, a public voice actor audition of radio drama will be held from 12:30 on the 20th at the stage of "Fountain of Corne".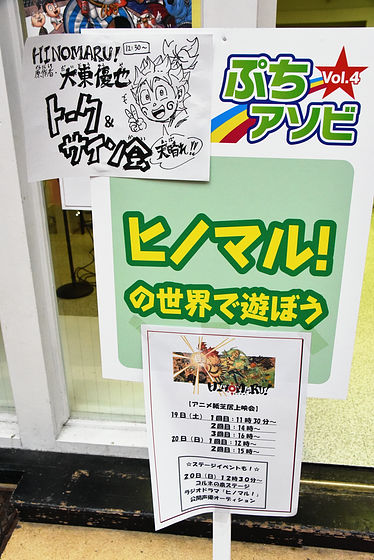 ◆Arcade, others
There is a huge gashagasha at the fairy corner.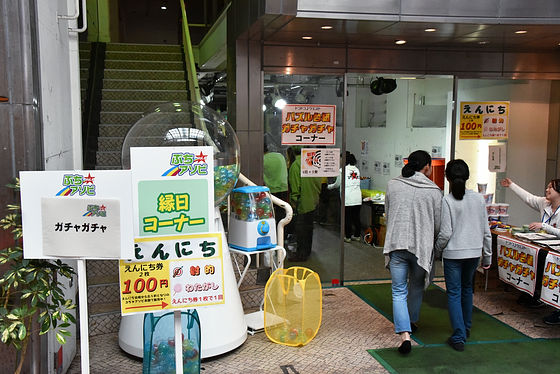 At the panel exhibit provided by the Tokushima Shimbun, I was able to see the photos of old Higashi Shincho.



This is a photograph of the airplane gondola on the roof of the Marunouchi department store, but Shintomachi bridge, Tokushima station and Shiroyama are reflected beyond the playground equipment, and I felt the situation before the Tokushima station after the war.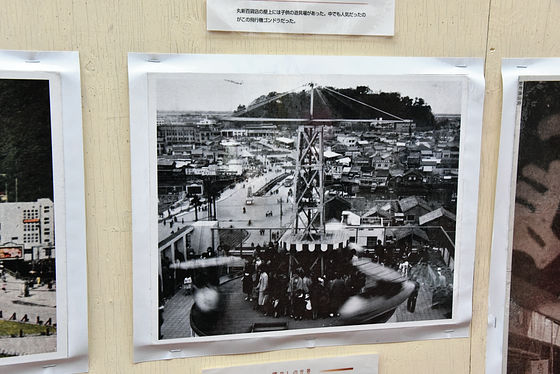 The mysterious Kotatsu space was used as a painting zone, but in fact it is also a plan realized over several years.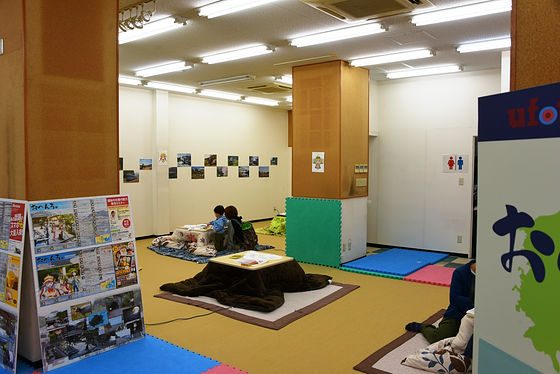 Science show which was held at 'Corn no. Spring square' where Higashi Shinmachi Arcade is divided into two branches. It shows a science-themed experiment, which is demonstrating the strength of neodymium magnets. With normal ferrite magnets we can not support a weight of 2 kg, but neodymium magnets were able to withstand 20 kg.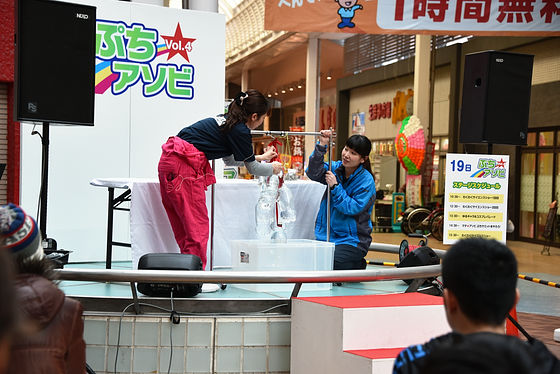 ◆Petit Summit
Petit ★ One of the eyeball projects of Asobi is to enjoy more ⇒ Asobi aiming to give users direct opinions, "Petit Summit".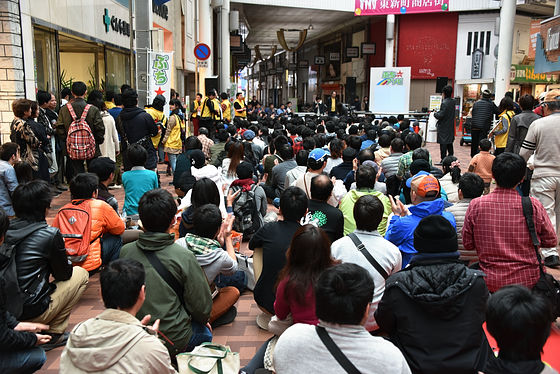 Attendees of the Summit are the few gauze ★ Asobi rivals award at the table on the left side, the President of Mouse Promotion Representative DirectorShozo NayaSan, Avex'sHiroyuki Tanakaproducer,"Orange.Her roleYuji EnataMr. Megumi's roleMari Takano, Born in Tokushima from "Token."Yamashita Nanami, Ambassador of Tokushima Anime Ambassador and voice actorRiko NakamuraMr. ufotable Representative Director · Machi ★ Asobi Comprehensive Producer from TokushimaKondo HikaruMr. The table on the right is a seat for general guests on the left, three people on the right are Hanano Kusatsu, secretary general of the Tokushima City Tourism Association, Mr. Hiroki Yoneda of the Animation Festival Executive Committee, Ms. Misako Shinkai of the Tokushima Tourism Policy Division.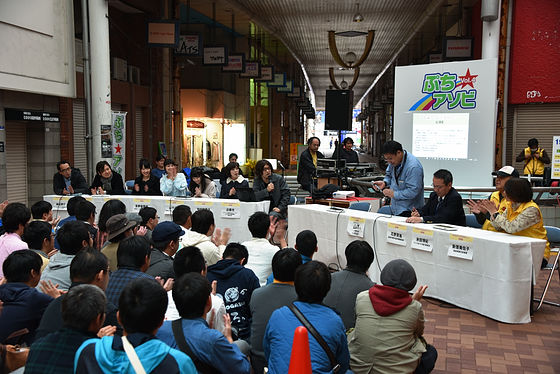 Discussions such as what kind of projects should be done in Machi ★ Asobi from now on, how to connect the everyday of Higashishincho and Machi ★ Asobi.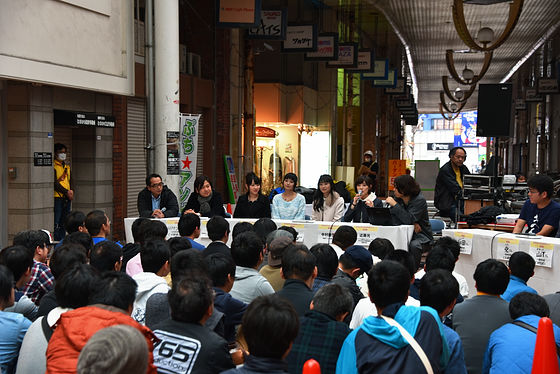 Three general guests who participated in the first half participated from Tokushima Prefecture, Kyoto Prefecture, and Chiba Prefecture, respectively.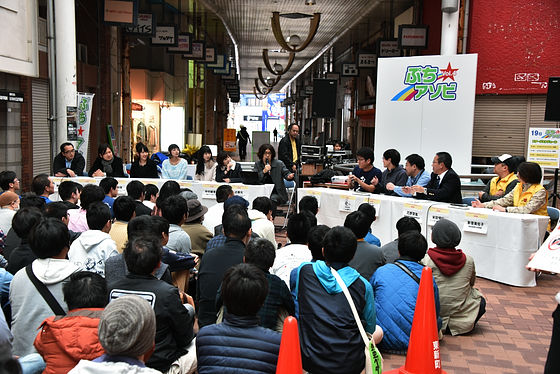 According to Mr. Niito of the Prefectural Tourism Policy Division, we analyzed the contents of SNS as big data, and it seems that there was a lot of time in Asia which got information on Tokushima.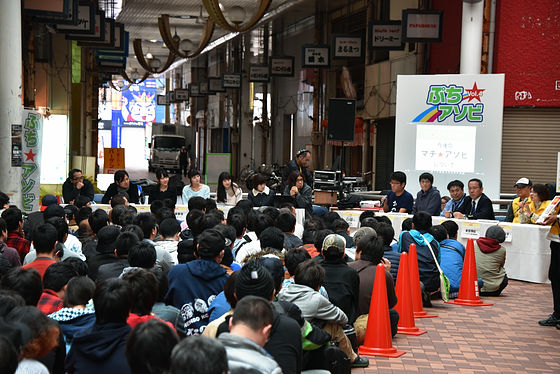 Scenes to pick up opinions from visitors on the day.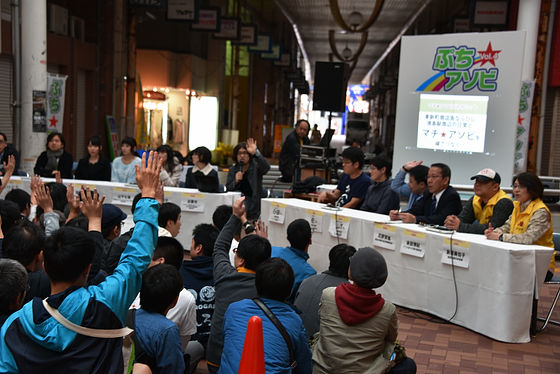 Guests who came from Hyogo prefecture and Chiba prefecture participated in the second half of the game. "Since I had the experience that Mr. Kasaburo Gen's talk show was held at Pagoda Plaza at the summit, I would like you to hold a small event" and "Because there is an airport Jack, Tokushima Port (ferry Terminal) How was it supposed to do an animation Jack project? "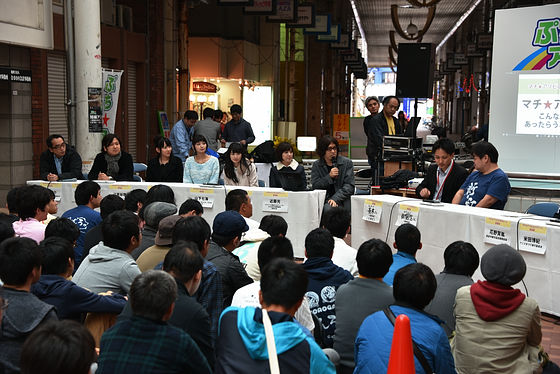 Based on the fact that a lot of opinions came out, an opinion box (reference box) is scheduled to be set up for this next Aso Association.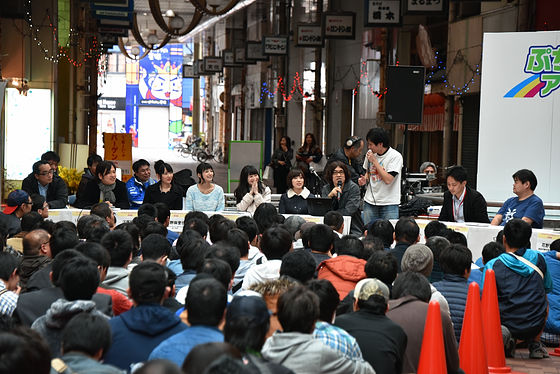 ◆"Orange." Talk & Live · Rikiko Nakamura Talk Show
After the summit ufotable in front of CINEMA, Talk & Live by three people "TEAM OHENRO.", Riko Nakamura's talk show, Mr. Nakamura and TEAM OHENRO. Talk was held with four people together.

Mr. Yamashita, Mr. Egahara, Mr. Takano who are reporting up-to-date reports and fans watching over it.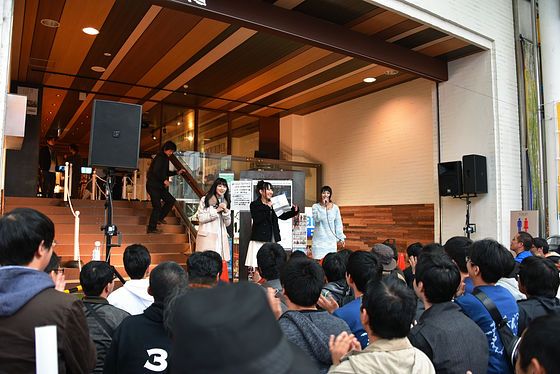 "Oenrou" will soon enter the third year. Volume 1 of the monograph that summarizes the newspaper series has also been released.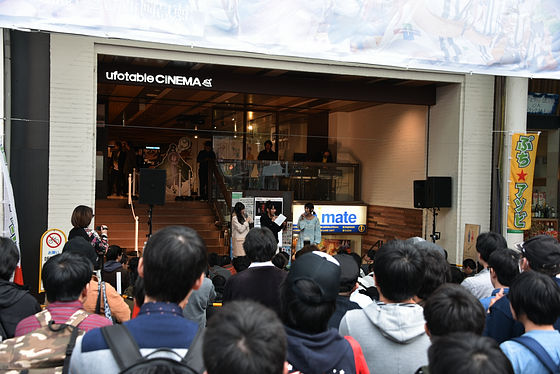 Also, on April 12, 2016 (Tuesday), broadcasting in Thailand is decided. It is overseas expansion following Taiwan.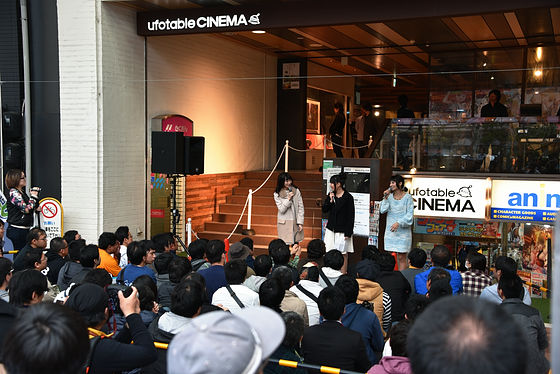 With Tokushima for a long time to talk about three people together, the time passed quickly ......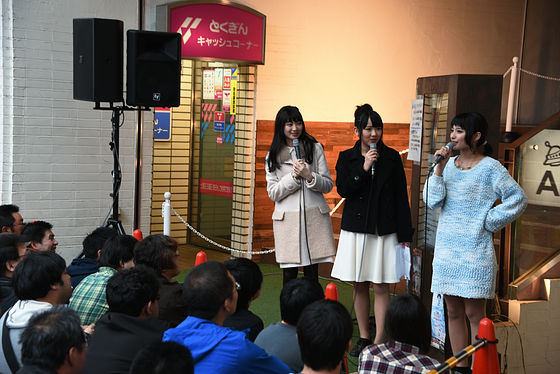 At the end singing and singing "the thousand and two hundred stories".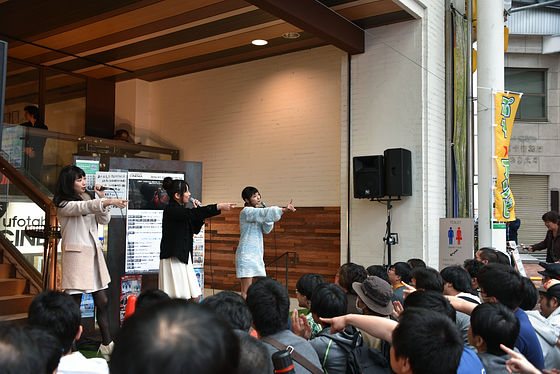 Ms. Riko Nakamura whose activities as Tokushima animation ambassador continue. Evening, I slept like 3 o'clock, but the next morning it seemed to be a throb with a schedule that I had to arrive at Haneda Airport at 6 o'clock.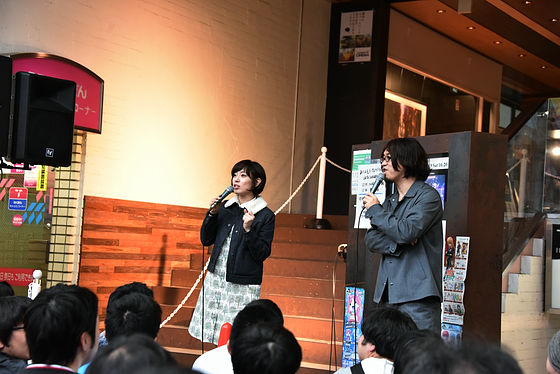 In the talk that "TEAM OHENRO." Joined, in a summit Yamashita says "I would like to pick up garbage" from the story that he said "I leave claws and do not leave garbage, is not it!" Mr. Nakamura that he invented.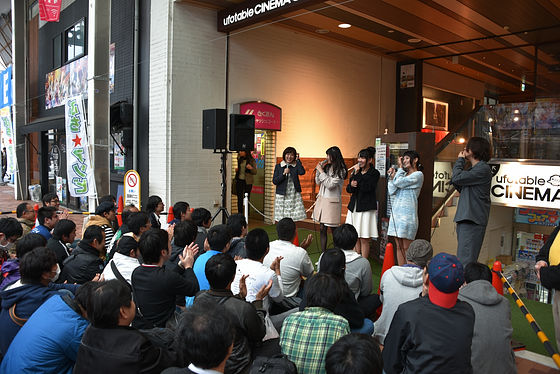 In such a way as to be inspired by this, "everyone picks up garbage" will start at this place.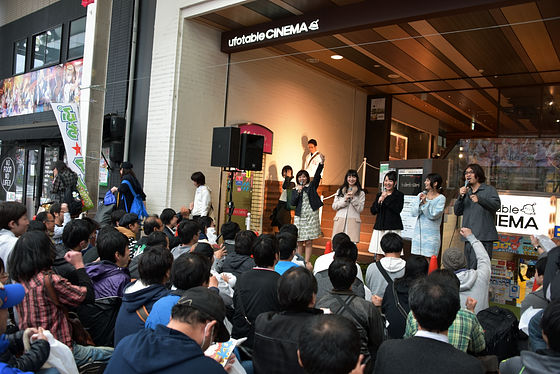 Petit-asbi information: at the Machiasobi summit Proposal of Yamashita Nanhai Proposal "Pick up garbage everyone picks up 10 pieces"
Immediately in the event of Riko Nakamura's event. Mr. Takano, Mr. Egahara, Ms. Tanaka, Mr. Naya and others did it.Pic.twitter.com/JRZ18pd4du

- Kondo Hikaru (ufotable) (@ hikaruufo)March 19, 2016
I am doing well at Takano and Tokushima ☆

Everyone who came to see us today, thank you to everyone who thought about goblin asobi together ♡
Because the city is beautiful, garbage did not fall much, but we enjoyed picking up garbage everyone! The city and the heart are happy ♪

Petit ★ Assortment appeared tomorrow!
Best regards ☆ 彡

- Mari Takano (___ marika_0222)March 19, 2016
Petit ★ Assobi 2016 the first day.
Have you been enjoying it?
All the stages that I will participate have ended! thank you!
F (≧ ▽ ≦ f) ♪
Let's enjoy the Tokushima and Machi ★ Associa from tomorrow even now! It is!
It's exciting to see what kind of projects will start moving

- Nakamura Ruriko @ 5/1 when it is Kira ☆ first public announcement (@ eriko_co_log)March 19, 2016

It takes notice of this Petit Assassin, it is also interesting to see what goblin is like in May.