"It is monitored by your company and school on your iPhone" It turns out that a new feature to teach is planned for the next iOS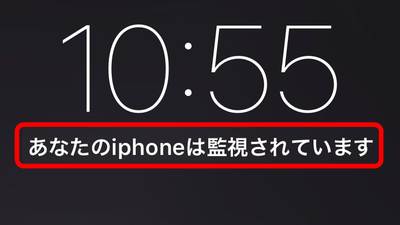 IOS 9.3 Beta 5 "beta version of" iOS 9.3 ", the latest version of Apple's mobile operating system" iOS ", has been released for developers and testers on March 2. A user who tried that iOS 9.3 Beta 5 discovered that the beta version has the feature "display a message if the company was monitoring employees' iPhones."

IOS 9.3 beta 5 changes for supervised devices - More prominent notices: apple
https://www.reddit.com/r/apple/comments/48lagr/ios_93_beta_5_changes_for_supervised_devices_more/




Apple 9.3 b5 Changes - Album on Imgur
http://imgur.com/a/Eb4yJ

MaGNeTiXAccording to what you say to reddit on the bulletin board, "iOS 9.3 Beta 5" shows that iPhone distributed to employees and students is monitored by businesses and schools, this iPhone is managed It is said that it has a function to display the message "by your organization. (This iPhone is managed by the organization)".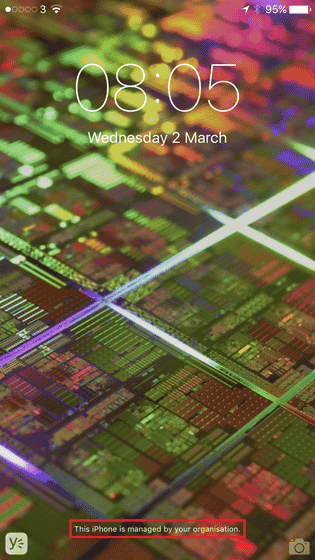 In addition, "iPhone is supervised." ??? "can iPad is monitored (this iPhone is being monitored," iPhone is supervised. The name of the organization "can monitor the traffic and location information of this iPhone.)" Was displayed.



MaGNeTiX investigated the situation under which the message displayed on the iPhone is displayed. As a result, the message introduces numerous iPhones and iPads at companies and schools "Apple Configurator"Or when the educational institution automatically registers / sets the device"Device Enrollment Program(DEP) "that is displayed only when it is being monitored. Even if you are connected to "Mobile Device Management (MDM)" of mobile terminal management software without going through DEP, the message "Monitored" is not displayed on the iPhone.




According to Mr. MaGNeTiX's research, Apple is expected to be planning to install "iOS 9.3" with a new feature that teaches that "a company or school is monitoring your iPhone." The company monitors the employee's iPhone until the holiday and monitors applications for monitoring from the iPhoneDismissed uninstalled employeesIt was in the past that I did it. MaGNeTiX who discovered the new function said, "Apple not only monitors iPhone via Apple Configurator and DEP, it also displays a message telling the monitoring facts to the iPhone being monitored from MDM without going through the service It should be done. "