Only 6.9 mm 2 in 1 "MateBook" 2048 stylus pressure sensing & with laser pointer mounted stylus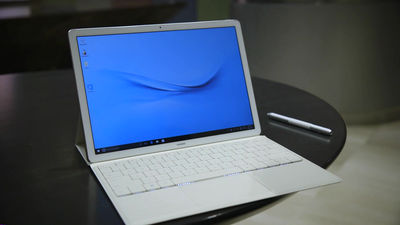 World's largest mobile phone related trade fair "Mobile World Congress 2016"Will be held in Barcelona, ​​Spain from 4 to 20 local time from 22 February, but before thatHuaweiAnnounced the 2 in 1 terminal "MateBook" that can be used as a laptop PC or a Windows tablet so as to aim for "a better connected world" for "a better connected world".

Huawei Launches MateBook at MWC 2016-huawei press center
http://www.huawei.com/en/news/2016/2/Huawei-Launches-MateBook-at-MWC2016

Huawei's MateBook is a convertible PC to take on Microsoft's Surface | Ars Technica UK
http://arstechnica.co.uk/gadgets/2016/02/huaweis-matebook-is-a-convertible-pc-to-take-on-microsofts-surface/

MateBook is a tablet PC with a 6th generation Intel Core m series processor. The OS is Windows 10, and it can be used as a notebook PC by installing the optional keyboard. The main body is made of aluminum, maintaining strength, being elegant and sophisticated design. Color development is two colors of gray and gold.

With lithium battery installed, continuous use time is 9 hours at the time of Internet connection and 29 hours at music playback. It can charge 60% of the battery with 1 hour power supply, the full charge time is 2.5 hours. Memory capacity up to 8 GB, SSD up to 512 GB is compatible.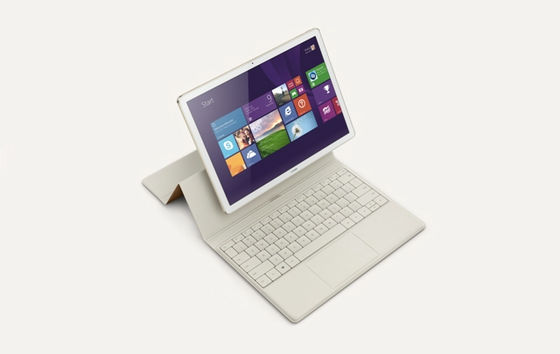 The main body weight is only 640 grams, even with a 110 gram charger it is about 750 grams and very lightweight.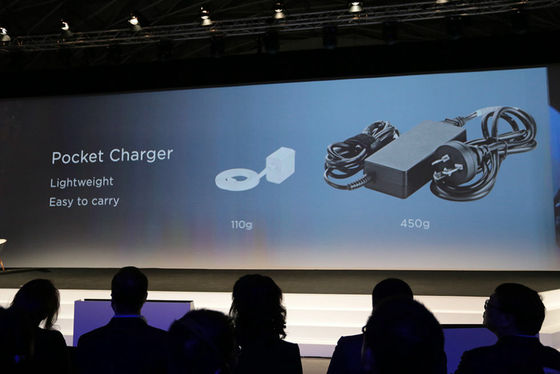 MateBook exclusive stylus pen "MatePen", with laser pointer, is ideal for presentation.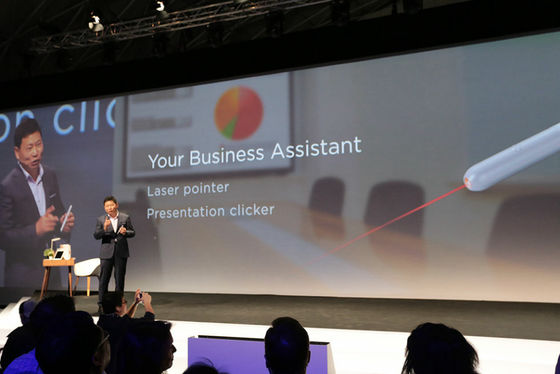 At the Mobile World Congress 2016 venue, MateBook's real machine exhibition is taking place.

Huawei's first Windows 2-in-1 is stylish and incredibly thin | The Verge
http://www.theverge.com/2016/2/21/11081456/huawei-matebook-2-in-1-type-c-mwc-2016

You can confirm the situation of actually using MateBook with the following movie etc.

Huawei's MateBook is a stylish Windows 2-in-1 - YouTube


front. 12 inch (2160 × 1440)IPSWith the LCD mounted, the bezel is very thin, and the LCD screen occupies 84% ​​of the surface area. The viewing angle is rather wide, 160 degrees.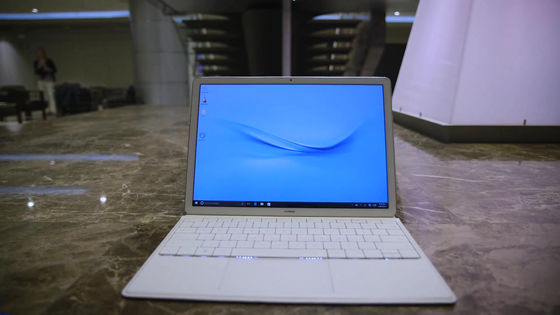 The thinness of the main body is about 6.9 mm, it is a phenomenal thinness of almost the same level as iPhone 6s.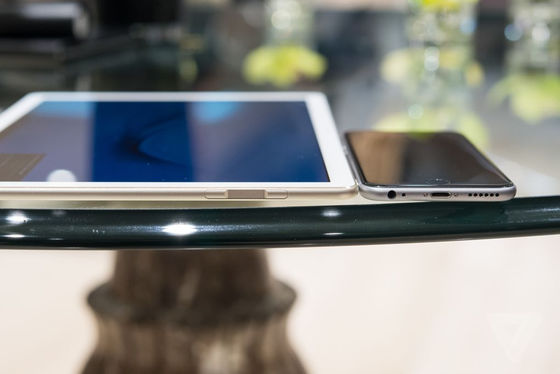 I brought it in my hand.



The OS is Windows 10, and the voice assistant Cortana can also be used.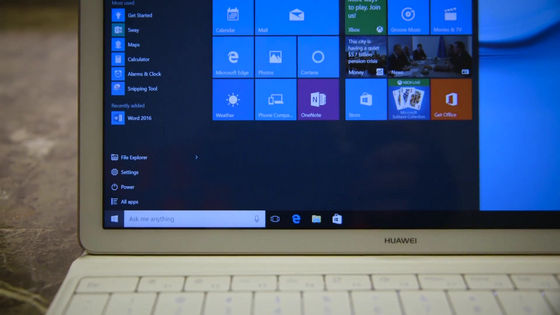 Earphone jack on the left side.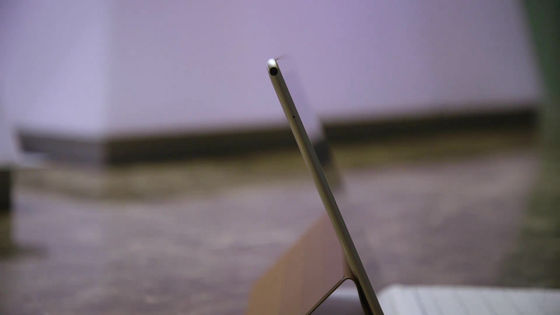 Dual speakers are carried on the top of the main unit.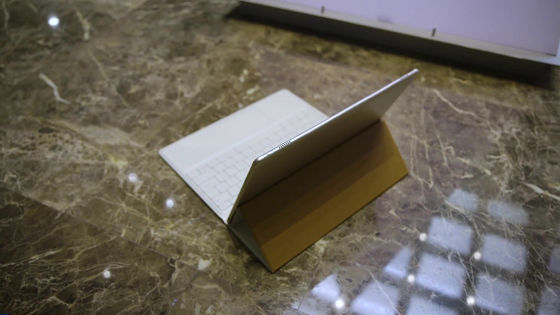 The volume adjustment button on the right side has a fingerprint authentication function ......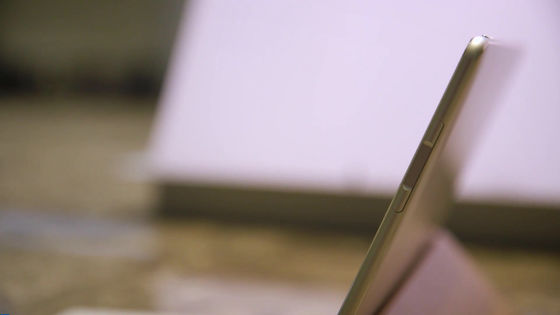 It is possible to unlock the terminal with one touch.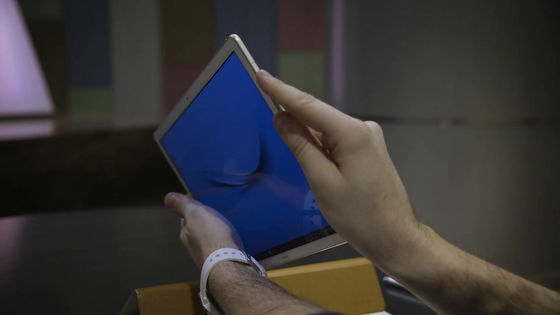 On the lower right side, USB type-C port for power supply.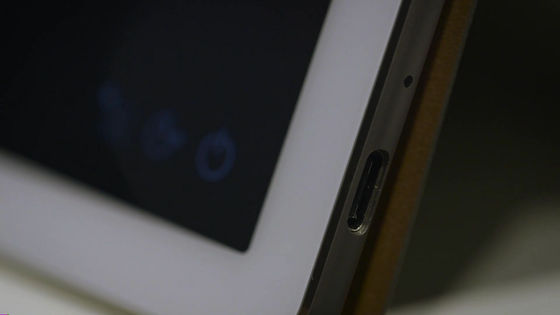 By connecting to the USB - C port, you can add "MateDock" option which can add USB port and HDMI port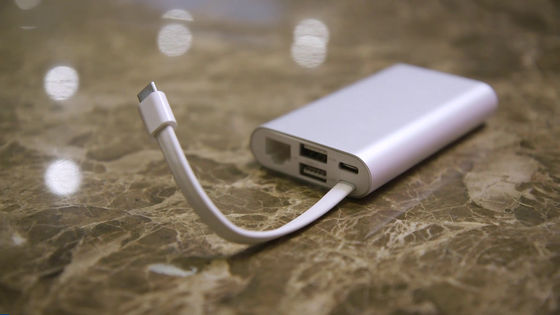 Huawei logo on the back of the main unit.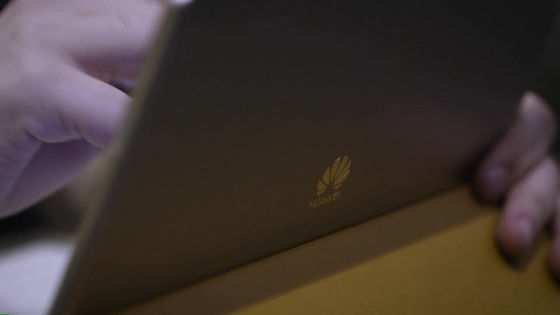 The stroke of the keyboard is shallow as 1.5 mm.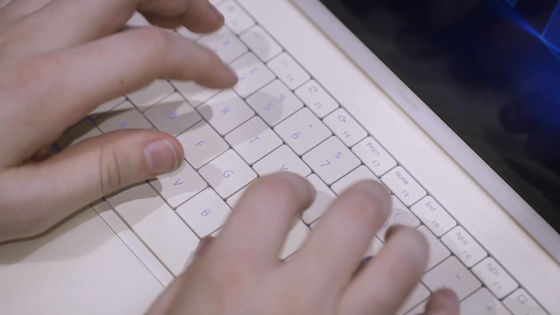 The keyboard also serves as the cover for the main unit, so you can use it as a liquid crystal screen stand when using MateBook as a laptop.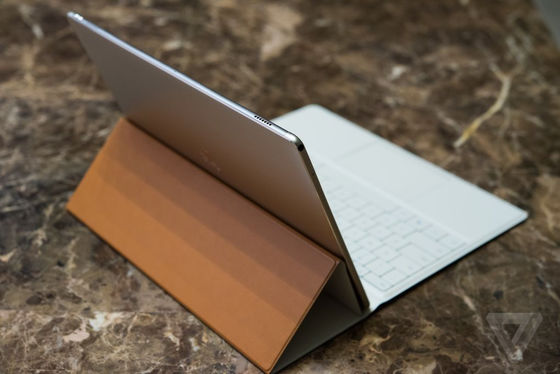 For "MatePen" of the dedicated stylus pen, action such as application launch is possible with buttons.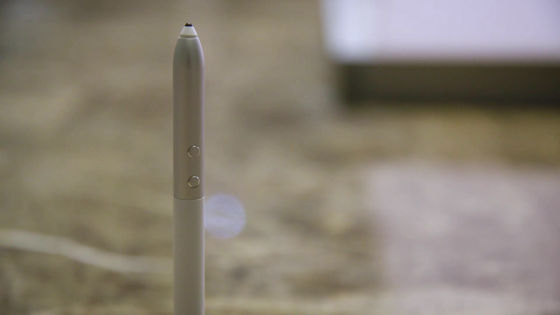 2048 steps pressure sensing function is carried.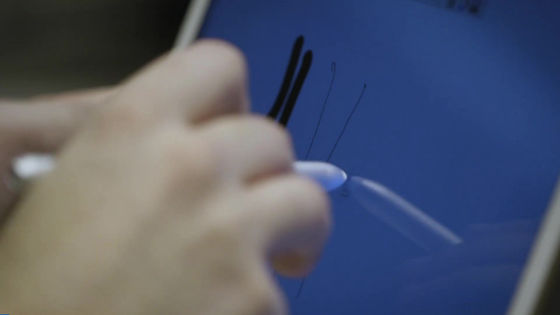 Looking at MateDock and MatePen side by side like this.



Other equipment reviews are being held at the venue.

Huawei MateBook hands-on: The iPad Pro and Surface just got served | Ars Technica UK
http://arstechnica.co.uk/gadgets/2016/02/huawei-matebook-hands-on-the-ipad-pro-and-surface-just-got-served/

Here is the main body color gold.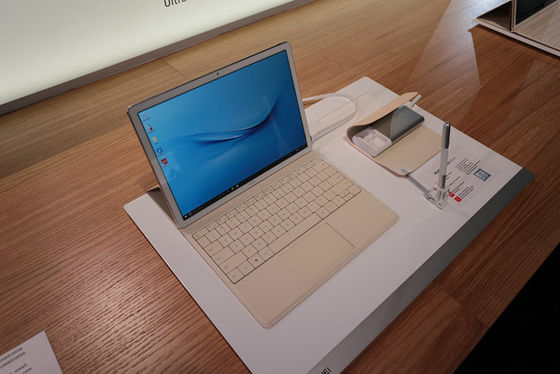 From the right side.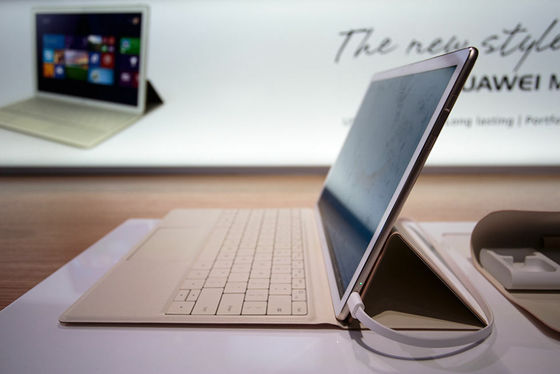 There is almost no delay in drawing and it is very smooth drawing.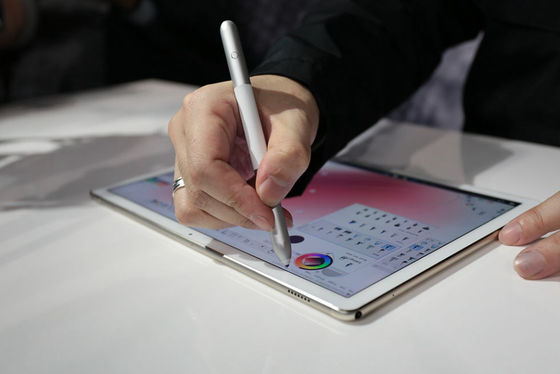 On the bottom is a dock for keyboard connection.



When not using MateDock, you can insert the cable in the main body and store it cleanly.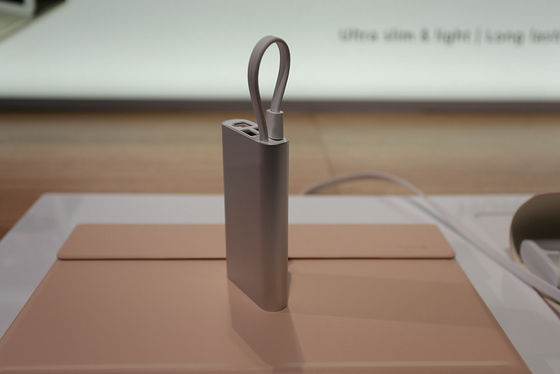 HDMI port and VGA port on the side.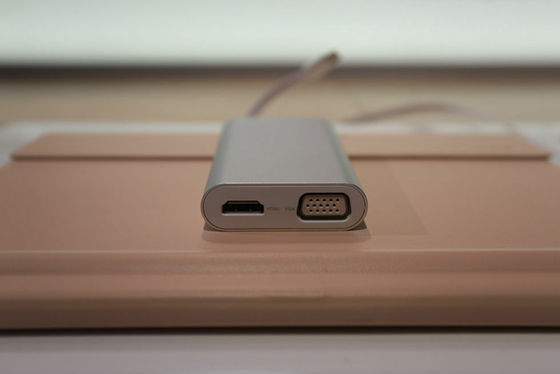 On the other side, LAN port, USB port × 2, USB-C port.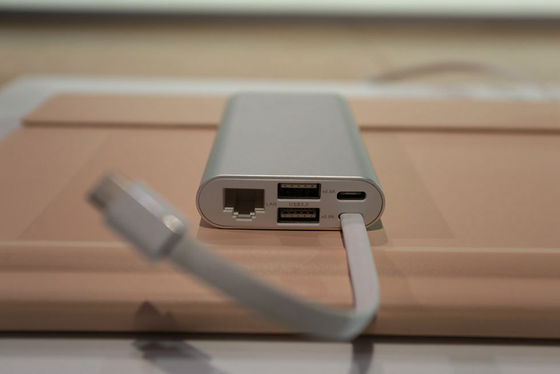 I got MatePen in my hand.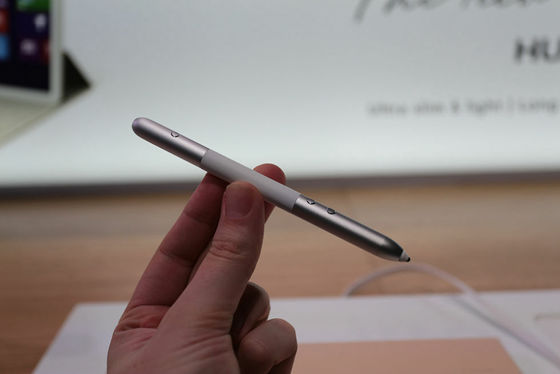 It also serves as a laser pointer.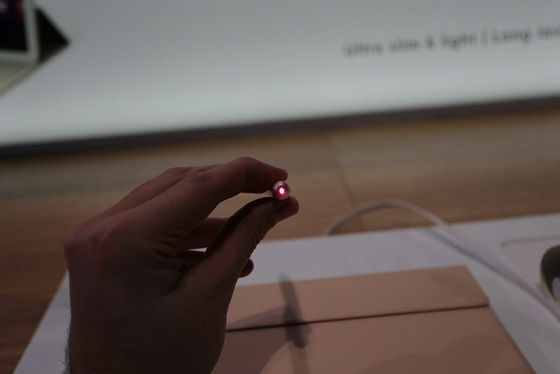 I put a cover on MateBook.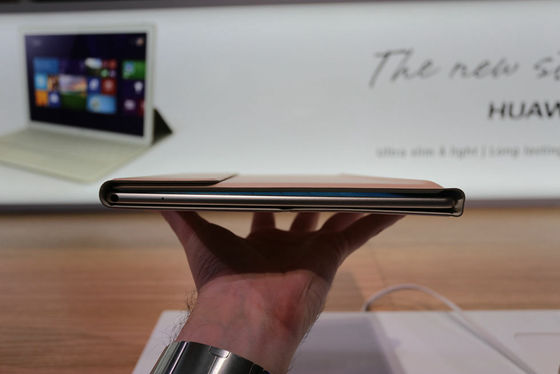 In addition, MateBook's main unit price is 699 dollars (about 70,800 yen) ~. Optional items are keyboard ($ 129, about 14,600 yen), stylus pen MatePen ($ 59, about 6700 yen), MateDock ($ 89, about 10,000 yen) is available.