What a pink Red Bull "Sakura Flavor" drink and it looks like this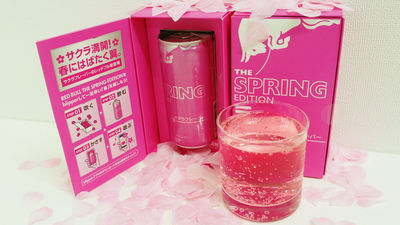 The world's first cherry blossom flavor from Red BullRed Bull Energy Drink THE SPRING EDITION (Red Bull · Energy Drink Spring Edition)"Will appear on Tuesday, February 16, 2016. Red bottle which can feel the energy of the spring which bottled design and contents are dyed in pink color reached GIGAZINE editing department quickly, so I tried drinking what it is tasted.

2016.1.5 | To that person who has a thought, wrapped in cherry flavor | Red Bull
http://www.redbull.com/jp/ja/stories/1331768555426/red-bull-the-spring-edition

Red Bull Spring Edition arrived in a special box and arrived.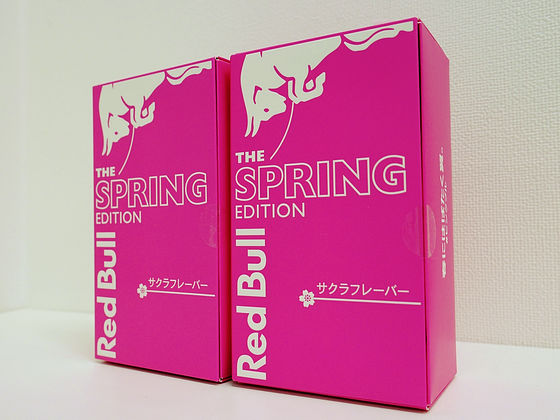 On the side of the box, together with the phrase "Wings waving in spring", as a dedicated hashtag "# Pinkbull"It was written.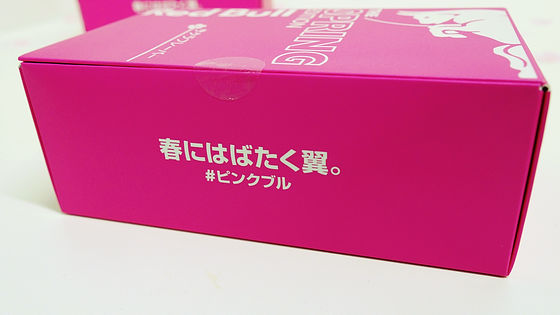 When opening it puffy, it contained a pink Red Bull in which cherry blossoms were interspersed inside. It was written in the box how to enjoy Red Bull Spring Edition, so STEP 1 was "blowing" ......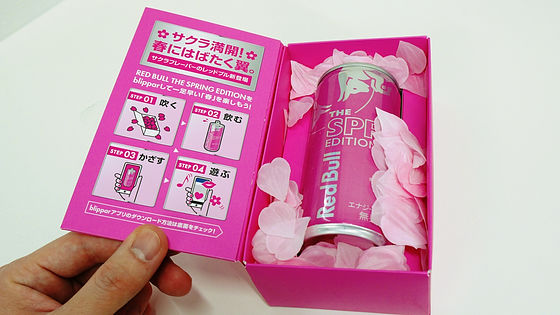 I tried blowing petals for the time being.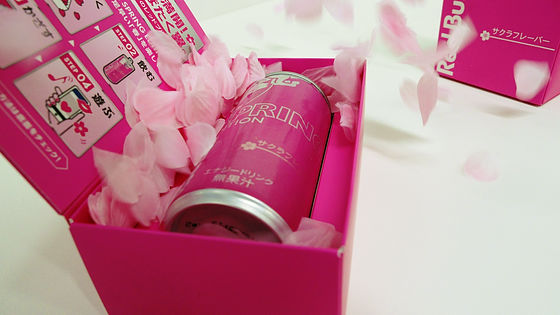 Spring likeness can be felt to the full, but the cleanup is self-responsibility.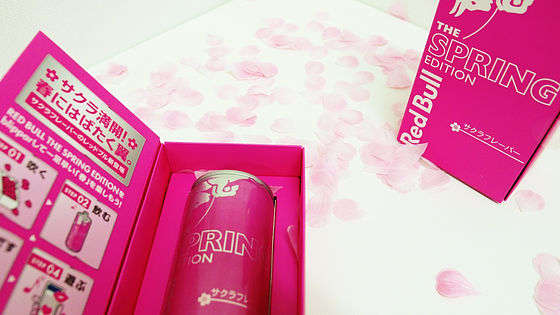 So I took out the Red Bull Spring Edition which looks like this. Unlike the original can design where blue and silver are mixed, it is a design with one side dyed in pink color.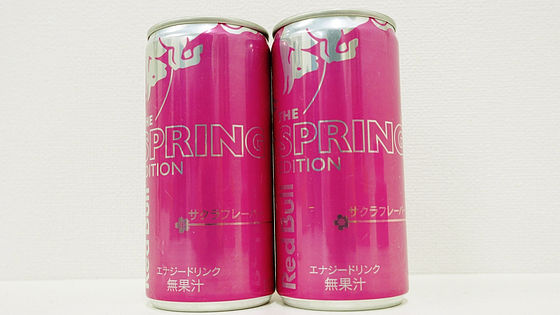 Looking at nutritional ingredients, arginine, the main ingredient of energy drink, is 120 mg / 100 ml, the same formulation as the original Red Bull.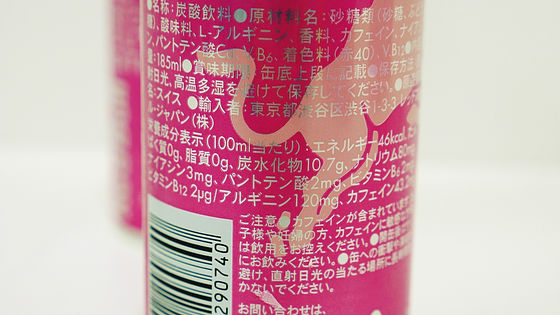 Opened a familiar pull-top with Red Bull logo puzzle. Then I felt the scent like spring like Sakura cake.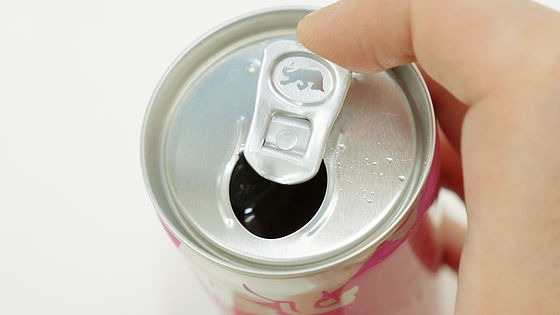 What kind of color it pours into the glass, the drink was pale pink color to the drinks, and the editorial staff who were around did also attracted attention as "awesome color!"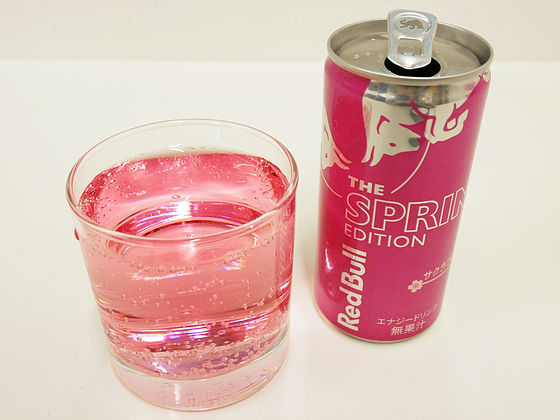 When you drink it, along with a refreshing scent of cherry, plumy acidity spreads in your mouth.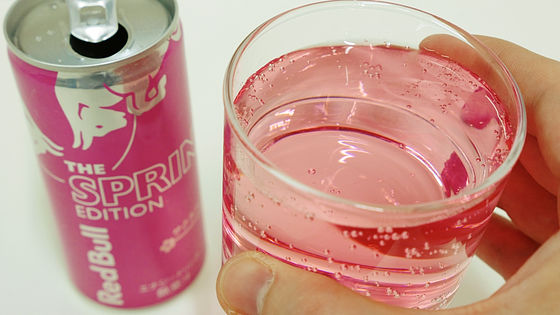 So as I was drinking compared with the original red bull, Red Bull Spring Edition is a bit more refreshing as it is more sour than the original, a feeling of "giving a wing" that will make you feel good after drinking It is intensified.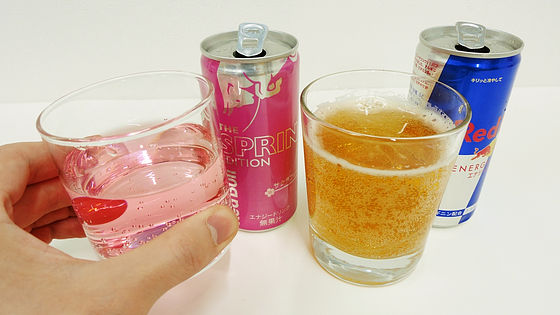 In addition, on the bottom of the boxBlipparA method to enjoy "pink effect" in cooperation with the application named "Pink effect" was written. Something will happen by downloading iOS / Android application and holding the can of Red Bull Spring Edition with camera.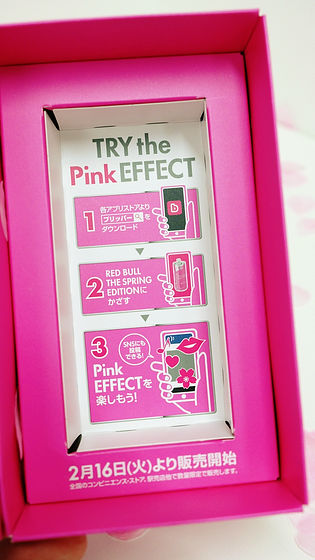 Actually activating blippar and tried it, I recognized Red Bull Spring Edition ... ....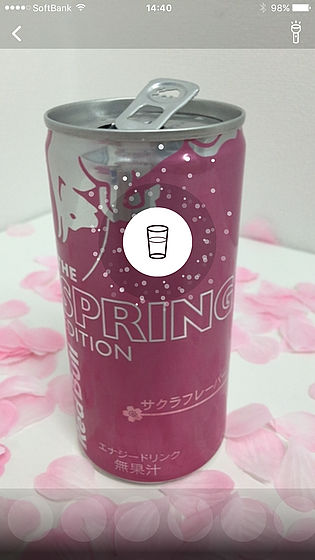 It seems that the service release has not begun. In addition, Red Bull · Energy Drink Spring Edition has been released as a single item since February 16, but from February 9 (Tuesday) some convenience stores throughout the country have grape taste "Blue Edition"Set as"Red Bull Editions Valentine Assort"Is sold in limited quantity, people who care are the chance to drink as soon as possible