Apple has recalled the AC power plug and also covers some items sold in Japan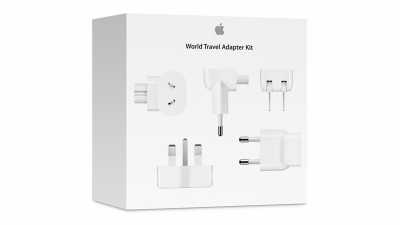 Apple announced the recall of parts concerning AC power adapter. Although the target product is mainly designed for outside Japan, an AC plug matching the shape of the power strip of the world is bundled"Apple World Travel Adapter Kit" is included in the replacement subjectSo, the person at hand needs correspondence.

Apple AC Wall Plug Adapter Exchange Program - Apple Support
http://www.apple.com/support/ac-wallplug-adapter/

The subject of this exchange is a two-wire AC power plug ("duck head") designed for continental Europe, Australia, New Zealand, South Korea, Argentina, Brazil, this component rarely fails, The risk of electric shock was touched when touching with hands. These power plugs were shipped as a bundled item for Mac and some iOS devices from 2003 to 2015,Apple World Travel Adapter KitIt has also been included in.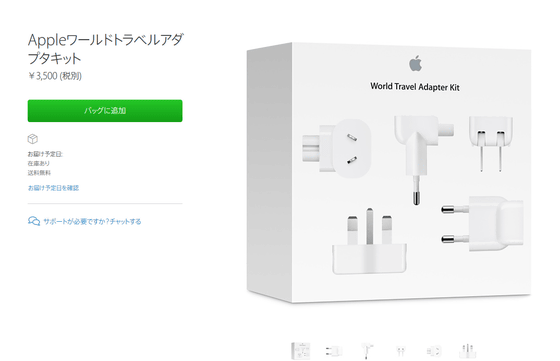 How to distinguish target power plugs is announced as shown in the figure below. The power plug that is the subject of the exchange program says that 4 to 5 letters are written in the indentation of the contact part with the power adapter or no letters are written. On the other hand, a newly designed power plug has three-character area code (EUR, KOR, AUS, ARG, or BRA) written in this indentation.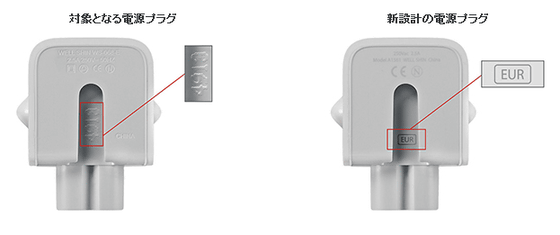 The type of core (pin) of the target power plug is said to be the following four kinds.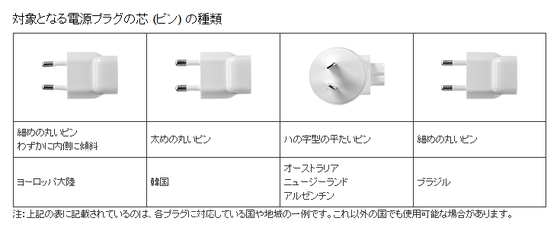 Other power plugs (such as AC power plugs for the United States, UK, China, Japan etc., Apple USB power adapter, etc.) are not covered by this program,Apple World Travel Adapter Kit is includedSo, please be sure that people who have it do not feel secure.

The replacement procedure is nearApple Store Retail StoreDo you accept support at Genius Bar,Apple Authorized Service ProviderIt will be correspondence with. Since it is said that it is necessary to verify the serial number of the terminal such as iPhone at the time of exchange, please check the details and take countermeasure.