School educational version "Minecraft: Education Edition" to make creativity and problem solving ability grow on Minecraft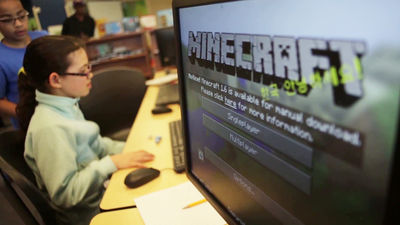 Minecraft which collects materials by cutting trees and mining wood with a vast map and allowing users to freely construct structures can be applied to educational "MinecraftEdu"Although Microsoft had acquired MinecraftEdu, it became a new version"Minecraft: Education EditionWe will release the summer of 2016.

Announcing Minecraft: Education Edition
http://education.minecraft.net/announce011916/

Microsoft invests in new and expanded version of 'Minecraft' for the classroom, opens public preview of Learning Tools for OneNote - The Official Microsoft Blog
http://blogs.microsoft.com/blog/2016/01/19/microsoft-invests-in-new-and-expanded-version-of-minecraft-for-the-classroom-opens-public-preview-of-learning-tools-for-onenote/

Home - Minecraft Education Edition
http://education.minecraft.net/

Minecraft is a game dedicated to "making", it is said that there is an effect of growing children's creativity (creativity), problem solving ability, cooperativeness, and SwedenA school that adopts this game as a compulsory subjectThere are, in ScotlandSchool teaching the basis of urban planning and engineering at MinecraftAs much as there is. With recognition of the game nature as education, MinecraftEdu of educational version released by Mojang of the developer in 2011 is offered to school agencies in more than 40 countries.

Although MinecraftEdu is developing by Teacher Gaming LLC, Microsoft announces that it will purchase MinecraftEdu and release the new version of "Minecraft: Education Edition" in the summer of 2016 Microsoft is the developer of Minecraft Mojang in September 2014Approx. 268 billion yenWe acquired it at this time, but this time we acquired only the product line of MinecraftEdu, not Teacher Gaming LLC.

The newly announced Minecraft: Education Edition is a version of MinecraftEdu that has been greatly upgraded, new faculty members will be added with new functions such as grasping the avatar of each student and enabling multiplay in all classes plans. A free trial version is offered at the time of release, and users using MinecraftEdu can use it for free for the first year only.

You can see how the school teachers and students capture the Minecraft Education Edition by looking at the following movie.

Minecraft: Education Edition - YouTube


Children playing Minecraft in the classroom.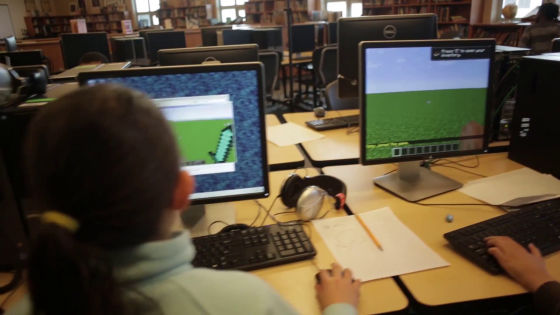 Rafranz Davis of Lufkin ISD, who already uses Minecraft as an educational tool, said, "Children are approaching each other differently when playing Minecraft.The faculty confirms the difference in children's learning methods This is a major different point from the educational tools I have ever taught ", he says that Minecraft can be used not only for students but also for teachers to teach.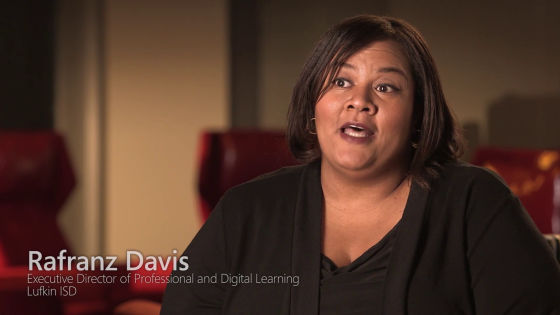 According to Steve Isaacs, who teaches game design at William Ann Junior High School, he has never seen educational tools to nurture "creativity" as much as Minecraft.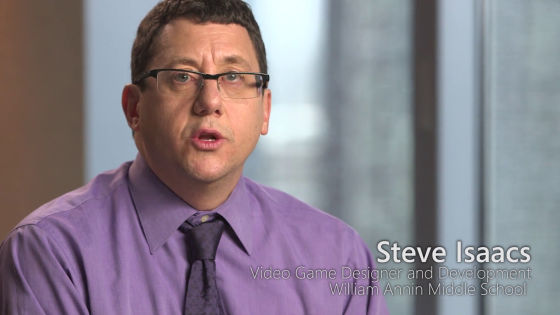 In addition, Minecraft is a game that "failure" is allowed, and by failing you can re-challenge by making a strategy such as "what was wrong" and "next to do". It seems that students are having fun trying to smile naturally in Mine Craft class and watching it from a teacher's point of view is "worth experienced once in a lifetime".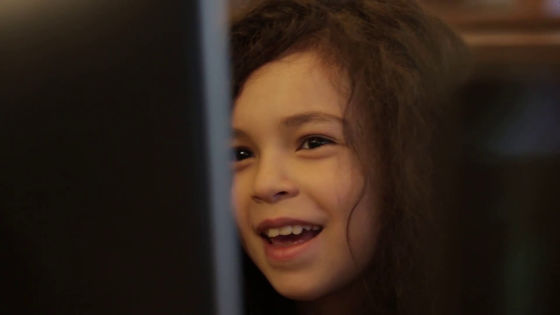 "Teachers can not easily incorporate things that are not planned and tested in advance or do not fit in textbooks to classes, but as you see how pupils are enjoying learning, It can be said that he broke his body, "Davis said.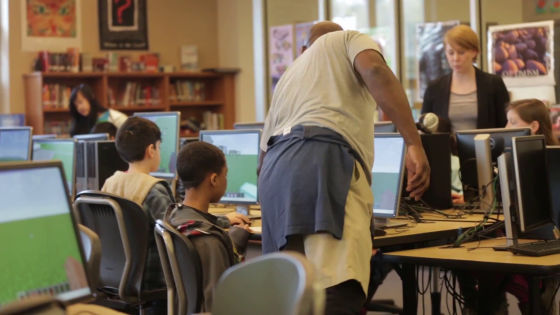 Think about the educational effect of Minecraft in JapanEvents implementedOr, at Tama City Aichi elementary school you learn programming with MinecraftEduWorkshop heldThere is also a high possibility that there will be educational institutions that adopt the new version of "Minecraft: Education Edition" for classes.

· Additional notes 2016/01/27 9: 53
According to ZDNet of IT related media, the beta version of Minecraft: Education Edition scheduled to be released in the summer of 2016 seems to be written in C ++ rather than Java. Writing in C ++ makes it possible to eliminate problems occurring in normal versions, but there is a possibility that compatibility with past modes may be lost.

Microsoft's new Minecraft Education Edition - written in C ++ - will outrun the Java version | ZDNet
http://www.zdnet.com/article/minecrafts-new-education-edition-written-in-c-will-outrun-the-java-version/

· 2016/11/02 10: 21
The full version of "Minecraft: Education Editon" which had been available for early access version in June 2016 has been released.

Minecraft: Education Edition Available Now! | Minecraft: Education Edition
https://education.minecraft.net/011116announce/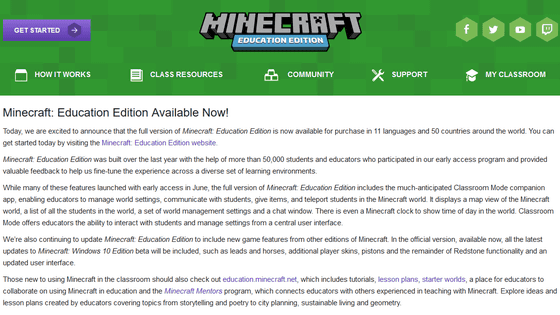 In Japan, Microsoft Microsoft has offered Minecraft: Education Edition on November 1st for primary and secondary education. The price is 120 yen per month per teacher, and free of charge for 1 year will be provided to 2,500 teachers by "Minimize Educational Minecraft Utilization Campaign".

Toward Promotion of Digital Transformation in Educational Institutions - The Official Microsoft Japan Blog
https://blogs.technet.microsoft.com/microsoft_japan_corporate_blog/2016/10/25/161025-education-digital-transformation/