LG will invest over 1 trillion yen for organic EL display equipment investment toward future iPhone loading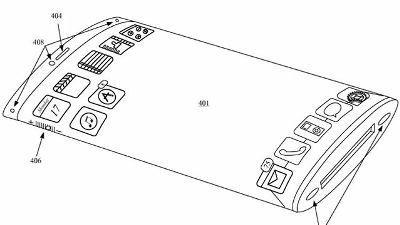 LG display revealed that it will make huge capital investment exceeding 10 trillion won (about 1.6 trillion yen) in anticipation of future expansion of organic EL display market. The background of organic EL shift of LG display is thought to be the new addition of Apple to adopt organic EL display for iPhone.

Press Releases - Press Center | LG Display
http://www.lgdisplay.com/eng/prcenter/newsView?articleMgtNo=4958

Apple, iPhone Organic EL Korea LG Increase production investment: Nihon Keizai Shimbun
http://www.nikkei.com/article/DGXLASDZ25I3A_V21C15A1MM8000/

South Korea LG Announces Newly Established Organic EL Factory Adopts Super Large-Scale Base: Nihon Keizai Shimbun
http://www.nikkei.com/article/DGXLASGM27H1E_X21C15A1EAF000/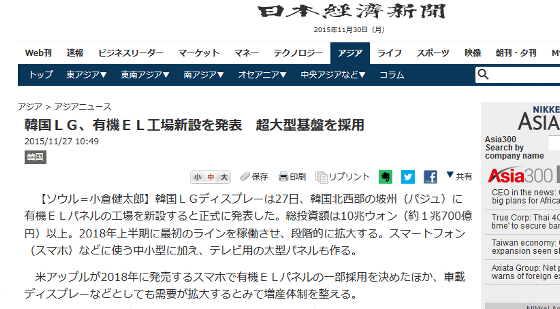 LG Display officially announced the construction of a new factory to manufacture organic EL display panels in Korea in a press release dated 27 November 2015. Already the LG displayPlan to establish an organic EL panel manufacturing plant by investing about 10 trillion won (about 1.6 trillion yen) over the next three yearsAlthough it was launching, a part of the plan was officially announced.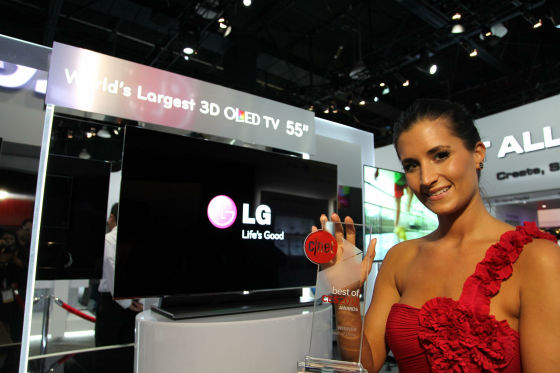 ByLG 전자

According to the announcement of the LG display, it will establish a state-of-the-art "P10" factory on a vast site equivalent to 14 soccer stadiums in Paju (Puju) in the northwestern part of Korea, 382 meters by 265 meters. The P10 factory is expected to be "the 9th generation or more panel factory", and plans to start the line in the first half of 2018. The factory building and infrastructure development cost alone amounts to 1.84 trillion won (about 195 billion yen).

In the LG display, the organic EL display has advantages over the liquid crystal display in terms of coloring ability, power saving performance, bendable flexibility, and so on, and we expect that demand will expand dramatically in the future as a display for smartphones and televisions. The market size, which was 8.7 billion dollars (about 1.7 trillion yen) as of 2014, is expected to expand to 29.1 billion dollars (about 3.7 trillion yen) in 2022, and the LG is estimated to be 1 trillion We have invested capital in organic EL panel factory that exceeds yen.




LG already supplies organic EL display to Apple as a display of Apple Watch, and iPhone 8 (tentative name) which appears in 2018 is expected to adopt organic EL display, so it can supply a large quantity to iPhone It is also seen that we have made huge capital investment. Already rival Samsung is leading the supply of organic EL display with Galaxy series of its own smart phone, but LG display is standing to pursue Samsung with supply competition of organic EL display for smartphone.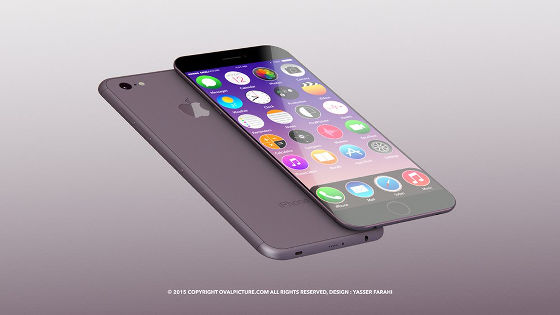 If Apple's conversion of iPhone to organic EL is realized, now Sharp which supplies liquid crystal display for iPhone and influence on Japan display are unavoidable. In addition, the organic EL market is led by Samsung and Korean leaders of LG display, but thisBOE TECHNOLOGY GROUP Brought Fierce Level 2 in the Liquid Crystal MarketIf a Chinese enterprise such as China will also enter the organic EL market, there is no guarantee that "three years after drawing by the LG display" will be rosy.