Does Apple's second-generation "iPad" adopt high-quality organic EL display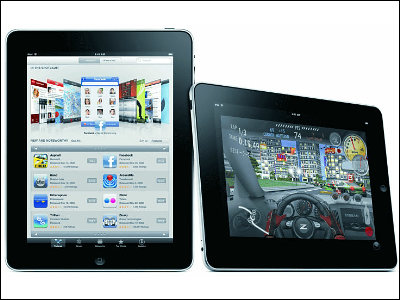 It was released in the United States from April 3, so much salesApple's tablet terminal "iPad" whose sales outside the United States will be postponed for one monthHowever, it became clear that a high-quality organic EL display is expected to be adopted for the 2nd generation model which will be released in the future.

Details are as below.
Apple said to use OLED in second-generation iPad

According to this article, Apple"Fourth-generation iPhone" which is scheduled to be launched this summerIt is said that market participants have made it clear that the development of the "second-generation iPad" adopting the same design philosophy as that of the second generation is started. The 2nd generation iPad is aiming for the launch in 2011 and it is said that it is thought that it adopts organic EL panel which is not liquid crystal on display but has reputation such as low power consumption and good coloring performance than liquid crystal .

Although the trend of the organic EL display market, Samsung in South Korea, which boasts a lot of production volume, is making investment for increased production and also LG Electronics in Korea also acquired Eastman Kodak's organic EL business in 2009 In addition to that, Taiwan's Acer Group liquid crystal panel manufacturing company "AUO (AU Optronics)"Will also resume the production of organic EL panels in 2011, the price of organic EL displays is expected to decline in the future.

However, there is a skeptical view on the viewpoint of such market participants, Mingchi Kuo, senior analyst at Digitimes Research, said that the price of organic EL panels is still expensive, and 2011 We anticipate that it will not be as cheap as installed on the 2nd generation iPad released in the year.

By the way, according to Kuo, the current price of the 9.7-inch LCD display on the iPad is 60 to 70 dollars (about 5500 to about 6400 yen), while the price of the organic EL display is 500 dollars It is said to be 46,000 yen). It certainly may be difficult to drop down to a level comparable to liquid crystal displays in a year.