When playing PS2 game using PS4 emulator, it works null null at 60 fps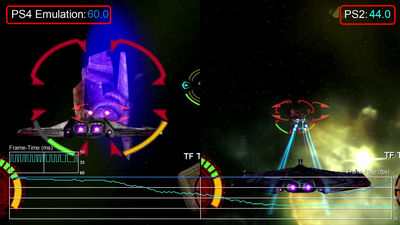 Sony's "Playstation 2" which operates on the latest game machine "PlayStation 4" against WiredWe are working on the development of emulatorIt was revealed. If Eurogamer investigated the behavior of the past title of PS 2 that was attached to "Star Wars: Battlefront" released on November 18 if it traces back, it turned out that it is running on the emulator However, Eurogamer is progressing further investigation of the PS2 emulator and has released a movie actually played.

Digital Foundry: Hands-on with PS4's PlayStation 2 emulation • Eurogamer.net
http://www.eurogamer.net/articles/digitalfoundry-2015-hands-on-with-ps4-playstation2-emulation

Performance Analysis: PlayStation 2 emulation on PS 4 • Eurogamer.net
http://www.eurogamer.net/articles/digitalfoundry-2015-ps2-emulation-on-ps4-performance-analysis

Eurogamer, the movie that actually played the title "Super Star Wars" "Star Wars: Racer Revenge" "Star Wars: Jedi Starfighter" "Star Wars: Bounty Hunter" which was attached to Star Wars: You can check from.

Hands-On With PS2 Emulation On PlayStation 4 - YouTube


When you start up the game you will see the nostalgic PS2 logo.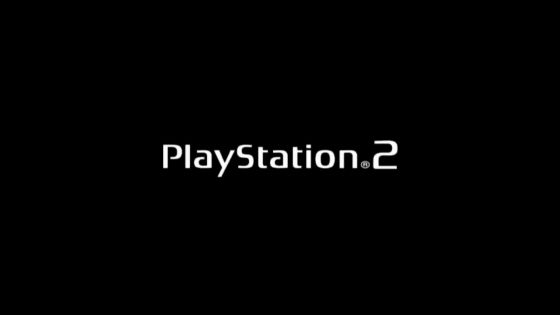 It is "Star Wars: Racer Revenge" to play.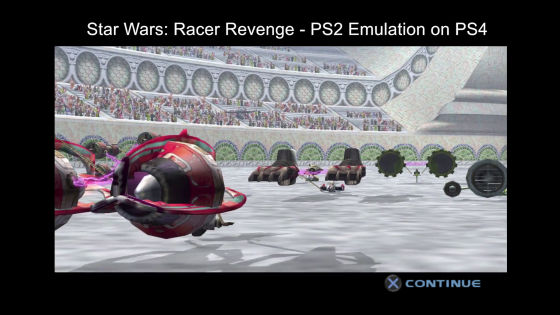 As long as you see the movie, you can see that it works without problems. It can not judge whether the image quality is improved from PS2.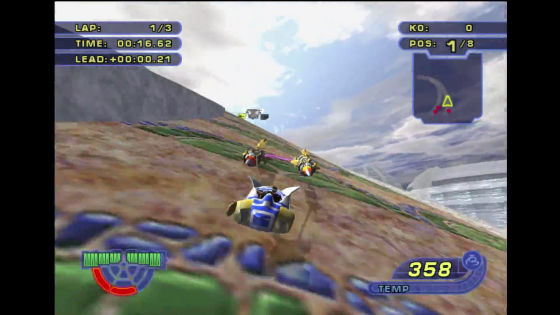 However, when comparing the screens of PS 4 and PS 2, the difference is obvious. The PS4 is on the left and the PS2 is on the right, but the PS 4 is higher in picture quality.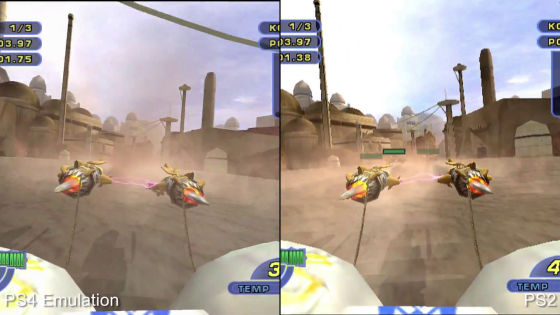 In PS 2, the jaggedness of the dot is conspicuous, but the impression that PS 4 is sharp.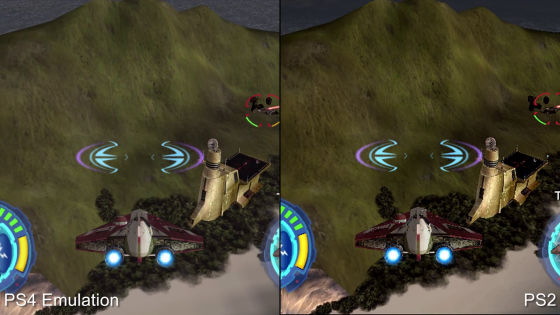 Likewise for "Star Wars: Bounty Hunter", the PS4 has a higher image quality.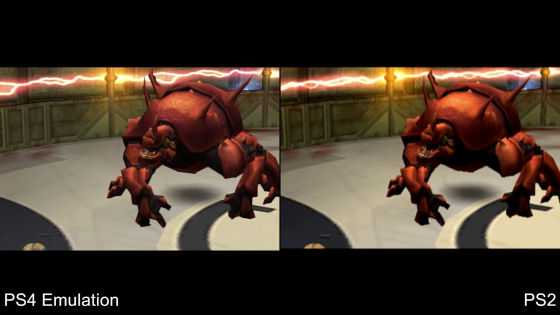 The movie that investigated the frame rate of the PS 2 emulator of PS 4 can be confirmed from the following.

PS2 Emulation for PlayStation 4: Frame-Rate Test - YouTube


Survey of frame rate next to picture quality. Although the frame rate is displayed at the top of the screen, both PS 4 and PS 2 are operating at 60 fps ... ...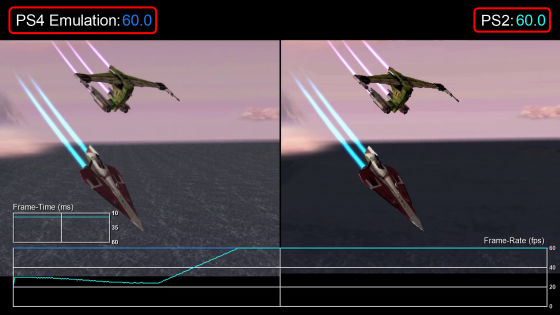 Depending on the scene, the frame rate of PS 2 is reduced to 30 fps. Even in the same scene, PS 4 operates at 60 fps.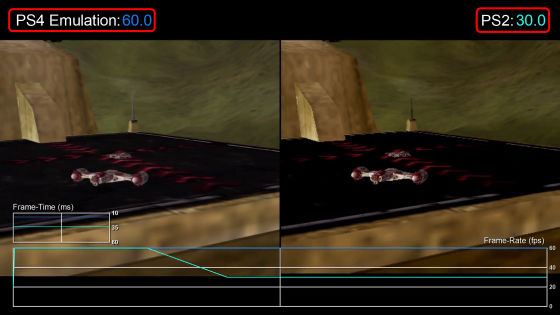 However, in the scene where advanced processing is required, such as multiple occurrences of effects, PS 4 has also reduced to 44 fps.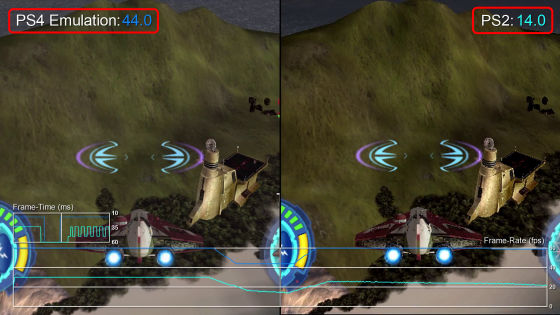 This is the third person shooter game "Star Wars: Bounty Hunter"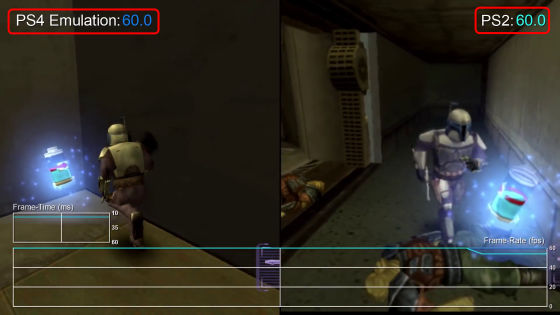 Star Wars: Even in Bounty Hunter, PS 4 keeps approximately 60 fps.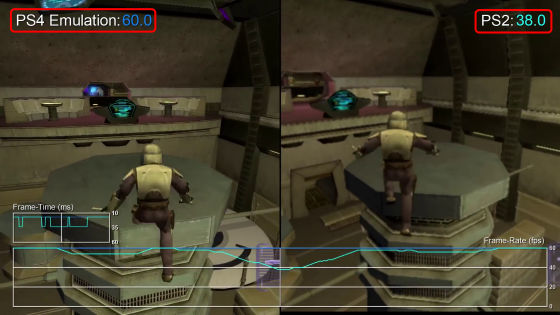 It is a pleasing point for users that past titles have improved in both image quality and frame rate.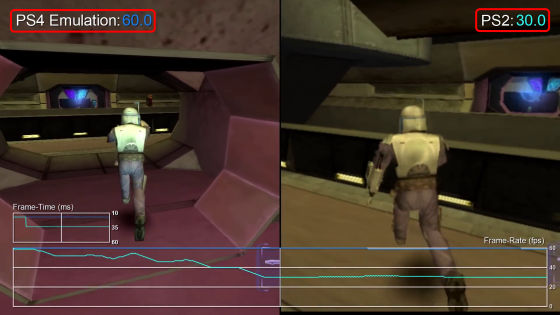 Star Wars: Even Jedi Starfighter, the difference in frame rate was clear.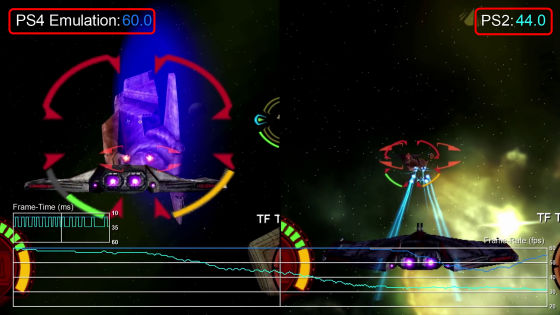 Eurogamer said that it is too early to judge the PS4 emulator's creation by improving image quality and frame rate, but even though it is "better than I expected". PS2 has "Metal Gear Solid 3"Or"Grand · Theft Auto · San AndreasBecause there are many masterpiece softwares such as "Star Wars related games", I would like to expect emulator support.

· Additional notes 2015/12/07 9: 57
Sony announced the details of the PS2 title to be sold for PS4. The total number of titles delivered to PS 4 is 8, and at the time of writing the article is distributed only in the US and Europe, delivery in Japan is undecided. It is not compatible with PS2 disks.

· "Dark Cloud": $ 14.99 (about 1800 yen)
· "Grand Theft Auto III": $ 14.99
· "Grand Theft Auto: Vice City": $ 14.99
· "Grand Theft Auto: San Andreas": $ 14.99
· "Rogue Galaxy": $ 14.99
· "The Mark of Kri": $ 14.99
· "Twisted Metal": $ 9.99 (about 1200 yen)
· "War of the Monsters": $ 9.99

Details of the game to be delivered can be confirmed from the following.

PlayStation 2 comes to PS4 - YouTube