End time of sales of Windows 7-equipped PC finally decided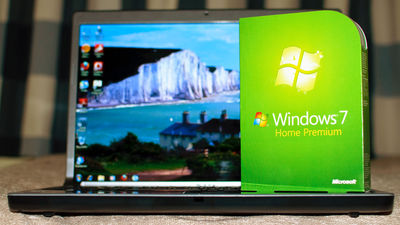 ByRichard Gillin

Microsoft announces the sales period etc. of each version of Windows "Fact sheet for Windows lifecycle"Updated the English version page, announced the end date of sales of PC with Windows 7 Professional.

Windows lifecycle fact sheet - Windows Help
http://windows.microsoft.com/en-us/windows/lifecycle#section_2

Microsoft gives OEMs a deadline: No more new Windows 7 PCs in one year | ZDNet
http://www.zdnet.com/article/microsoft-sets-end-of-sales-date-for-windows-7-pcs/

Microsoft is taking a policy to announce the end date of sales of the previous version of Windows two years after releasing a specific Windows version. If it is as usual, sales of Windows 7 Pro-equipped PCs that have been running for more than two years since the release of Windows 8 should be until the end of October 2014, but due to the impact of Windows 8 failure, in 2015 Sales continued even if it became it.

Meanwhile, Microsoft finally updated the fact sheet of the Windows lifecycle and decided that the offer period for Windows 7 Pro OEM will be "until October 31, 2016". In addition, Windows 8 offering period is also set to "30 June 2016 until early termination" than Windows 7. In the future it is supposed to be only for stock sale, and what we can sell after the stock runs out will be limited to PCs with Windows 10 installed.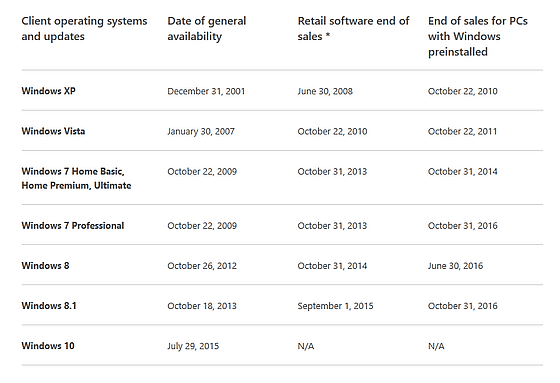 The extension support cycle of Windows 7 has not been changed, and security updates will be continued on all editions until January 14, 2020. ZDNet predicts, "Sales of PCs with new Windows 7 / 8.1 will continue for a while, but it will be difficult to purchase as inventory runs out."