At 999 yen, a lot of salmon dishes such as thick smoked salmon eat everything and eat salmon fried · gratin · curry etc at IKEA's "Salmon Buffet" all you can eat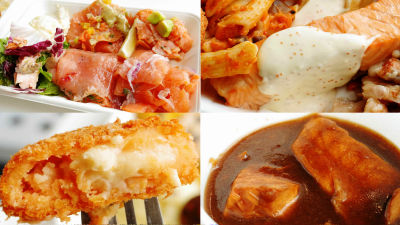 curry·dessertAll you can eat as wellcrayfishIKEA, which has offered a plate, is now offering all-you-can-eat all-you-can-eat taste "Salmon" autumn from Thursday, September 17, 2015. From the thick smoked salmon to fried food, gratin and curry, 16 different salmon dishes are all you can eat at 999 yen, so I checked what it is actually like.

Salmon Festival - IKEA
http://www.ikea.com/ms/ja_JP/campaigns/2016/salmon-festival.html

Arrived at IKEA Tsuruhama.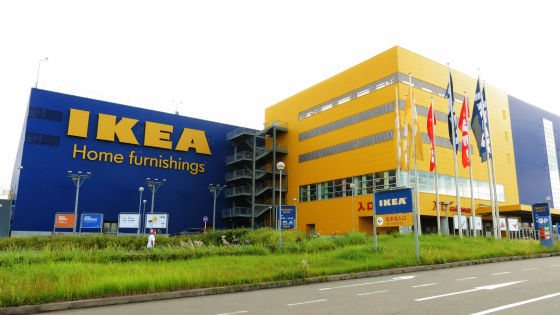 In IKEA 's buffet, IKEA Tsuruhama does not adopt the ticket distribution system, but in particular in front of the shop a buzzing customer He was not found.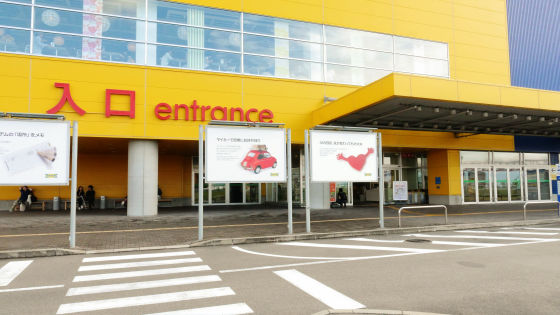 But as I approached the entrance ... ...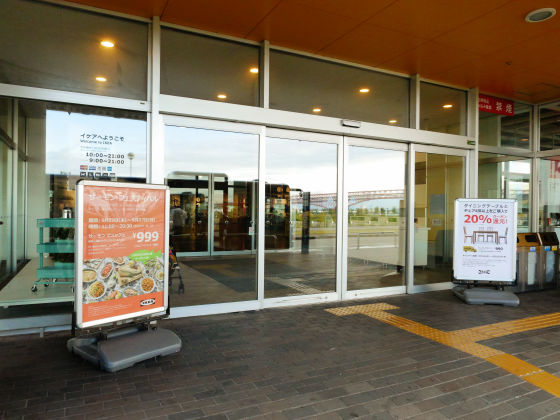 I found notice of Salmon Festival.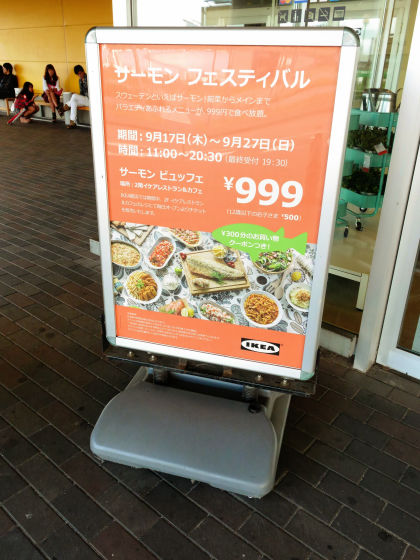 Enter the store ......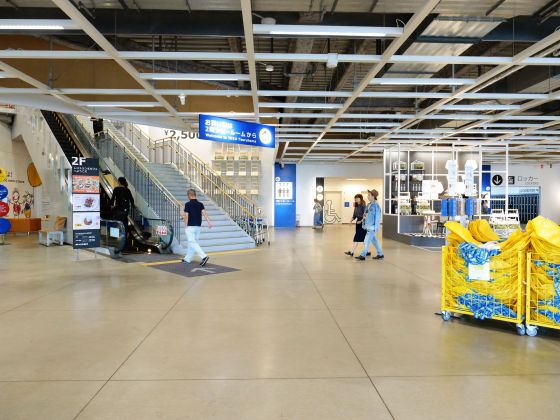 Take the escalator to the second floor.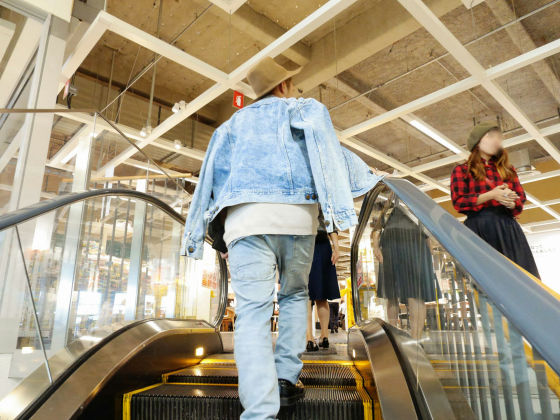 I arrived in front of the restaurant, but here also there was no customer like a salmon buffet purpose.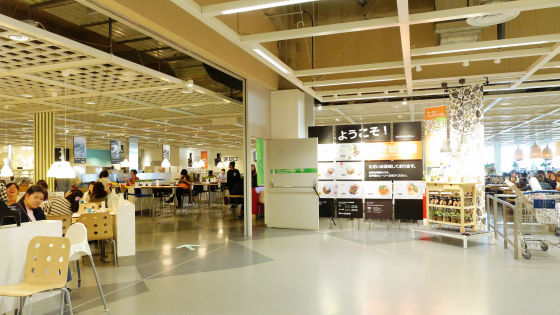 If you look closely at the board written "Welcome!" ...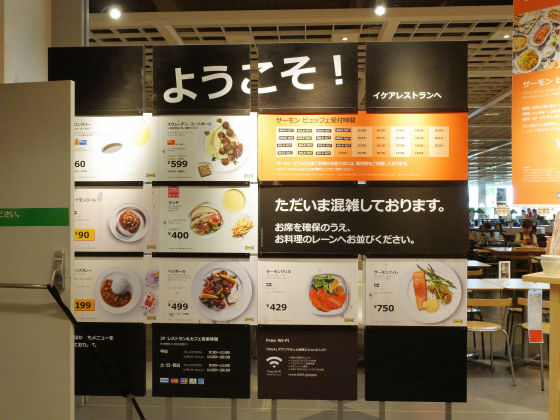 The reception time of the salmon buffet was stated. When I asked the store person, it was said that there was a queue waiting for 50 minutes at 11 o'clock opening time, but when I arrived around 15:20, there is no particular waiting time. As I was passing the lunch time, I made a quick start.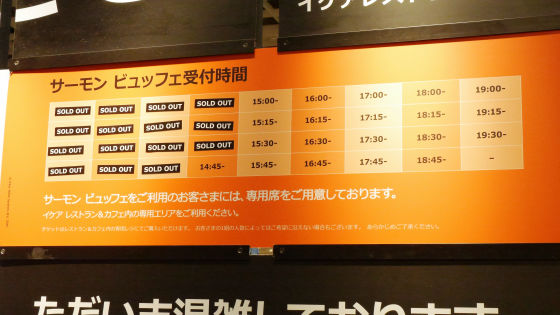 Enter the restaurant and first buy a ticket at the cash register.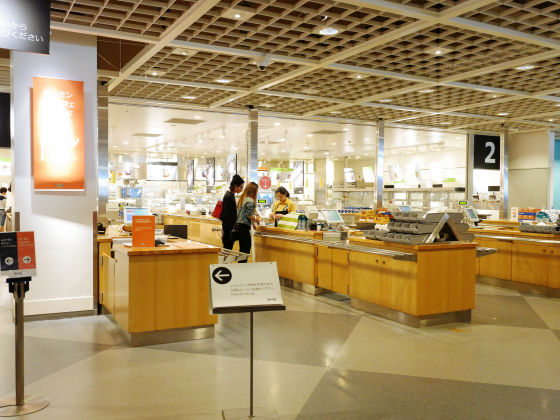 The salmon buffet is 999 yen including tax and gets a discount ticket of 300 yen that can be used inside the IKEA store together with the tickets.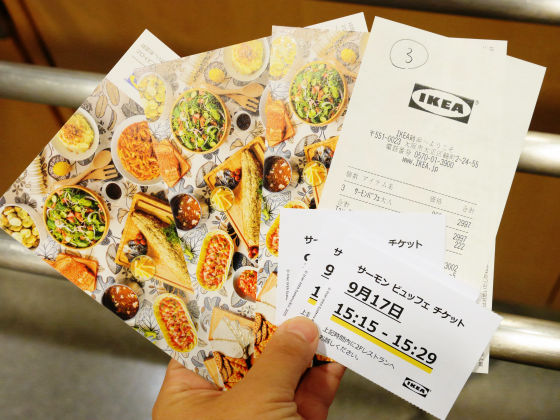 The salmon buffet is said to have a special space installed, so wander inside the restaurant aiming for a salmon.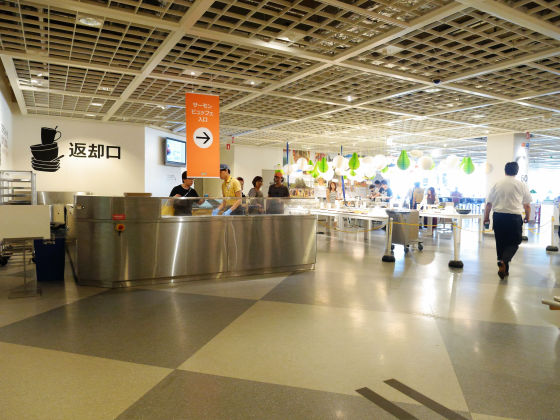 ......, I found something something like a buffet space.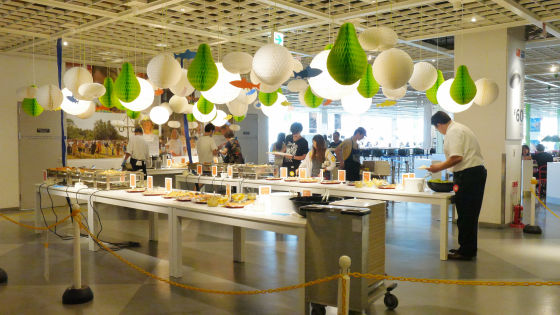 We also found a sign of "Salmon Buffet entrance".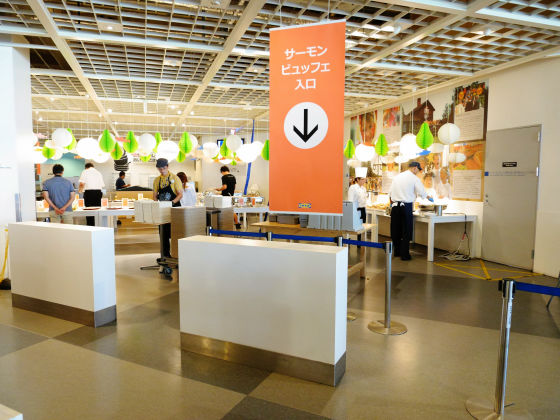 Get a tray and a plate at once ......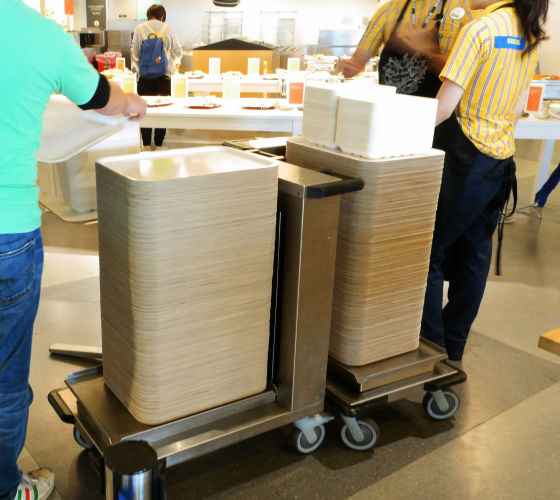 I will challenge the buffet when I put a buffet stick on my body that the staff gave me.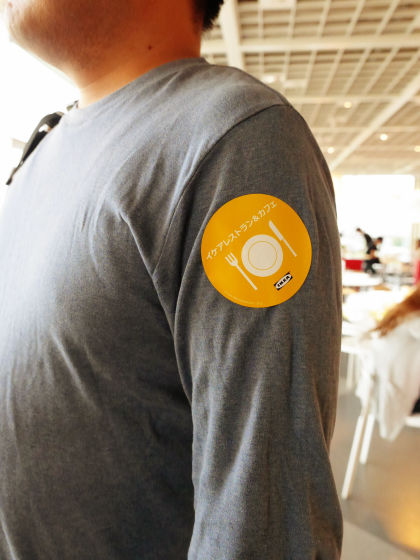 The table is arranged in two rows in the space, and the dishes are lined up on it.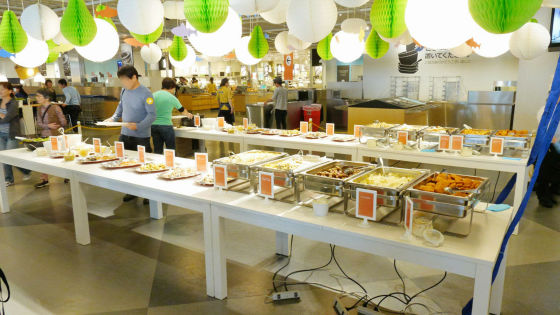 Cold dishes using smoked salmon at the table ......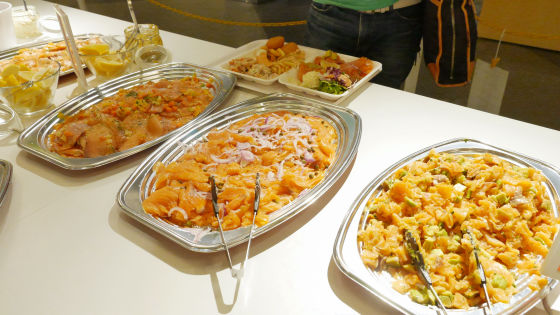 Grilled salmon, fried foods etc are also slurry.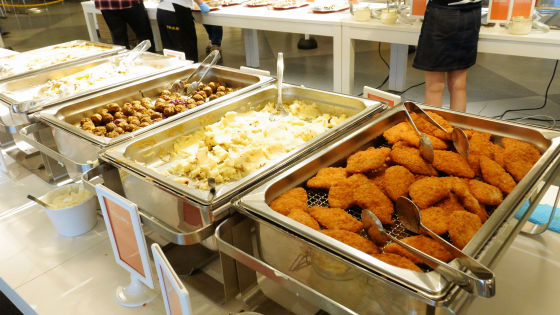 The table below deals with staple foods such as bread and rice.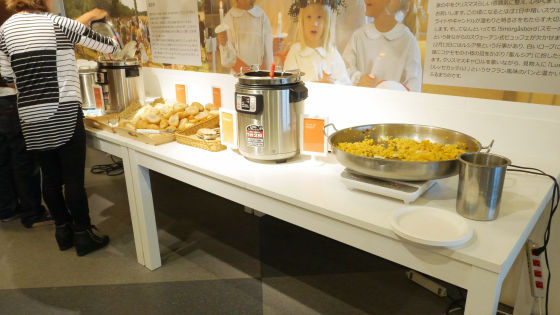 There was also a dish called "salmon curry" that we did not hear much.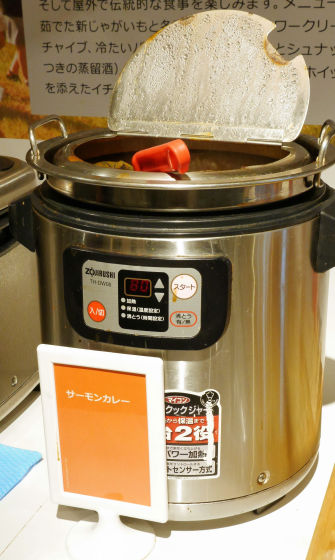 If you cook dishes on the plate, get a knife, fork, spoon etc ... ....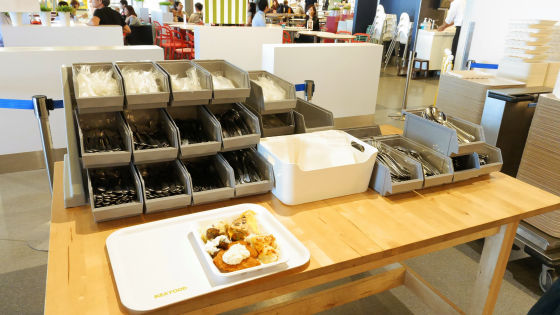 I will move to the seat. The salmon buffet was completely separated from the usual meal space, and buffet users were able to use only the table at the window.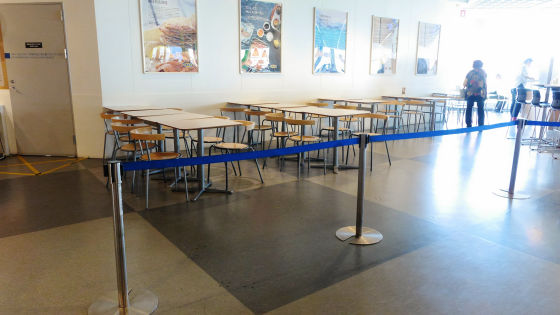 Seated in a four person seat by the window.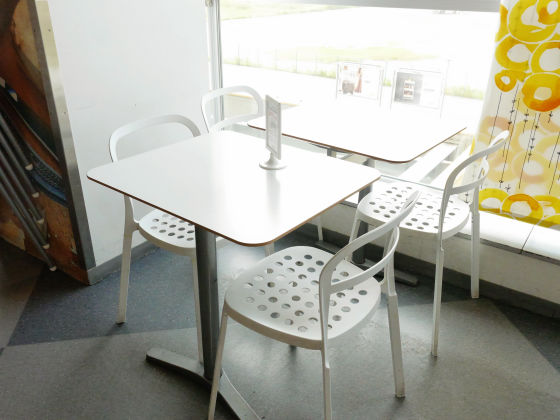 So I will eat a variety of smoked salmon and salmon dishes.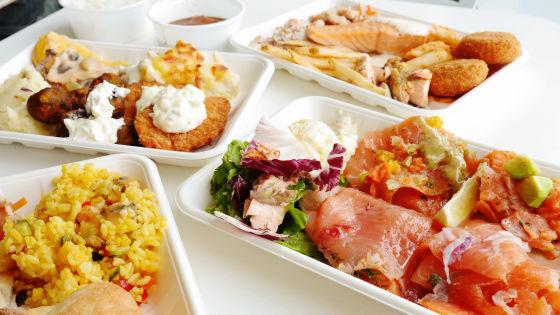 First off from various kinds of smoked salmon like hors d'oeuvres.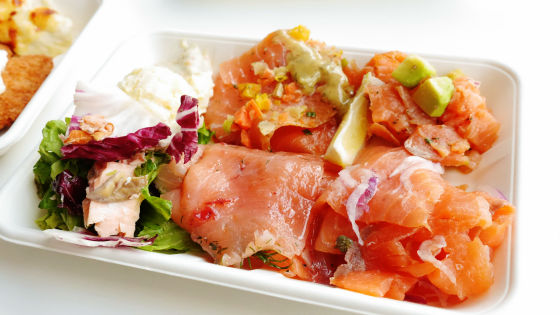 The following are marinated salmon. Smoked salmon pickled with oil, vinegar and so on, sweet and sourness of marinade liquid and the unique scent of dill are attached, and finish that was refreshing though thing slightly tasteful.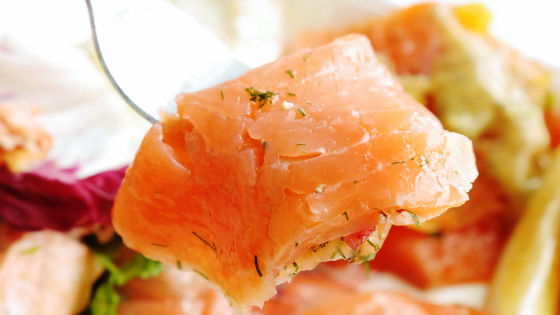 When I tried lifting a smoked salmon with a fork, it was quite thick and I can see that it was sliced ​​to a larger extent. It seems that the dish-like smoked salmon is worth the price of the buffet by itself.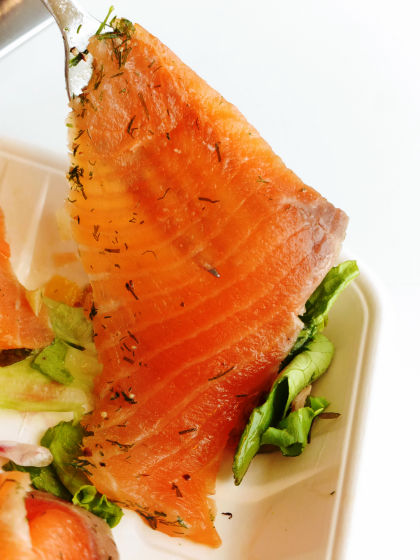 The following is a relatively standard type of smoked salmon with purple onion and capers added. The taste of shakijaki onions and capers was accented, and as there was no marinated liquid, smelling smell was able to be enjoyed more directly.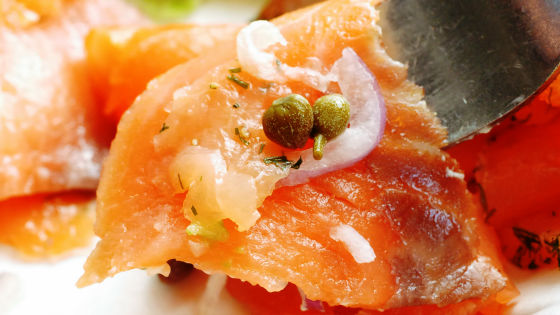 Najad salmon and avocado's tartar style is a seasoned seasoned fruit which is felt slightly fruit and can be eaten with a sense of salad. Avocado is not too soft or too hard, it is exactly what you eat, and the avocado that you smiled like a smoked scent and butter was matched. If you like avocado it is one item to eat by all means.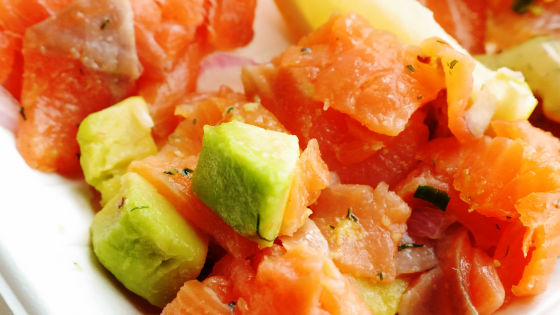 Smoked marinated salmon (Najad salmon) is shown in the picture. Similar names continue, but this time it took yellow dressing. It feels a little spicy like mustard, it is somewhat dense seasoned, but hands with a fork advance quickly as you eat it with vegetables such as paprika.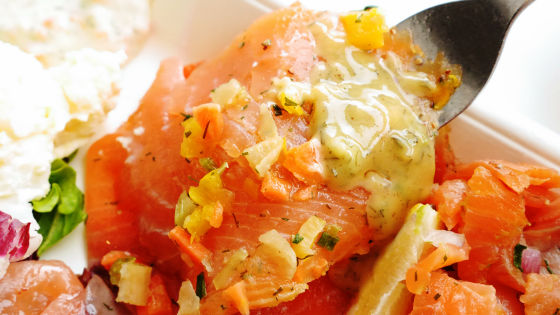 The thick smoked salmon is worth the price only by itself, but since it has a good taste, I will want to talk about what I'm refreshed when I continue to eat it. So, this time it is a salad.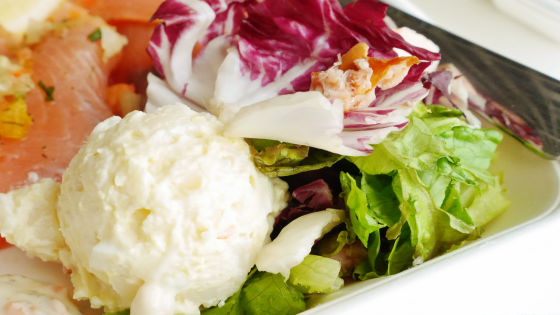 The salad itself is also dressed with lingonberry, but if you prefer, you can add horseradish sauce like tartar sauce and eat it.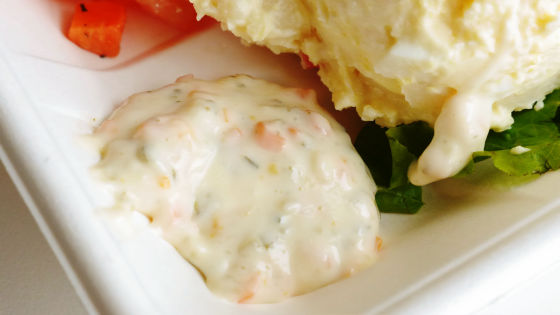 Of course salmon is contained in the salad. Although this salmon seems to be steamed at first sight, since it is actually smoked, it is not rare when put in the mouth, it feels a smoked flavor from the body of a hohoro, a little mysterious taste & texture It has become. Horse radish sauce was a bit like wasabi and it was seasoned to bring it to sake.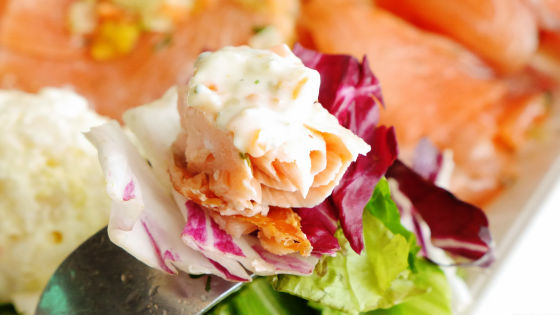 Next, I will eat a warm menu.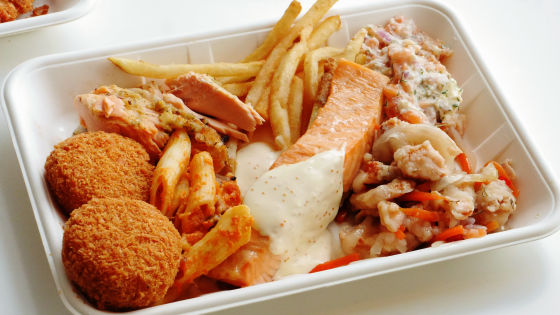 The white sauce containing the red collar is covered with a cold sauce of steam salmon.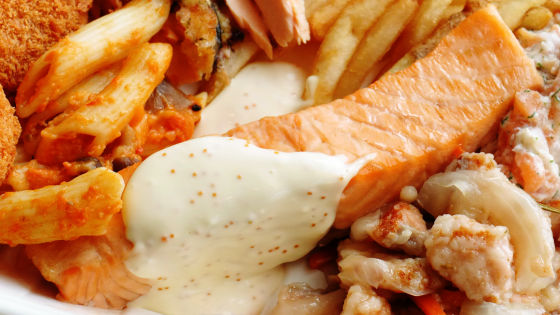 Unlike saute, heat treatment without oil is carried out, so salmon which you smoke is extremely asseri. Is cold sauce like white sauce? I thought that it was a type with sour taste like mayonnaise. In the source is fish egg, occasionally bubble wrap in the mouth.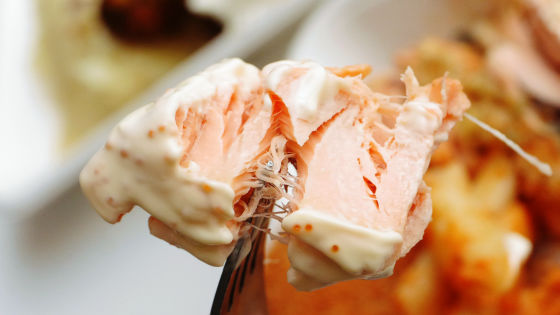 Escabeches of salmon then. Esca beech is a dish in which the fried food is pickled with vinegar and oil, it is like a so-called Nambucu pickle.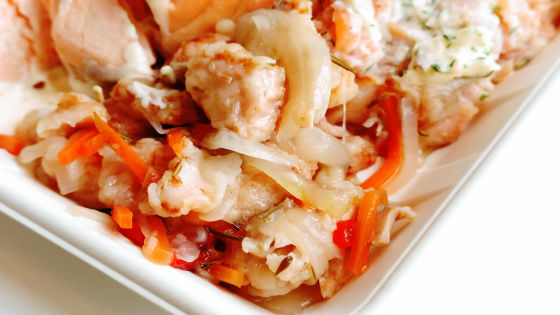 Because the taste of smoked salmon was deep, it can be felt somewhat tasty, but it is a refreshing mouthfeel which is deep fried in oil. The delicious vegetable's delicious work is doing a good job and herbs such as rosemary spread in the mouth fluently so I was surprised by the more European style than I thought if I thought that it was "soaked in Nambaraka.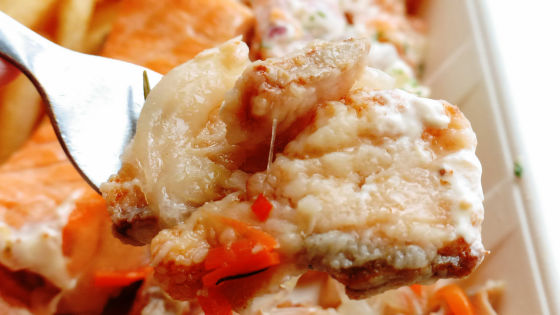 Marukoi fried food ......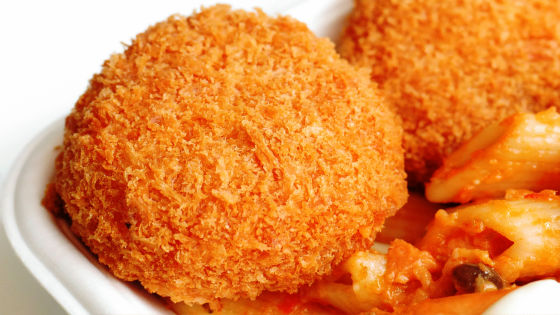 Autumn salmon and cheese croquette.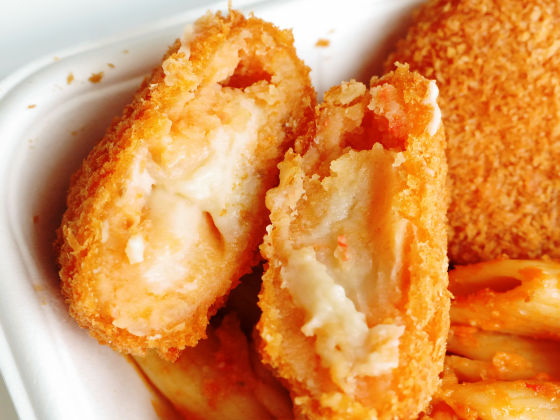 With the moderate saltiness, richness and mellowness of cream cheese, you can feel the fragrance of the ocean from the fluffy mash salmon. The existence of salmon is not so strong, it is close to crab cream croquette imagewise. Because the cooking turns fast, because clothes are crispy despite the buffet dish, you can eat it in a warm state, so this is also recommended if you are not good at deep-fried food.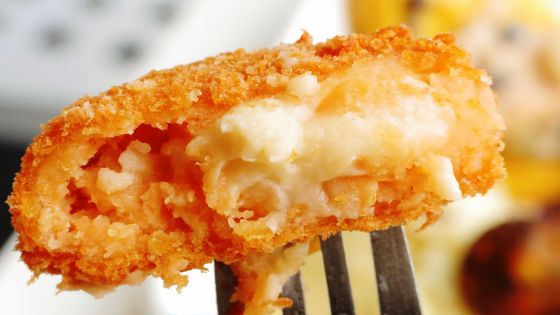 "ArabiataThere is! There is also dish not related to salmon "and thinking that pasta is taken to the mouth ......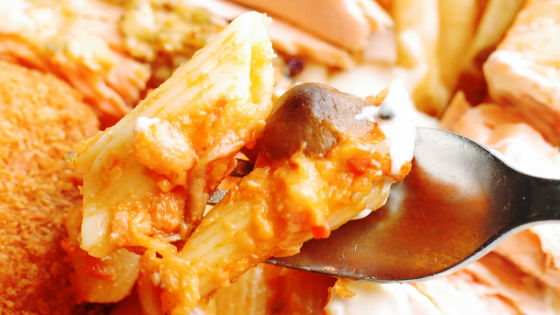 Again this was also used by salmon. With smoked salmon's tomato cream pasta, there is no spicy like Arabiata, a mellow and gentle taste.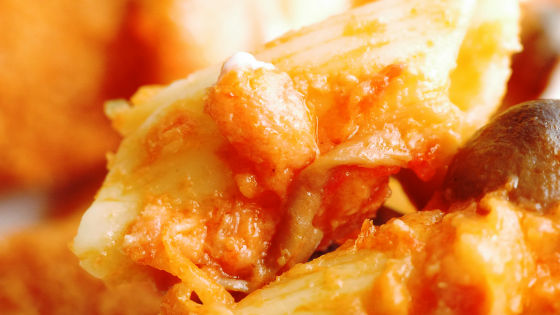 Actually, since the cold dishes using smoked salmon still remained, I will eat. Two kinds of salmon with cream cheese is finished because it is a little bit taste as cheese is used. I did not understand the difference in the taste of the two salmon, but because it is thick it seems to be delicious not only for eating as it is but also for bread.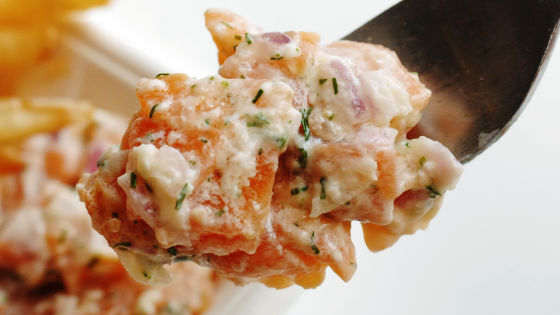 Next is salmon grilled bread crumbs.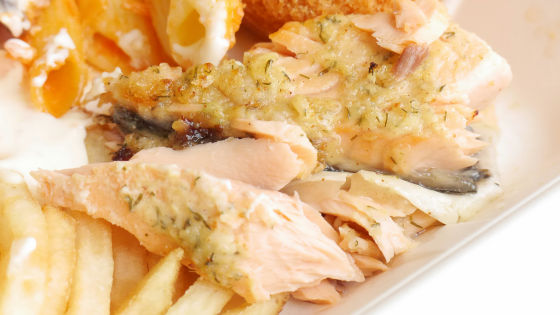 The seasoning of the salmon itself was diluted, and the seasoning was concentrated in the part of the herbal breadcrumbs. There is no crispy feeling of breadcrumbs, but as it is baked, it is one item with fragrance and you can enjoy the taste of the salmon itself firmly.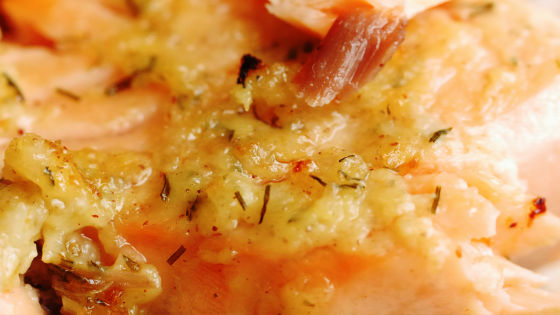 I want to eat something other than salmon soon ...! So, eat french fries and pause. I can not go to frying crispy, but saltiness is moderately kept, so I can eat more steadily without saying "I am thirsty to be thirsty!"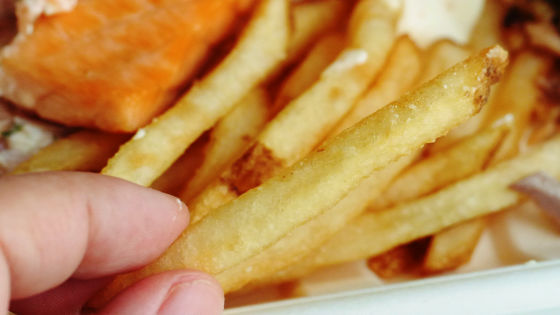 When I reset the mouth with potatoes, I will continue to eat more salmon dishes.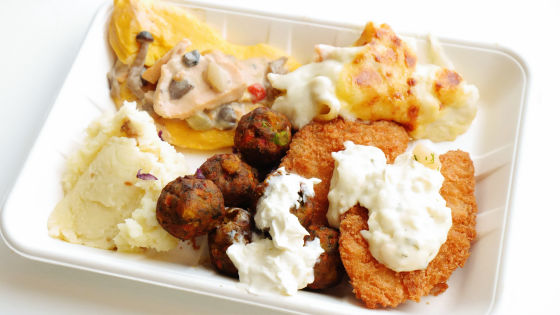 Then served with salmon tartar sauce.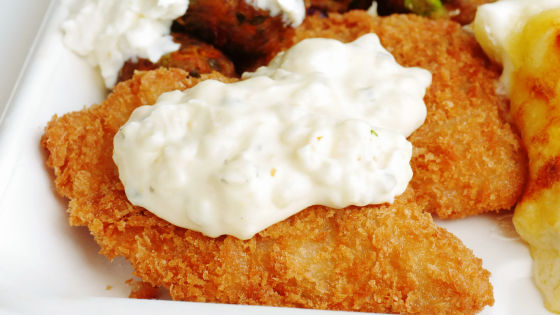 As with croquettes, clothing is crispy, inside of which is filled with salmon. Tartar sauce contains a large appliance in a large amount of texture, so the texture is good, and the editorial staff who likes tartar sauce commented that "I want to eat only this much".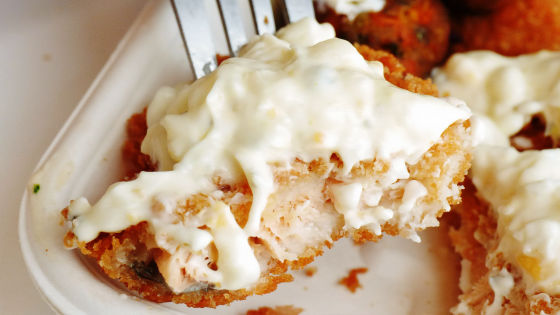 Salmon and shrimp macaroni gratin. The surface cheeses are fragrant, one creamy item anyway. Salmon and shrimp contain a small piece of barley and the presence of seafood is not that strong.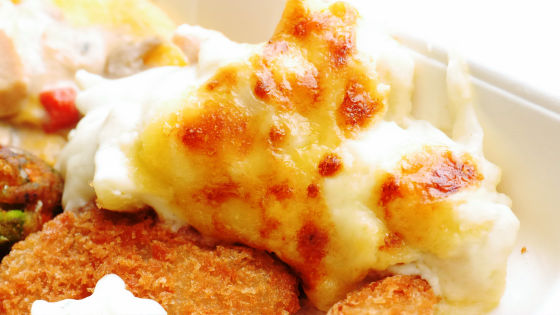 Salmon not used menu The second stage is mashed potato. Fried onion was contained in it, it was slightly salty.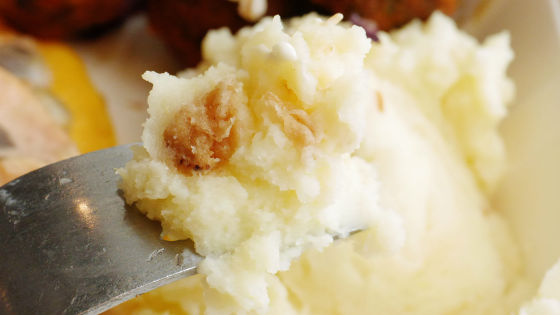 I will go on and on and on. Salmon cream sauce was added on omelet.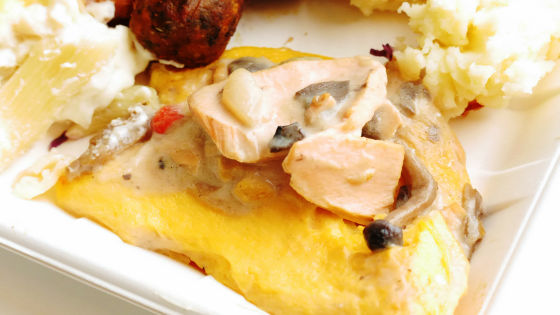 The omelet is fluffy and has a texture like souffle so it should be irresistible for those who like egg dishes. Mushrooms flavors and salmon are common, and it is exactly the taste of autumn.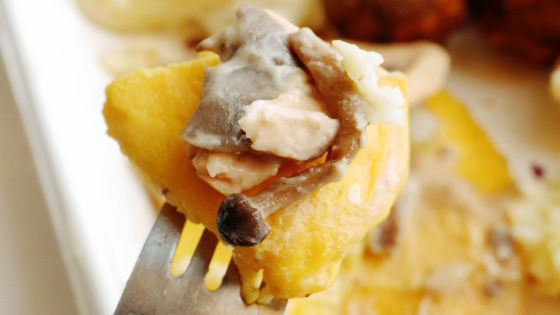 Friendly vegetables are not used at all, aside from salmon. The texture is soft and there is smoothness like eating only the contents of the croquette, but the taste feels spicy and tasty afterwards. Some of them include green peas, kale, corn, carrots and so on, with low fat and low calorie foods.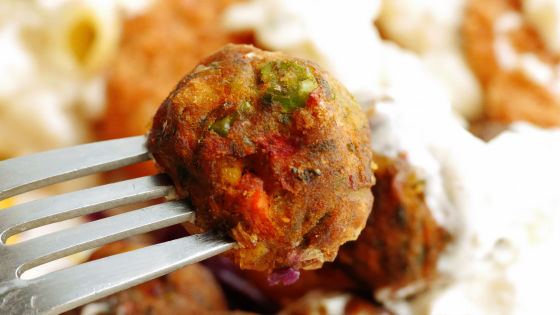 I tried attaching it because it was accompanied by cream cheese, but it was a combination that seemed to divide my taste like not fitting it. Since vegetables are usually sold at 499 yen including tax of 10 pieces, people who are interested may try trying at IKEA restaurant.



Rice is like this.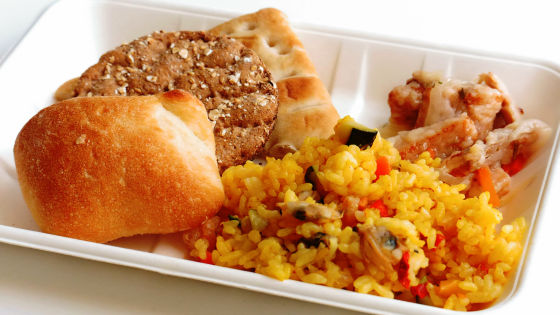 There was no salmon in the paella of the seafood, and there were plenty of vegetables and clams instead. It is a dish where the soup stock is completely soaked up to rice and the delicious seafood taste can be tasted well.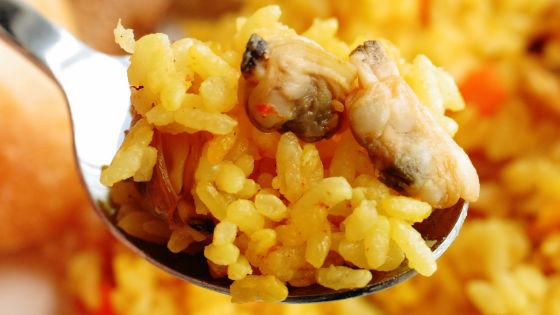 There are three kinds of breads: stone kiln Bread · Rye Crisp Bread · Arctic Bread.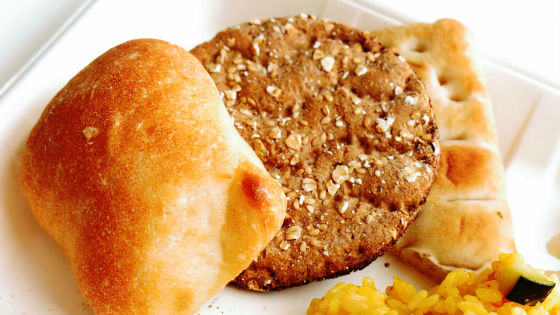 Salmon fly If you eat tarutar sauce with bread, it makes you feel like a fish burger Good.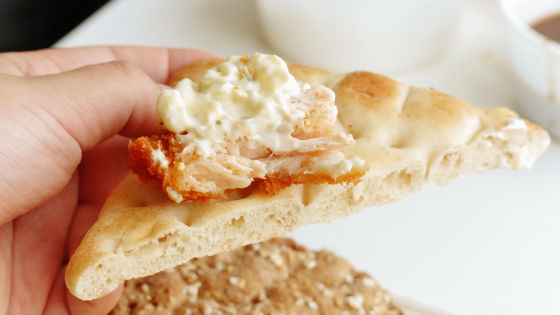 Finally we will eat salmon curry.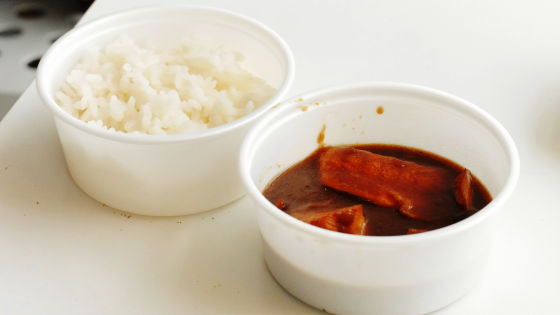 I usually do not see curry with salmon in it usually ......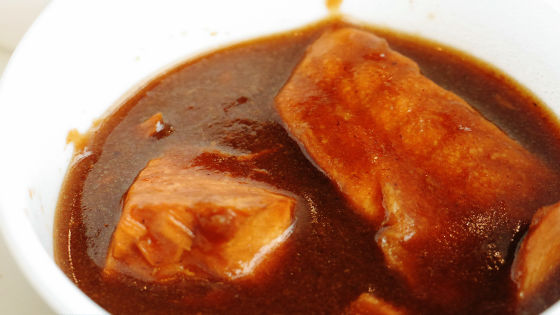 Western style curry and salmon combination unexpectedly matches. Curry is not too spicy, it is not too sweet, it is just good spicy and there is no habit, so it is a finish that everyone is likely to receive.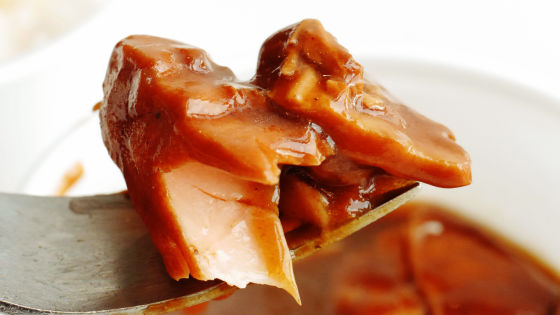 It should have been quite a stomach so far, but when it was combined with rice, I could keep on eating more and more. Because there is almost no fish, children who do not like fish are willing to eat it.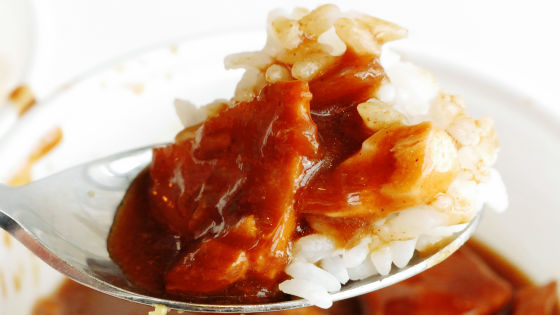 The Salmon Festival will be held from 11: 00 ~ 20: 30 from September 17 (Thu) to September 27 (Sunday). The time limit is 60 minutes, depending on the store you start distributing the tickets from the fixed time and there are places to purchase directly at the cash register like this time, so what is the nearby IKEA,Check it on the websiteIt is better to visit.