I've had all 11 kinds of misdo's new light snack menu "Misudogohan" such as pie and toast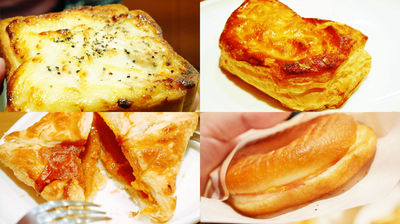 From Monday, Friday, November 17, 2017, Mr. Donut develops "Misudogohan" consisting of eleven snack menu items including toast and hot pie. It is Mister Donut, which has a strong impression of sweets and sweets usually, but this concept means "Attractive menus and exactly good volume feeling", so we've tasted all 11 kinds at once .

Misdogohan | Mister Donut
https://www.misterdonut.jp/m_menu/misdogohan/

I came to Mister Donuts.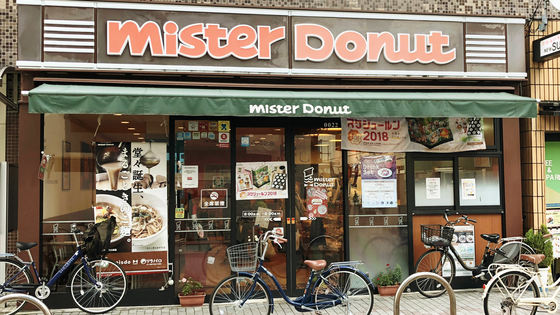 We ordered all 11 types of 'Miss Dogohan' in Eat in. Because it warmed up in the oven, it is wrapped in a fragrant smell like freshly baked bread.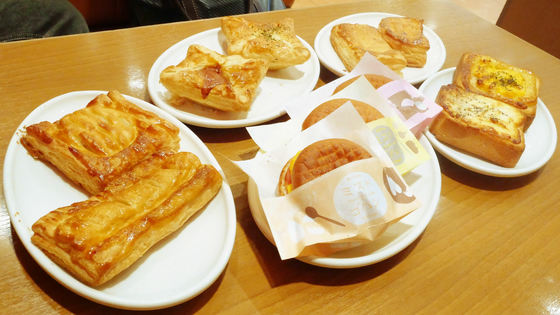 First of all I'll eat it from "Sorry Sand Donut 's" Hamutama "(172 yen including tax) and" Ham Cheese "(172 yen including tax)," Ham Tsuna "(172 yen including tax). The following image compared with iPhone X with long side 143.6 mm. It's big enough to hold even one hand.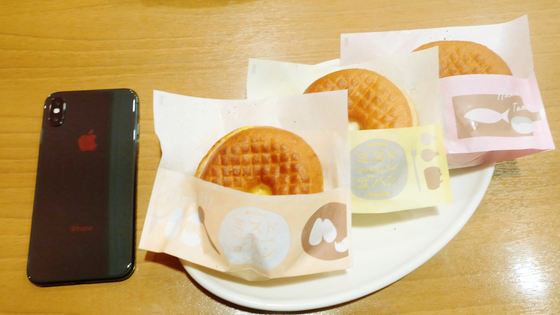 When viewed from the side, it is a sandwich that sandwiched between donuts. Unlike existing East donuts and Old fashion donuts, donuts are crispy outside and the inside looks like doughy bread. The fabric itself is not sweet at all, it looks like a bagel sand, but because it is fried in oil, there is a volume than bagel sand.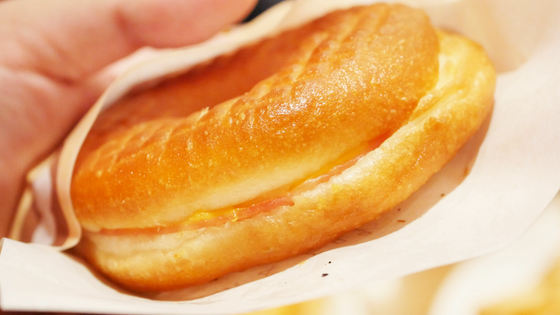 "Hamutago" was sandwiched between sliced ​​ham and scrambled egg. The scrambled eggs are mixed with chopped white meat, and the salty taste is also firmly used, which is perfect if you eat in the morning hot sandwich.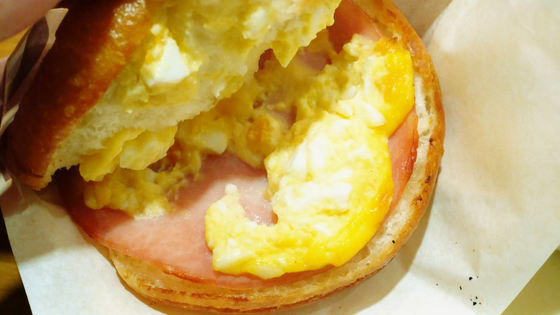 Ham and cheese cream are caught in "ham cheese". Cheese cream has richness, compatibility with ham is not bad. It's a bit too heavy to just eat as breakfast. There was also an opinion that "It may be suitable if you eat while working at a cafe because it is easy to eat with one hand and satisfaction is high."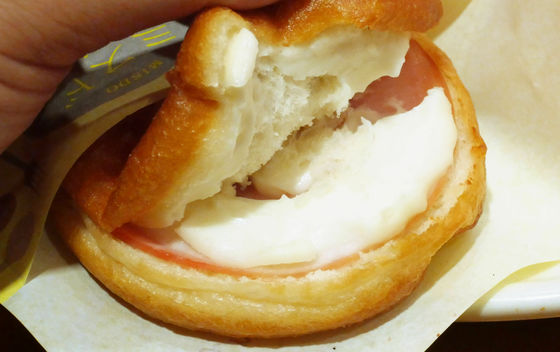 "Hamutuna" is baked with ham and tuna Salada sandwiched. It's a perfect match for tuna 's salty and donut' s mouthfeel. Savory Sand Donut can enjoy a crispy texture of crispy and rice cake when it's freshly baked, but it will be a little anxious for oil to float over time, so take it home and eat it at home If you warm up in a microwave for 10 to 20 seconds, it is better to warm up for 1 to 2 minutes with a toaster.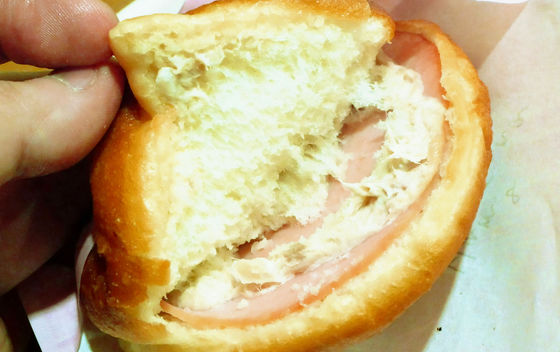 Hot savory pie "Shrimp bisque"(216 yen including tax) and"Clam chowder"(216 yen including tax) with iPhone X.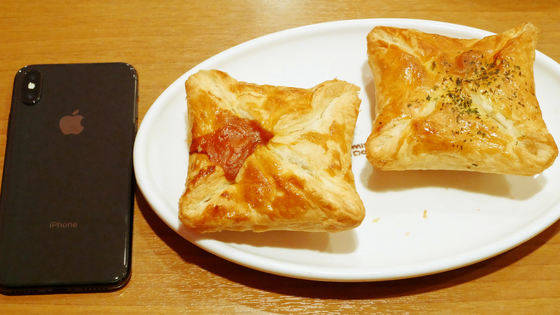 "Shrimp Bisque" had a crisp pie cloth folded, the shrimp bisque was blistering from the center. When it touched it collapsed and there was a part which was hard to eat a little.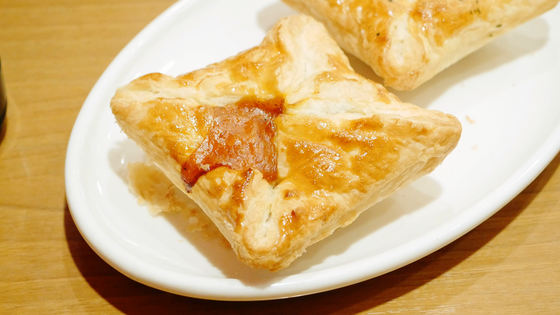 The scent of shrimp tickles the nose at the moment when a knife cuts diagonally. A red cream with thickening. When you eat a bite, the rich flavor and taste of the shrimp will spread to the mouth. Is not there a lot of bisque cream against pie? I was worried when I made a break, but the taste of the cream is rich and just right balance. When I was eating with a fork and a knife, I felt like eating dinner at a restaurant rather than having meals with Mr. Donuts. Just feel like it's a little less volume to eat as dinner.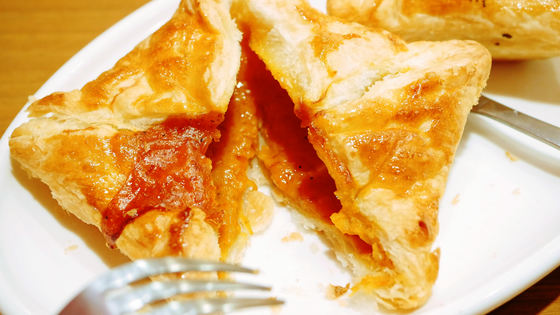 "Clam chowder" has the pie cloth folded like a bisque, but parsley was hanging from the top.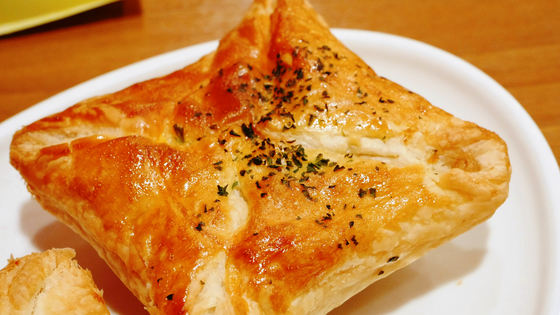 Cream cream clam chowder cream inside, with a break. As well as "shrimp bisque", the taste of seafood such as shellfish and squid was felt firmly, it was rich in crispy and fragrant pie fabric. Also from the editorial staff who tasted together, the opinion that "If you eat it together with the chicken meat etc, feel close to that of the stew's pie wrapping" too.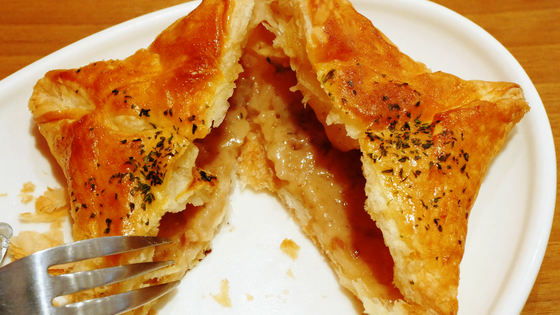 Hot savory pie "5 kinds of vegetables & chicken"(216 yen including tax) and"Frankfurt"(216 yen including tax)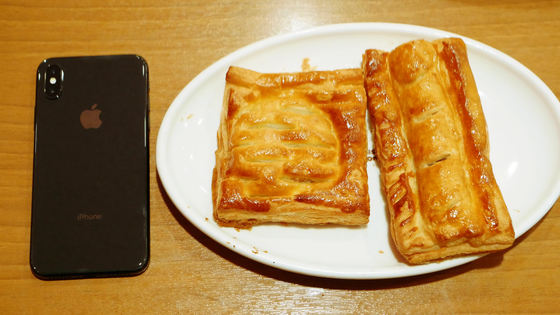 "Five kinds of vegetables & chicken" were baked with many layers of pie dough stacked up.



When you break it, you see the small cut vegetables and chicken. The five kinds of vegetables are carrots, potatoes, onions, spinach, and green peas. A sweetness of carrot and onion is felt firmly, It is a very friendly taste, it is a perfect menu to eat instead of snacks.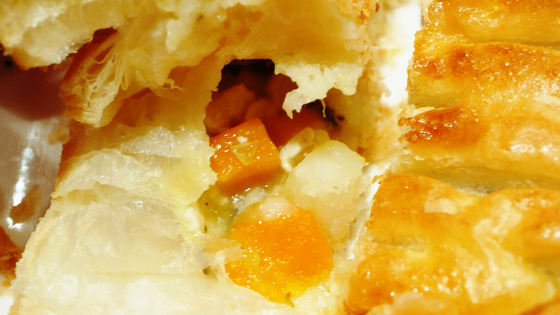 The sausage that was in "Frankfurt" is well kneaded with herbs, and when you eat a bite you are surprised by the scent height and punch power of the sausage. There is also a sense of luxury, with a refreshing aroma of herbs stimulating appetite, even editing members say "If this is regular, let's ask you every time".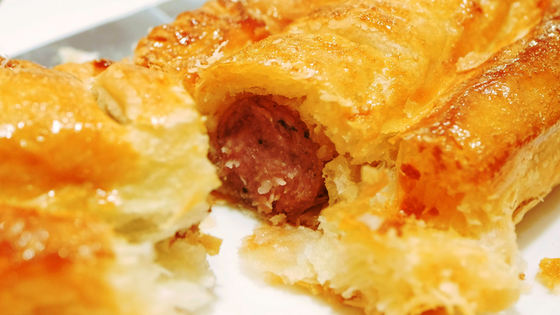 Now topping · hot toast "Tuna Melt"(270 yen including tax) and"Egg Mayo"(270 yen including tax). As a toast, it is a menu baked with ingredients on a bread bowl but it is smaller than the general bread bisector twice the size, it can be held with one hand. Compared with iPhone X, I can understand its size well.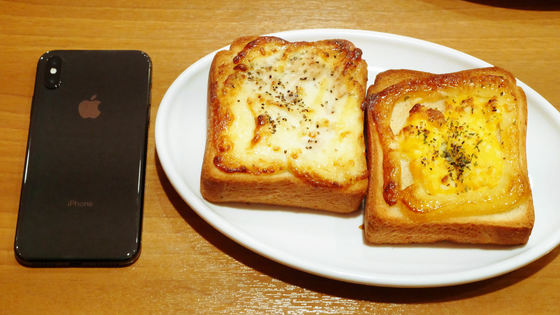 "Tuna melt" was strong in saltiness, the taste was thicker than I thought. The ear is crispy while bread is swinging, the texture is quite good. The upper source is soft and the texture is gentle, but for breakfast it's a bit heavy.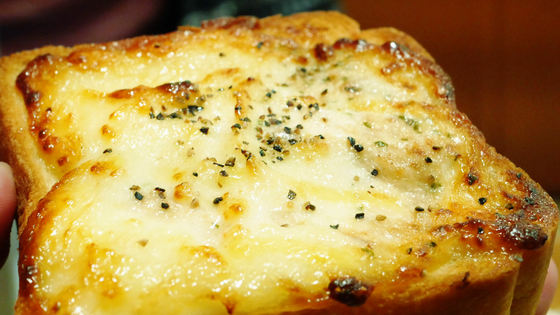 "Tamago Mayo" has scrambled eggs on the enclosure made with mayonnaise. The acidity of mayonnaise is mellow with scrambled egg. Both 'Tsunameruto' and 'Tamago Mayo' were menus to eat in the morning rather than toasts, which was a menu you can eat with the feeling of the dishes you can eat for lunch.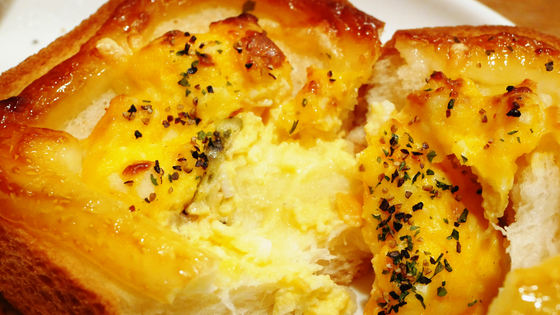 In the end Hot Sweet Pie's "Apple and custard"(216 yen including tax) and"Apple and cheese"(216 yen including tax). Both are apple pies.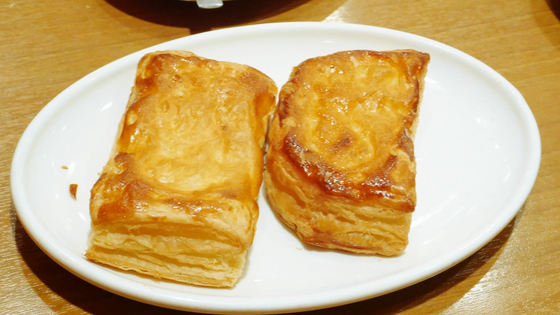 When dividing "apple and custard", custard cream melts from inside. A rich custard cream and fluffy warm, sweet and sour apple match perfectly. Although apples are small rounded cuts, the texture of sharksak is firmly felt. It just felt custard cream felt when it cooled down, so if you eat at home, warm it up in advance.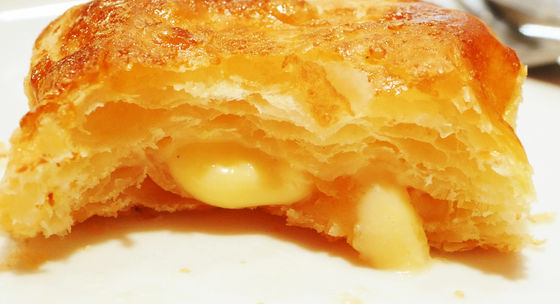 "Apple and cheese". Because there was not much image to eat together with apple and cheese, I am wondering what it is.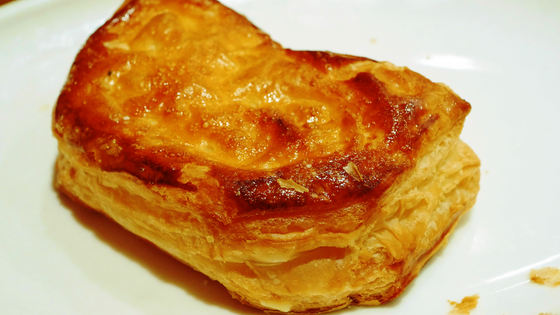 Apples and cheese cream were in the pie. When I tried to eat it actually, I could not think that the compatibility of apple and cheese at the very end was very good. Impression that the taste of cheese and salty flavor of apples have been swallowed and the apple flavor is swallowed "It is likely to choose a person."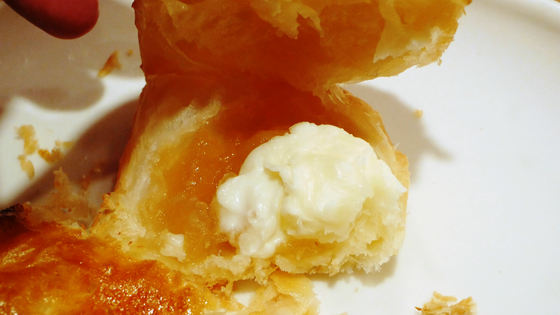 In fact, when I tried all kinds of "misudogohan", it was a menu full of volume as a whole, and it was a menu with a completely different image from a sweet donut with plenty of sugar and chocolate. Three kinds of savory sand donuts and four hot and savory pies are pretty ants if you can eat it properly warmed up.

"Misudogohan" which can be ordered from November 16, 2017 nationwide at Mister Donut stores can be taken home, but when eating at home,Official siteIt is good to warm up for 10 to 20 seconds in a microwave oven and further for 1 to 2 minutes in a toaster, etc. as described in.