I tried four "Mushrooms Peperoncino Beef Bowl" containing garlic, red pepper, olive oil and beef bowl in pepper tonino style at Sukiya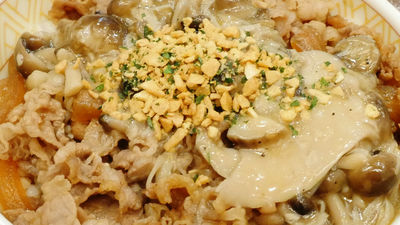 Sukiya uses new seasonal mushrooms as a new menu in the fall "Mushrooms Peperoncino beef bowlWe released on September 16, Wednesday 2015. In Sukiya, seasoned with butter and burned soy sauce in the pastThree kinds of mushrooms beef bowlAlthough there was a bowl named "Mushroom Peperoncino Beef Bowl", it is said that the beef rice bowl containing mushrooms with olive oil, garlic and pepper is finished in a peperoncino style. I was wondering what kind of taste it is, so I actually went to a shop and tried it.

Mushrooms Peperoncino Beef bowl (in the shop) | Sukiya
http://www.sukiya.jp/menu/in/gyudon/103300/index.html

Arrived Sukiya.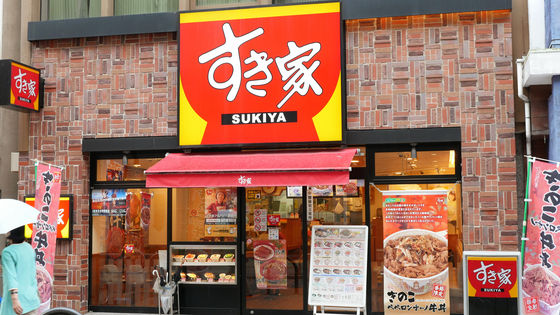 We announced the launch of new products with a giant climb out of the store.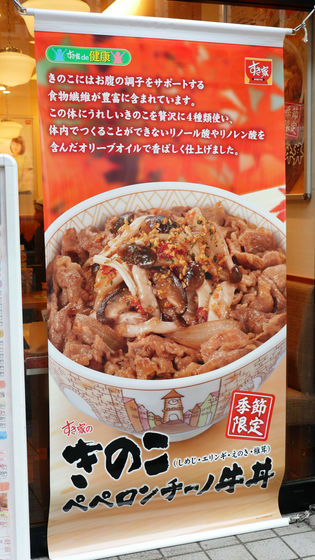 When I arrived at the menu and looked at the menu, in addition to mushrooms peperoncino beef bowl, I also found "mushrooms Peperoncino pork". This time I ordered mushroom peperoncino beef bowl (490 yen including tax) in parallel.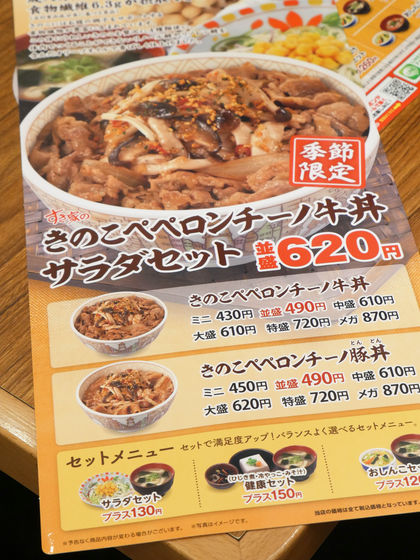 The dietary fiber contained in the mushrooms has the function to adjust the condition of the stomach, and one cup of mushrooms peperoncino beef bowl contains 6.3 g of dietary fiber to be ingested by an adult man in a single meal Thing.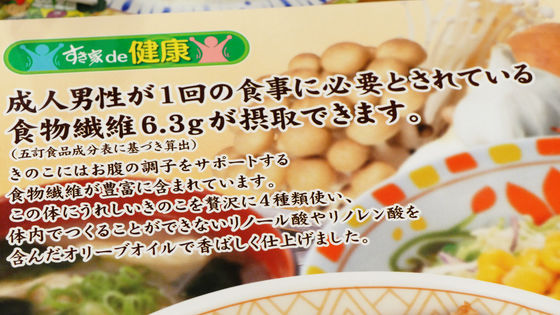 Waiting for about 3 minutes, mushrooms peperoncino beef rice bowl arrived. A good scent of garlic will come.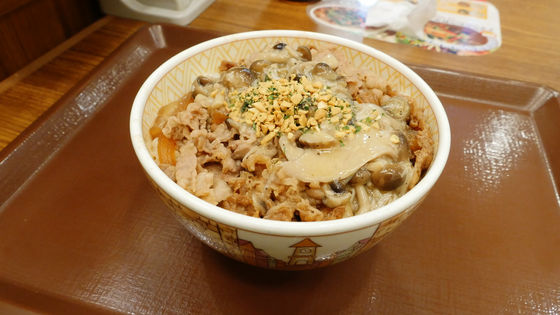 The identity of garlic scent is fried garlic sprinkled plenty in the middle of beef bowl.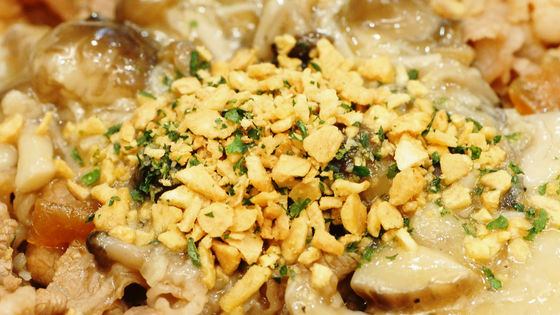 Mushrooms and beef are all sorted enough to cover the surface of the bowl.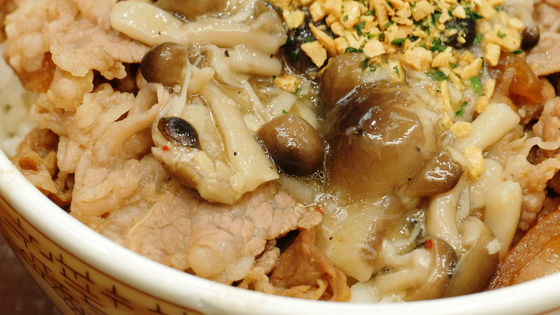 Mushrooms were a crispy texture made with prepuriant, and the flavor of olive oil complemented the mushroom taste. Because there are plenty of four kinds of mushrooms: Shimeji, Enoki, Shiitake mushrooms, and Ellingi, there is a considerable eating response.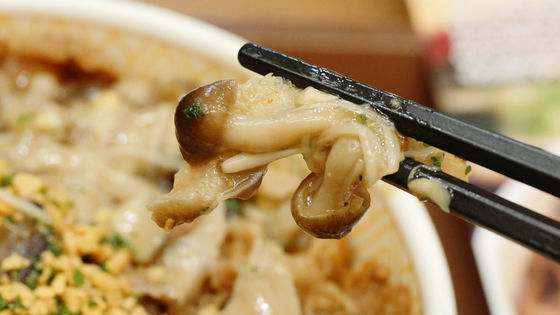 Eringing has enthusiastically cut things, you can enjoy the texture of Shakijaki.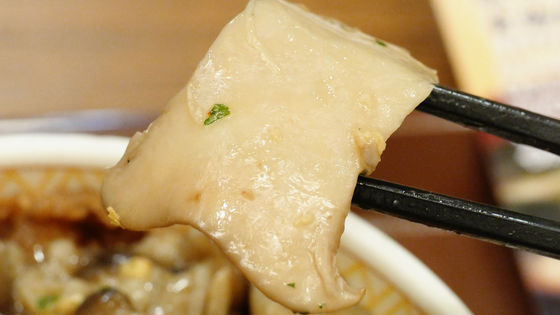 When mushrooms and beef are eaten together, the mushroom's mellow flavor matches the beef with sweet sauce and it is finished in beef bowl with a gentle taste. As you go on eating, you can feel occasional spicy hot pepper, but the presence of olive oil is somewhat defeated by the beef taste, so it feels like pepperoncino flavored arranged in a Japanese style rather than Italian.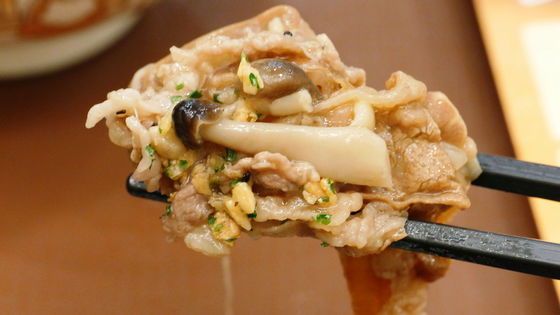 Of course there is no complaint with white rice.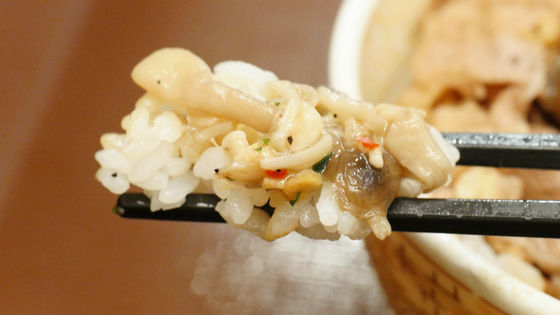 Fried garlic was crispy texture, it felt strong scent of garlic strongly, it was accent of texture and taste.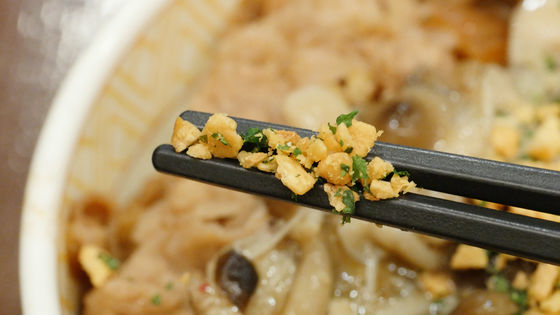 In the vicinity of the bottom of the bowl, the juice in which the beef and mushrooms' umami melted were stained in the rice, and it was enough to eat rice alone.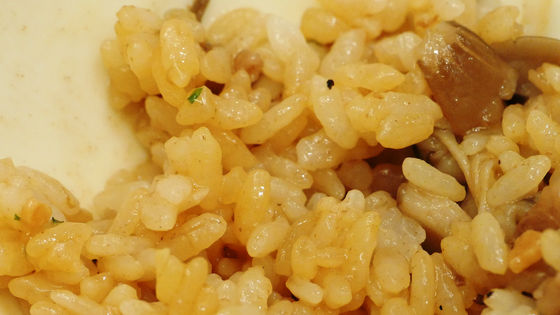 The prices of "Mushroom Peperoncino Beef Bowl" and "Mushroom Peperoncino Pork Bowl" are 430 yen, 490 yen, 490 yen, 490 yen, 610 yen, 610 yen, 610 yen, Shenmen 720 yen, Mega 870 yen for taxi. Both items are for a limited period until the end of November 2015.