Splatoon Overseas ___ ___ 0 ___ ___ 0 ___ ___ 0 ___ ___ 0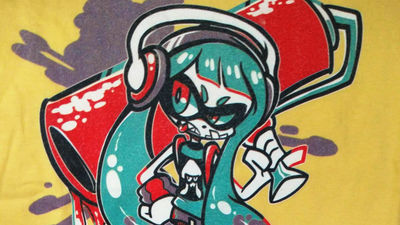 ByDoublecompile

A shooting game that shoots the ground by firing ink instead of bulletsSplatoon"Has also been released overseas and the battle that has been sluggish all over the world is spreading, but overseas forces witnessed the tremendous battle of Japanese players and" I want to run away if I see Japanese "" Japan It is a situation in which it is not possible to tell you that it's too early to win a human player.

Why Japanese Splatoon Players Are Feared
http://kotaku.com/why-japanese-splatoon-players-are-feared-1728427132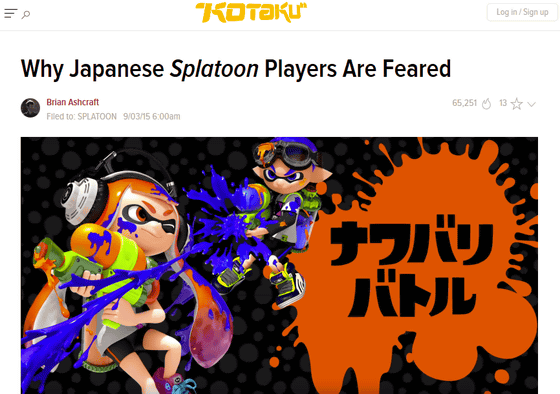 "Japanese players are doing 20 kills, but I only have 2 kills ......" a tweet that is shabby.

Japanese Splatoon players be like getting 20 kills and i 'm just getting 2

- Kelvin Tran (@ kelvinttran)2015, September 2
"Whether the system is bad or what it was, all but the people were Japanese ... ...."

Did i like suddenly get worse at splatoon or is it just bc im playing at 1am and everyones japanese

- HE ☆ VENS (@ hoshizukis)2015, August 28
"Who is this Japanese, run away!"

CRAP IT'S THE JAPANESE! RUN !!!# Splatoon

- UR A KID UR A SQUID (@ SquidkidTweets)2015, September 1
"Remove the Japanese from Splatoon," and also that the true intention will leak out.

PLEASE REMOVE JAPANESE FROM SPLATOON

- G A Y Z E F (@ therealzef)2015, August 29
"When is the Japanese Splatoon user absent?"

When do the Japanese stop playing Splatoon?

- Callum Polak (@ CallumPolak)2015, August 31
This is apparently a terrible and strong charger at the enemy.

Omfg i found a japanese lets player play splatoon and hes a charger i havent ever seen such skill is 2 g what the hell om g

- The Mad Rabbit (@ TheMadCarnival)2015, August 29
"Why is the Japanese play so noisy?" "Tweeted continuous tweets that we do not hurt you or your squid family".

WHO HURT YOU AND YOUR SQUID FAMILY

- pickles4nickles (@ pockles4nockles)2015, August 22
The reason why Japanese spratoon players are being afraid so far is not only because of high playing skill but also because players living in Japan have less lag in communication, And KOTAKU is analyzing.

"I do not dislike Japanese players, I do not like rugs due to the presence of Japanese players." "Because of the users connected from Japan, the number of opponents is 2 to 4 or 1 to 3 disadvantageous There are many things to be matched and I can not forgive. "

@ ItsMeRe 231And the disconnections, I can never forgive you guys for how many 2v4 and 1v3 matches I've played - Love Re

- Re (@ ItsMeRe 231)2015, August 24
"The disadvantage of Splatoon is that it can not match for each area, that lags favor only for users who are playing in Japan, that the number of ranks has increased due to updates"

Splatoon flaws:- No region-based matchmaking- Inherent lag advantage for Japanese players- New Rankings for 21+ heavily favor ranked play

- Travis (@ KingBroly)2015, August 21
"I wish I could separate the users for each area I live in. I'm getting tired of the Japanese being overflowing in the lobby."

I really wish there was a way to play regional on#splatoon. Sick of being the only one in a lobby full of Japanese players@ NintendoAmerica

- Dave Nielsen (@ dhniels)2015, September 2
"I always hope that I want to play with other than Japanese players ..."

Just hope I'm not always playing with Japanese Inklings ...# Splatoon# WiiUWeek

- Paul Asencion (@ PaulAsencion)2015, August 28
"Why am I still playing Splatoon surrounded by Japanese players? Is not any Japanese going to a company or school?"

@ NintendoAmericaWhy am I playing with all Japanese# SplatoonPlayers STILL ??? Does not anybody go to work / school in Japan?! ??!

- Whiskey Nixon (@ The Whiskey Nixon)2015, September 1
"There are only Japanese users at this time zone, so occasionally I change my player name to Japanese style."

I sometimes contemplate changing my Mii name to all Japanese characters just so I can fit in with other Splatoon players at this hour.

- Nicolo (@ Nymo)2015, August 26
Meanwhile, "If you can play nice with Splatoon, you will be pleased that an unknown Japanese user will be sent a friend request," a positive tweet as well.

When you are doing so well on Splatoon that a random Japanese person sends you a friend request. I feel special.

- Quark (@ SparkyQuarky)2015, August 25
According to the question "Why are you dissatisfied with Japanese players?", Tweet that "There are too many Japanese players in the Splatoon game and play is too good".

@ GlitchDeityBecause there's a lot of them and they are good

- Chris Tansley (@ Chris Tansley)2015, August 28
"All Japanese playfully play Supra Toon"

The Japanese as a nation are far too good at Splatoon

- CRIGHT THOMAS (@ CraigThomas _)2015, August 23
"By the way, why are Japanese people" Mama "and" Daddy "many?"

I wonder if all the Japanese usernames on Splatoon are also mostly "Mom" and "Dad"

- Anthony V (@ fascinated)2015, August 29
"Why do Japanese people have this same gear?"

@ Splatoon_FROn en parle des joueurs japonais super cheater avec tout des équipements avec les mêmes bonus?Pic.twitter.com/OqcFBKZC04

- pinpin 25 (@wowpinpin)2015, August 20
"I have found a Japanese who has already reached rank 50. It's amazing. Hats off," They are no longer humans ... .... "

@ Dujnou 1962Ils sont pas humains.

- R A Y (@ Souverrain)2015, August 28
If you search by other keywords such as "splatoon japanese" on Twitter, you can see many tweets by overseas splatoon players, so it is good to relax while watching the tweets when you are tired of playing.
in Game, Posted by darkhorse_log