Apple launched a free replacement program for 27-inch iMac HDD (3 TB), how to check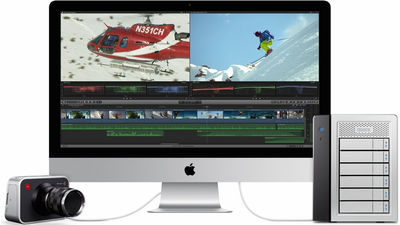 27-inch "IMac"Can purchase 3 TB HDD as the storage option at the time of purchase but 3 TB HDD of iMac sold between December 2012 and September 2013 will fail under certain circumstances As Apple found out, it started a free replacement program for the target HDD.

IMac (27 inch) 3 TB hard drive replacement program - Apple support
https://www.apple.com/jp/support/imac-harddrive-3tb/

Whether or not it corresponds to Apple's "iMac (27 inch) 3 TB hard drive replacement program", it is OK if you send the serial number of your machine from the serial number transmission screen in the program announcement page.




The serial number can be confirmed from the screen displayed by clicking "About this Mac" from the Apple mark at the upper left of the screen when launching the iMac.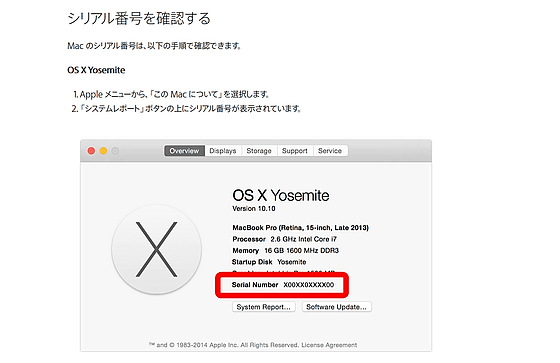 Or, in addition to being listed on the bottom of the iMac's main body, the serial number is also written on the bar code label affixed to the product package containing the iMac. Depending on dealerships there are things that are listed on the receipt at the time of purchase.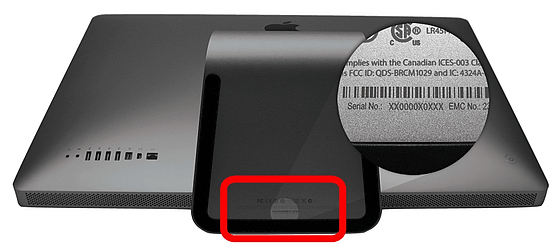 If your machine is applicable, you can bring it to Apple Retail Store, Apple Authorized Service Provider, or contact Apple Technical Support for the exchange procedure. Even if the HDD has already failed and repaired / exchanged for a fee, we are still accepting inquiries on Apple technical support regarding refund.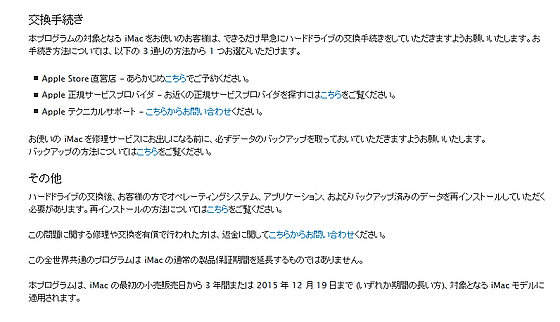 The validity period of this program is up to 3 years from the purchase of iMac, or until the longest period until Dec. 19 (Sat) 2015.