I ate "Tuna Rice Bowl" "Yakkebago Tuna Bowl" that I can eat tuna fillets and Negiroro at my favorite house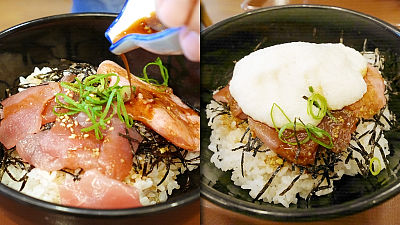 Sukiya will be on May 27, 2015 (Wednesday) "Tuna covered rice bowl"When"Yamagake Tuna Tuna DonWe released two kinds of menus. I ate at a shop what kind of menu the tuna with fillets and tunaro using tuna strike body was placed on one bowl.

[Sukiya] Notice of Starting Sales of New Menu | Sukiya
http://www.sukiya.jp/news/2015/05/20150527_1.html

Arrived at the shrine of Sukiya. Although notice of the new menu was not found at the shop front, it seems that this is also related to the fact that both menus are exclusively for the inside of the store. When asking the store clerk, it is said that it is provided without problems.



Both the tuna dumpling and the mountain bamboo rice bowl were stated firmly on the page of the menu "Commitment Bowl." Therefore, this time we ordered "Tuna Bowl · Normal" (590 yen including tax) and "Yaka Kagi Tuna Bowl · Normal" (710 yen including tax).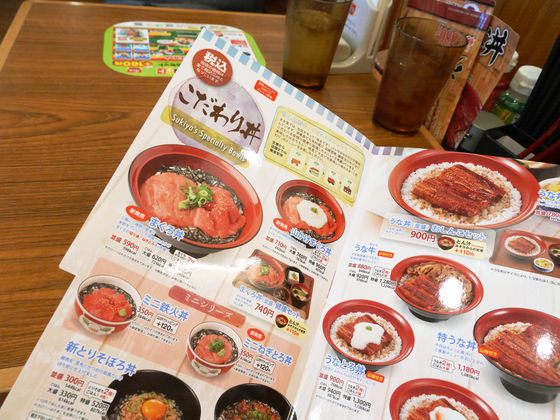 Soon, a tuna-don arrived. Two bowls with tuna placed on them, wasabi, and vessels for dissolving soy sauce were brought.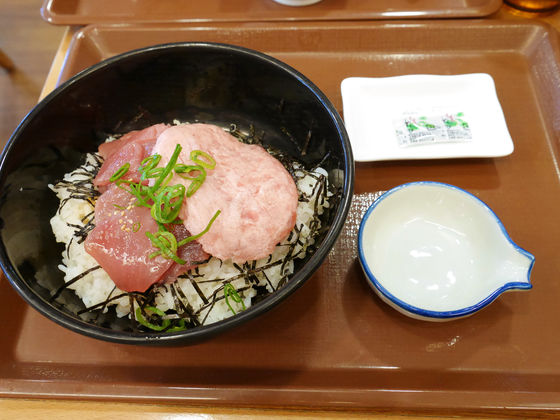 On top of the rice with rice vinegar added, the tuna fish fillet and the nagatachi tuna tuna, leek and sesame seeds are put on and the volume seems to be higher than the traditional rice bowl. By the way, the sale of Tetsujin Bowl has ended with the introduction of this new menu.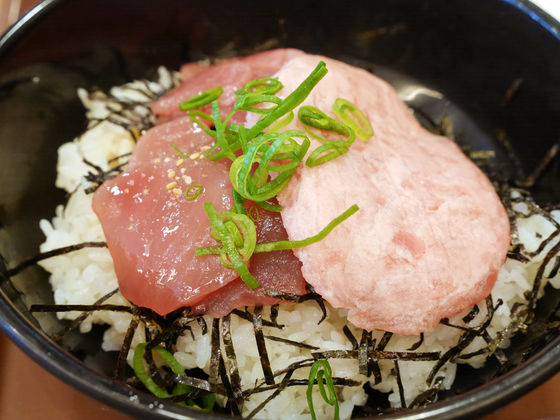 I melt the wasabi with soy sauce set in the table. According to the description of the menu, it is said that a blend of two kinds of soy sauce is used. When I tried licking my teeth with my fingers, I got a taste like sweet prawn oil with sweetness plus, and it seemed to match the tuna.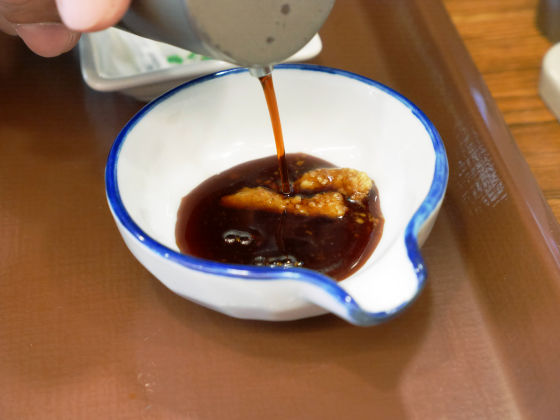 Roll the wasabi oil from the top of the tuna.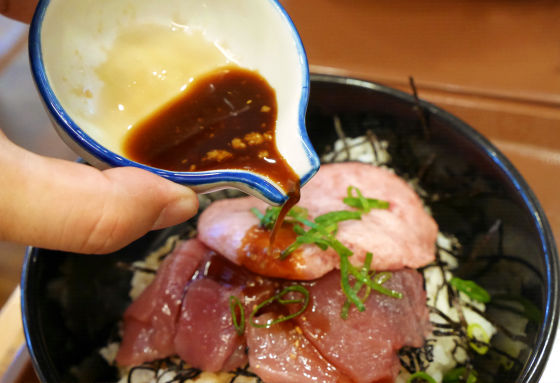 First of all, we tuned tuna fillets. Although it is not a preppli, compatibility of tuna with wasabi oil is good as expected. Wasabi oil fits well in tuna. Vinegared rice has moderate sweetness and compatibility with tuna here was also good. Some people sometimes refer to "warm vinegared rice", but rice vinegar that is being used this time has almost no flavor called "tsun", so it does not feel bothersome at all even if it is warm.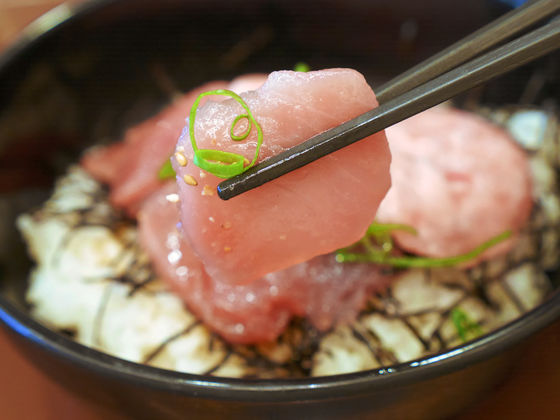 And here is "Yakkebago Tuna don". A hillside mountain was brought along with the tuna rice bowl.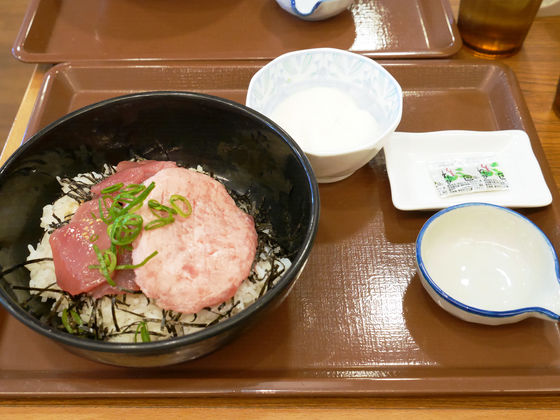 Apply wasabi oil right away, and dobats from above. It seems to be a good idea to add a little more pleasure to the soy sauce than the tuna don bowl as it is plus.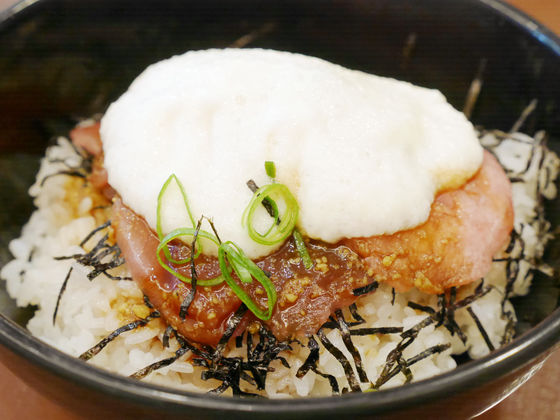 As well as chopsticks, using spoons placed on the table makes it easier to eat. A horseradish mountain is added to the tuna rice bowl with wasabi oil and the mouth is in full volume state.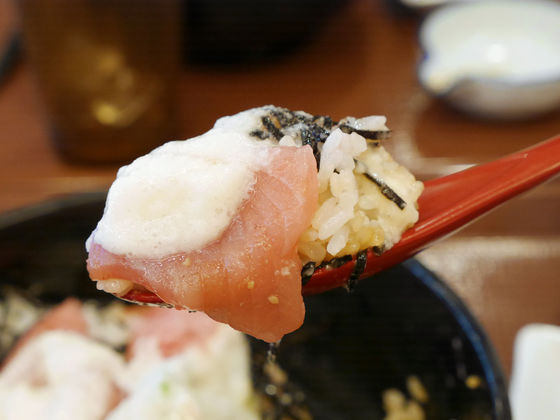 Negiriro + mountainous compatibility is outstanding. I was able to enjoy a considerable satisfaction with a relaxed eating response.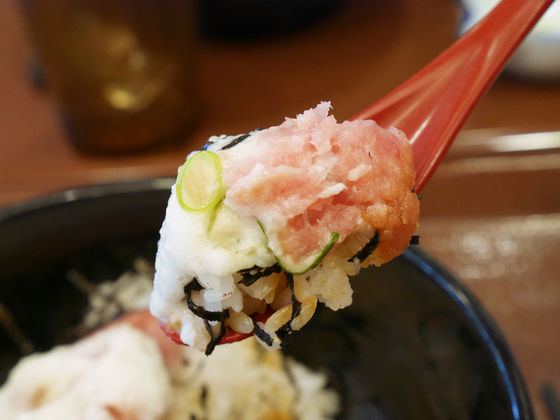 "Tuna don" and "Yakagakuse Tuna donburu" are on sale at Sukiya nationwide. Three types of sizes are available: sashimi · rice rice large · special prime.

Tuna don (inside the shop) | Sukiya
http://www.sukiya.jp/menu/in/don/202100/index.html

Yakaga Tuna Tuna Don (inside the shop) | Sukiya
http://www.sukiya.jp/menu/in/don/202300/index.html