Successfully hacked Apple Watch and browse the web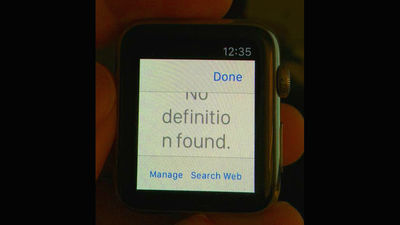 On Apple's iOS, it is basically impossible to install the application from outside the App Store, the home screen can not be changed except wallpaper, and there is no degree of freedom like Android. However, removing the restriction of the iOS terminal "Jailbreak(prison break)If you do, you will also be able to perform actions that are usually restricted. A famous developer "comex" who works hard for such a jailbreak hacked the Watch OS of Apple Watch, not iOS installed on iPhone, iPad, etc., and succeeded in web browsing which should be impossible originally .

Developer hacks Watch OS to get a web browser running on Apple Watch | 9to5Mac
http://9to5mac.com/2015/05/10/developer-hacks-watch-os-to-get-a-web-browser-running-on-apple-watch/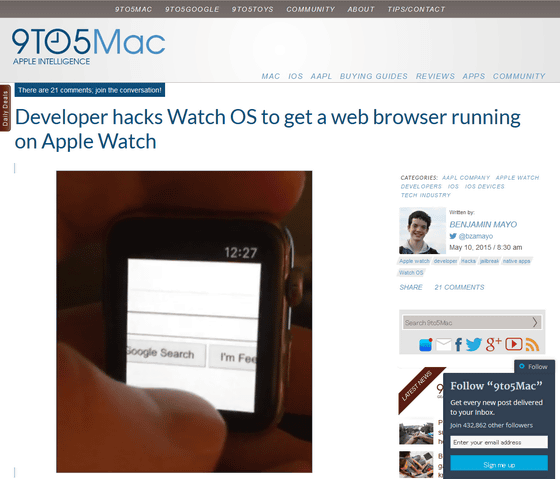 I discovered that comex succeeded in web browsing with Apple Watch delivers Apple related news9to 5Mac. It seems I have found the following tweets by comex. To the tweet, the word "I always wanted a web browser on my wrist." (I always want to use a web browser with my wrist) and one word is petit.

I always wanted a web browser on my wrist.http://t.co/hh52DsJdje

- comex (@ comex)2015, May 10
The following movies are affixed to the link destination.

I always wanted a web browser on my wrist. By comex (comex) on Mobypicture
http://www.mobypicture.com/user/comex/view/18097875


Apple Watch has in hand.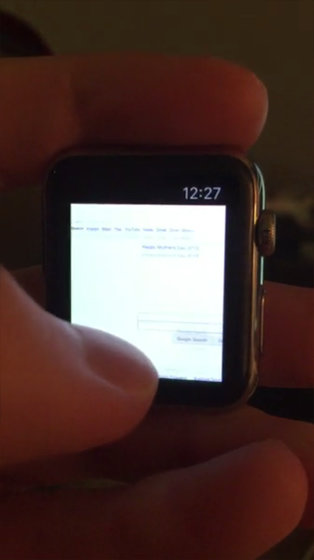 Swipe the screen with your finger and tap something.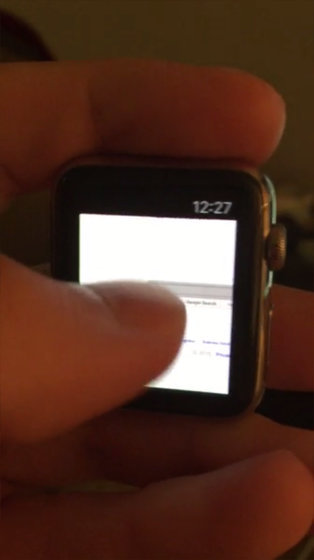 Then you can see the buttons displayed on Google's search page top, "Google Search" and "I 'm Feeling Lucky" on the screen.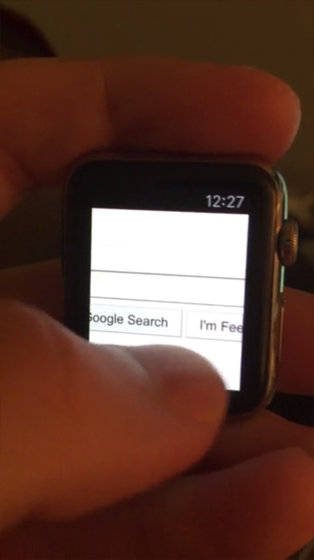 Apple Watch does not have a web browser application, but web browsing has been successful in movies. About this, 9 to 5 Mac said "It is important to know that it is possible to execute arbitrary code with Apple Watch by movie", and that it is possible to run arbitrary code on Apple Watch is "Apple Watch It will be the first step to jailbreak. "

Although comex which succeeded in web browsing does not explain anything in detail, in the movie it is displayed "Copy / Define (Japanese version, copy / dictionary ) "Has appeared in the interface.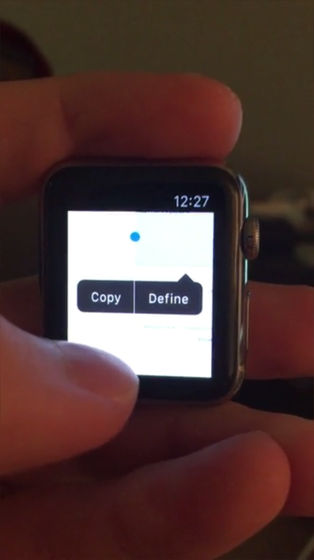 In addition, comex uploads the following screen on Twitter.

Bonus pic.Pic.twitter.com/9iDhtn 2chb

- comex (@ comex)2015, May 10
In addition, Watch OS 1.0, the first OS of Apple Watch, is actually an iPhone or iPadSpringboardCalled iOS 8.2 which changed the front end layer called Carousel to a layer dedicated to Apple Watch.

At the moment, the app for Apple WatchWatchKitIt is a thing that expands the existing iPhone application for Apple Watch to the last. However, Apple has revealed that it is preparing an SDK for Watch OS, so we are close to the day when we can freely develop and test apps developed by developers on Apple Watch and run code It is.

In addition, annually since June 8, 2015WWDCThere are also rumors that there are third party native apps that run on Watch OS appear in it.