"Waifu 2x" which can expand 1.6 times / 2 times with high quality with artificial intelligence complementing 2-dimensional images for free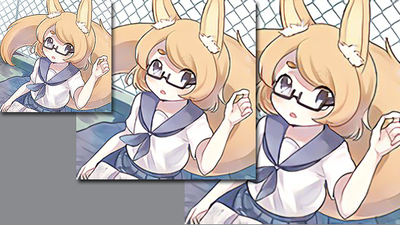 Images with noises or small pixel sizes in JPEG compression are jagged when enlargedJaggyIt may be displayed as if it took. Therefore, if you can not find the enlarged image of your favorite image, you only have to save it in a small size, but if you want to enlarge this 2D image ... if you can, you can use a convenient free service, Using advanced artificial intelligence technology to remove noise even in jaggy images to 1.6 times to double the image quality with high quality "Waifu2x"is.

Have you ever wanted to enlarge the 2D image? - Day
http://ultraist.hatenablog.com/entry/2015/05/17/183436

Waifu2x
http://waifu2x.udp.jp/

Waifu2x is a web service developed using state-of-the-art artificial intelligence technology "Deep Convolutional Neural Networks". As for the name, an overseas anime fan says "favorite character" as "waifu" (that is, "My daughter-in-lawIt is thought that it is derived from expressing it as ").

Uploading an image like a blurred jaggy onto waifu2x, artificial intelligence "to give an image that was given by reducing the image half in half, seek the image before being reduced" to answer the question , A new image is generated in complementing the noise and jaggies part. This makes it possible to create enlarged images and remove noise even from small images that do not have "images when magnified".

Suppose, for example, there is an image of Hatsune Miku which seems to be slightly noisy. The noise removed by GIMP, which is an image editing tool that can be used for free, is the lower left, and the lower right is the noise removed with equal magnification using waifu 2x. You can see that the same processing as using the image editing tool was done automatically.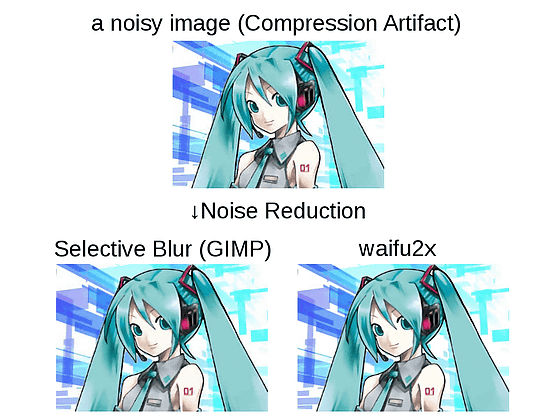 Also, compressing animation or illustration images in JPEG format may cause noise. Waifu2x can eliminate noise of such JPEG images. When uploading a JPEG image, waifu2x 's artificial intelligence answers the question "Now give an image a JPEG compressed image with an arbitrary compression ratio, seek an image before JPEG compression". As a result, strictly speaking, noise is not removed, but the lossy compression JPEG image can be restored to the state before compression. In the sample that actually processed below, Hatsune Miku is enlarged more beautifully than the enlarged image by Image Viewer.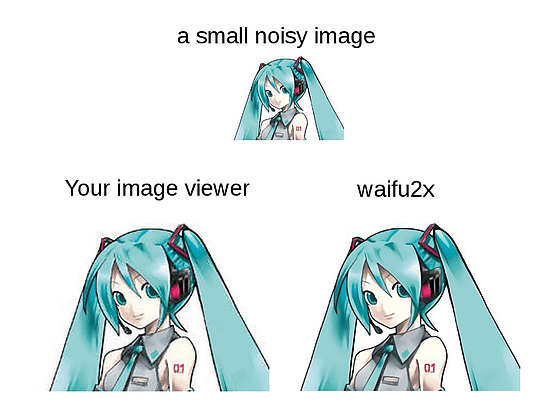 Since artificial intelligence interpolates and complements the image before the reduction, it sometimes appears that patterns not originally present may enter. It is usually said that it restores well, but if you look at a sample of manga's screen tone expanded with waifu2x for example, you will see that it is a different pattern from the original image. However, it does not mean that it is not wrong, as it resumes its original pattern when reshaped like the bottom sample. This seems to be a difference between waifu2x and human feeling.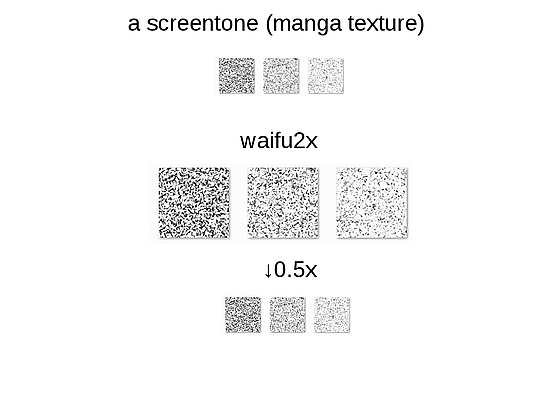 So, I actually enlarge the 2D image using waifu2x. Everyone can use it free of charge just by opening the following page.

Waifu2x
http://waifu2x.udp.jp/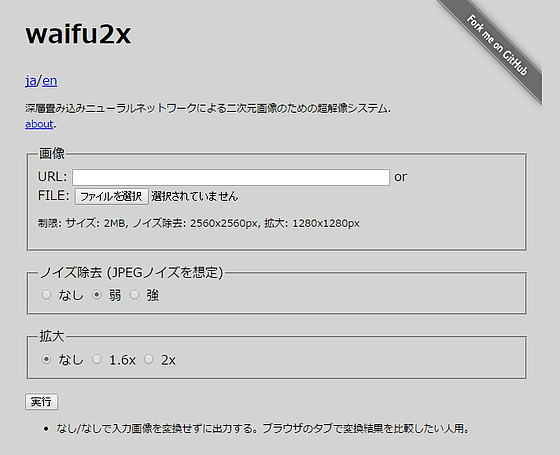 First of all, paste the image URL in the "image" item, or specify the file. The size of the image that can be uploaded is limited to 2 MB and there is a restriction that noise can be eliminated up to 2560 × 2560 pixels and images up to 1280 × 1280 pixels can be enlarged. Next, select "None · Weak · Strong" for "Noise Reduction" and select "None · 1.6 × · 2 ×" for "Enlargement" OK. In order to remove noise this time, check "weak" for noise removal, set "enlargement" to "none" and click "execute".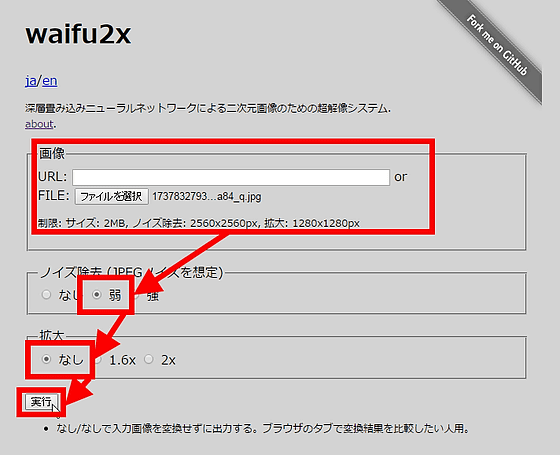 Then the image which has been processed is opened in a separate tab. To save the image from the right-click menu "Save image as name". Bugs are occurring in Firefox where images can not be saved, but with Chrome or Internet Explorer you can save images without problems.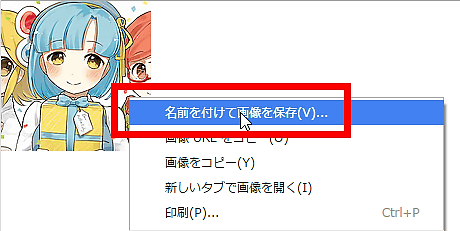 That's why I am making a top image in GIGAZINE's articleMeraI tried using his' s image. An image obtained by processing the original JPEG image downloaded with 150 x 150 pixels on the left and waifu 2 x on the right with "weak" noise removal. The image on the right has less noise.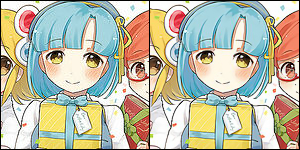 I also tried "strong" noise removal. From left to right original · When we arrange in "weak" processing · "strong" processing, we see that the amount of noise is different from each other.




Where it was found that image noise can be removed firmly, next time I tried to expand 1.6 times.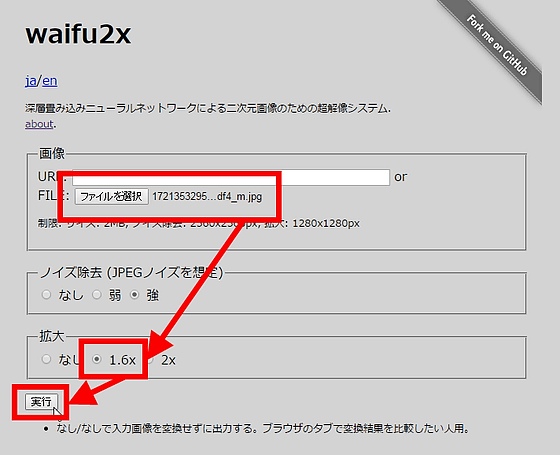 I used the following 320 x 180 pixels image.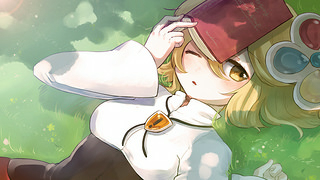 ByMera

When expanded to 1.6 times, the image was not jagged or disturbed, and the image could be magnified without problems.




By enlarging it by a factor of 2, it was possible to create enlarged images with high quality without problems.




Finally, an image of horizontal 320 pixels is enlarged by 2 times horizontal 640 pixels by waifu 2x (left), a horizontal 640 pixel image (middle) downloaded from Flickr, a horizontal 1600 pixel original image downloaded from Flickr is horizontally 640 I tried arranging three pieces of images reduced to pixels (right). If you look carefully, the enlarged image of waifu2x has a fine part collapsed and you can see how complementation of artificial intelligence is performed compared to Flickr's image of 640 pixels wide.




Note that it may take up to 10 seconds to complete the process, but it is an encouraging service when "The stored image is only a small size ...!"!