"Beautiful and strong" smartphone "URBANO" photo review with stylish metal body with MIL compliant durability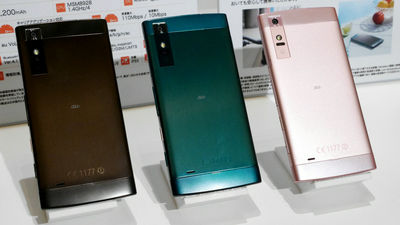 The latest model of au original smartphone series "URBANO (Albano)"URBANO V 02"ButAu presentation 2015 SUMMERIt was announced at. In addition to the waterproof, dustproof and impact resistant performance of the previous model, URBANO in the summer of 2015 also has a durability performance according to the durability test (MIL - STD - 810 G) prescribed by the US Department of Defense for vibration and temperature durability It is evolving into a stylish body that is "beautiful and strong" by adopting a metal material with a more luxurious feel.

URBANO (Albano) | 2015 | KDDI CORPORATION
http://www.kddi.com/corporate/newsrelease/2015/0512-7/

This is the exhibition booth of URBANO. People without a heart or booths also look stylish.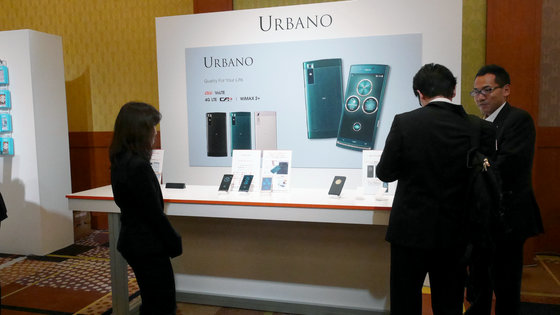 This is URBANO. Besides the body it is sturdy, we use high strength glass "Dragontrail X" for cover glass. Still, since the metal material which was subjected to alumite processing according to the color is used for the body, the appearance is very elegant and luxurious overflows.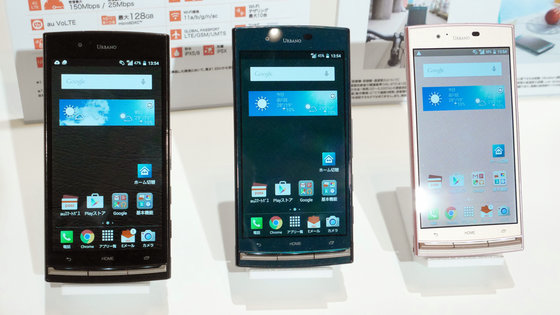 The main body color is Mocha Black · Deep Green · Twinkle Pink 3 colors.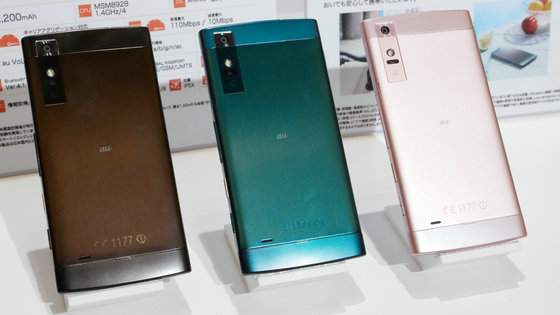 The display size is about 5.0 inches and the resolution is 1280 x 720. It is about the size that you can firmly grip with one hand with such feeling when you hold it in your hand.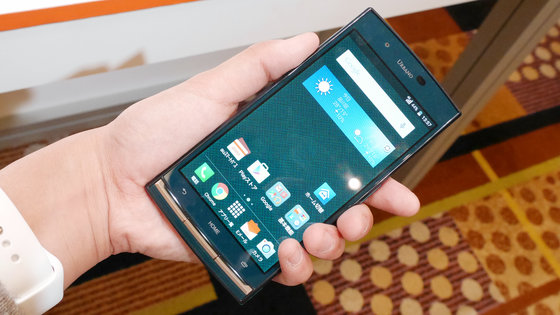 The in-camera at the top of the display is about 5 million pixels.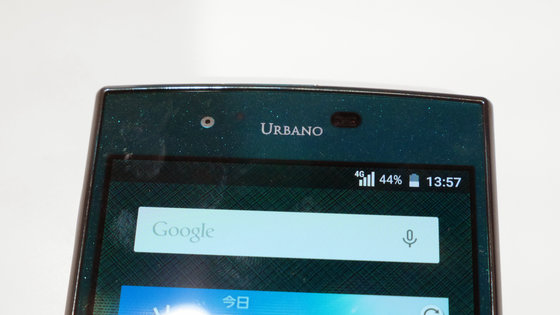 At the bottom, "return" "home" "multitasking" button is arranged as a physical key.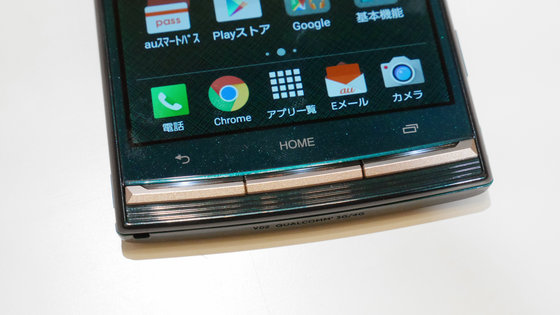 Detailed specifications are as follows. Kyocera's "Smart Sonic Receiver" which carries the voice of the other party of the phone by vibrating the display is carried as a function which I do not know even if looking at specs. If you hit the display so as to cover the ears, you can shield the surrounding sound so that you can hear the caller's voice clearly even in noisy places.

OS:Android 5.1
Maker:Kyocera Corporation
display:About 5.0 inches / TFT
In camera:Approximately 13 million pixels
Sub camera:Approximately 5 million pixels
Battery capacity:2200 mAh
size:Approximately 146 × width 72 × thinness 8.2 mm
memory:Approx 2GB
Storage (ROM):Approximately 16 GB
Color:Mocha Black, Deep Green, Twinkle Pink
External memory:MicroSDXC (maximum 128 GB)
Supported service · function:4G LTE (maximum reception 150Mbps), WiMAX 2+ (reception maximum 110Mbps), VoLTE, sync call, voice party, e-mail (@ ezweb.ne.jp), SMS, 1Seg, Wi-Fi tethering , Emergency Bulletin Mail, Osaifu-Keitai, NFC (Information Acquisition / Link), Infrared, Waterproofing, Safety Information System, Global Passport (LTE / GSM / UMTS), Bluetooth 4.1, Wi-Fi (IEEE 802.11 a / b / g / n / ac) Dustproof, impact resistant

back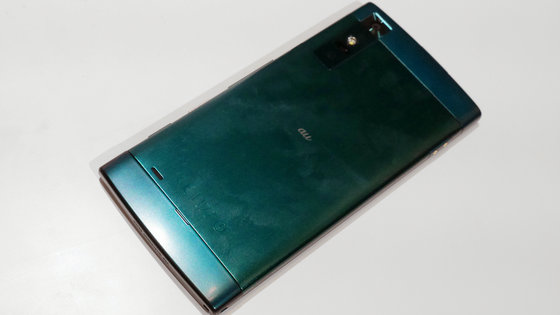 The effective camera number of the main camera is about 13 million pixels. The metal material on the back glows gently.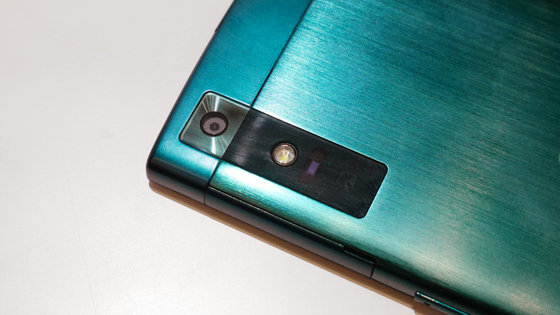 Earphone jack on the top ... ...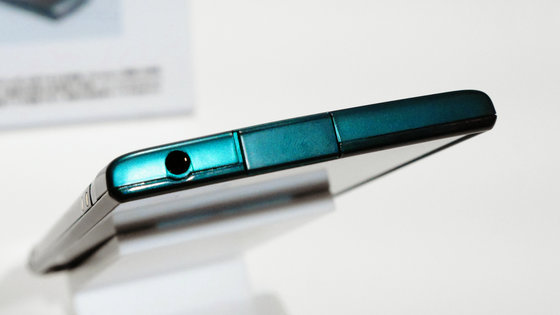 Micro-USB port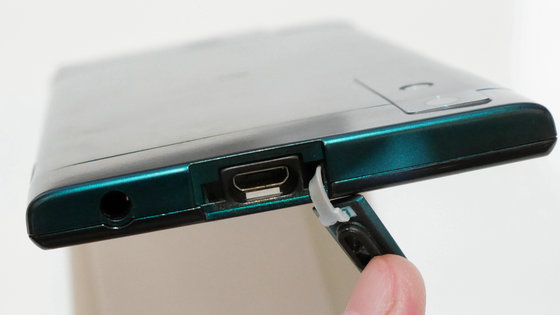 Nothing particularly on the bottom.



There is a terminal on the left side ... ...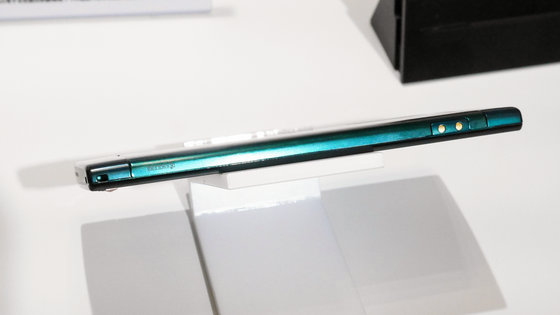 If you place it on a special cradle, you can charge it as it is.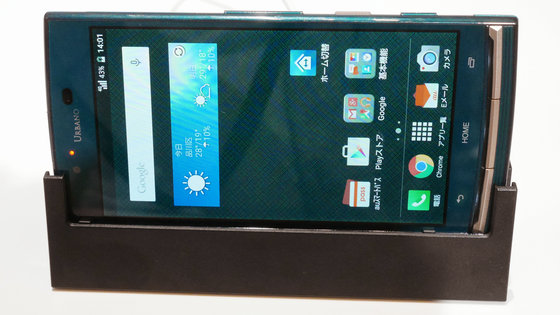 Volume adjustment button, power button, camera button on the right side.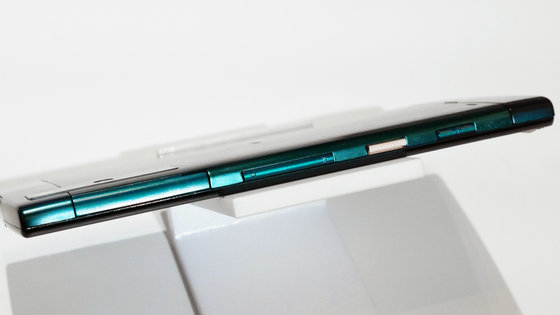 Open with Pakari and SIM card slot and microSD card slot.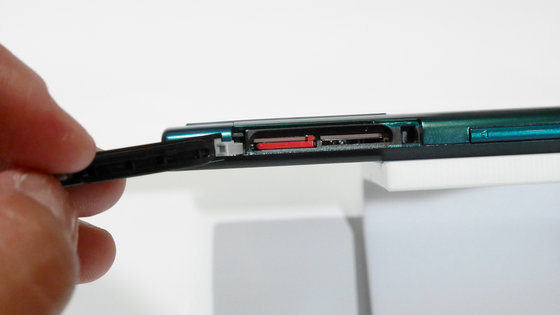 Also equipped with a "mobile phone input" function that makes it easy for users familiar with feature phones to operate, smartphones are easy to use even for the first time.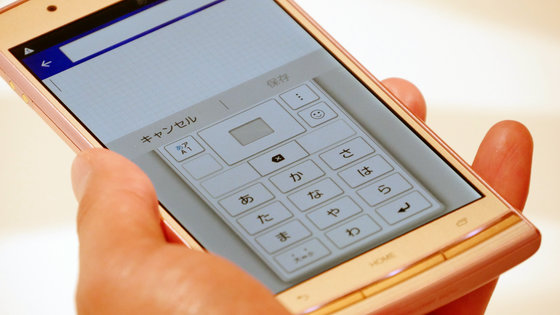 In addition, there is also a special cover case.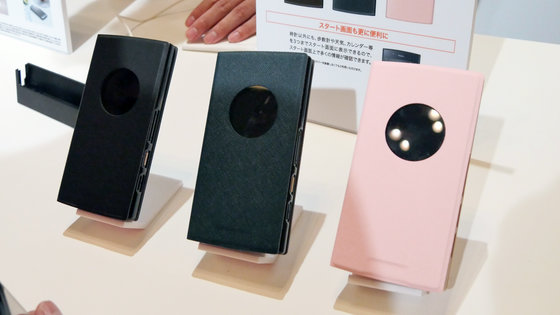 When installed it is like this. It is also a nice point that covers are prepared for each color ring.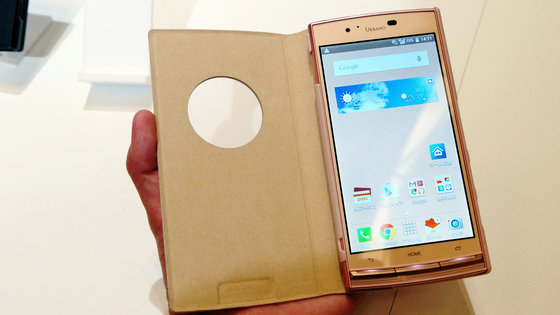 In addition, 'URBANO V 02' will be released in early July 2015.