Clearly you can easily port applications for Android / iOS to Windows 10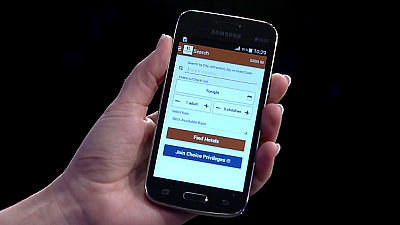 Microsoft announced a tool that allows you to port applications developed for Android / iOS to Windows 10. With this tool, it was possible to make it run on the Windows 10 platform with only slight modifications to the existing Android · iOS apps, and the demo was actually demonstrated on the platform of Build 2015.

Building bridges: How Microsoft is bringing iOS and Android apps to Windows
http://www.neowin.net/news/building-bridges-how-microsoft-is-bringing-ios-and-android-apps-to-windows

Huge news: Windows 10 can run reworked Android and iOS apps | The Verge
http://www.theverge.com/2015/4/29/8511439/microsoft-windows-10-android-ios-apps-bridges

Microsoft brings Android, iOS apps to Windows 10 | Ars Technica
http://arstechnica.com/information-technology/2015/04/29/microsoft-brings-android-ios-apps-to-windows-10/

The state of the demonstration demonstrated in Build 2015 can be seen in the following movie.

Windows 10 can run reworked Android and iOS apps

Mr. Agnesica Garling, who was in charge of presentation and demonstration. He is a program manager at the company.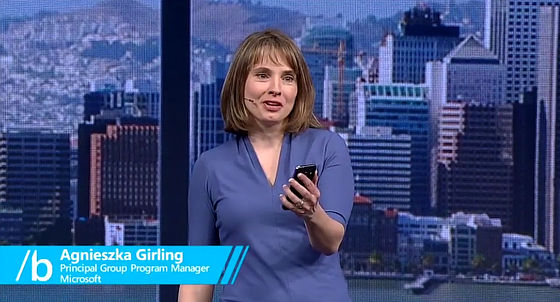 Mr. Garring is an Android terminal made by Samsung, and "Android application"Choice Hotels"Is launched.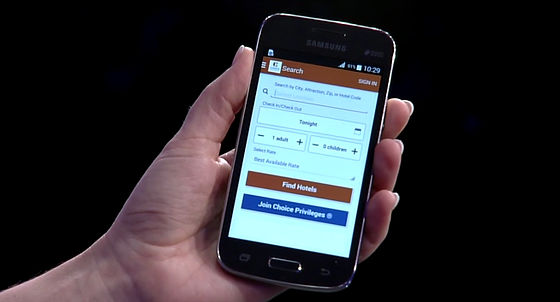 Mr. Garring subsequently launched the Android application Choice Hotels on Windows 10 terminal and showed it. This is not an application developed for Windows 10, but the Android version application is running on a Windows 10 terminal as it is.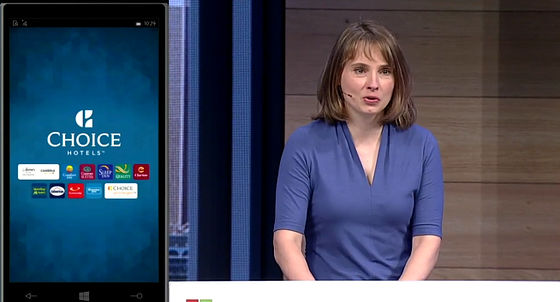 Search can also be executed without problems, successfully finding the hotel of interest. The application supports the function to detect the current position by GPS, but it explains that the location API of Windows is used for this.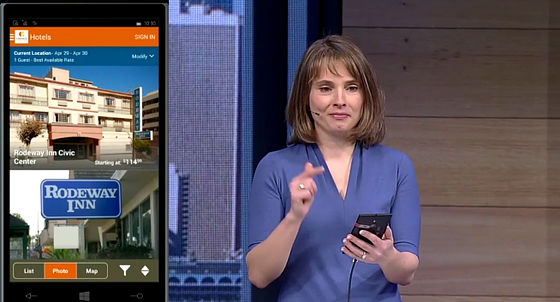 You can see that the keyboard displayed on the screen is also Windows 10.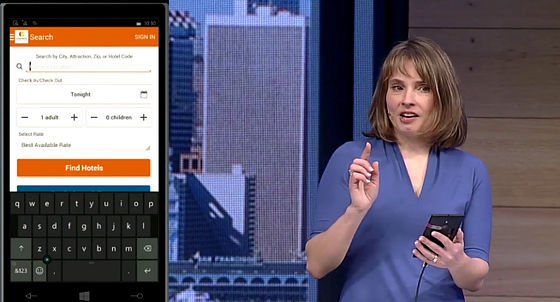 Microsoft is planning to provide SDK (Software Development Kit) that can convert program code written for Android / iOS platform into code executable with Windows Universal application, and applications ported from each platform will be downloaded from the Windows Store You will be able to obtain it. Android version applications made with Java and C ++ can be transplanted with just a few rewrites. For iOS version applications, Objective-C is supposed to be supported instead of the latest Swift.

With Microsoft already collaborating with multiple application vendors this project, puzzle game "Candy crashIt has also been announced that the port to Windows 10 has been completed.

Microsoft has so farThe concept of "universal application" where the same application runs on multiple platformsIt is expected that this announcement will further expand its grand plan. Being ported as a Windows universal application is expected to mean that you can run Android / iOS apps not only on Windows Phone terminals but also on PCs and other compatible devices after porting.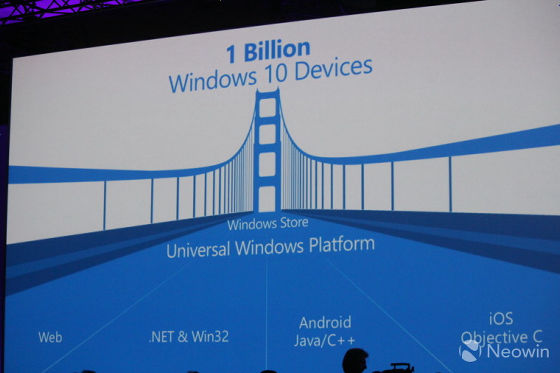 According to this policy, Windows 10 seems to be able to capture existing assets of other platforms with a small effort at a stroke, and it is a Windows application strategy that felt lagging compared to Android · iOS, but here It seems that Microsoft came to come back by unexpected means.