Apple Watch's battery can be used for about two and a half without replacing


It was released on April 24, 2015Apple WatchUnlike traditional watches, batteriesDegree to be taken one daySo, it needs to be charged every day. "It is necessary to charge smallly" is a fate of smartwatch that needs to display various displays on the display with a built-in computer in the body, how long will the battery life last? You should also be interested in users who purchase Apple Watch or who are considering purchasing. So I tried to summarize matters related to Apple Watch 's battery, including theoretical battery life, the impression of batteries actually used in the editorial department, warranty and how to extend the battery.

Apple - Batteries - Service and Recycling
http://www.apple.com/batteries/service-and-recycling/

The Apple Watch's battery will will 2.5 years before needing to be replaced
http://www.neowin.net/news/the-apple-watchs-battery-will-last-25-years-before-needing-to-be-replaced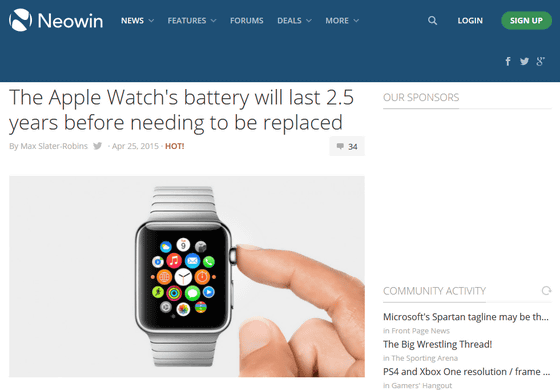 According to Apple's published battery description page on the terminal, the Apple Watch's battery is designed to maintain up to 80% of its original battery capacity even after repeating a full charge cycle 1000 times. Considering full charge once a day, it is about two and a half years that you can use Apple Watch while maintaining the performance of more than 80% of the original battery.

Also, Apple Watch and Apple Watch Sport have a one year warranty, Apple Watch Edition has a two year warranty period, and if you find a battery problem during this warranty period, you can have the battery replaced . In addition, even outside the warranty period, Apple offersBattery serviceYou can have the battery replaced.

The charges (excluding tax) for battery service and repair service not covered by warranty are as follows. Battery service outside the warranty is available only when "Apple's diagnostic test shows that the battery capacity is less than 80% of the original full charge capacity", the warranty-eligible repair serviceApple's repair provisionIt can be used only in the range that is based on.




Actually watching Apple Watch using Gashagashi inside the GIGAZINE editorial department, although how to reduce batteries varies depending on the model and how to use, once the batteries run out from morning till evening, Even not happening, the battery feeling is better than I imagined.

However, a special band for expanding the battery capacity has just appeared, for those who say that "I do not want to wear Apple Watch while fighting the insecurity" maybe the battery will run out ... ".

Wipowerband | Apple Watch Battery Extender
http://www.wipowerband.com/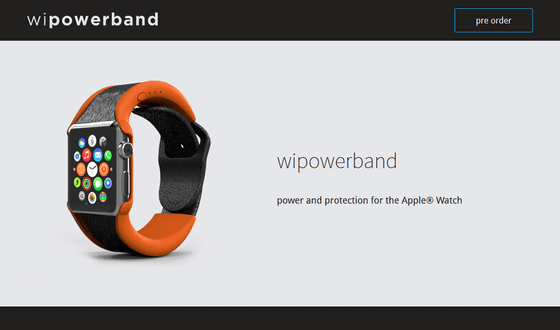 The name of the battery expansion band is "Wipowerband"Weighs 20 grams, 250 mAh expansion battery is attached to the band part. The battery capacity of Apple Watch whose display size is 38 mm is 205 mAhDiscoveredIt is obvious that if you attach wipowerband, the operation time will be dramatically extended.

The orange part is wipowerband, it can be used with 3 models of Apple Watch, Apple Watch Sport, Apple Watch Edition. There are 4 kinds of color variations, blue, orange, pink and black.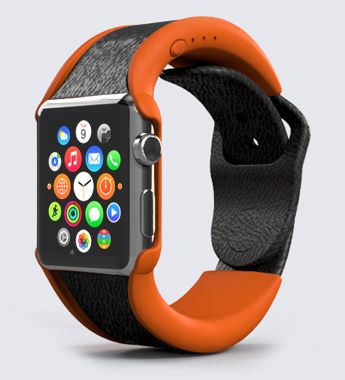 "Wipowerband" is sold for $ 89 for 38 mm (about 10,000 yen), for $ 42 for $ 99 (about 12,000 yen), delivery will be scheduled from May to June 2015 .