We have eaten Tenaya's early summer new work menu including tempura of beef tongue and "fresh beef tongue and tomorrow"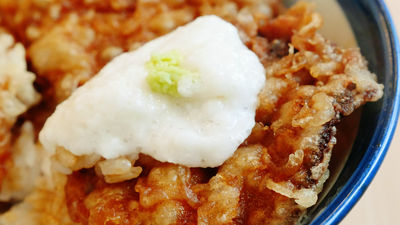 Tianba Teraya is an early summer limited menu "Beef tongue with various kinds of bowls"When"Asadori recipe bowl of riceWe began sales from April 16 (Thursday). As a tool for the bowl of rice, I decided to eat it because it was interesting what kind of taste it would be if unusual beef tender and clams were tempura.

Beef tongro and rice bowls | limited time | in-store menu |
http://www.tenya.co.jp/menu/season/season02.html

Clam Cup Tempura | Limited Time | Inside Menu |
http://www.tenya.co.jp/menu/season/season01.html

Arrived at Tenya.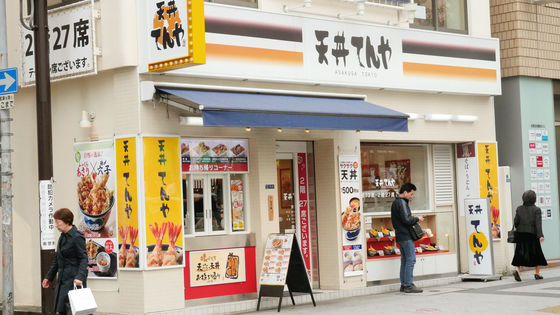 When entering the shop and arriving at the table, "Asatari Confucius Tropical Donburi" and "Beef Tanger Nori Tankan" were greatly appealing on the desk menu. I will order orders separately.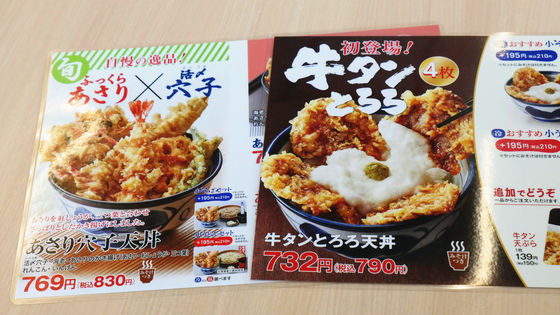 Wait ten minutes in "Beef tongue with various kinds of bowls"(7,000 yen / tax included) arrived. When ordering a bowl separately, miso soup comes with it.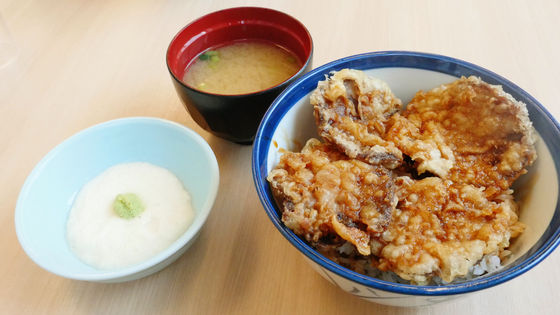 Four tempura of beef tongue sticks with noodles, filling the bowls.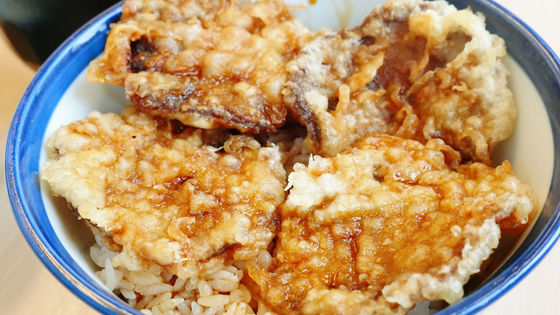 Tororosa and wasabi are included separately.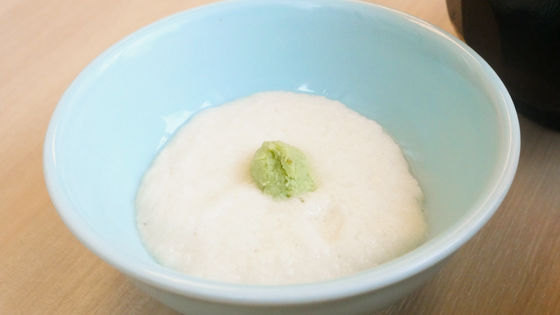 I will eat it at once. Sliced ​​beef tongue is used, and oil is oozing out on the surface and it is outstanding.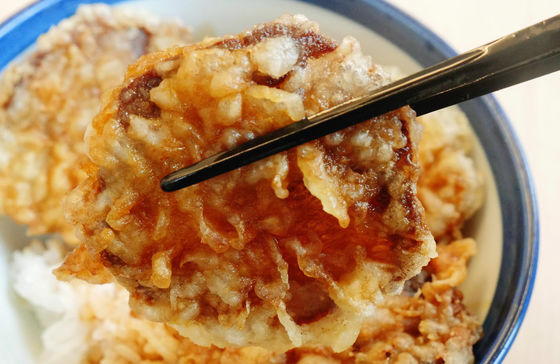 Tempura of beef tongue is neither frugal nor fluffy, it is a strange soft texture. The beef tongue is not thick, but the taste of the meat will bleed off as the croaker bites.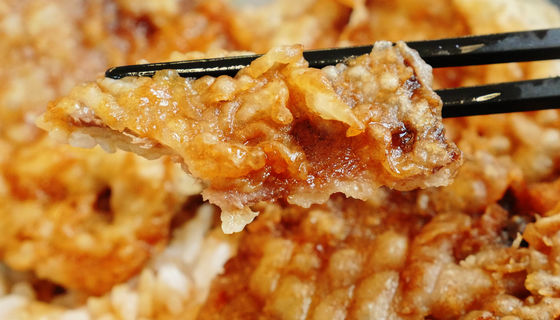 Next I will try going around the beef tongue with the grated roots.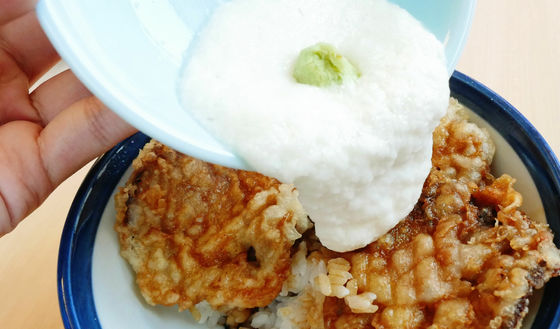 I will put some wasabi and get it.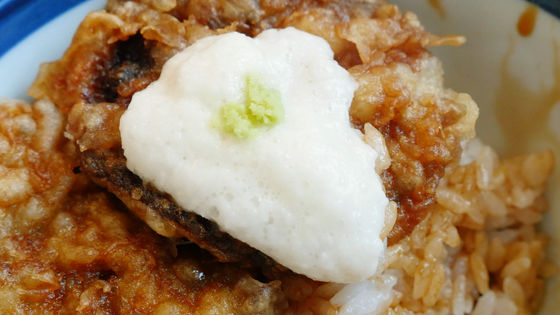 Both beef tongue and clothing are plentiful in oil, so the inside of the mouth was covered with grease, but when you eat it together with the goose you will not feel the mood, and together with the mouthfeel texture you can eat palely It has changed. Wasabi has a tasteful flavor, it is juicy when eating together beef tongue, tuna and wasabi, it is easy to eat rice, any amount of rice can be eaten.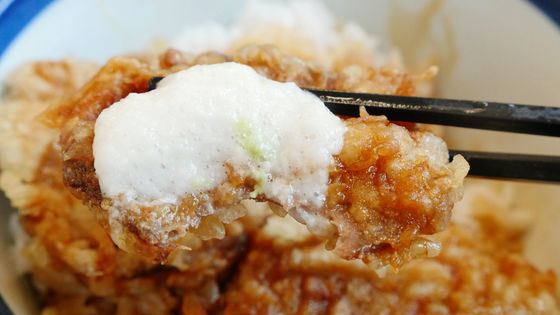 Miso soup, salt and miso flavor are discreet and it's just right for chopstick breakage.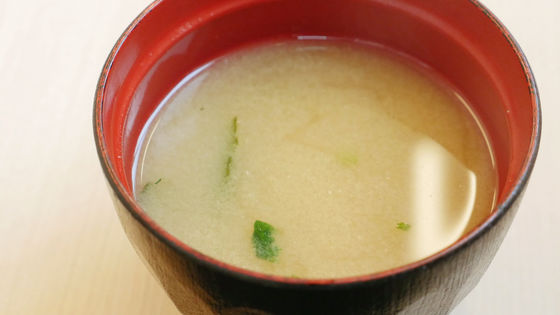 Continue to eat "Asatari Costume Tropical Bowl" (8,000 yen / tax included). Kakiage, Confucius, Shrimp and vegetable tempura are packed all over from the bowl's bowl.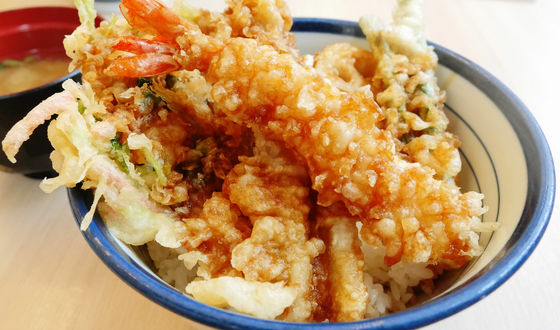 Confucius is heavy but slender but heavy, it seems to fall off from chopsticks.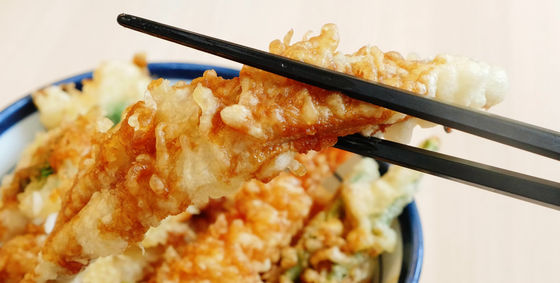 Confucius of fluffy is juicy with oils on top. Sweet sauce is staining well in crispy clothing.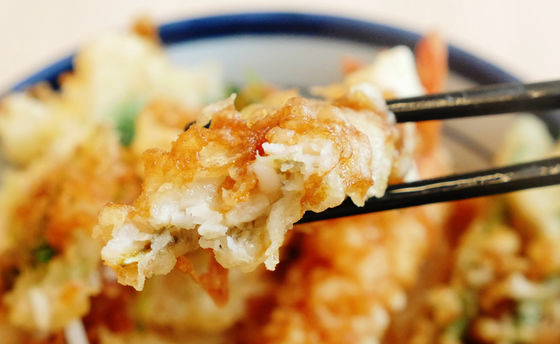 Do not defeat Confucius, the shrimp is also large.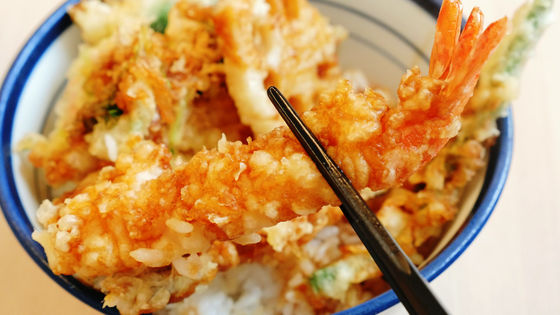 My body is pretty and the shrimp 's deliciousness is packed.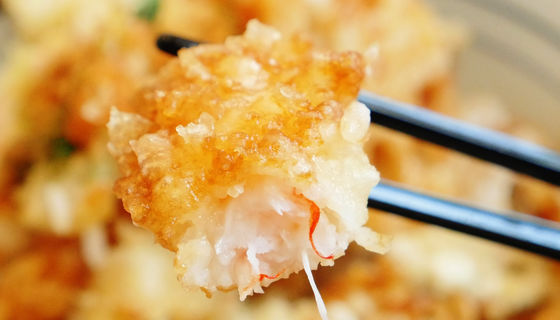 When I tried to crush Kakiage, I found clams. The body of pretty is rich in the flavor of the iso, it is a good compatibility with clothes and sauce.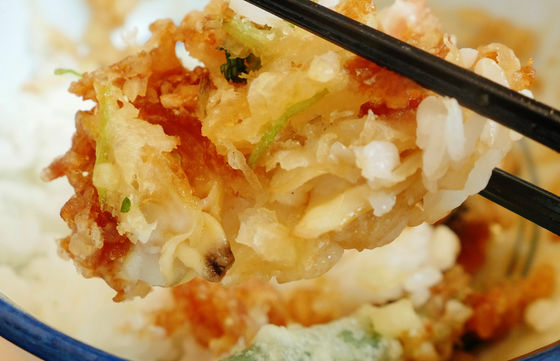 Red ginger is painfully spicy, perfect when the inside of the mouth has come up with oil and taste.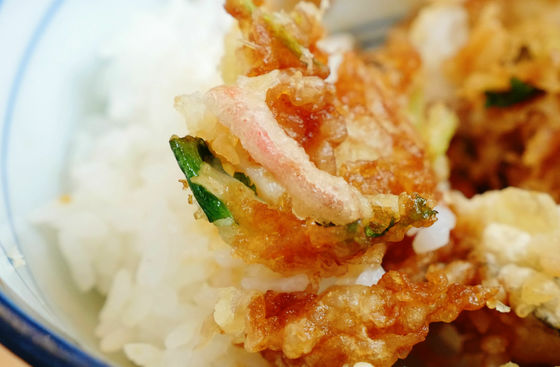 Mitsuba leaves were both accent of scent and coloring.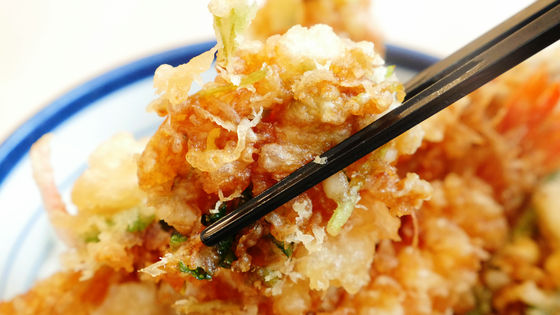 Vegetables contained lotus root. Both are plain taste, not a supporting role of seafood, this is enough for the main bowl of rice bowl, you can feel the taste of vegetables.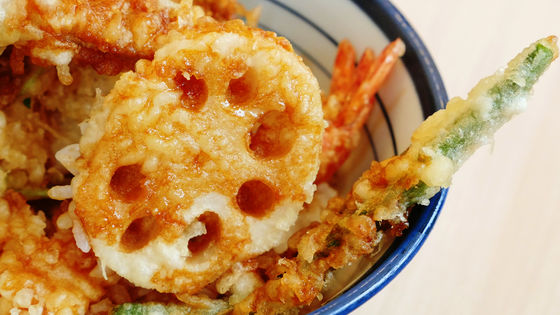 Prices are 740 yen, 790 yen, 890 yen, 790 yen, 780 yen, 780 yen, 690 yen, and 930 yen, respectively, for the price of "Beef Tanger and Tankan Bowl" It can also be set with soba noodles and udon. In addition, sales are limited for the period of June 3, 2015 (Wednesday).