The premium iPad that the Roman patronage was loyaled is auctioned off at the auction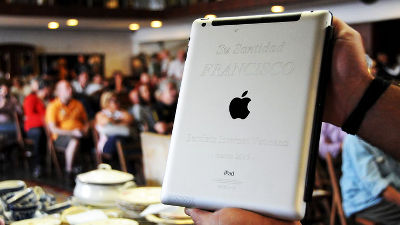 Products that are celebrity autographed goods and items actually used, sometimes appearing in charity auctions that are difficult to obtain normally, may be bought down at a higher price than you might imagine. In the charity auction held in Uruguay, the iPad used by the Roman Catholic church Francis Pope appeared and was bidded at the price of dozens of times the price.

Ipad del Papa Francisco / Castells / Subastas desde 1835
http://castells.com.uy/subastas/ipad-del-papa-francisco-14-abril-2015/

Papal iPad fetches $ 30,500 at auction in Uruguay | Reuters

A charity auction was held on April 14, 2015 local time at the auction house "The Castells" in Montevideo, Uruguay, Apple's iPad used by the Roman Catholic church Francis Pope was exhibited in the auction It was. On the back of the exhibited iPad is stamped as "Su Santidad FRANCISCO (St. Francis)", full of premium feeling.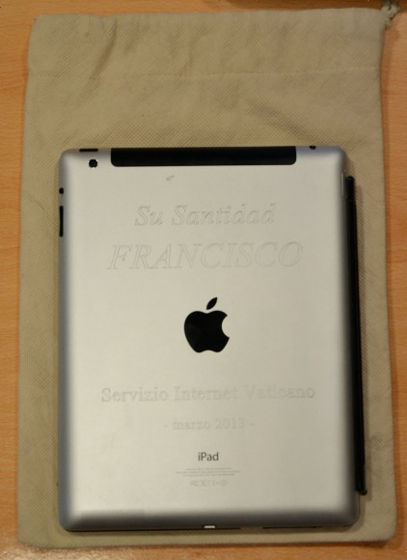 A keyboard made by Logitech is attached to the iPad that was exhibited. You can see that Pope Francis used logitech's keyboard along with iPad. Apple's genuineWireless keyboardRather than choosing Logitech, it is rather cool. Also, if you look closely you can see that the protective sheet on the top of the keyboard was used without removing it from the time of purchase, and it seems that the character of Francisco is glimpse.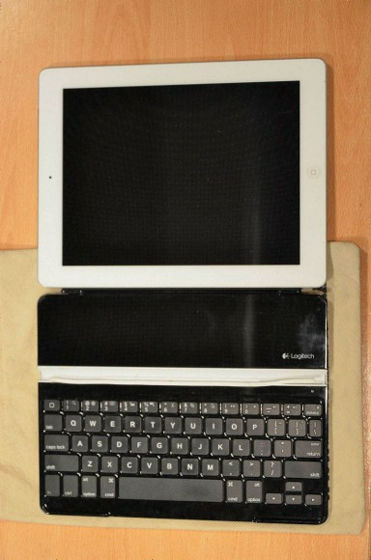 It is a certificate that Francisco used it.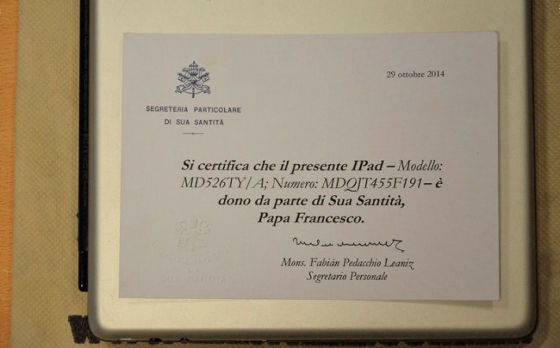 The used iPad of Francis Pope was bid by auction for 30,500 dollars (about 3,620,000 yen). The bidding was Mr. Gonzalo Aemilius of the priest, and the iPad who made a bid was said to have been handed directly with the word "please use something good" from Pope Francis.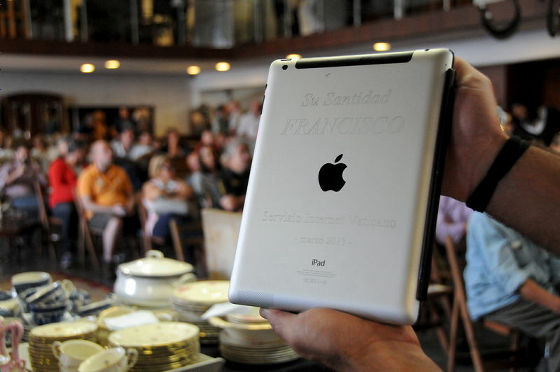 Aemilius donated the successful bid to the high school in Uruguay. Also, sales of auctions will be donated to schools in Uruguay. Pope Francis donated Harley Davidson's bike he used to himself before, and at that time he was bidded for 241,500 euros (about 30.8 million yen).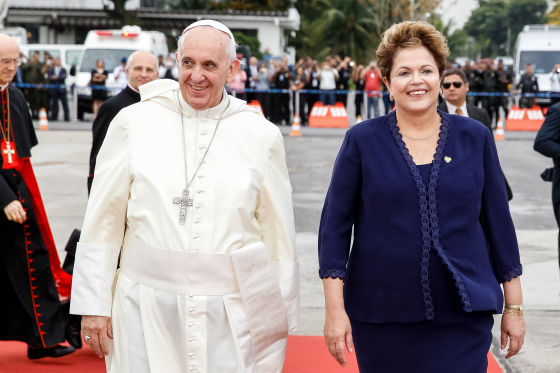 ByBlog do Planalto