Should Apple Watch actually buy it?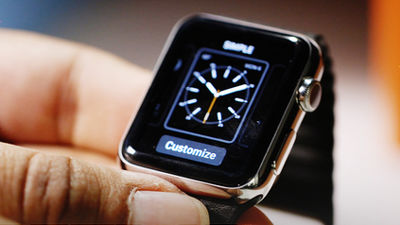 Apple Watch will be able to make a pre-order from tomorrow at the end, but that review has been released from each media that tried Apple Watch in advance. It summarized the concern which concern such as what kind of feeling it is, how it differs from the existing smart watch and so on.

Apple Watch: the definitive review
http://www.theverge.com/a/apple-watch-review

Daring Fireball: The Apple Watch
http://daringfireball.net/2015/04/the_apple_watch

Apple Watch Woes
http://snelling.io/apple-watch-woes

The Verge"Apple Watch is a very small, personal device, close to your daily life, but it does not directly connect with anyone." "But at the same time Apple Watch is also a huge device. It is the first "new product" in the past five years after the death of Steve Jobs of a person, and there is a completely new idea to be noticed from the world of fashion as well as from the world of technology.The smart watch already exists in the market Although it is overflowing, this may even be the main stream of smartwatch, and Apple already has marketing power, network and determination power for that. "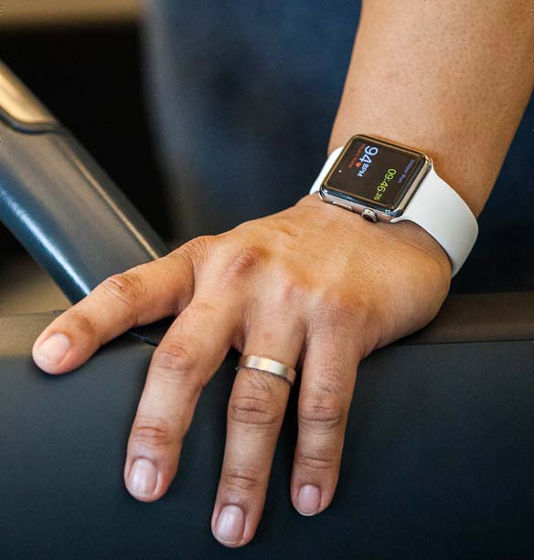 Also, I've reviewed a number of smart watches so farRe / code"I got the best record of Apple Watch in history", commented. It is not a device for everyone, but it is described as being a heavy user of the iPhone and would like it if you are interested in the possibilities of wearable terminals.

In this regard,Wall Street Journal"It is a big idea on how to use technology," while evaluating as "not intended for all iPhone users."

furtherCNETAccording to Apple Watch, "Apple Watch is not necessary for you. In every sense, Apple Watch is a toy, it is a watch-type assistant who is innovation and may be helpful in saving time, but for now It's an iPhone accessory. "Bloomberg BusinessWhenYahoo!Also we are evaluating that "for now is not necessary."

Here, the big criterion for judging "Apple Watch is necessary or unnecessary" is that "Why do I need to use Apple Watch to get enough with iPhone?" Apple Watch basically can not do detailed mail or operate small applications like iPhone does. Since it is a type to be used in conjunction with the iPhone, it is also necessary to carry the iPhone, so if it is so, it is natural that the opinion "You better use the iPhone?" Comes out. Actually, even if you are wearing an Apple Watch when you are at home, you can definitely have an environment where you can use your iPhone carefully at all times, so you should not know how good you are. But The Verge says "Apple Watch will be very valuable while on the move."

As a general answer to the question "Why do I need to use Apple Watch to succeed on iPhone?" Is probably "that is more convenient". Many of the things that can be done with the iPhone which is used as usual now can be done with PC. Still people started to use the iPhone because the iPhone "It was easy to carry around on the go and it was more convenient".

However, this is "in some sense the truth, in a sense it is not true," The Verge. It certainly is very convenient because you can listen to music and check messages, so Apple Watch can do it without having to take out the iPhone. However, this "convenience" is not based on a simple reason "easy to carry around", but Apple Watch is doing the accumulation of ideas and ingenuity.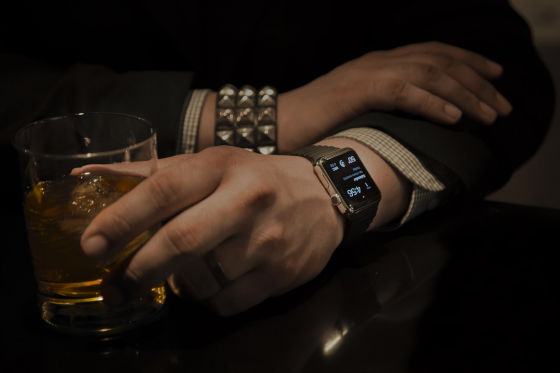 For example, with regard to notification, a technology called Taptics is used, and as the alarm sounds and the wrist sounds vibrated, the vibration is weak in previous Taptics, and if the alarm sound is small, the notification is overlooked Because it is possible that Apple will make it a powerful thing. If you put an iPhone in your bag, there is a possibility that you will not miss it even if there is an incoming call, but if you have an Apple Watch, you can talk on the spot without missing it. Also, since vibration can be customized, it is also an excellent point to be able to understand various notifications, such as e-mails and incoming calls, with a touch without confirmation of the screen.

Operation is done with swipe and side buttons on the side of Apple Watch. You can check from the movie below that the sounds like tapping the triangle "Notice" of the notification and operating the Apple Watch.

In addition, the basic usage can be confirmed from the following article.

Apple official usage guides movie appeared that lets you know what kind of terminal "Apple Watch" is coming soon - GIGAZINE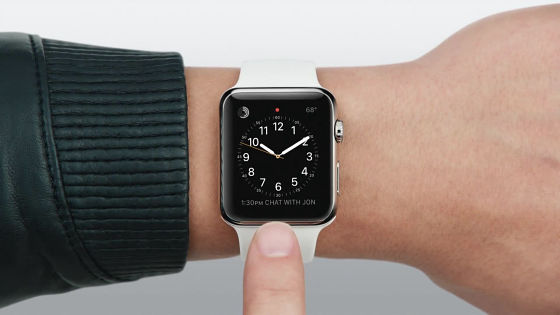 The way of interlocking with the iPhone has also been thought out, and in the review below you can see a glimpse of that ingenuity.

World lead review by Nobuyuki Hayashi: Apple Watch changes the concept of watch and wearable (1/5) - ITmedia PC USER
http://www.itmedia.co.jp/pcuser/articles/1504/08/news144.html

For example, let's suppose that a message comes from someone while quietly reading an e-book on iPhone. In this case, Apple Watch is quietly silent as the user is already notified of the arrival of the message with the notification being displayed for a moment on the screen of the iPhone. I will not do anything intrusive like repeating the same notification even if the same notification that the user is already watching on the iPhone.

However, when the message arrives while the iPhone is left on the desk (the screen is off), it notifies us of it by the sound of the clear bell called the teen and the vibration to the wrist. It is usual to think about what to do with new products, but I think that there are few manufacturers who firmly think and can practice "what should not be done" (and this is a very important idea today ).

Let me give another example.

A phone came while charging the iPhone in the next room. Although it is rushing and running to the next room in a hurry, if there is Apple Watch, after the first or second call, the phone will start ringing even at hand. Raise your arms and press the "Respond" button, you can answer the phone in the state of speakerphone using Apple Watch microphone and speaker. If it is going to be long, slowly walk to the next room, pick up the iPhone and continue with the call. With the function called Handsoff, seamless cooperation between devices is naturally realized.
You can say that Apple Watch is a mass of ingenuity and sophistication. Concerns concerning concerns (and easy to come up with) that have been said on the Internet until now, preparations contemplated are prepared. And there are many joy beyond imagination is often set on the part that I was sweetly watching "this degree will be".
However, there are various drawbacks as well. For example, "Since the sound of a speakerphone is small, it is difficult to hear a person's voice in a crowd," he says, "When a notice arrives when you are with a person, you will see your watch numerous times, "Siri is doing all the searches without a browser application, but that response is slow" and "It will be active only when you raise your arm and check the screen, well You will need to swing your arms if you do not start up "," Third party applications are almost useless now "and so on. The Verge, who had favorably appealed to Apple Watch, "too am trying to change too many things, ambition lacks focus" "While there is technical excellence, Apple Watch is still I do not know if there are people who have found only true smart watches and true uses. "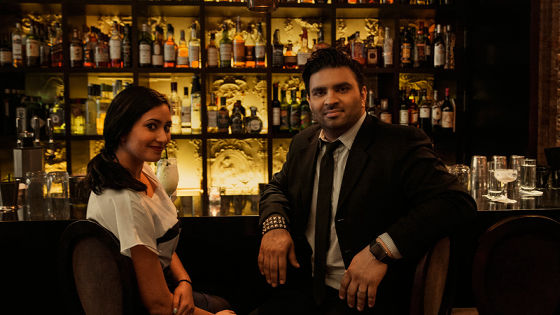 Regarding the battery life as well, when it moves fully from morning till evening, it seems that there is a case that you have to charge it during the day without catching up with just charging while sleeping. Considering using it like a conventional wrist watch, it seems to be bothered by short battery life.



Although there is a rating of "wonderful" while there is an evaluation that "is not necessary" is also conspicuous Apple Watch, but also because of the fact that the limited word "now" was attached to many of the reviews that were regarded as "not necessary" The value is high. However, since I do not know how Apple will come in the future, it is better to buy a cheap sports model now rather than a relatively expensive model if you buy it.

Apple Watch comes in the following case. Just like any other Apple device, it's a very simple and clean package.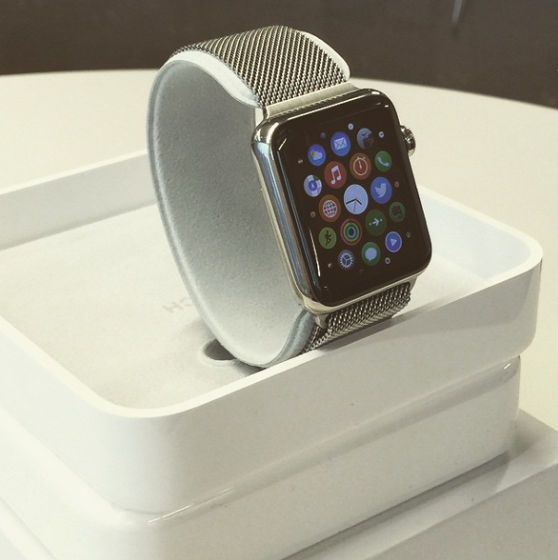 On the side of the box is written the type of Apple Watch that is inside.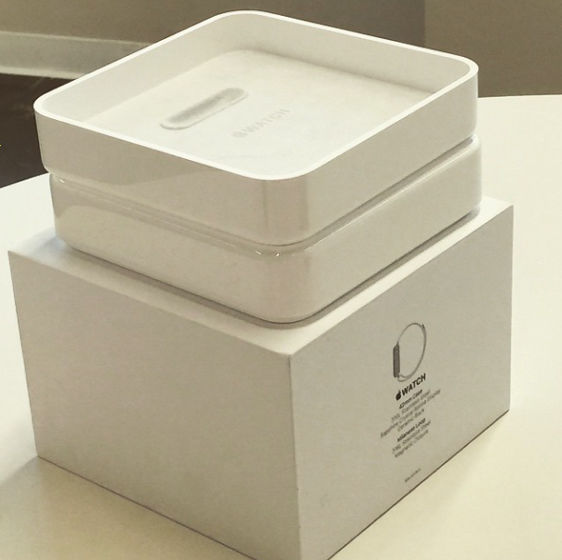 Apple Watch says "Softbank is the only one to sell on mobile carriers all over the world," it will be released on SoftBank Ginza and SoftBank Omotesando from April 24, 2015.

About Apple Watch | SOFTBANK MOBILE Corp. | Group Companies | Corporate · IR | Softbank
http://www.softbank.jp/corp/group/sbm/news/info/2015/20150408_01/