Folding electric motorcycle "JIVR" which can be developed with electric powered smartphone cooperation function installed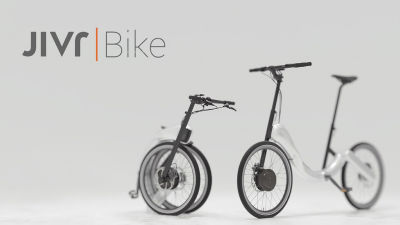 Built in a slim and flowing foldable aluminum frame an electric motorcycle component and an electric bike that can run in conjunction with smartphones is called "JIVR(Jiber) "is. JIVR is a maintenance-free structure with no chain in the drive section, and various customizations using PC etc are also possible.

JIVR Bike by JAM Vehicles Ltd.
http://jivrbike.com/

What kind of product JIVR is like is understood by seeing the following movie and so on.


Marcin Piatkowski, a developer, is a Polish-born technician. Mr. Piatkowski who studied at a university in the UK said he was interested in the future potential of vehicles with electric energy.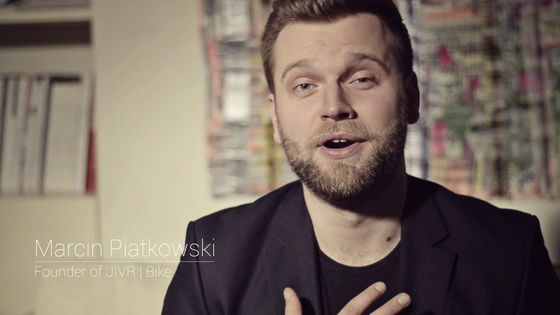 Mr. Piatkowski developed JIVR, a motorized folding bike. Built-in battery etc inside the body frame realizes slim design. It seems that the method of holding the tire is something held in front and behind, considering the foldability.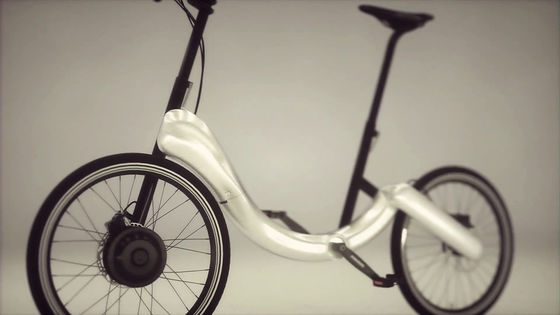 It is only Piatkowski who holds the opinion that "every motorcycle should be portable" appearance, it seems that the folding function could not be removed. It is possible to collapse completely in 4 simple steps.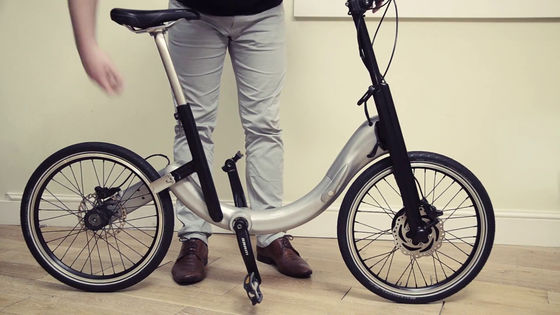 First of all, beat the seat part forward ......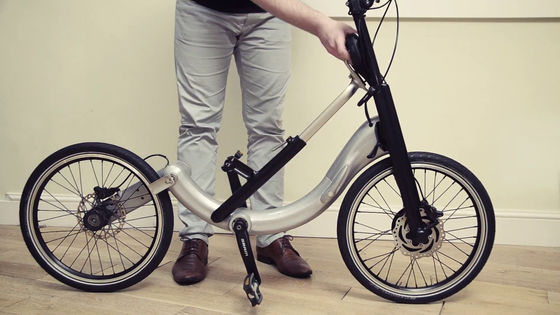 Loosen the clamp in front of the rear wheel.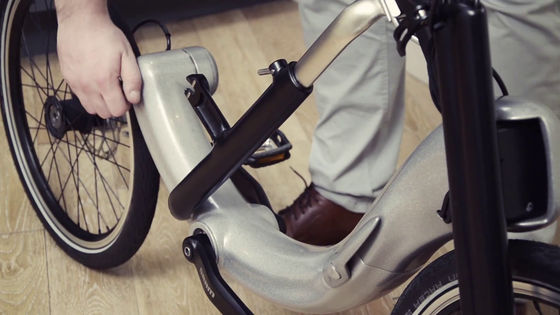 With the center of the frame bent down and bent down with this.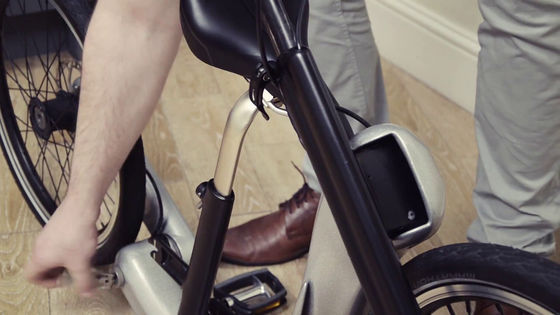 And furthermore, lift the rear wheel and dock it to the car body.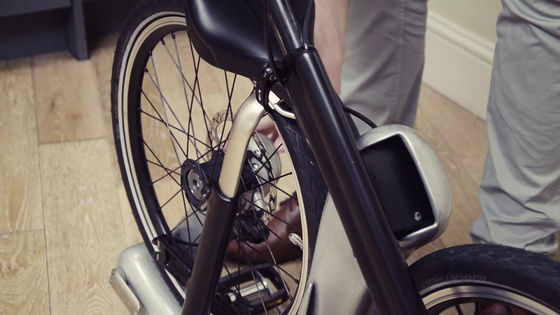 Finally loosen the clamp under the handle ... ...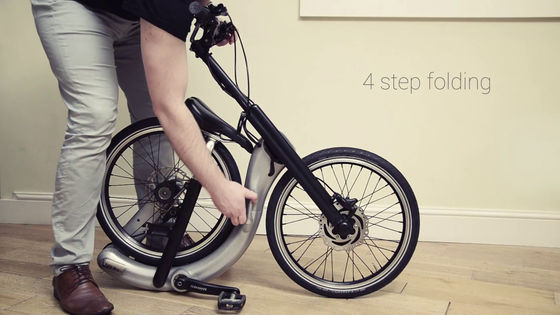 When you fold like shaking your head and put the tires together, the storage is completed. I was born in the UK,BromptonIt seems that it seems to be affected by the folding method of.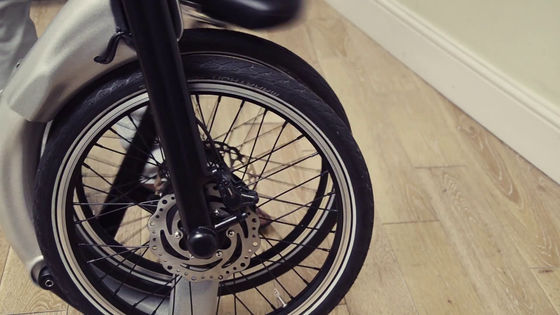 In such a frame, batteries and control circuits shown in orange and yellow are built in. Although it is a system that drives the front wheels by the motor, details of the "innovative drive train of the chainless structure" of the rear wheel are not disclosed.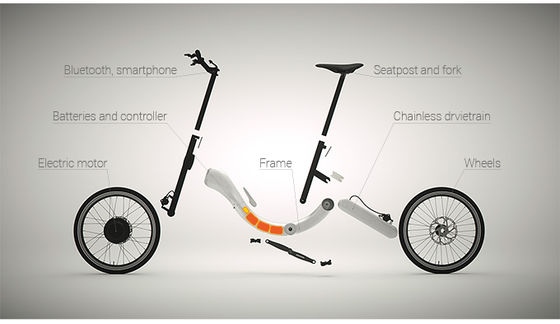 As for the electric part, of course, it adopts lithium-ion battery, and it is possible to travel for 20 miles (about 32 km) with charging for 90 minutes. The output is 250 W rated as the EU standard, the maximum instantaneous output is 500 W. The highest speed is also 25 km / h, which is EU standard.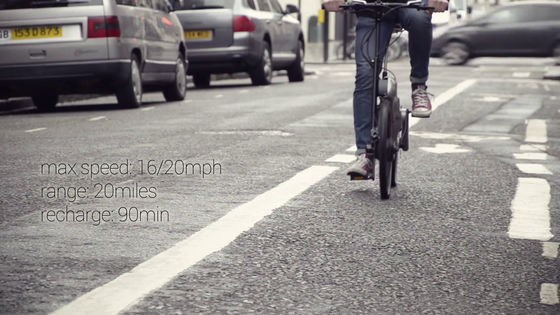 JIVR has a linkage function with smartphones. It is equipped with a Bluetooth function in the body controller section, it is possible to monitor mileage, time, calorie expenditure etc.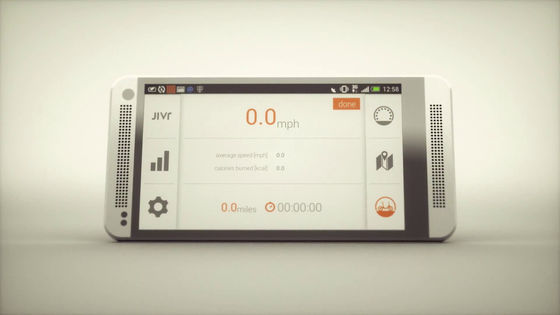 In addition, JIVRKontakt.ioBeacon is compatible, equipped with communication functions with various peripherals including PCs and smartphones. This makes it possible to develop a wide range of products.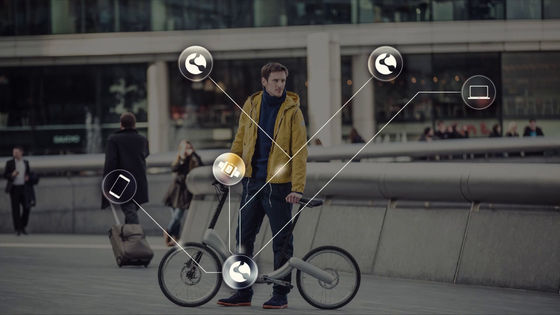 JIVR will hold a development contest Hackasson in collaboration with Kontakt.io. Various ideas are likely to be created.




Other specs are as follows. In the item of "chainless drive train", "Gear ratio3: 1,efficiency94% "are listed, but what kind of mechanism is detailed is still a mystery.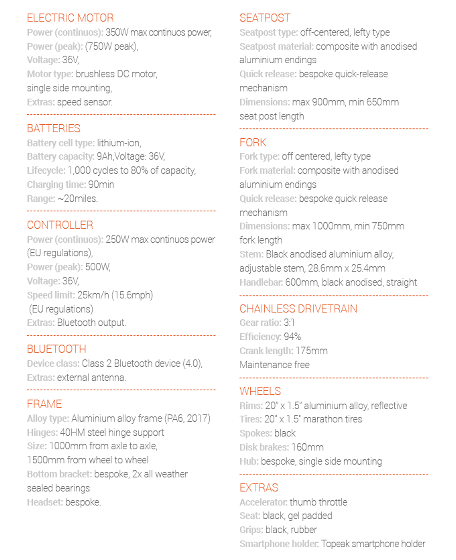 Even loading the manufacturer's site did not know the detail of the rear wheel drive train.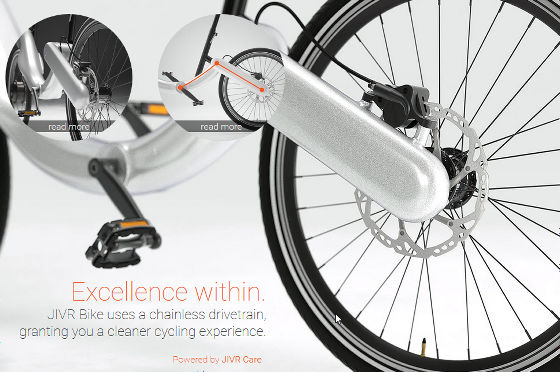 This JIVR is a cloud funding siteKickstarterWe are looking for investment in. About 70,000 pounds (about 12 million yen) of the target amount, about 88,000 pounds (about 15.6 million yen) of contributions are collected at the time of article creation.

It is JIVR which is a planned market price of 1999 pounds (about 350 thousand yen), but we offer a great deal of 1199 pounds (about 210,000 yen) for Kickstarter investors. Furthermore, at the company, for people who meet certain conditions "Ambassador ProgramWe are preparing plans that can get the car body cheaply on condition that you send out the situation of riding in JIVR by SNS and so on.

There are two patterns of conditions, one in the American Bay Area (San Francisco, San Mateo, Santa Clara, Alameda), orGreater LondonBe within the area of, or live in the area of ​​the postal code of Oxford, Cambridge. If this condition is satisfied, you can get 1 JIVR at 699 pounds (about 124,000 yen). However, this is a very difficult condition for most Japanese.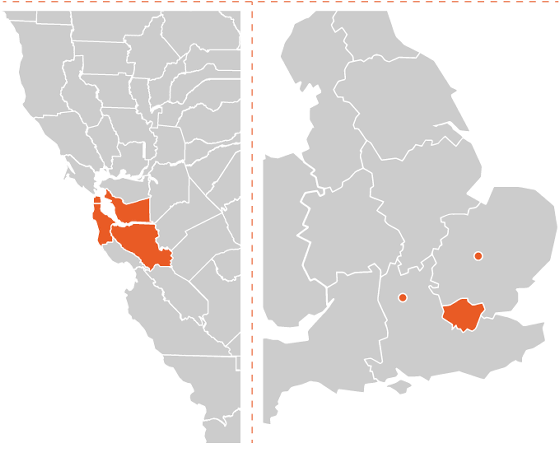 And the other condition is that you live in a city with a population of over 1 million. Cities such as Tokyo, Osaka, Nagoya, Fukuoka and Kawasaki will be included in Japan, so hurdles are likely to fall. In this case, you can get one JIVR at 849 pounds (about 150,000 yen).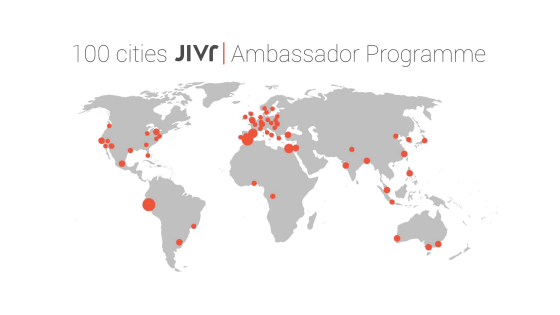 Please note that shipping costs to Japan require 165 pounds (about 30,000 yen) as a shipping cost. The deadline for investment is Japan time on April 10, 2015 (Friday) 22:00, and the shipping time is scheduled around September 2015.

JIVR | Bike. Chainless, folding, beacon-enabled e-bike. By Marcin Piatkowski - Kickstarter
https://www.kickstarter.com/projects/1831115152/jivr-bike-chainless-folding-beacon-enabled-e-bike/posts