"Windows 10 technical preview version for smartphone" looks like this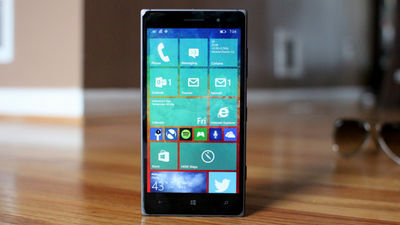 Windows 10 for smartphones already for developersTechnical preview version releasedHas been published, and Nokia's Lumia 630/635/636/638/730/830Installableis. Review installing Windows 10 for such smartphone is published in Neowin.

Windows 10 for Phones: First impressions from the Technical Preview
http://www.neowin.net/news/windows-10-for-phones-first-impressions-from-the-technical-preview

◆ UI
The following screen is the one at the time the Neowin reporter finished installing and started up, and it takes over the same UI as Windows Phone 8.1. It is said that the setting items are very easy to see, and it was easy to set the background image. Neowin's reporter told me that changing the new UI in the technical preview version will make it impossible to set the background image of the live tile. According to MicrosoftThis function will be improved by the official versionAnd that.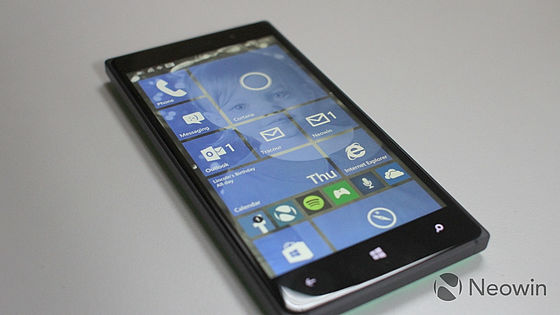 Also, since the originally set Cortana icon had disappeared, when I re-set it, I heard that it is only "big square" to choose from Cortana's icon size.People applicationThe rectangular icon can be selected. Due to the further diversification of the icon size in the future, usability will be improved for large display terminals like Lumia 1520 and tablets.

◆ Software keyboard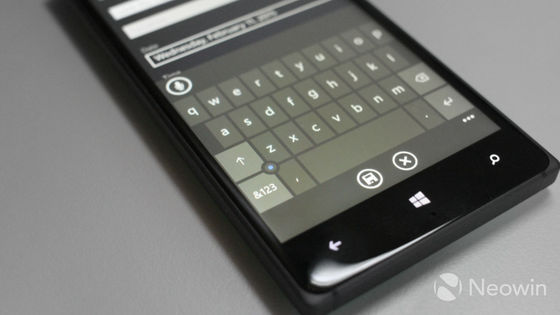 When inputting text with a software keyboard of a general smartphone, most of the time you directly tap the text when you want to move the cursor position. On the software keyboard of Windows 10, the "cursor movement button" is on the keyboard, and if you press and hold it for a long time, you can move the cursor in the text and scroll the text. This may be the person who comes to pin, saying something that is characteristic of Lenovo (former IBM) notebook PC "ThinkPad", that red red "TrackPoint" software version.

◆ File Manager



The new file manager is touch-friendly adjusted so that it can easily find the folder containing the data in the terminal. You can call the context menu at any time by long-pressing the folder, and you can "delete, move, copy, share, share, rename, check details" by holding down the file at any time. Because it can also manage the contents of the SD card, it seems to be particularly useful in low end models with a small body capacity.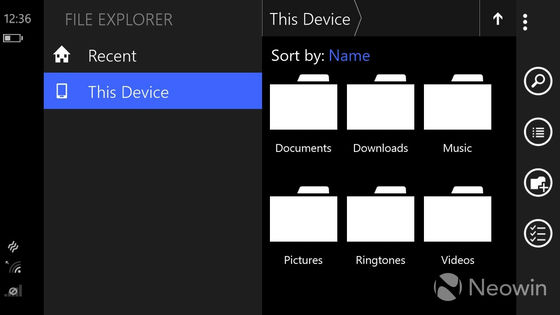 Camera rolls are displayed with thumbnails as follows.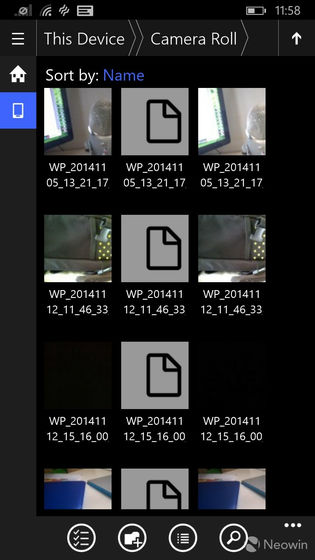 In addition, screenshots of file managers are published in large quantities on the following pages.

Windows 10 for Phones has a file manager, here's how it works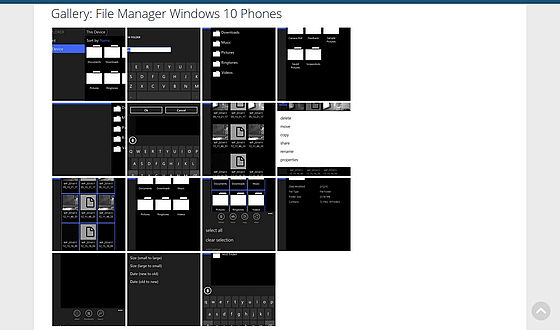 ◆ Calculator application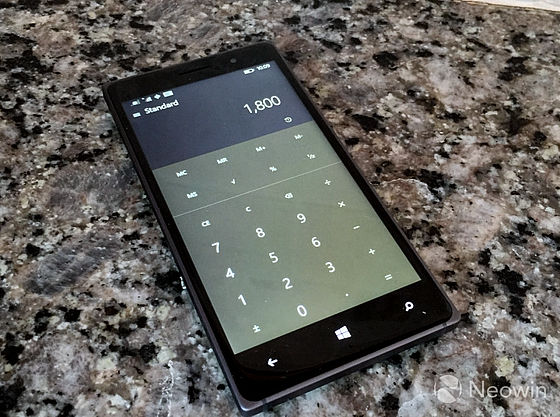 Calculations that can be done with Windows Phone 8.1 calculator application were only "basic calculation" and "scientific calculation", but the new calculator application has added "programmer" which can calculate binary number, decimal number, hexadecimal number etc. to conventional calculation In addition, it has 12 unit conversion functions.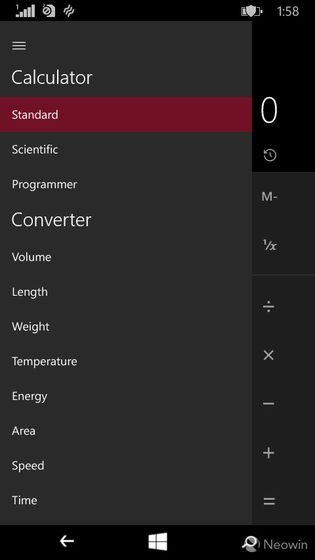 The list of unit conversion functions is as follows.
Volume:Millimeter, cubic centimeter, cubic meter, liter, teaspoon, tablespoon, quart, gallon
Length (length):Meters, kilometers, centimeters, meters, inches, feet, microns, millimeters
Weight:Grams, kilograms, hectograms, decagrams, metric tons, ounces, pounds,Stone
Temperature:Mr. Se, Ka, Kelvin
Energy:Joule, bolt, kilojoules, calorie diet, food calories, feet pounds,British heat
Area:Square kilometers, square centimeters, square millimeters, hectares, square inches, square feet, square meters
Speed:Meters per second, centimeters per second, feet per second, kilometers per hour, hourly miles, hourly knots
Time:Microseconds, milliseconds, seconds, minutes, hours, days, weeks, years
Power:Watt, kilowatt, horsepower,Foot pound, British calorie
Data (data):KB, MB, GB, TB
Pressure:Pascal,Weight pounds per square inch(PSI),bar
Angle:Every time,Radians

In the order from the left, where the units of length, data, angle are being converted is like this.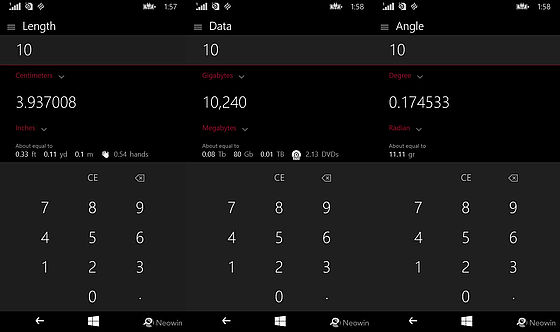 In addition, the whole screenshot of the new calculator is published on the following page.

Gallery: A closer look at the redesigned calculator app in Windows 10 for phones preview