"Regional inequity search" that shows the difference between big cities and rural areas in an easy-to-understand manner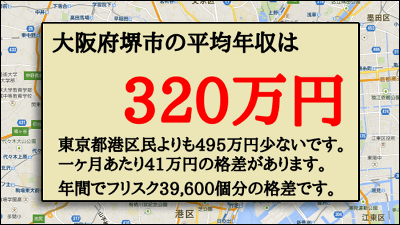 The problem that the economic disparity between large cities and rural areas has been longing for a long time, and that the difference tends to expand further has become an exclusive problem. Compare such economic disparities with "difference in income per capita", and a site that shows with easy-to-understand examples is "Local Disparity Search"is.

I made a local disparity search. : Murakami Fukuyuki's "Net and Keitai and I": ITmedia Alternative · Blog
http://blogs.itmedia.co.jp/fukuyuki/2015/02/post.html

This site isCrazy Works Inc.Representative also has a title as "Alternative / Blogger"Fukuyuki MurakamiBy Mr. Mr. Murakami explains the purpose of making "regional disparity search" as follows.

If you enter the local government you live in now, it will tell you how much disparity there is. For example, it is a site that tells us that Osaka city has a disparity between Minato-ku, Tokyo and 18,142 chicken nuggets.
First of all, a very simple page was displayed when opening the following site, how to tell us.

Regional Disparity Search |
http://kakusa.x0.to/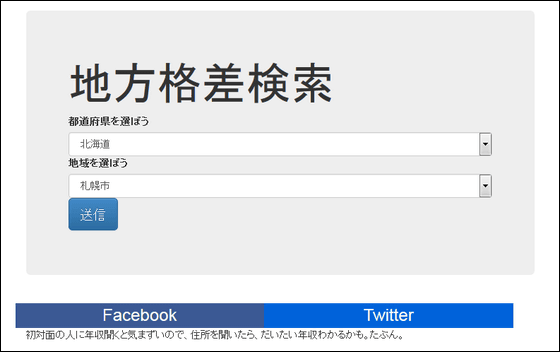 Choose "Choose prefectures" "Choose municipalities", so choose from the pulldown menu.



And finally click "Send".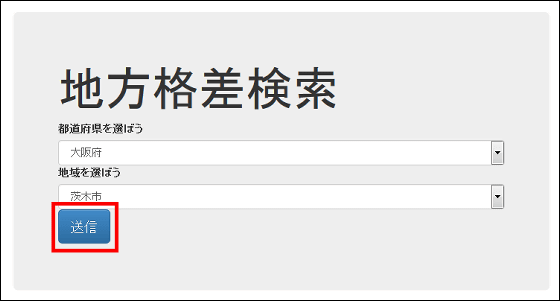 And this search result is displayed. Osaka prefecture Ibaraki city average annual income is343 million yenIt was found that the annual income is lower by 4.72 million yen than the residents of Minato-ku, Tokyo, which is the standard. Although it is said that there is a difference of 390,000 yen on a monthly income basis as well, the indication that it is most importantly displayed is "the disparity of Raemen Jiro 6,742 cups a year".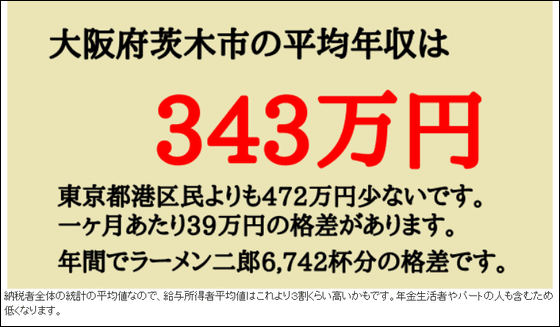 "Minato residents pay 3.34 million yen + 472 million yen =8.51 million yenIf you are also got it, then what about the neighborhood? "So, search results in several adjoining wards are here. The result showed that surprisingly disparity also occurred in adjacent areas. Even so, it is a place I do not know well whether the reference product is too familiar items such as "Frisk" or "Payang" and the perimeter of the number is not helpful.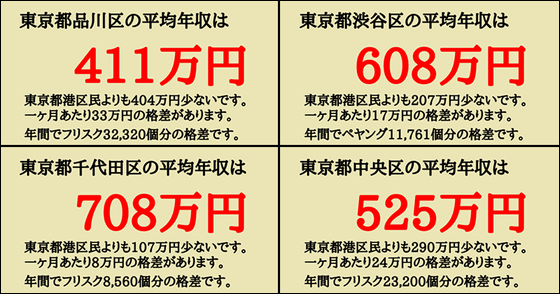 When I searched in Osaka city which is the economic zone next to Tokyo, I found that Osaka citizens have less income in terms of Payang compared with Minato City citizens by 28,863 pieces. Payang has a relatively low penetration rate in Kansai,Nissin - yaki soba U.F.O.If you compare it with, it may be more emotional.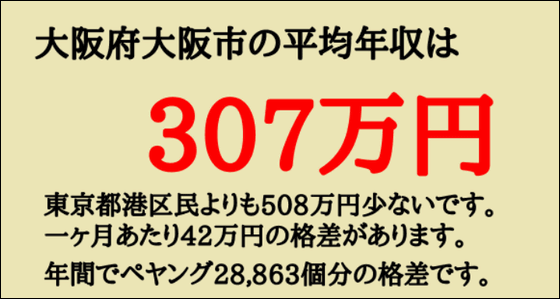 Search also in Nagoya city. It has been found that there is a disparity of 11,231 in the beef don bowl of Sukiya.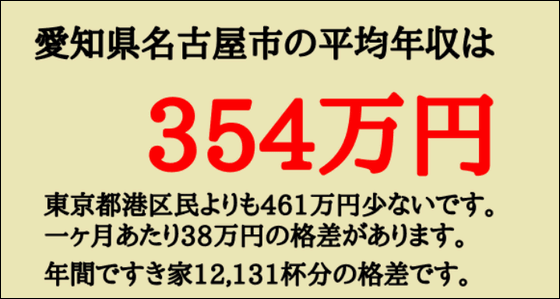 There is not much basis for not only the metropolitan area but also the place where more gentle air flows, but I chose Ishigaki-shi, Okinawa Prefecture. Although it was able to open water quite large from the residents of the port, such a thing is not very much, from where it is "No comment.I felt that I could hear the voice saying.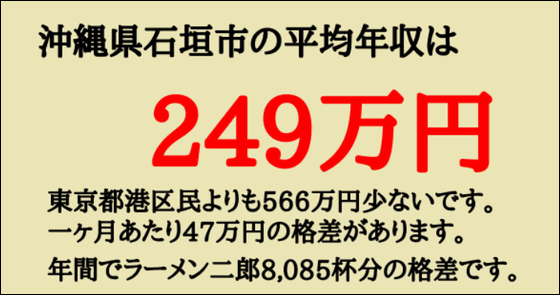 According to the author Mr. Murakami, the income data for each city is "average of the statistics of the taxpayer as a whole, so the salary earner average may be about 30% higher than this, including pensioners and part-time people It will be lower. " Without worrying about the details, it seems to be fun to make a happy sadness by comparing it with "his town."