I ate a fluffier moist French toast with "Hug Frenchtoast cafe" of a French toast specialty shop that you can choose from 5 different breads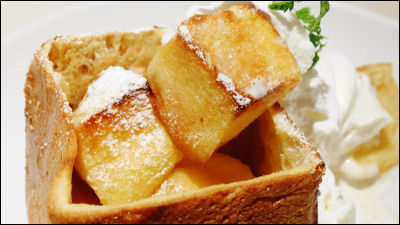 Pan-cake of fluffy fabricI will provide a"Pancake specialty store ButterAs a sister store of "five breads made use of their respective characteristicsAppareilSoaked in, it is freshly baked to the fluffy French toast specialty store "Hug Frenchtoast cafe"is. I went to the shop to actually eat it because I was concerned about French toast which is using Hokkaido high-grade fermented butter and purple cream of commitment with richness.

French toast specialty store 【Hug Frenchtoast cafe】 Osaka ::: "Butter" French toast baked homemade fresh baked bread with fermented butter :::
http://www.hug-cafe.jp/

The shop is under the elevated 4 - 26 Nakazaki west 2 - chome Kita - ku, Osaka city, 5 - minute walk from Hankyu Umeda station.


I found a shop.Pancake specialty store ButterBut the cattle objects that I saw are lined up.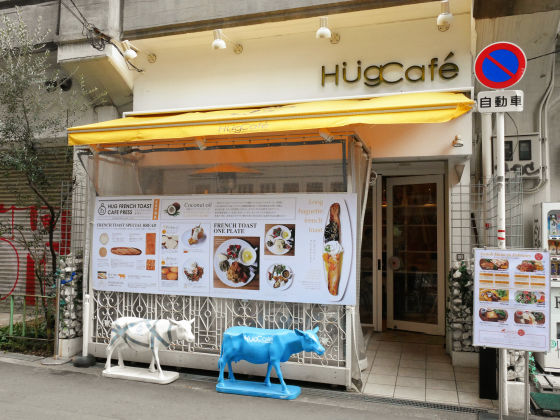 The interior is similar to Butter, and it is a Nordic-like atmosphere based on white.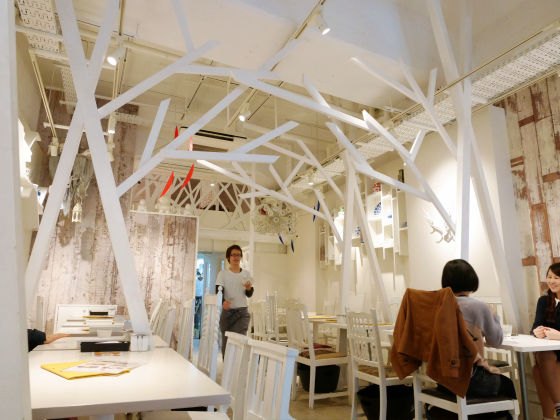 When I entered almost at the same time as the store opened, I was immediately informed of the seat.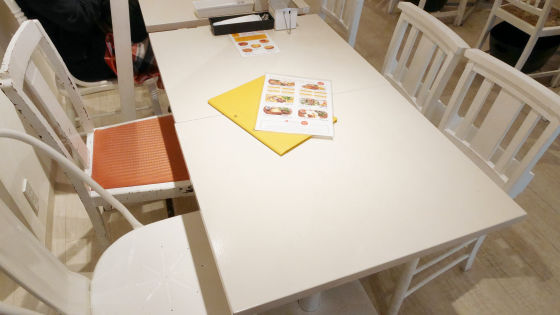 This is a menu. In Hug Frenchtoast cafe, a manufacturing method is adopted that puts five kinds of breads "corn bread", "round bread", "Focaccia", "baguette" and "English muffin" into the apreire which makes use of their respective characteristics.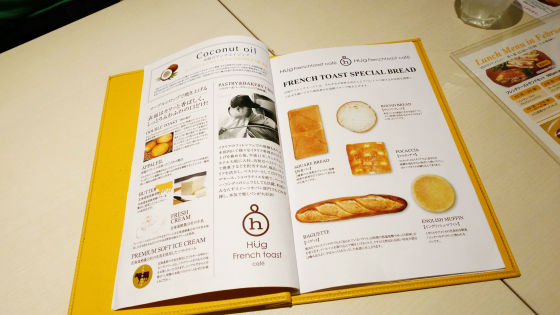 There are many sweets menu, but we also deal with rice menu using chicken and hamburgers, so there were not only women but also male customers in shops.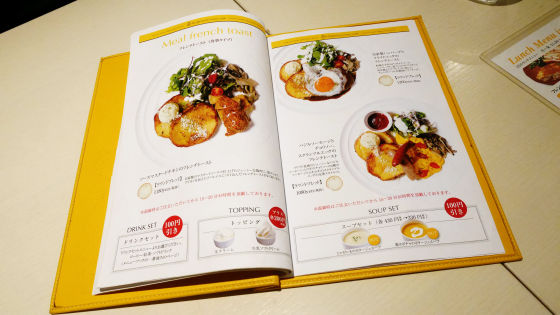 This time, the most popular "Maple French toast of fermented butter (950 yen excluding tax)" and "Fermented butter with caramelize French baguette ~ Sushi cream added (860 yen excluding tax)" and "Long Baguette French toast ~ Mixed berry and Mango chunk ~ · Long (1480 yen excluding tax) "order. It is said that it may take 15 to 20 minutes for cooking at times of congestion, but on this day "Ferment Butter Maple French Toast" arrived before 10 minutes after ordering.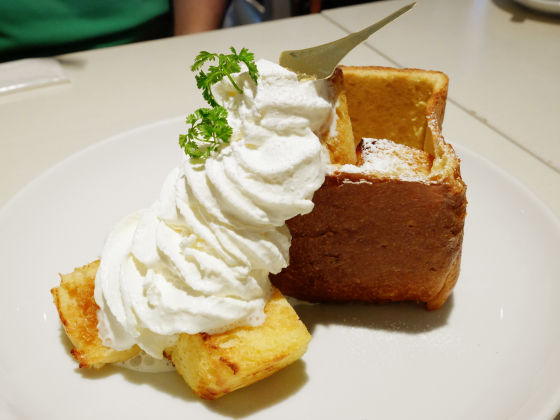 It is a dish with quite a volume that seems to use about a half loaf of bread.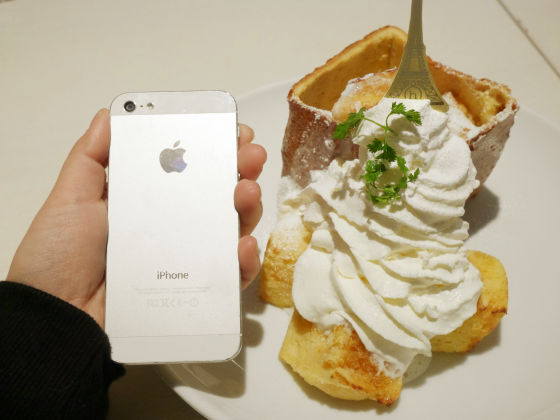 Compared with the iPhone 5, the height is about this.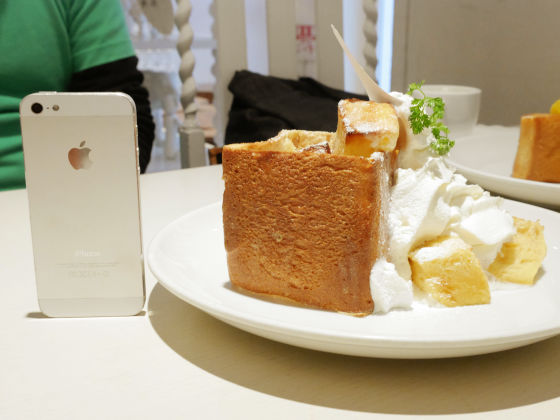 French toast of cut horn loaf is packed in what cut out the contents of bread.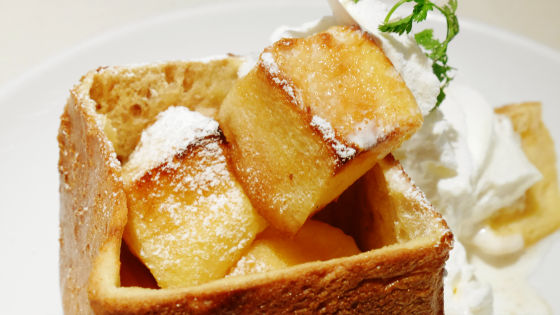 I tried eating with purple cream and it was fluffy anyway. There are two kinds of French toast, one with firmness and one with softness, but this French toast firmly baked in an apile is a softness that you do not need to bite. It is a simple and excellent combination of butter and maple syrup, but the French toast itself is not too sweet so even if you put plenty of rich "purity cream" using raw milk from Hokkaido Dairy Corporation There is none. I can rather eat more and more.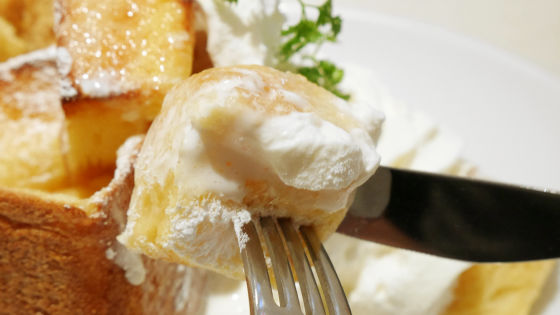 Be careful as the cream melts quickly as time passes because French toast is warm.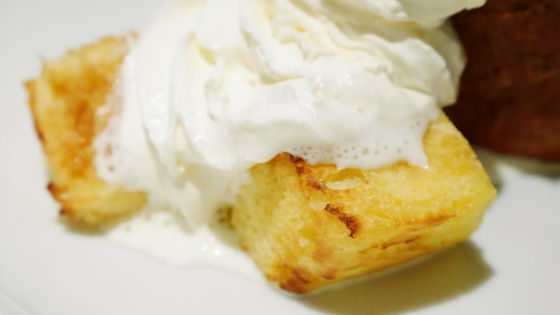 Pure cream is a light finish with a moderate sweetness, it is rich and fluffy feeling enough to feel happiness even if you eat this much. I can add an additional order with plus 200 yen, but it is worth adding.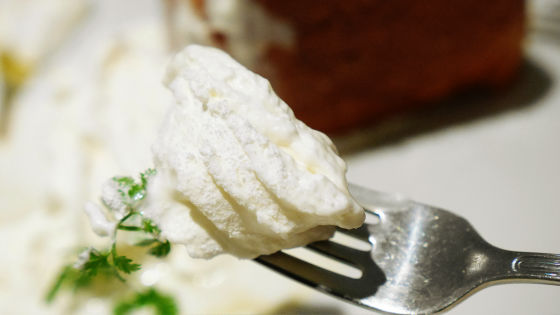 The inside French toast was soft, but the ear part of the bread was firmly baked and you can enjoy the crispy texture. Egg fluid is entangled, so it is a fine sweet while it is a bread's eat with a purine cream on it.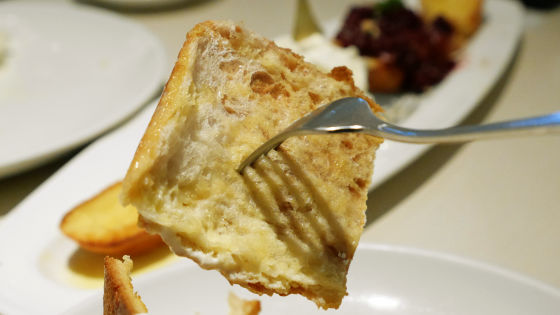 Next, I will eat "Popular No. 2 Fermented Butter Caramelise French Baguette - Sushi Cream Attached ~".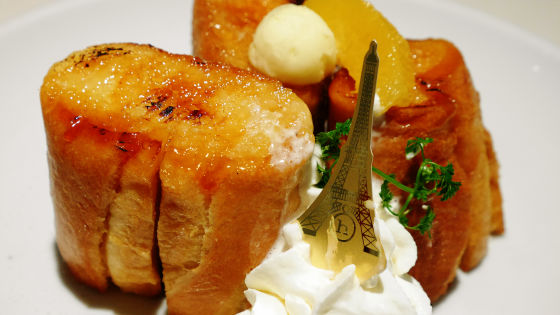 The surface of the French toast that "Fried Baguette with Kali Mocha Food Texture was Caramelize" feels like a creme brulee and the expectation increases.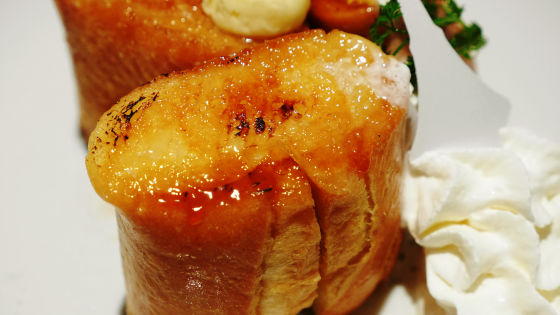 In addition to pure cream, fermented butter and oranges are topped.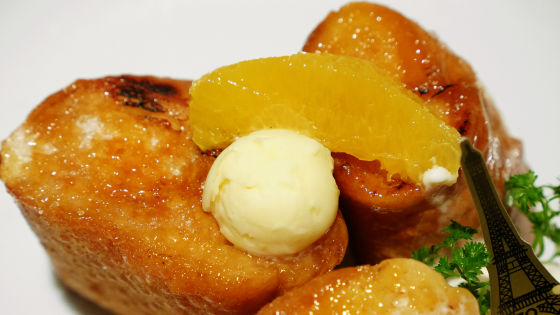 When I ate it, the fragrance of caramel spread into my mouth, becoming French toast which can also enjoy the crispy texture. This is not too sweet too, but it is an exquisite seasoning, but the part of "Cali" of "Kali mochi texture" that was written in the menu was weak, and it was a slightly different finish than expected. Those who expected the texture of a "ridiculous" rugged baguette may eat shoulder marks, but if you like a bittersweet caramel you can not stop dying.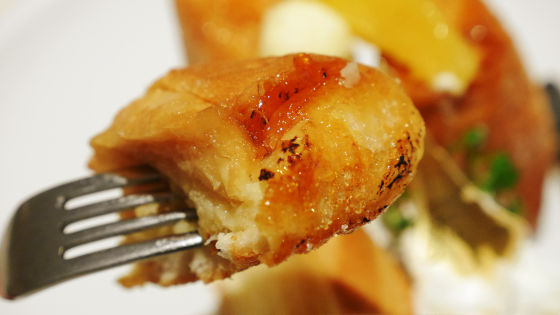 It is delicious as it is, but this also has a purple cream so you can eat it with cream OK.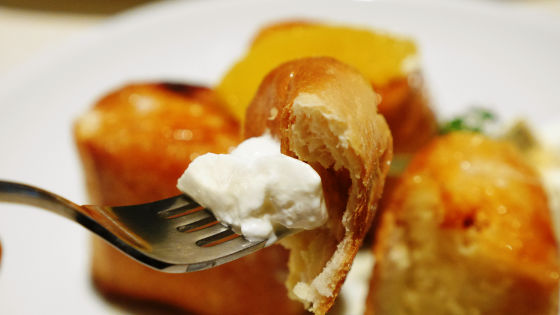 Butter which is on French toast uses Hokkaido high-grade fermented butter and it is delicious enough to notice "This butter is something different ... ..." even if you put nothing in your mouth!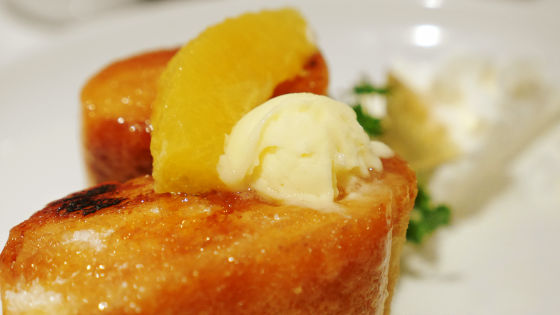 The last is "Long Baguette French Toast - Mixed Berry and Mango Chunk ~"



This is half size (780 yen without tax) and long size (1480 yen without tax), but this time I ordered a long size. It is the length that three iPhones are lightly lined up.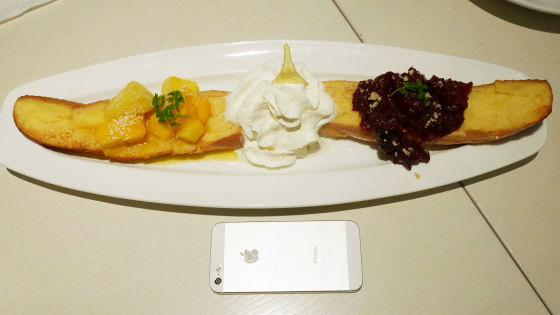 Half of French toast is the source of mango.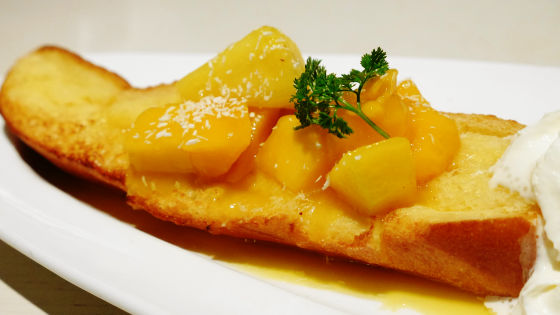 The other half is berry sauce.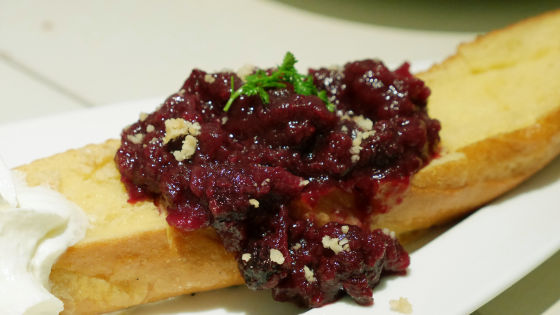 There is plenty of purity cream in the middle.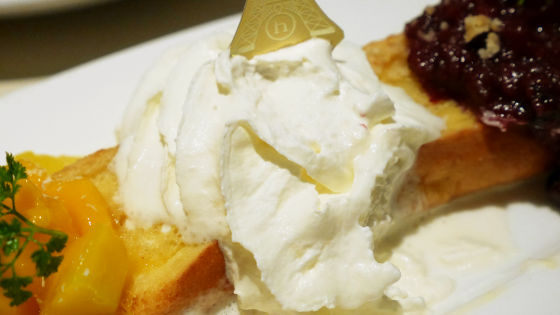 Baguettes had notches cut in advance, so it was possible to cut them without difficulty.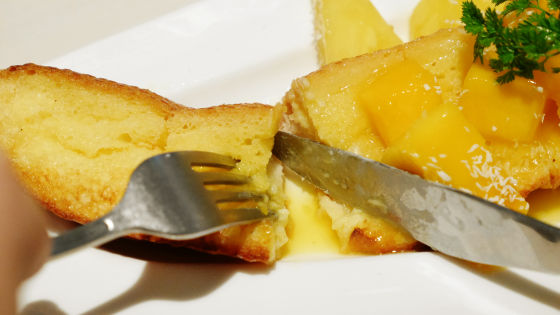 Firstly from the part where the source of mango is hung. Mango and pineapple pulp are used for mango sauce, and the same baguette itself is used the same as "the fermented butter's caramelise French baguette ~ purple cream added". However, because this French toast is full of sauces and creams, "Cali mochi" "Kari" part of the texture is weak, maybe it is not suitable for those who like a firm French toast.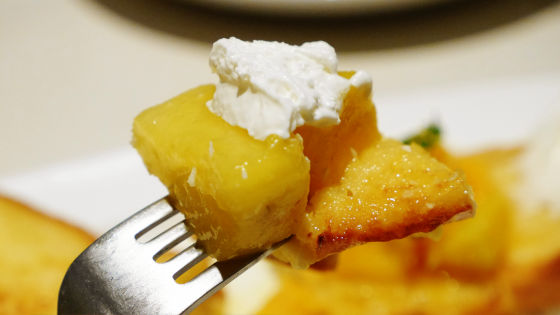 Both mango sauce and berry sauce are not only sweet but also sour, and divided with those who say "Recommended refreshing when eating without cream" and "sour! This cream is wanted".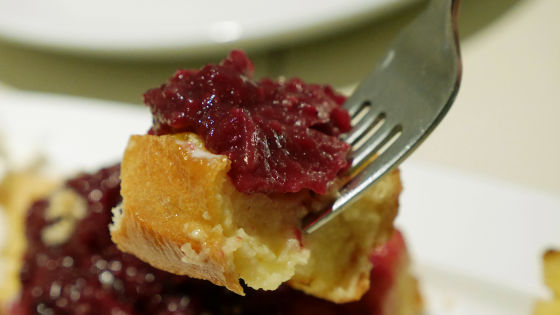 Three people shared 3 dishes while eating, but because some fluffy bread is used, some people say "I am still entering" after having finished. In Hug Frenchtoast cafe there was also a special menu that you can take out from 190 yen to 220 yen without tax, so I ordered it for trial.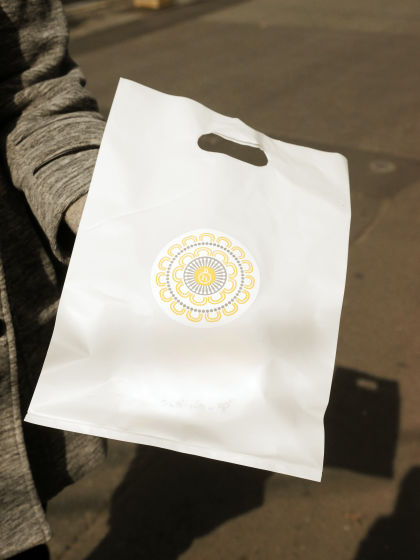 This is a simple "Sugar Butter French Toast" with fermented butter, finished in an oven and covered with sugar. The take-out menu is offered in a cool state, so if you go home and bake it in an oven etc. it is more delicious.