While Apple is testing a camera full of cameras, is it an automatic driving car development?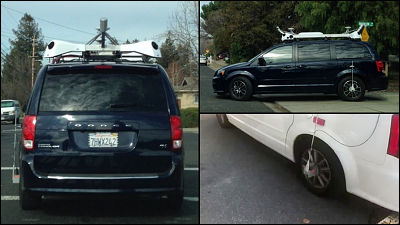 In the San Francisco Bay area in the USA, mysterious vehicles carrying devices such as cameras and radars on the ceiling are being witnessed. The vehicle seems to be related to Apple, and there are views that it is an automatic driving vehicle from its appearance.

UPDATE with PICS / VIDEO: The Mystery Van Driving Around Claycord - claycord CLAYCORD.com
http://claycord.com/2015/02/03/update-the-mystery-van-driving-around-claycord/

Mystery Van Could Be Apple's Entry In Effort To Develop Driverless Vehicle «CBS San Francisco
http://sanfrancisco.cbslocal.com/2015/02/03/mystery-van-could-be-apples-entry-in-effort-to-develop-self-driving-vehicle/

This information is information on the local site of the Bay Area's "CLAYCORDWhat was sent to. Sighting information on multiple vehicles carrying mysterious devices has been posted on the site.

A vehicle that is joining from the shoulder of the road. A white device is placed on the ceiling, and it looks like a camera-like thing is mounted in all directions.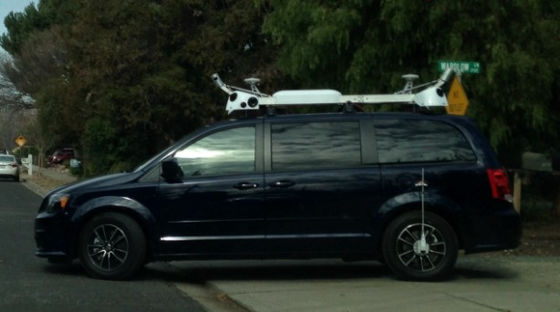 Shot from another angle. The device seems to be attached to something like a roof rack to be mounted on the ceiling.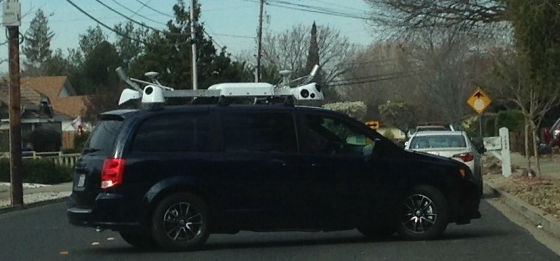 It's like this from behind. Looking at the photographs so far, things like cameras are attached to the four corners of the car body, and in front and behind you can see something like two silver columns. There are also information that 12 cameras are mounted in large and small sizes.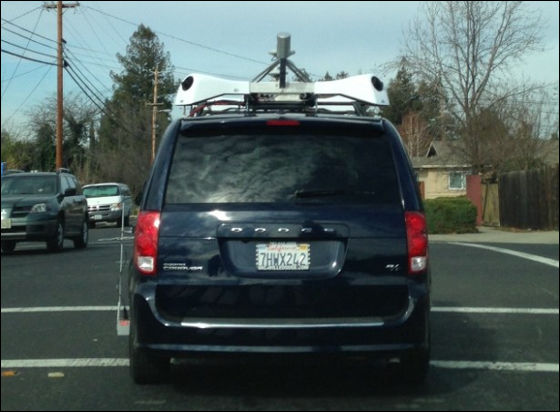 In addition, a movie containing the same type and another vehicle was also posted.

Dodge caravan self driving car in brooklyn new york - YouTube


Vehicle fitted with the same type of equipment. It is known that it is a minivan made by Dodge.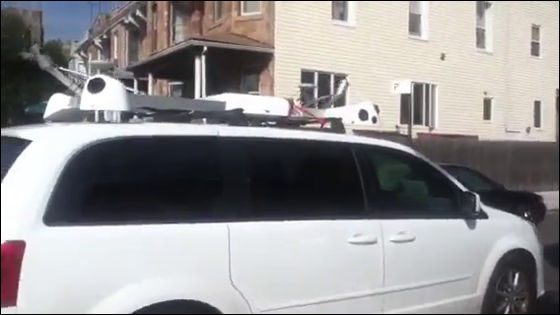 The silver cylinder at the rear of the vehicle is rotating with the gurgle.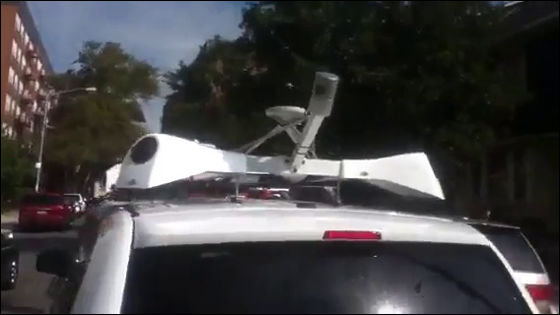 The tire was equipped with a device that measures the number of revolutions.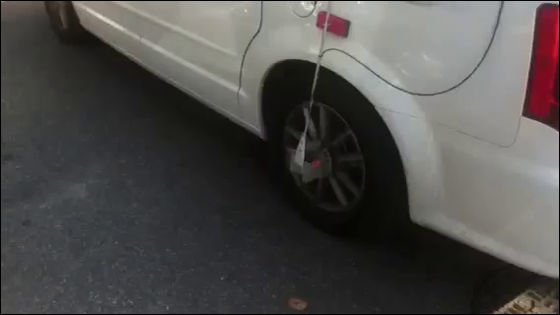 Its appearance looks exactly like the Toyota Prius that Google used in the development of an automated driving car in the past. Although it is different in the number of cameras, it is the most dominant theory that it sees as a camera capturing the surrounding situation and a silver rotating cylinder as a radar to recognize objects.



Based on the license plate attached to this minivan, California stateDMV(Department of Motor Vehicles: Government department dealing with vehicle related) records, this vehicle seems to be leased to Apple. Judging from the situation, it can be seen that Apple is embarking on the development of automatic driving cars.

However, it is also thought that one problem arises here. Authorization by the authorities is necessary to develop an automatic driving car in the state, but approval is not given to Apple. If you are driving or developing an automatic driving car in the "unlicensed" state, it could be a problem, but on the other hand, Apple is developing in partnership with partner companies and its partner approved It is possible to think that possibility of getting.

Either way, in California, which can be said as the forefront of automatic car development, development competition seems to be spreading out of sight.