Twitter launches new functions, "Group DM" "30 seconds shoot, edit and contribute movies with applications" possible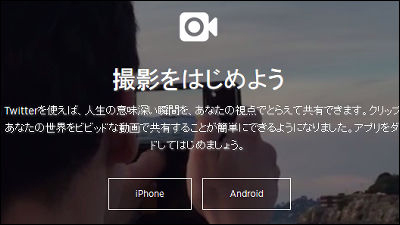 As Twitter has new features, you can invite up to 20 people and create a private group "Group Direct Message"When"Up to 30 seconds of video tweets"Has been released. DM can invite only followers, also correspond to link pasting. For video posting, you can start shooting directly from the Twitter application on the smartphone and shoot, even simple editing is supported.

New on Twitter: Group Direct Message and Video Posting | Twitter Blogs
https://blog.twitter.com/ja/2015/0127video

Twitter Group Direct Message | About
https://about.twitter.com/ja/directmessages

Videos on Twitter | About
https://about.twitter.com/ja/videos-on-twitter

◆ Group Direct Message
You can see how you are using "group direct message" from the following movie.

New on Twitter: Group Messages - YouTube


A male said, "Hey everyone! We should present this girl on Blyer's birthday," shared a tweet with a rabbit with a group direct message.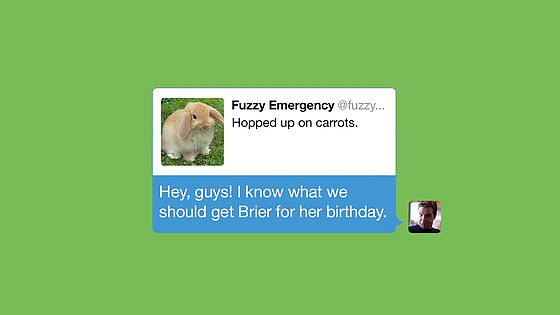 Then, only people registered in the group can talk about this tweet. It also supports emoji, it is also possible to paste a URL link in DM. Notifications are received when you are invited to someone's group.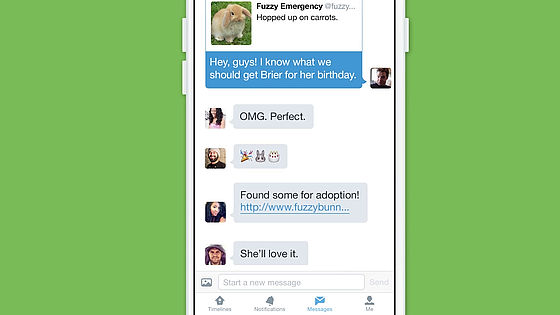 Creating a group can be completed in a few taps, only you can invite your followers. Because invited members can also invite their followers, people who are not direct followers may join, but users who are blocked by someone in the member can not join. In addition to sharing tweets, you can send direct messages directly to the group, or you can add up to 20 members later. In addition to the genuine Twitter application, group messages can be viewed by browsersTweetDeckIt is also possible to use from.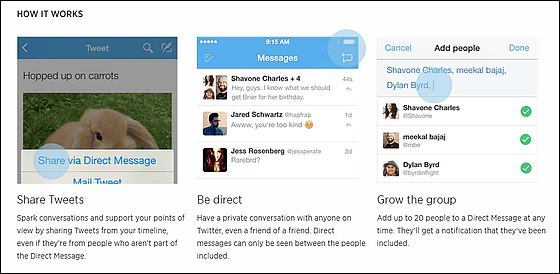 For detailed rules and usage, it is written on the following page.

Twitter Help Center | About Direct Messages
https://support.twitter.com/articles/229676

Group message

You can only invite people who are following you to the group.
Each other member participating in the conversation can invite their own followers (the invitee does not need to be followed by all the members participating in the group message).
You can not invite people who are blocked by someone else in the group message.
Group messages can be started and joined using twitter.com, Twitter for iPhone application, Twitter for Android application, TweetDeck etc


◆ Shooting, editing, and posting of movies
About the video posting function, it looks like the following. In fact, Neil Patrick Harris, the host of the Academy Awards, has posted his own videos. The movie will be played back by tapping or clicking once.


Check out my Twitter video# OscarExclusive! I gots me a scoop!Pic.twitter.com/SGQ3oJHDqZ

- Neil Patrick Harris (@ ActuallyNPH)2015, January 27
When you start the camera with the same operation as photo posting with the Twitter application, the movie switching button has been added. Easy editing such as joining necessary parts by drag & drop is possible after shooting.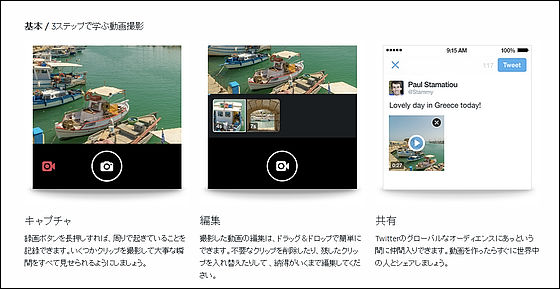 The new function is being installed sequentially from iPhone application from Wednesday, January 28, 2015, and it is said that it will soon be available for Android application as well.