It turned out that iPhone 6 was selling well in Asia region such as Japan · Korea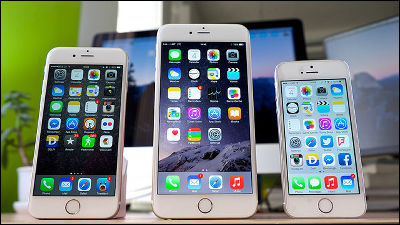 ByKārlis Dambrāns

In Japan, iPhone 6 and iPhone 6 Plus of Apple announced in September 2014 have been greatly expanded in size from conventional models,After all it is too decaThere was a pros and cons for such as the voice came up. Meanwhile, it is a market research companyCounterpoint ResearchIt is clear from the market share data of the smartphone released by the fact that the fact that iPhone 6 series were selling well in the Asian region is revealed.

Apple Records Highest Ever Market Share in Japan & Korea - Counterpoint Technology Market Research
http://www.counterpointresearch.com/applepulsenov2014

Apple's Smartphone Sales in Asian Markets Soar - Counterpoint - WSJ
http://www.wsj.com/articles/BL-DGB-40018

◆ Trends in sales share in Japan
Here is a graph showing the monthly share by maker by 2014. Until August, Sony ran the top share of sales, but only after September when the iPhone 6 series was announced, Apple's graph (gray) only shows a sharp rise in another dimension. Although it shows a downward trend after recording the peak in September, the market share as of November 2014 has reached 51% of the total, literally "iPhone selling one in two It is showing the aspect that "is.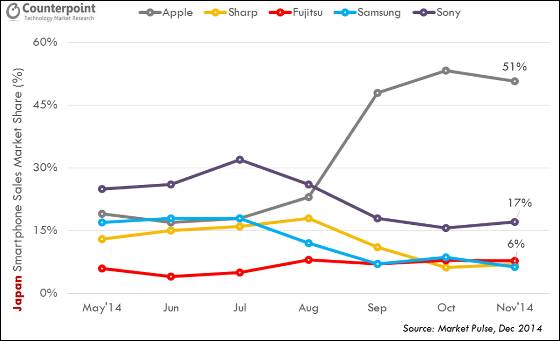 Counterpoint Research says "It is very difficult for other manufacturers to regain market share in a short period of time", and what strength of Apple will be released in 2015 What is the trend of Apple Watch I am paying attention whether it will affect it. As Apple Watch works in conjunction with iPhone etc., the high penetration rate directly means the size of the market scale.

Trends in sales share in Korea
And, in a sense, it seems that it means a shock greater than the situation in Japan, it is a graph of sales share in Korea which is Samsung's knee. In Korea, sales of the iPhone 6 series began on October 31, but as a result, as soon as Apple's sales share, which did not reach 15% until October, came in NovemberTrending to 33%I showed you. Until now, the share of overseas manufacturers has never exceeded 20% in Korea, but with the introduction of the iPhone 6 series, it clearly clears the 20% wall. This also highlights how the iPhone 6 series was shockedly accepted by users.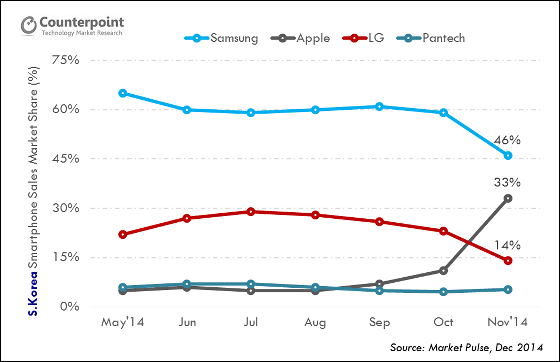 In addition, it is also symbolic that the share of Korean manufacturers such as Samsung and LG has decreased sharply. Until October, Samsung 's share of sales reached 60%, but I decided to drop the share significantly in inverse proportion to the rapid rise of the iPhone 6 series. It is well known that Samsung has built a market share with a very wide range of model developments, but this contrasts with Apple's situation where the market share has increased significantly with just a few models. Although it is still keeping the top position in Korea,Sales malfunction of smartphoneIt is said that it symbolizes the present situation Samsung was put on.

Counterpoint Research also reports trends in China. In 2014 Apple has increased its sales in China by 45% and its share of sales is 12%. This is a track record for Xiaomi (18%) in the first place and Lenovo (13%) in the second place, and since the results in the following December also seem to be good, we ranked the second largest market share in China It may be said that the likelihood of winning has also increased. Xiaomi will be the company's new flagship machine at the January 2015 event5.7 inch smartphone "Mi Note" announcedIt is not difficult to imagine that future market share fight will increase fierce from what you are doing.