"Freesound" which can download free source files like mountains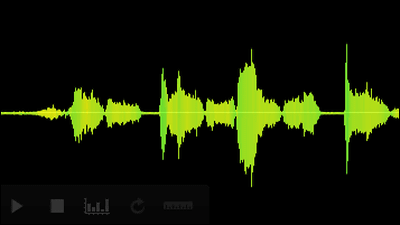 You can download / upload various sound sources such as loop material, sound effects, outdoor sound etc. Very useful Please keep in mind that there is no loss Database site is "Freesound"is. Freesound is from Pompeu Fabra University in Barcelona, ​​SpainMusic Technology GroupIn 2005 we started a project, Google ·Portada·TECNIOIt is also a service supported by.

Freesound.org - Freesound.org
http://freesound.org/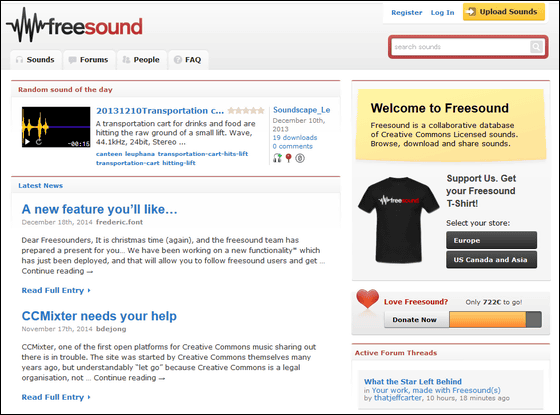 ◆ How to use
In order to upload and download sound sources using Freesound, you need to create a dedicated account first.

That's why I created an account first. Click "Register" in the top right corner of the top page.




In the registration screen, enter information in the order of user name, first name (optional), last name (optional), e-mail address, e-mail address (confirmation), password and password (confirmation), and "Check this box to accept the Check the "terms of use of the Freesound website"CAPTCHAPlease enter "Register".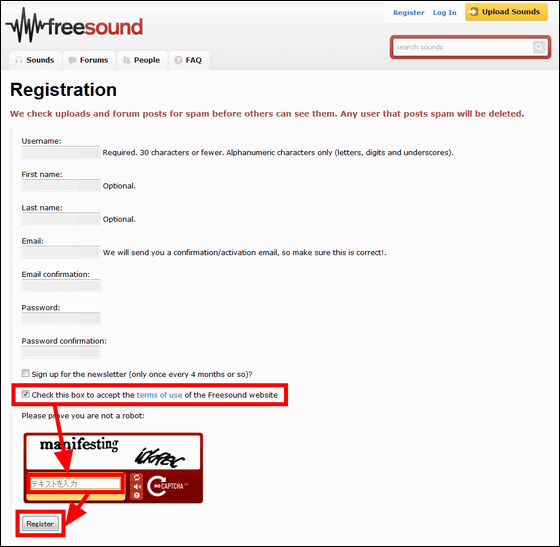 A confirmation email regarding account creation will be sent to the registered email address, so click on the link inserted in the email.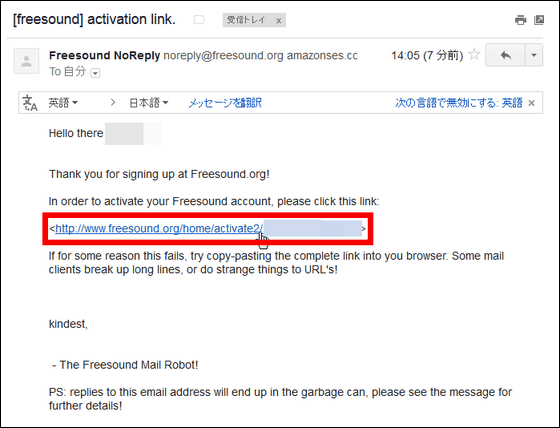 Now that you have created your account, just click "log in" and log in.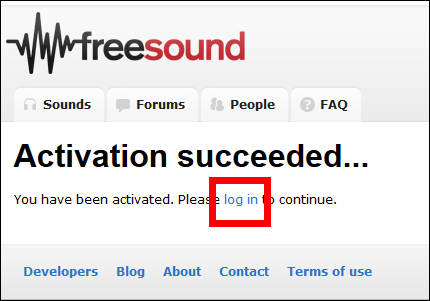 Enter account information and click "login".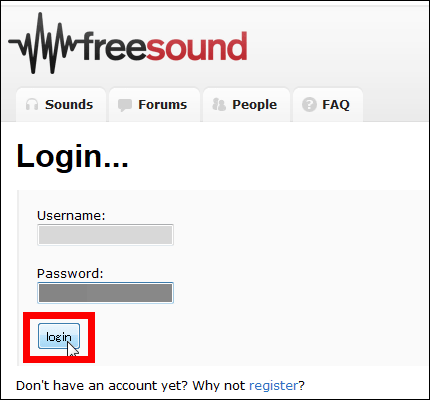 You are now logged in. You can search the sound source in Freesound by keyword search from the search bar in the upper right of the screen, but if you say "I do not know what to search", click "Sounds".



The Sounds page opens. Recommended sound sources are displayed on the daily part in the red frame part at the top of the page.



Other than that, "Most downloaded sounds" (the most downloaded sound) ... ...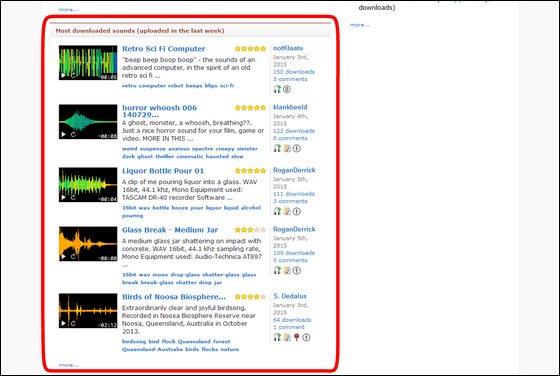 There are various tools useful for sound source search.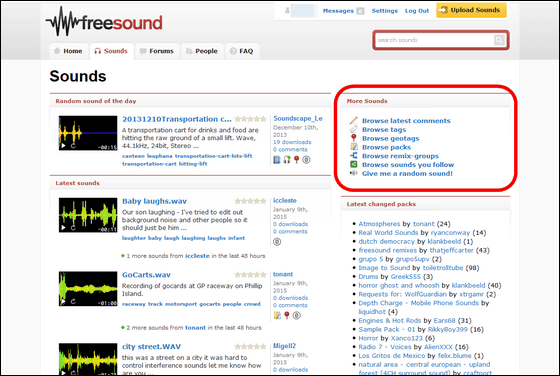 For example, if you click "Browse tags" ......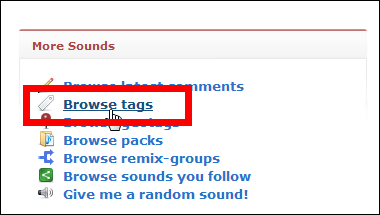 Various tags are displayed. Try clicking the tag "water" ......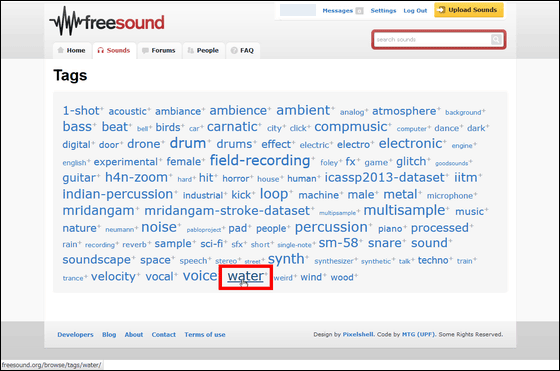 Sound sources related to water are displayed as slurries.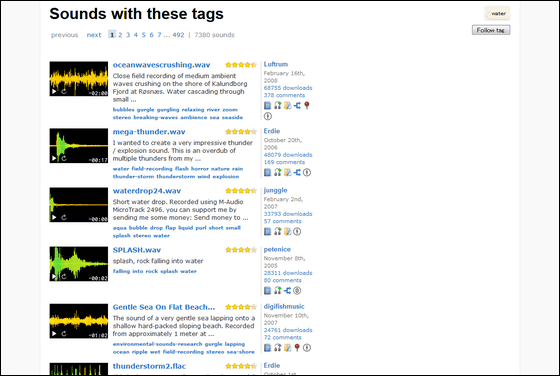 These sound sources can be played by clicking the red frame part without opening individual page.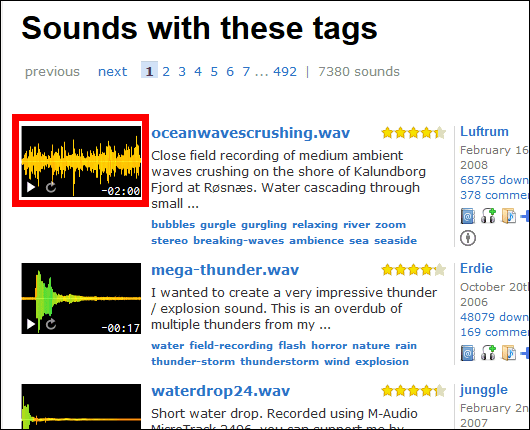 Besides, file type andSampling frequency,Bit depth,bit rateYou can also search for sound sources with.




Data can be downloaded from "Download" on individual page.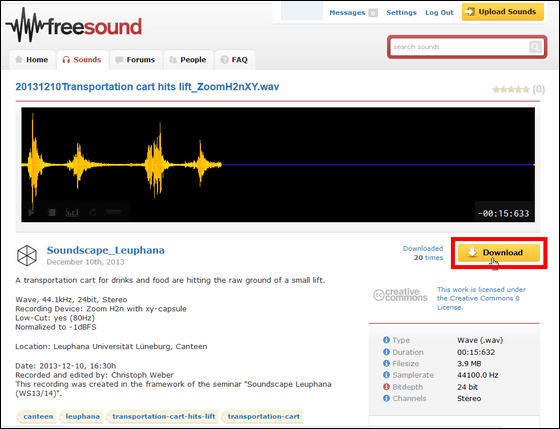 ◆ Example sound source
A considerable abundance of sound sources are stored on Freesound, and you can download various things from piano sounds to natural environmental sounds, guitar orgasm voices, and so on.

· Loop sound source
Freesound.org - pack: Music Loop by bebeto

Freesound.org - pack: techno loops by djgriffin

· Piano sound
Freesound.org - pack: Piano moods by Herbert Boland

· Drum sound
Freesound.org - pack: dRUM 'n' PERC loops Vol. 2 by patchen

· Tenor saxophone sound
Freesound.org - pack: Tenor Sax D major 110 bpm by simondsouza

·applause
Freesound.org - pack: Applause by RHumphries

· Natural environment sound
Freesound.org - pack: ELEMENTS_Pack1 by suonho

Thunder sound
Freesound.org - pack: Storm by RHumphries

· Melody atmosphere guitar sound
Freesound.org - pack: mellow plagasul guitars by plagasul

· Opal Voice
Freesound.org - pack: orgasm pack by epanody

The sound source is basically a creative commonsSampling plusThere are things that can be used commercially, although they are managed by. In addition, you need to add the author name of the original sound source to the credit notation of the secondary work.