YouTube finally supports video uploading of 360 degree camera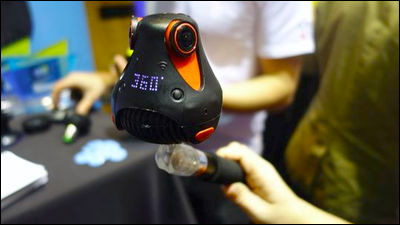 "360 degree full HD movie can be taken around"360 cam"And an action camera capable of remotely shooting with 360-degree omni-directional smartphone"PIXPRO SP 360, "You can shoot all the celestial movies"RICOH THETA m15"There are multiple cameras that can shoot 360 degree surroundings such as movies, but it became clear that YouTube supports these movie uploads.

Giroptic's 360 Full HD camera is the first with support from YouTube | The Verge
http://www.theverge.com/2015/1/4/7491953/giroptic-360cam-youtube-street-view-support-ces-2015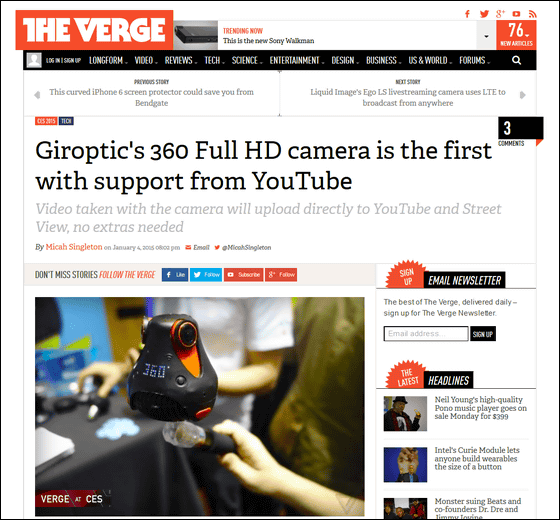 YouTube Will Soon Support 360-Degree Video Uploads
http://gizmodo.com/youtube-will-soon-support-360-degree-video-uploads-1677627074

"360 cam" is a camera that can capture 360-degree full HD movies that collected $ 1.4 million (about 170 million yen) at Kickstarter. I am the developer of this cameraGiropticIs currently being held in Las Vegas, USACES 2015"We revealed that YouTube will support the uploading of movies shot at" 360 cam ".

Also, YouTube commented on The Verge, "We are working hard so that we can respond to 360 degree movies by next week," and revealed correspondence to 360 degree movies. In addition, according to Giroptic, Google is planning to be able to upload a 360 degree movie to street view as well.

Although it seems certain that it will correspond to the uploading of the movie shot with "360 cam", uploading the image of the other 360 degree camera is currently unknown.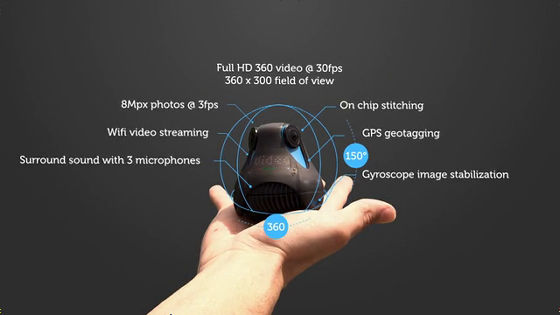 The 360-degree camera can shoot movies that can not be shot with conventional cameras, but in order to enjoy them, it is necessary to use dedicated software or a special movie player on the browser.

For example, in the case of "RICOH THETA m15", all the spherical photographs taken are on THETA's exclusive sitegalleryBy uploading to the web page, you can embed it on the web page, you can freely manipulate the picture and view it anywhere 360 ​​degrees. However, in the case of a movie, it is very difficult to share all the celestial sprites with software for exclusive PC, and even if you can shoot a wonderful movie, it is very difficult to share it with people all over the world.

Post From RICOH THETA. -Spherical Image - RICOH THETA
If you can upload and play 360-degree movies on YouTube, both the shooter and the viewer will be able to realize the charm of 360-degree movies more.