SCE announces that PlayStation 4 will be released in China, where sales of foreign-made game machines were lifted for the first time in 14 years

ByGemMoth

In China, sales of foreign-made game machines forbidden were lifted for the first time in 14 years,"Xbox One" exceeded the sales volume of 100,000 units on the first day of releasedoing. To the Chinese market with high expectations for such game machines, Sony Computer Entertainment (SCE)PlayStation 4We announced the release of.

Started PlayStation business newly in People's Republic of China "Playstation 4" and "Playstation Vita" released on Sunday, January 11, 2015
http://www.scei.co.jp/corporate/release/141211.html

Censors loom large over Sony's PlayStation prospects in China | Reuters
http://www.reuters.com/article/2014/12/11/us-sony-china-playstation-idUSKBN0JP14D20141211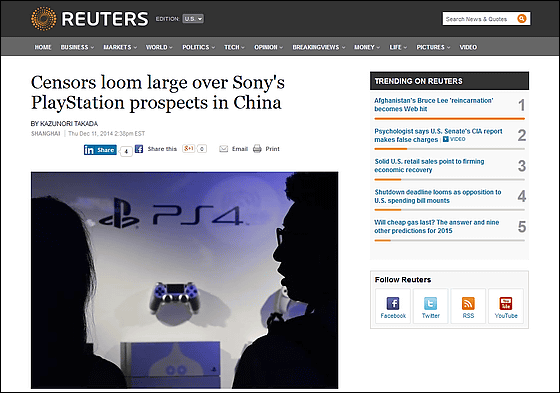 SCE announced the release of "PlayStation 4" and "PlayStation Vita" in China from January 11, 2015. As for the main unit price, PlayStation 4 is RMB 2899 (about 55,000 yen), PlayStation Vita is 1299 RMB (approx. 25,000 yen), PS 4 is sold for about 400 dollars (about 47,000 yen) In the American market,PS 4 Jet · BlackIs higher price compared with the Japanese market of 40 3178 yen including tax.

Roger Sheng, an analyst at research firm Gartner, said, "Chinese censorship will be the biggest obstacle of Sony, rather than pricing," said the game title that can be sold within Chinese censorship It is all that Chinese authorities need approval. Sony already has applied for authorization to sell more than 30 titles to the authorities,Grand Theft AutoReuters anticipates that games including violent elements such as violence and extreme content will not be approved.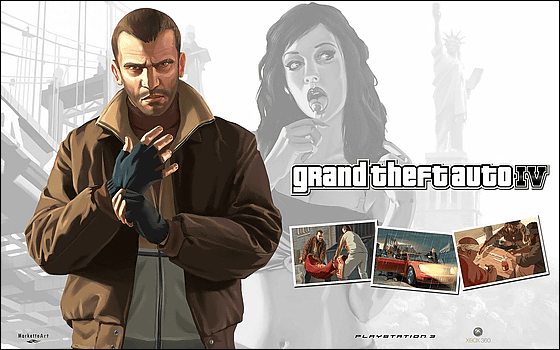 ByMarcos Kontze

As PS4's business develops in China, more than 70 game software makers from all over the world are planning to enter, and we have also decided to offer software exclusively for software makers in China. The software makers scheduled to join are as follows.



BEIJING AURORA INTERACTIVE NETWORK TECHNOLOGY CO., LTD.
Beijing Chukong Technology Co. Ltd
BEIJING LIANZHONG CO., LTD
Beijing Pixel Software Technology Joint-Stock Co., Ltd
Beijing S-Game Software Technology CO., LTD
Beijing SparkCube Co., Ltd
CIRCLE Entertainment LTD
CottonGame Network Technology Co., Ltd. Shanghai
Guang Zhou Net Ease Interactive Entertainment Co., Ltd
Kami Neko Studio
LinekongInteractiveCo., Ltd.
Onipunks (Beijing) Software Ltd.
Perfect World Entertainment Inc.
Phoenix Publishing & amp; Media, Inc.
Quakegame Limited (PRC)
Shanghai Giant Network Technology Co., Ltd
Shanghai Kena Information Technology Co., Ltd.
Shanghai Muhe Network Technology Co.,
Shanghai The 9 Information Technology Co., Ltd.
Shanghai Youju Information Technology Co., Ltd.
Shen Zhen Ao Le Yi Jie Computer Software Limited Corporation
Shenzhen Tencent Computer Systems Co., Ltd
TianJin YiLong Network Technology Co. Ltd.
Westhouse Corporation Limited
Ying Pei Digital Technology (Shanghai) Co., Limited
Yushi Games Shanghai Co., LTD

A total of 26 companies



ARC SYSTEM WORKS CO., LTD.
BANDAI NAMCO Games Inc.
BLUESIDE Inc.
CAPCOM CO., LTD.
Eastasiasoft Limited.
F K Digital PTY. Ltd.
GungHo Online Entertainment Inc.
HAMSTER Corporation
International Games System Co., Ltd.
JOYCITY Corporation
Kadokawa Games, Ltd.
KOEI TECMO GAMES CO., LTD.
Konami Digital Entertainment
Marvelous Inc.
Ratloop Asia Pte Ltd
Rayark Inc.
Sega Corporation
Singapore University of Technology and Design
SNK PLAYMORE CORPORATION
Spike Chunsoft Co., Ltd.
SQUARE ENIX CO., LTD.

A total of 21 companies



Abstraction Games B. V.
Atomicom Limited
Bethesda Softworks LLC.
Big Ant Studios
Black Forest Games GmbH
Bloober Team S.A.
CD PROJEKT S.A.
CI Games S.A.
Codemasters
Disney Interactive Studios
Electronic Arts Inc.
Farsight Studios
Focus Home Interactive
Frozenbyte Oy.
FuturLab Ltd.
Gaijin Entertainment
Halfbrick Studios Pty Ltd.
Image & Form
MILESTONES co., Ltd.
Nordic Games GmbH
Paradox Interactive
Sony DADC US Inc.
Take-Two Interactive
Ubisoft Entertainment
Warner Bros. Entertainment Inc.

A total of 25 companies