"Ekimaru Shin Osaka" will open in the ticket gate of JR Shin-Osaka Station, and I have checked what kind of shops are open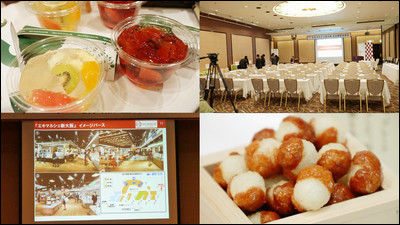 In JR West JapanExquisiteUnder the name of "Commercial facilities are deployed in the station," Exakark Shin-Osaka "which is the third place following Takarazuka · Osaka station opens on March 4 (Wed) 2015. Many shops are scheduled to open within the ticket gate of the conventional line, but prior to that, "Excalche Shin-Osaka general presentation presentation" was held at Hotel Granvia Osaka in Osaka Station. A specialty shop of Matcha · Roja tea sweets and a lunch box shop that gathered selected stationary valves all over the country,鴬 ボI went to a press conference and watched what kinds of products are lining up in the exashche Shin - Osaka, because I am going to open up the first specialty store etc.

Exquisite Shin-Osaka
http://www.ekimarushinosaka.com/

Arrived at Hotel Granvia Osaka, which is directly connected to JR Osaka Station.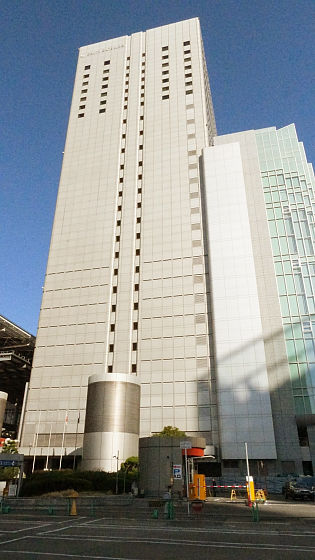 Enter the hotel from the entrance.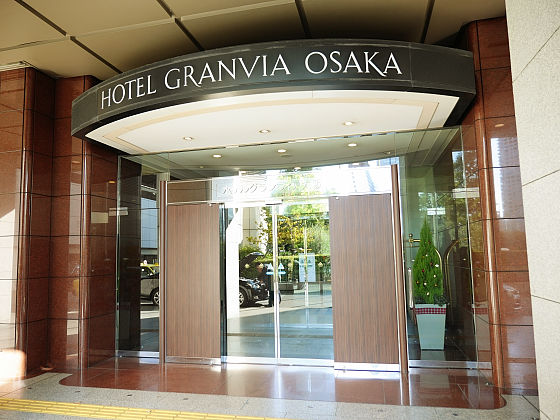 The conference will be held at the "name garden" on the 20th floor.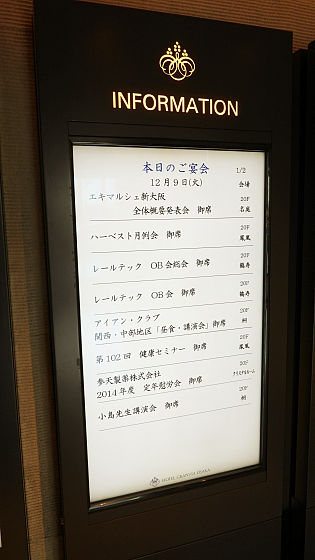 A Christmas tree was decorated in the lobby on the first floor, which excited Christmas mood.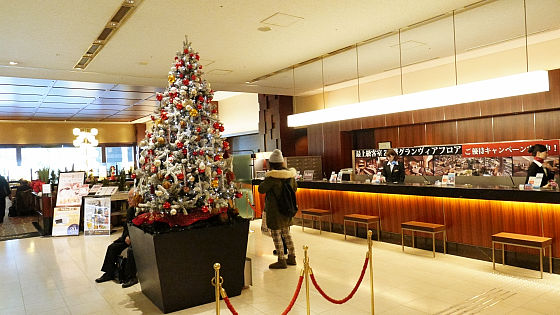 I finished the reception immediately and went to the venue. Television stations etc were also coming to the press conference.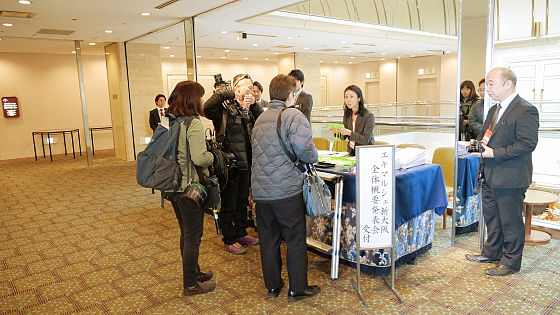 The venue is based on white and the seats for reporters are prepared and it is like an interactive atmosphere at all.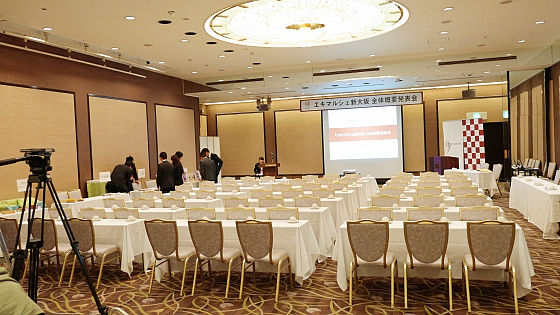 When time comes, we will develop around JR West stationJR West Japan Daily Service NetMr. Makoto Wakana, managing director of the station editing business headquarters, introduced the concept of Equiloche Shin-Osaka. Ekimaru Shin Osaka is scheduled to be in the ticket gate of the JR Shin-Osaka station's conventional line, and at the terminal station where the Shinkansen or the rapid stops, we can do shopping easily in about 15 minutes in case of transit, unique in Kansai He said that he aimed for a commercial facility full of fun atmosphere. Also, while assuming customers from overseas, it is said that it is within the ticket gate of the conventional line, and he seems to incorporate shops that people who live in the Kansai can enjoy on a daily basis.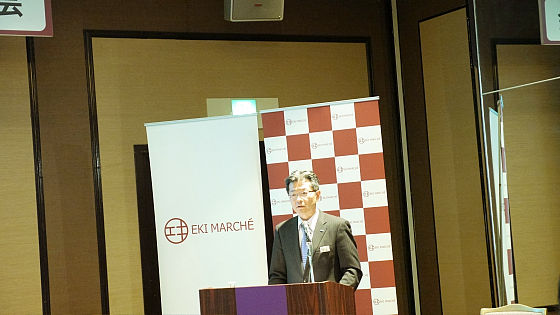 The start of the first phase area will be March 4th (Wed) in Heisei 20 (2015), the second phase area and the third stage area will be opened late and everything will be completed in 2016.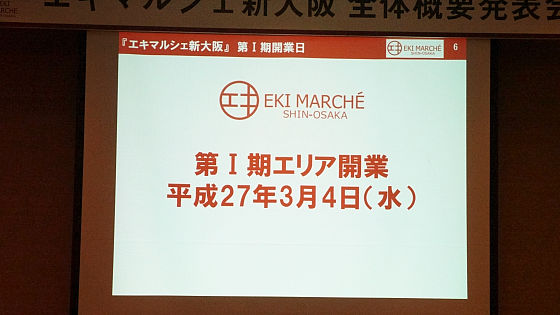 Subsequently, Professor Atsumi Shinbun, Deputy Director of Station Editing Business Division, introduced the outline of the facility.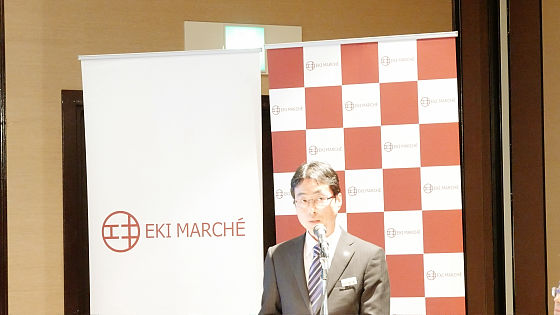 The station Marche Shin-Osaka opens inside the traditional-line ticket gate on the third floor, and the floors of sweets, foods, books, souvenirs, station lunches, and eating and drinking have opened, tenants of station Naka's first shop and items that can only be purchased here are also prepared It is.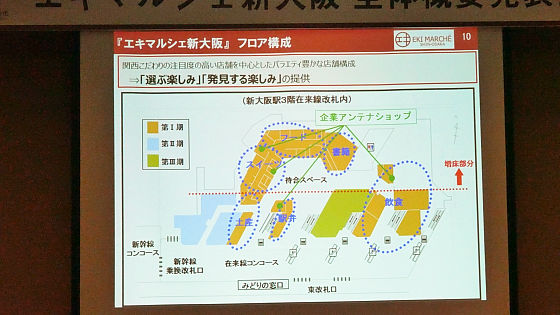 We will also open an antenna shop that collaborated with enterprises such as "Guriko operated Kitchen" and "Tikira House" operated by Nissin Foods.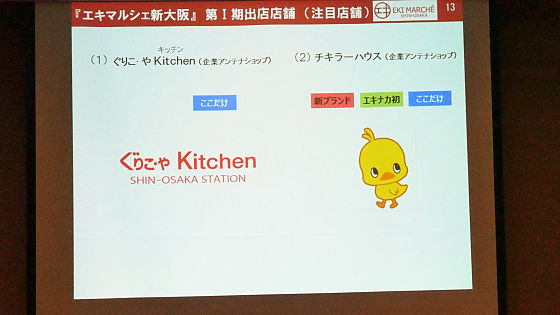 A completed image looks like this. The concourse in the station so far was old, and it was refurbished so that you could enjoy the fun atmosphere like Kansai, which was a dark image. Inside the station ticket gate, free space where you can eat the food you purchased and a book store are also planned.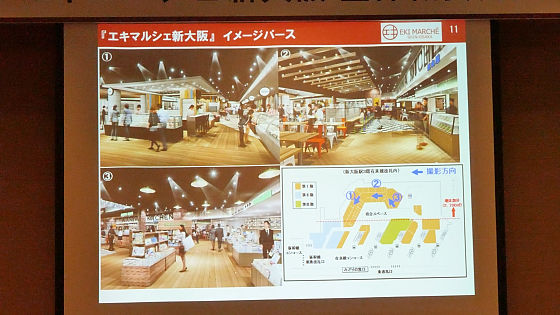 Next, greetings from the representatives of 4 stores of the store opening store of the tenant of the first term this time. Mr. Shoichi Tezuka of Yamaguchi fruit said that the shop that started with the classmate is glad that Kansai will represent this tenant.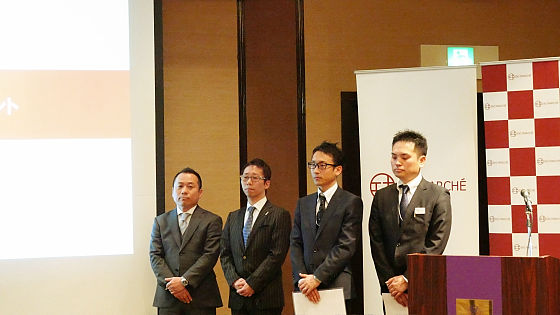 At the end of the interview, tasting of the store opened this time was done.Uji gardenIs a tea shop in Kyoto which was founded in 1879, and Shin Osaka Exakue plans to offer expertise such as Matcha and Hojicha which is like Japan. This time, Hajime tea raw chocolate and roasted green tea black bean roll cake were prepared from products to be sold.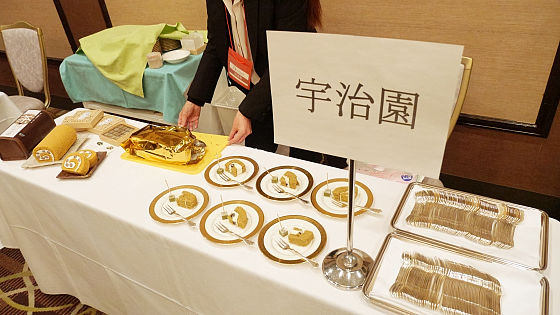 Located in Uehonmachi, Osaka cityYamaguchi fruitPrepare fruit punch jelly. At Shin - Osaka 's store, it is planned to deal with fruit punch jelly, a single jelly of various fruits such as orange, fruit sand etc.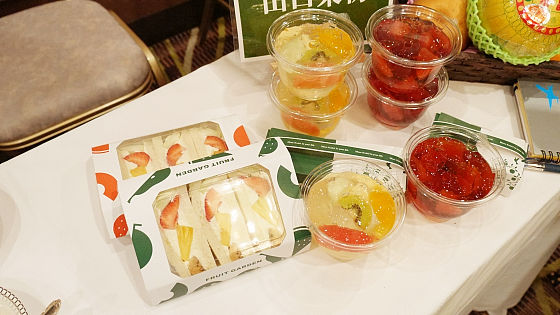 Kobe'sUemaki rice confectioneryThe ball of the gourd is a capability developed over a year to open this store.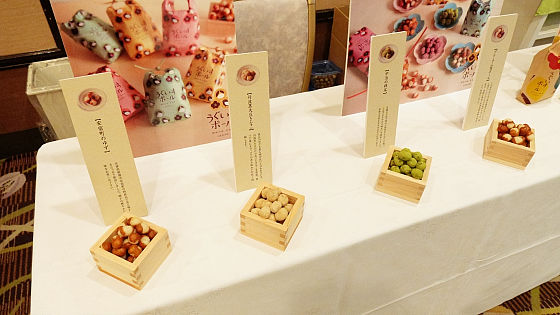 I will go back to the table and eat the food of the tasting.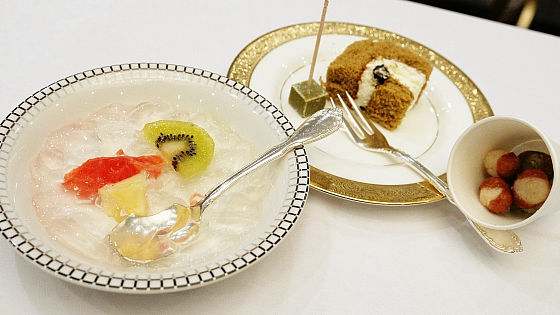 First of all, from Uji Garden's Hoju tea raw chocolate and Roppongi black bean roll cake. Each store says it is planned to sell with tax of 1200 yen each.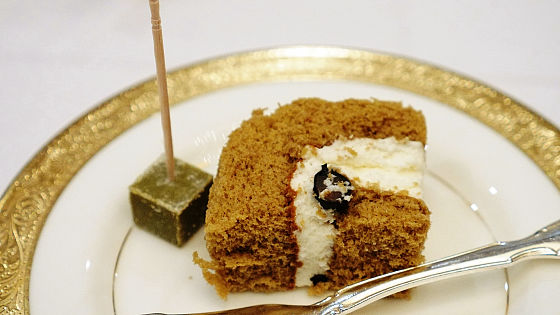 Hoju tea raw chocolate is sold in a frozen state at stores, raw type chocolate that eats thawed for 1 hour at the destination where they are brought back. The texture of smooth cream unique to raw chocolate and the fragrant taste of Hojicha are well matched "Japanese sweets" and it seems to be good for souvenirs.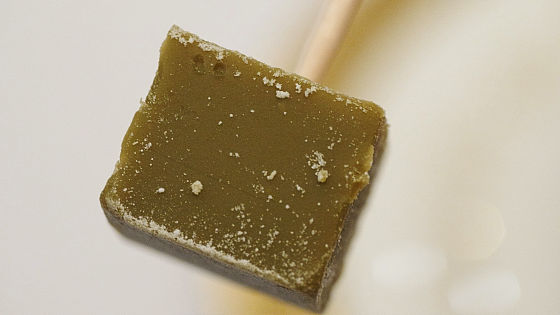 Green tea black bean roll cake, soft cream and sponge texture is good. Hojiji tea is addicted to the taste of roll cake without discomfort, sweetness is modest and elegant taste, especially female uke looks good.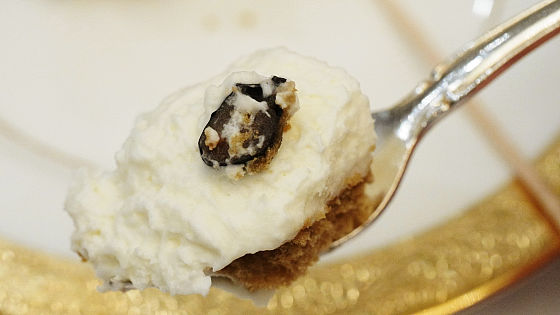 Fruit punch jelly of Yamaguchi fruit, this time it is a prototype, so there are 3 kinds of fruits, but at the time of opening it will be 8 kinds of fruits. Selling schedule price is 340 yen including tax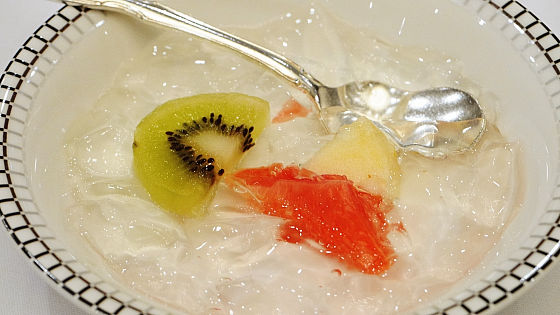 Jelly is not sweet enough to make use of the taste of fruit, you can feel the taste of fruit firmly. It feels good with texture.



Fruits are fresh and juicy. There is not much the way to eat many kinds of fruits at the same time at the same time, but if 8 kinds of fruits are sold at a price of 340 yen including tax, it seems to be said that it is a dishful item.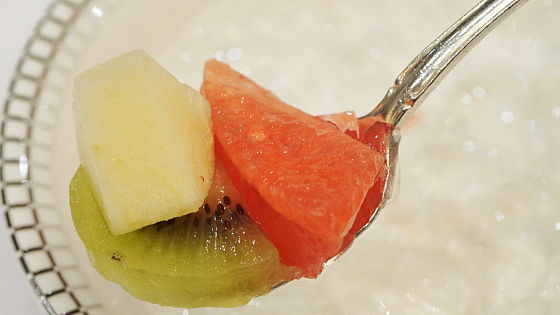 There are five kinds of gourd balls: Premium Bowl, Uzu's Matcha, Wasabi in Azumino, Yuzu in Yuutomi Town, Tanba Soybean Fish.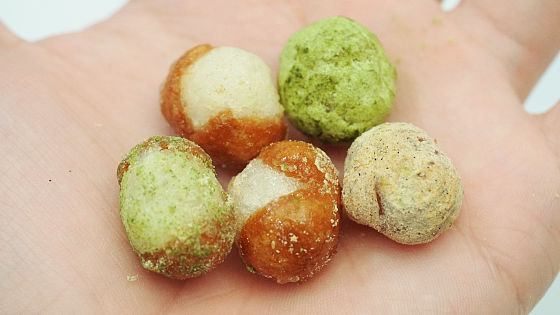 It is larger than the commercially available gourd bowl, it is not made at the factory but one item of commitment that is hand-fried with special oil. It is better than ordinary one, and it is easy to pinch with crispy texture that is not greasy. It seems that there are plans to handle red vermilion balls using southern high plum in Kishu also in Shin - Osaka.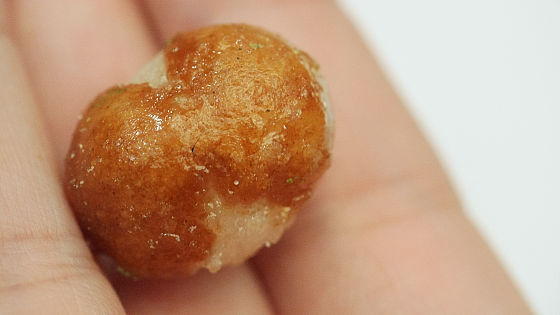 Exquisite Shin-Osaka is open 24 hours a day, open from 6:30 to 23:00. In addition to buying souvenirs on the way back to the Kansai sightseeing, there are also shops with eating and drinking establishments and takeaway items, so it seems that it will become a commercial facility that is about to get close together when using the Shin - Osaka premises.