A tablet "GALAXY Tab S" that transforms into a PC if it is ultra-lightweight, thin and dedicated keyboard is attached Haste photo review


While the large screen of 10.5 inches, the thinness is less than A4 size, the thinness is 6.6 mm, the weight is about 467 g and the tablet which is finished to a very compact size is "GALAXY Tab S"is. It comes with a dedicated Bluetooth keyboard, and if you use this model it looks completely PC,Au presentation 2014 WinterAs I was exhibiting at the exhibition, I touched it carefully.

Overwhelming color! "Thin and lightweight 10.5" tablet "GALAXY Tab S" equipped with "Super Organic EL Display" has appeared | 2014 | KDDI CORPORATION
http://news.kddi.com/kddi/corporate/newsrelease/2014/09/24/659.html

The exhibition space of GALAXY Tab S looks like this.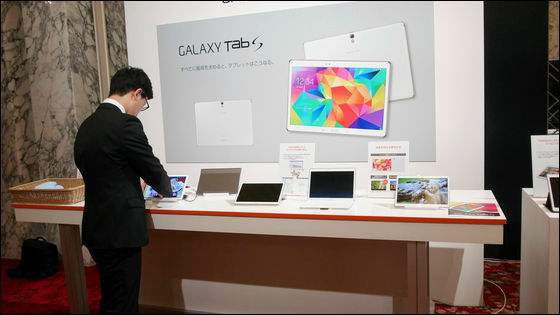 This is GALAXY Tab S. The display size is 10.5 inches and the resolution is 2560 × 1600. OS is equipped with Android 4.4, RAM is about 3 GB, internal storage capacity is about 32 GB.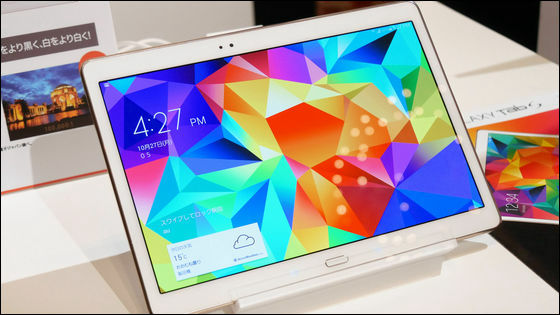 When you install a dedicated Bluetooth keyboard it looks completely laptop.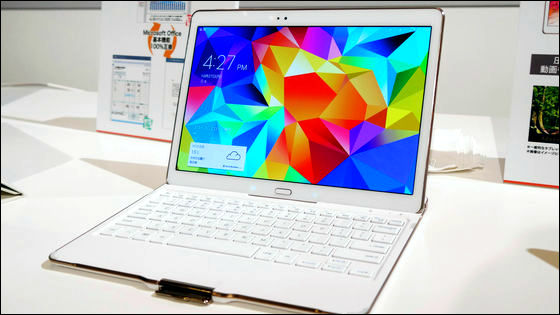 Taking it in your hand is like this. The size is 247 mm in width × 177 mm in height × 6.6 mm in thickness and less than A4 size, it is surprising to its lightness though it is 10 inch tablet in hand.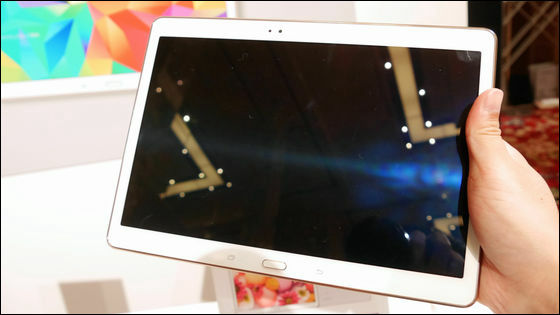 The material on the back is of the plastic type, there are fine unevenness like the GALAXY series.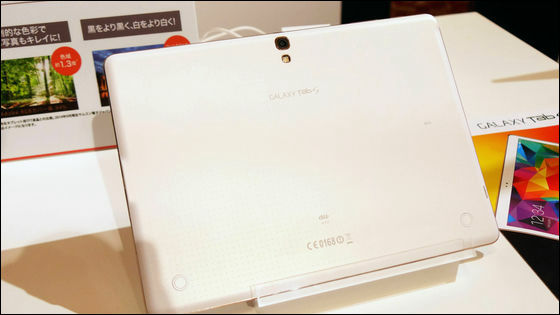 The rear camera is about 8 million pixels.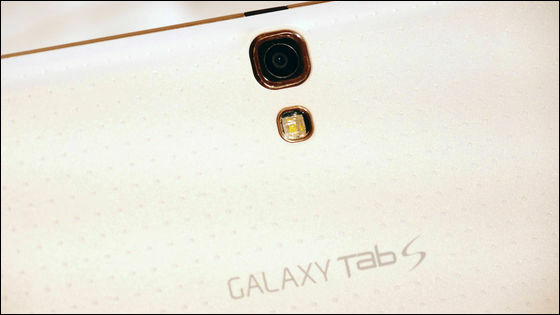 On the top is the infrared device used when using the power button, the volume control button, and GALAXY Tab S as the remote control of the TV from the left.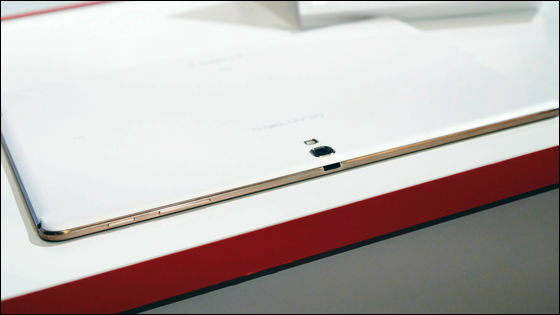 Nothing particularly on the bottom.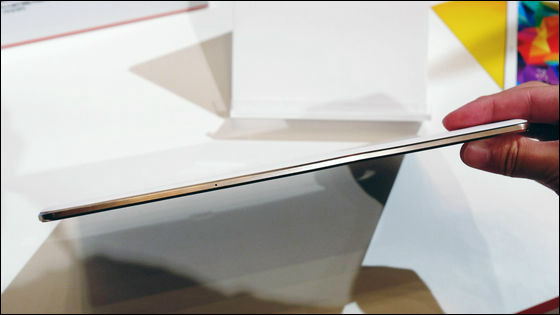 On the left side are speaker, microSD card slot, Micro - USB port for charging, SIM card slot from the left.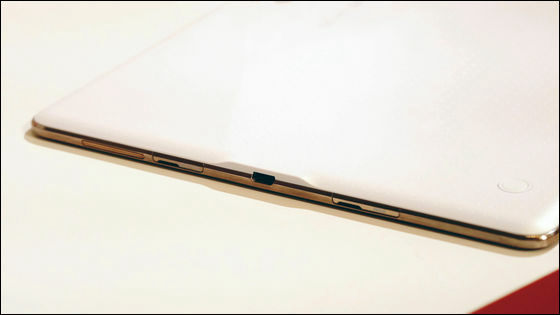 MicroSD card slot and SIM card slot appear when you remove the cover.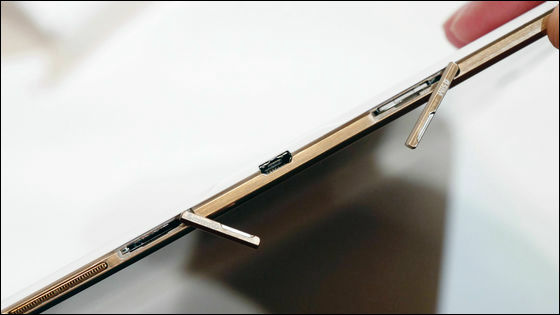 There is only a speaker on the right side.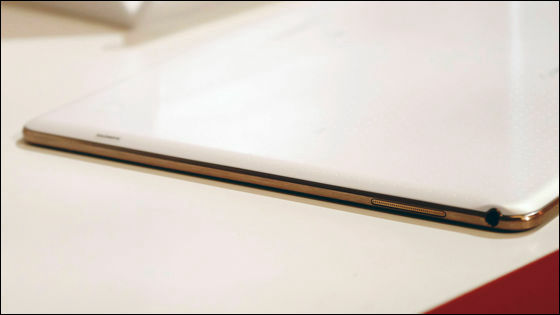 This is the included dedicated Bluetooth keyboard.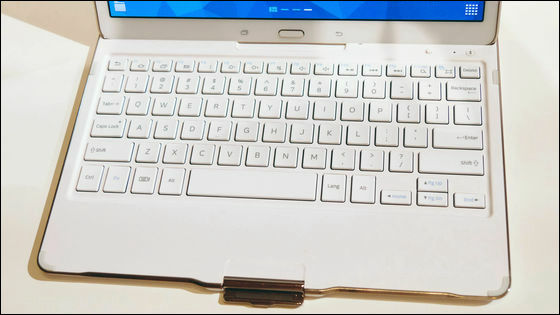 The key pitch and keystroke feeling is reasonable, and it seems that if it is about this size it can be used enough for text input.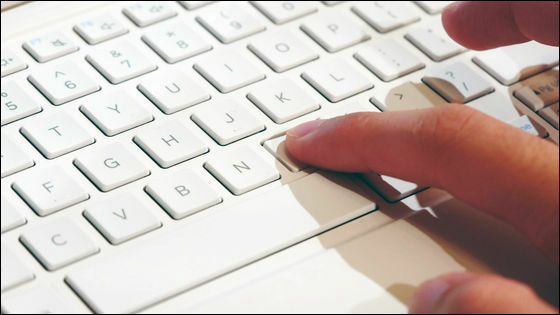 Pressing "Lang" key ... ...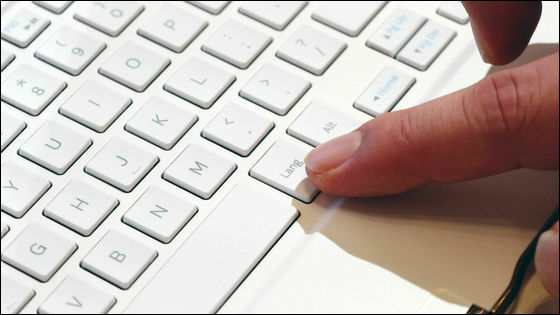 Conversion between Japanese and English is possible with one shot.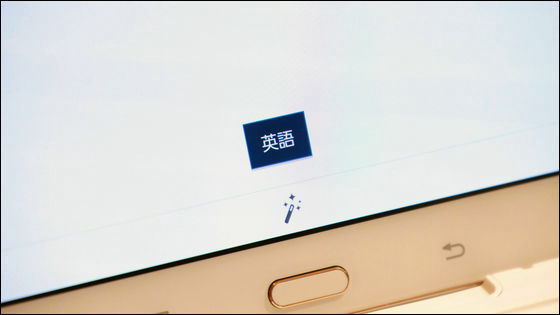 However, since look and size feeling is too similar to a notebook PC, if it is a laptop computer under the keyboard, it touches the position where the trackpad is located, and it is reminded that the tablet is inputting characters each time It was.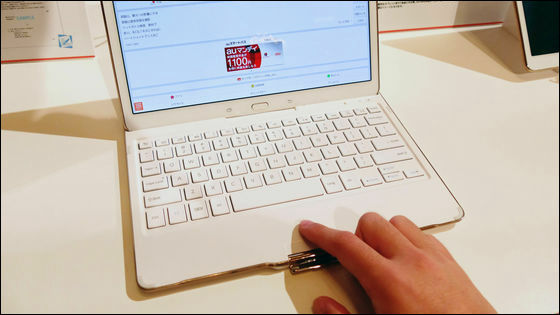 In addition, the keyboard also becomes the cover of GALAXY Tab S.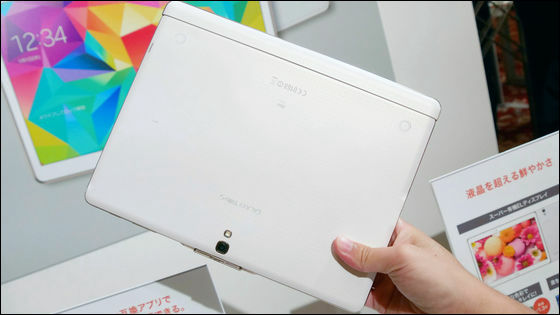 Even if it is two, this thinness. The size of the exclusive keyboard is unknown, but it is somewhat thicker than the tablet, so it is no doubt that it is less than 2 cm even if you put together two.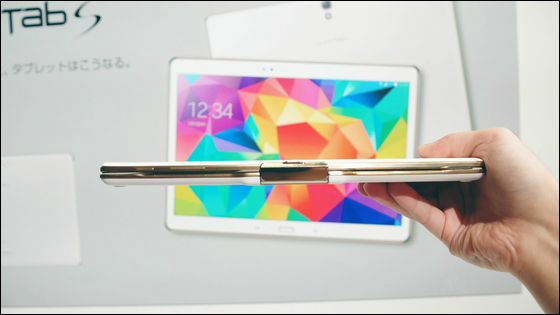 "GALAXY Tab S" is scheduled to be released in early December 2014.