Ringer Hut's "Takayanpun (Tom Yam Kun style soup)" is a price that is over the thousand yen but convinced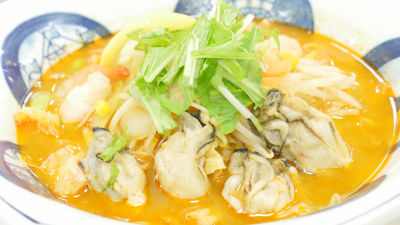 Ringer Hut scrambled the soup of Tom Yam Kun style "Kaki chan (soup with tom yum cunk)We are on sale from Thursday, October 9. I went to a shop because it was finished in authentic Tom Yum Kung which made soup a fish sauce and lemon grass.

Every year a popular winter-only menu, Tomyamukun style soup appears in Kaki chanpon: Nagasaki Champon Ringer Hut
http://www.ringerhut.jp/news/20141006_1/

Arrived at Ringer Hut.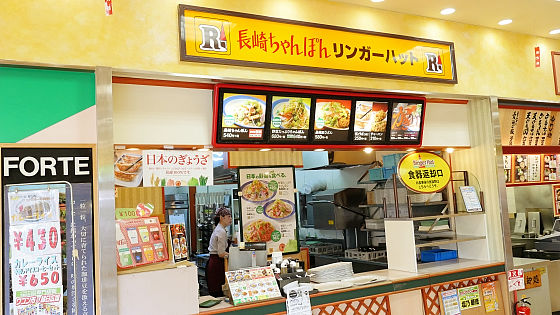 I found a menu beside checkout. I will place an order immediately.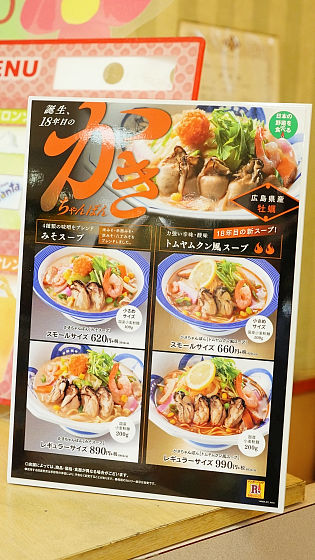 Waiting In regular weighing less than 10 minutes the regular size of Kaki chan pizza with citron pepper (Tom Yam Kun style soup) arrived.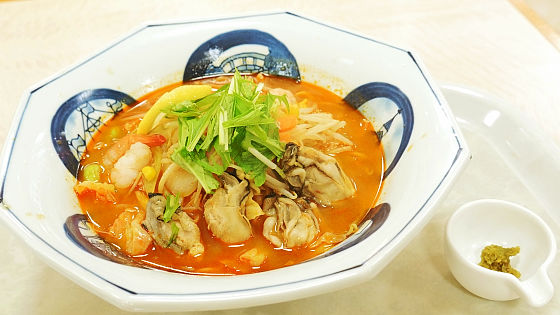 Four oysters from Hiroshima are on it.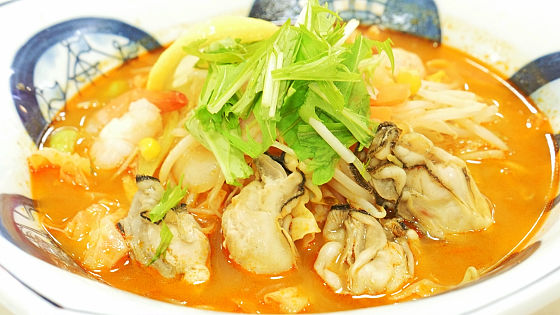 Lemon and shrimp are also on Tom Yam Kun 's.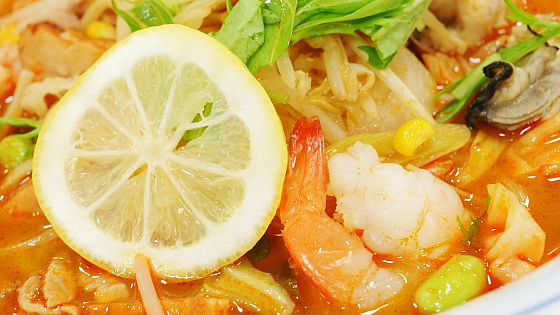 However, Pakuchi, which is supposed to be the most Tom Yam Kun 's point, is not used, and Mizuna is used instead.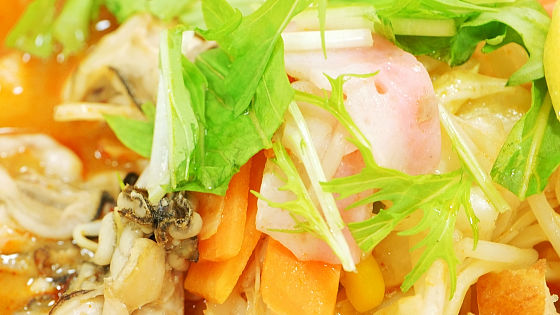 Other ingredients are like Champon, bean sprouts, small shrimp, kamaboko etc. All the vegetables used are domestic.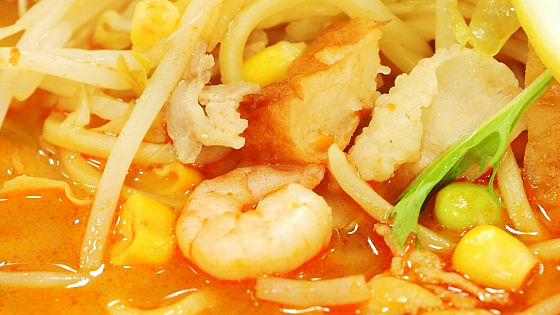 Noodles are medium in size and red oil is floating in soup.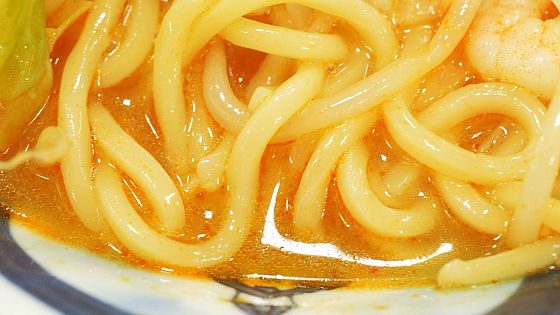 Oyster which is the main ingredient is outstandingly compatible with Tomyam soup which is slightly sour. Even in the soup of the main soup of the shrimp, the taste of oysters has a presence.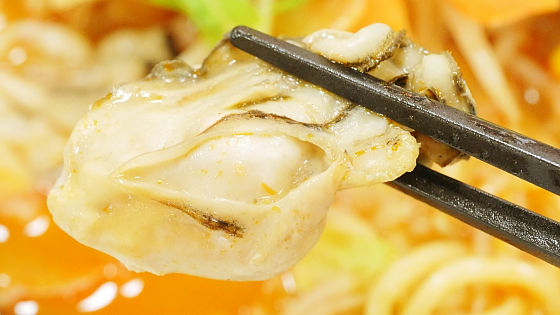 The larger shrimp is also best with Tom Yam soup. Both acidity and pungentness are thinner and spice feeling is weak, but the soup of swine and kamaboko fuses well with Tom Yum Kung flavor. By removing Pakuchi, it seems that it is Tom Yum taste not too tight.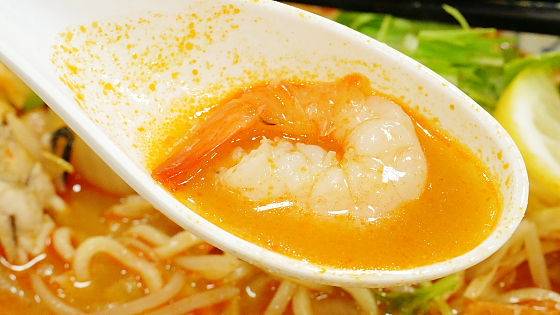 Although it feels somewhat soft noodles, compatibility with soup with plenty of deliciousness is perfect.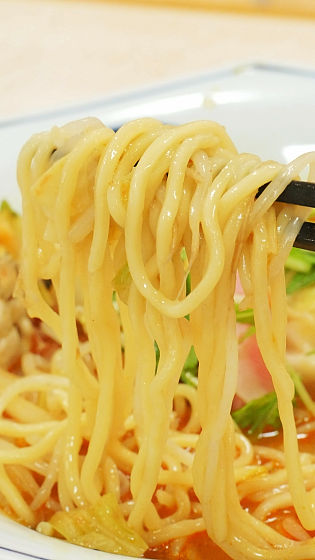 Foods such as vegetables, pigs and kamaboko are also good.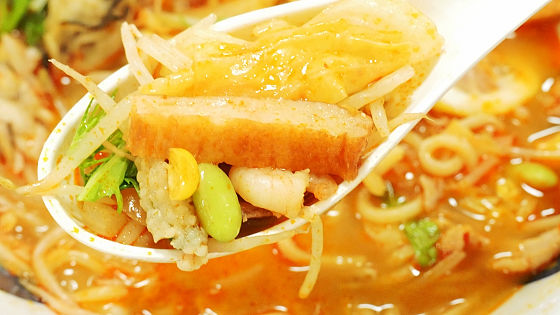 I decided to squeeze the lemon to change the taste on the way.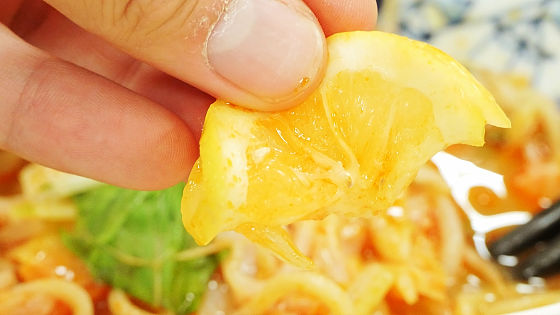 Thanks to lemon, a refreshing sour taste is added, and it changes to more authentic Tom Yum taste. People who like Tom Yum Kyung may be squeezed from the beginning.



I will also put Yuzu pepper at the end.



Surprisingly, the yuzu pepper is well suited to the savory taste of the shrimp, the scent gets better and it gets hot and pungent, and after the meal sweat gets dizzy. Although the price is regular size and 1069 yen including tax, it is not cheap at all, but oysters 4 soup Because quality is high and vegetables can also be taken a lot, I did not feel so high.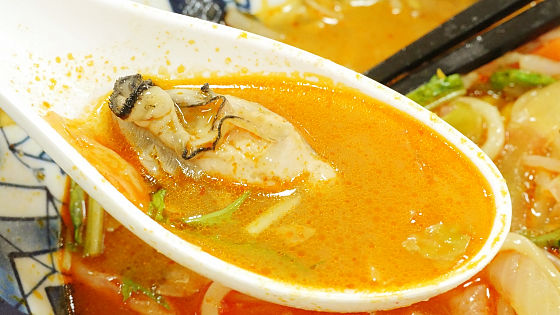 Kaki chan (Tom yum cun style soup) is limited sale until February 28 (Fri) 2015. At the same time as the miso version has been released, it may be good to choose whom you like.