Update delivery is full of bugs urgently withdrawn How to revert iOS 8.0.1 to 8.0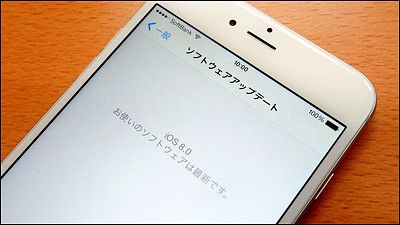 When updating with iPhone 6/6 Plus, cellular radio waves become out of service area, fingerprint authentication function Touch ID is also disabled, and even "HealthKit" debuted as a new feature of iOS 8 has caused troubles And I'm encountering scant eyes "IOS 8.0.1The way to return to the state before updating when unfortunately updating is like this.

IOS 8.0.1 kill the Touch ID and cell service on your iPhone 6 or iPhone 6 plus? Here's how to fix it! | IMore
http://www.imore.com/ios-801-kill-touch-id-and-cell-service-your-iphone-6-or-iph one-6-plus-heres-how-to-fix

The way to return iOS 8.0.1 to 8.0 is almost the same for iPhone 6/6 Plus. Although I am using iPhone 6 Plus this time, since iOS 8.0.1 has been urgently withdrawn from OTA uploading, it is a pseudo air re-update to the last.

First, tap "iCloud" in "Settings".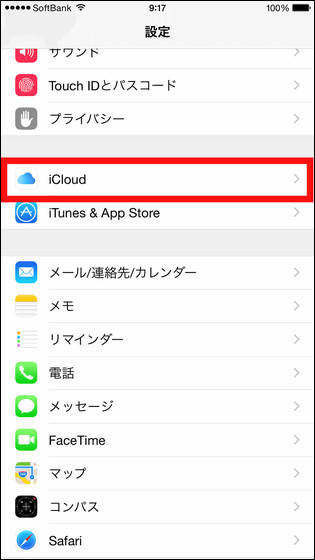 Make sure the "Search for iPhone" function is set to "Off", and turn it off if it is on.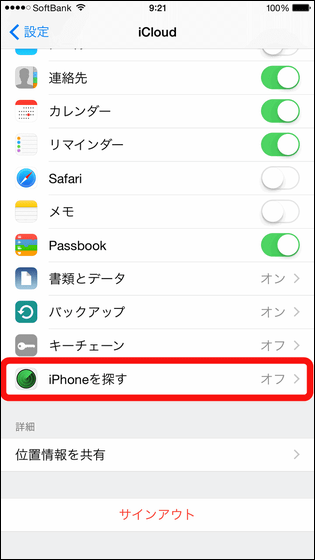 Next, download the iOS 8.0 software update to your PC. IPhone 6This page, IPhone 6 PlusThis pageYou can save the file by accessing it.

Next, install the latest version of iTunes on your PC.

Apple - iTunes - Download iTunes now
http://www.apple.com/jp/itunes/download/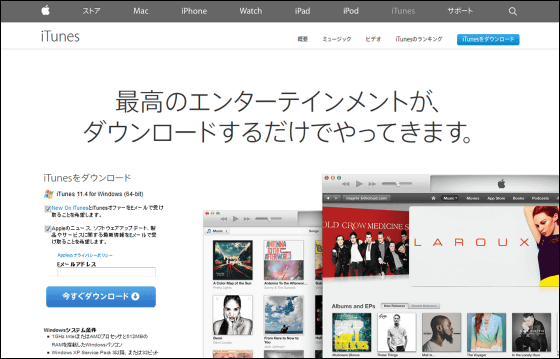 When the latest version of iTunes is launched, connect iPhone 6 Plus to PC with Lightning cable and pair with iTunes. When pairing is completed, click "iPhone".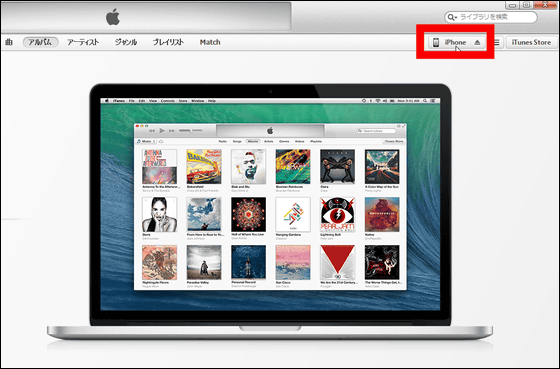 For Windows, press the "Shift" key on the keyboard, while pressing the "Option" key on MacIf you click "Check for updates", you can specify the update file so you can update it by specifying the iOS 8.0 software update program that you downloaded earlier.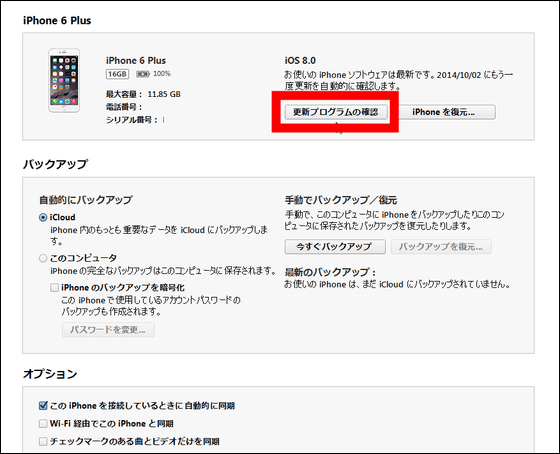 Apple has already stopped distributing iOS 8.0.1 update and plans to promptly deliver the modified versions that lost the bug. This bug occurs mainly on the iPhone 6/6 Plus, but it seems better not to use iOS 8.0.1 on other iPhones until the fixed version distribution starts.