Google obligates paid application developers to disclose their location and from 30th September

ByValanzola.t

Google has changed the policy for Android application developers and announced a notice that developers of paid applications including in-app billing obliges to specify the location on Google Play.

Google Will Now Require All App Publishers With Paid Apps Or In-App Purchases To Have An Address On File And Displayed Publicly In Google Play
http://www.androidpolice.com/2014/09/18/google-will-now-require-all-app-publishers-with-paid-apps-or-in-app-purchases-to-have-an-address-on-file-in-google-play/

This notification was published as a message at "Google Play Developer Console" registered by the application developer. Some people are puzzled or disputed with the method of announcing that they only announce on the console, not mails that reach each person.

Add a physical contact addressBeginning September 30, 2014, you need to add a physical address to yourSettingsIf you've added an address, it will be available on your app's detail page to all users on Google Play. If your physical address changes, make sure to update your information on yourSettingsPage.

If you have paid apps or apps with in physical purchase, it's mandatory to provide a physical address where you do not provide a physical address on your account, it may result in your apps being removed from the Play Store.

(Translation)
Adding a physical locationFrom September 30th, the application developer will change the physical locationSettingIt must be listed on the page. The added location will be made available to all users on the application detail screen of Google Play. When there is a change in the location,SettingPlease make changes from the page.

Providing a physical location is a mandatory item if your application is paying for fee or in-app billing. If physical location is not provided, applications published on Google Play will be deleted.
In the current state before change, links and mail addresses to the website are stated in the detail page, but information for physically accessing the developer is not stated.




In response to this policy change, there are voices saying "it is an infringement of privacy", "If it is an enterprise development, it will still expose his home address in the case of a personal developer".

Physical address is required for paid apps or in-app purchases - Google Group
https://groups.google.com/forum/#!topic/android-developers/kKWeCY1n6jY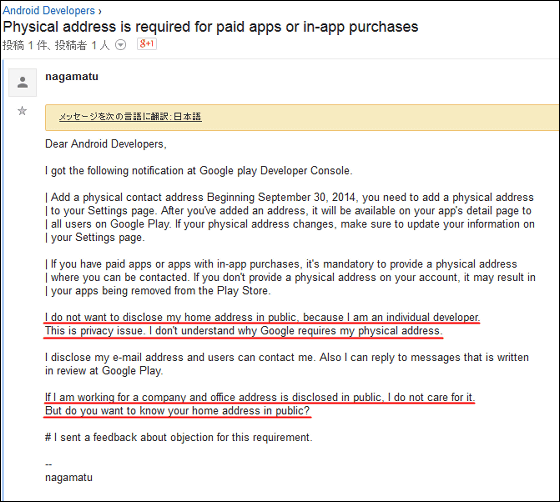 The reason for the change is not disclosed, but it is presumed that it may be a measure to stop the flooding of malicious applications including phishing etc. However, it is also true that there are people who are confused about the hasty change content as described above for this modified play. I really want to watch the trend of whether new policies will be strictly applied after September 30 or if some measures will be taken.