I tried to eat the noodle shop wrestling "hot guy's hot spicy noodle shrimp broiled" in hot spicy x large soup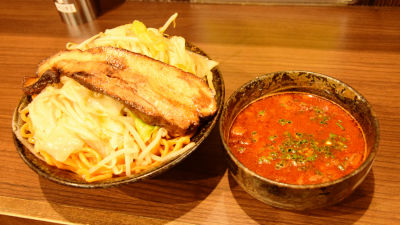 "Naniwa friends」Was serialized from 2000 to 2014, it is a cartoon of a runner running in the vicinity of the Osaka cyclic line in the early 1990s. Three ramen shops in Osaka and home noodles have released collaborative menus from Monday, September 1 to encourage the final round of Naniwa's friend who celebrated the final round this year. One of them, "in Terada Town, Osaka"Noodle Shop Washioi"Will be sold for a limited time at"I tried rubbing baked pork with hot spicy noodlesThere was an impact on the appearance, I went to the shop because I was concerned about meaningful product names.

It is permanently immortal ramen sauser Wallee! It is! It is! "Naniwa Friends" and "Homepage .com", and 3 popular ramen stores in Osaka collaborate! It is!
http://www.takumen.com/st/lp/nanitomo/

It is the back menu of the Noodle Shop Wakushoi in September Heisei 20: Noodle Shop Washo Izakaya Wakoshoi
http://menyawasshoi.blog13.fc2.com/blog-entry-229.html

Arrived at a noodle shop. A mist shower is installed in front of the shop.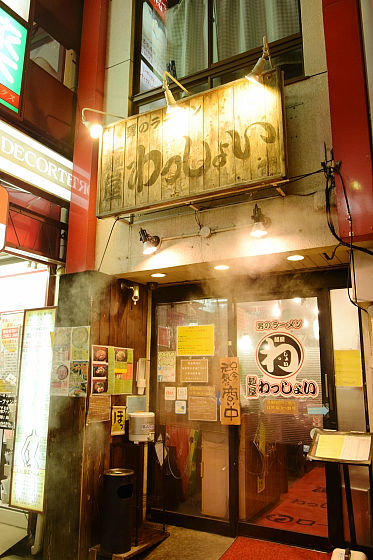 When entering the store, the poster of "Naniwa Tomo friends x home noodles" was pasted.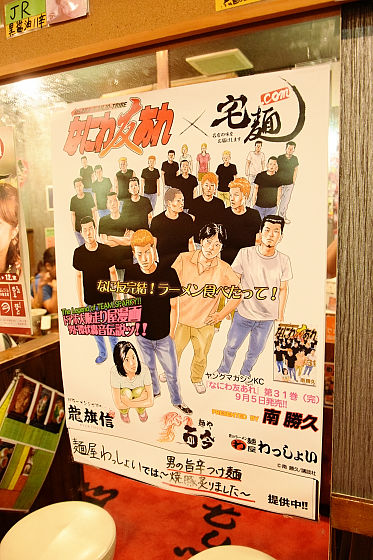 The inside of the shop is long in length,Sepia of the first seasonof"Front summary, from the top of the roadAndKanjani ∞of"Naniwa Iroha sectionIt took place.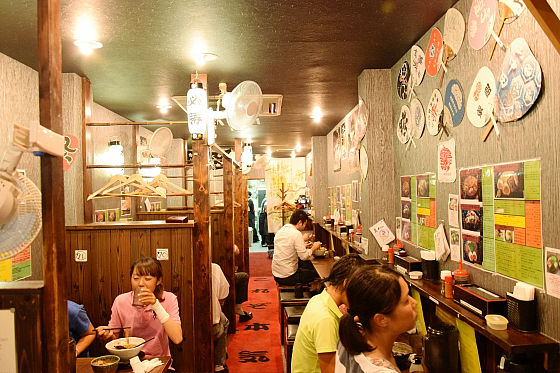 Fans and fan inside ...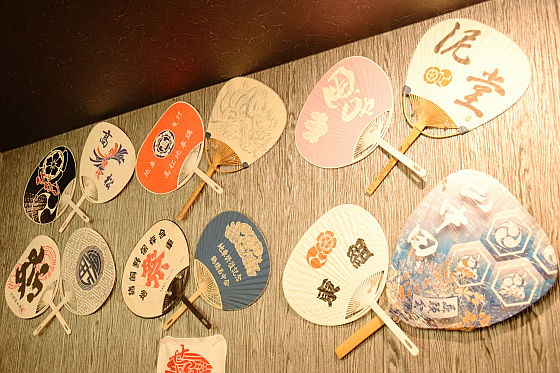 The lantern is decorated and atmosphere like a festival.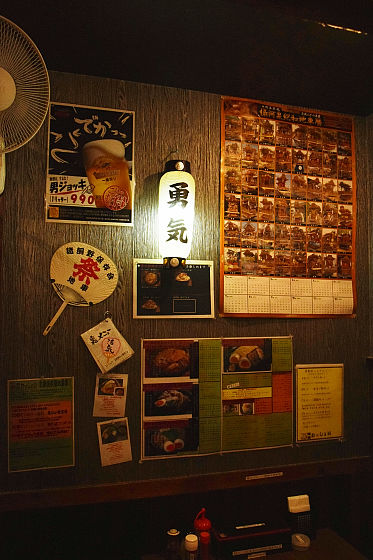 Sit down at the counter and look at the menu.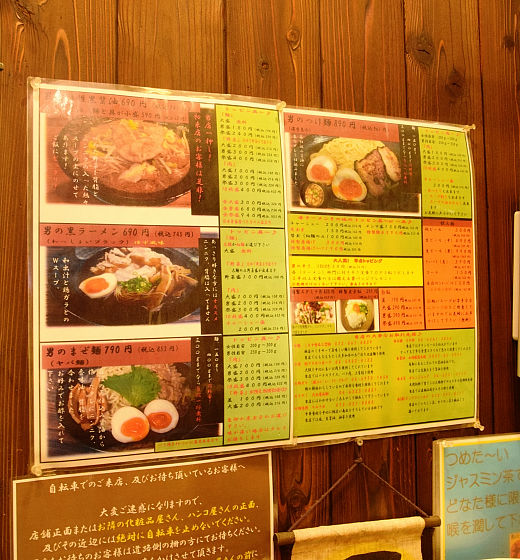 "I tried grinding a burned pig pork without taste" (961 yen including tax) ". You can order noodles from 150g to 300g, but ordered 300g without hesitation.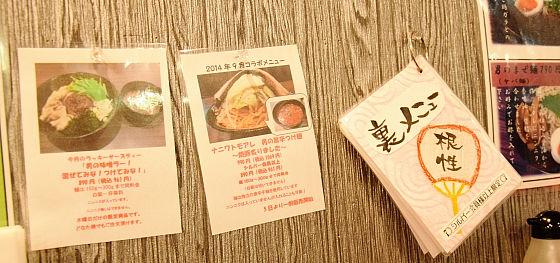 It seems that there is also a menu of 2.2 kg, with the menu of the huge skirt being Uri.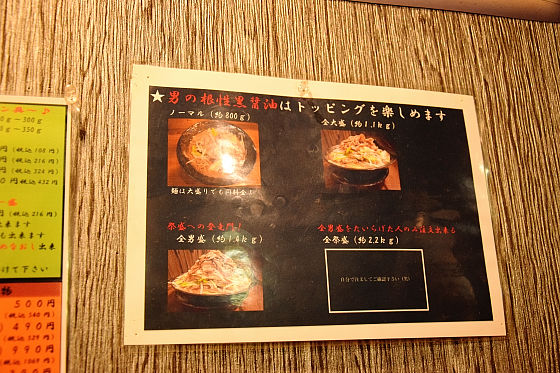 Waiting The menu arrived at less than 10 minutes.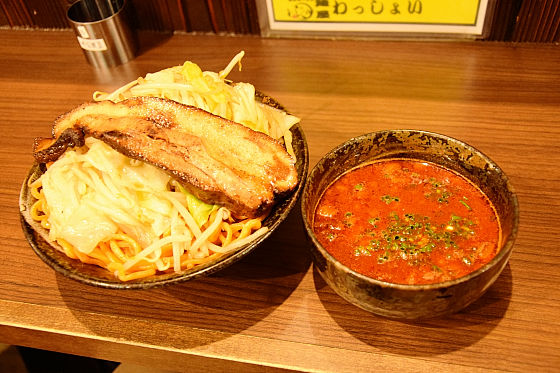 There was a lemon to change the taste on the way and a paper apron so that the clothes would not get dirty with red juice.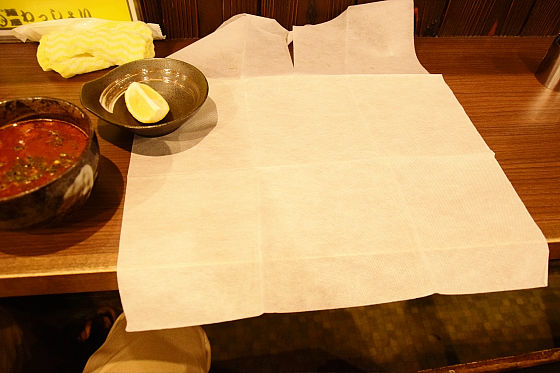 Vegetables and broiled broiled broiled meat on top of noodles are on sale, and there is a tremendous presence.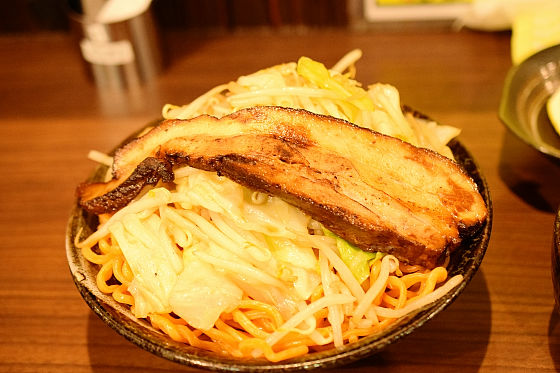 From the side you can see how high you are stacking up. Baked pork has a length longer than the diameter of the bowl.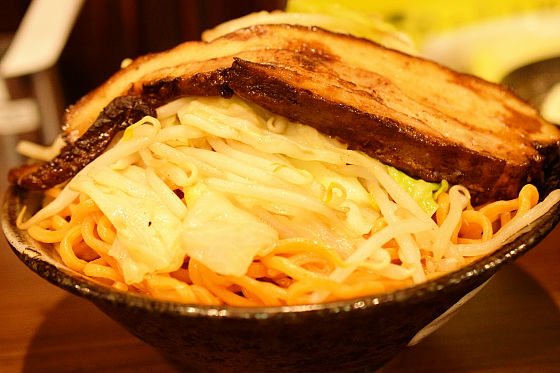 Grilled pigs are terrific feeling even from a vertical viewpoint.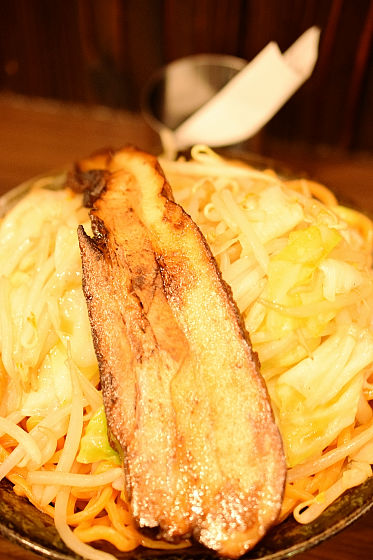 I turned it over. It seems that the part of the edge of the barbecue is used, and the sauce is soaked firmly.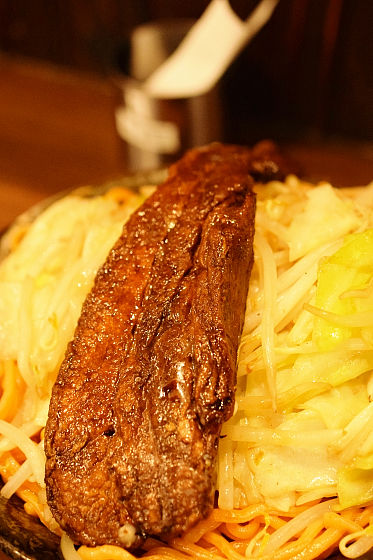 Stir-fried cabbage · bean sprouts are on it.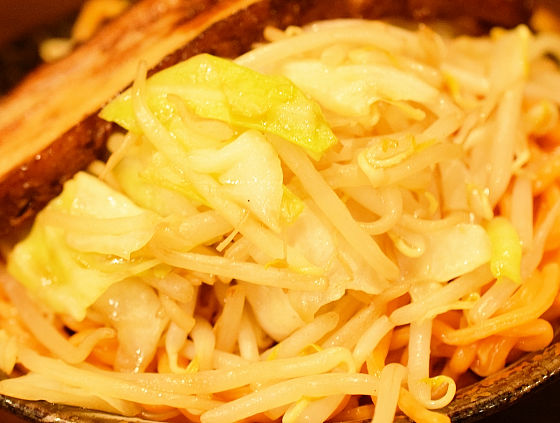 Red noodles are kneaded with red pepper and are reddish.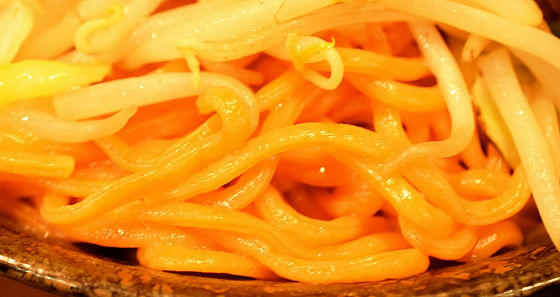 First of all when I tried eating from baked pigs, I regret to say that because of cold noodles I froze the fat. There is a response for the amount of soaked in tapri, but it is a little disappointing that baked pigs are cold under the trade name "baked roast pork".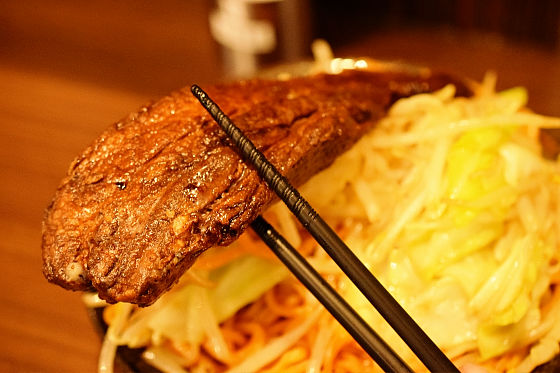 I used a Tottori Inasa soy sauce as a chicken glass fiber, mixed green pepper with pepper sauce, Korean red pepper and floated a green onion, and it seemed to be very spicy.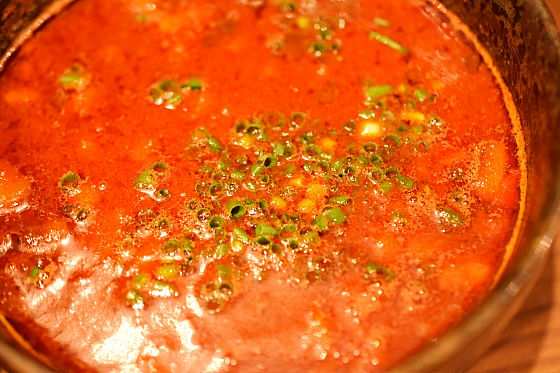 First I soaked vegetables and tried it, but I made it interesting the salt concentration more than spicy, especially the taste is strong. Spicy is not more than it looks, it is likely to be eaten if the curry is dry enough, but salt is too strong, so I want to eat a lot of vegetables.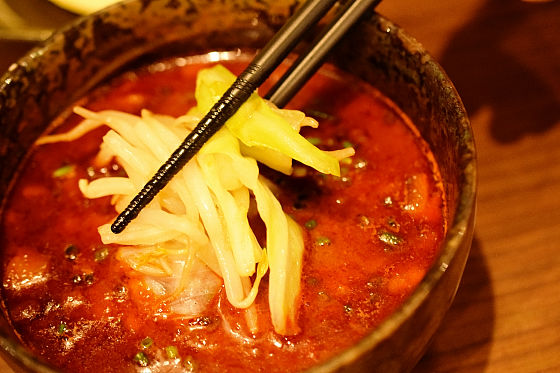 The noodles themselves were kneaded with peppers, but it was not hot to that, and I was concerned about the thickness of the juice.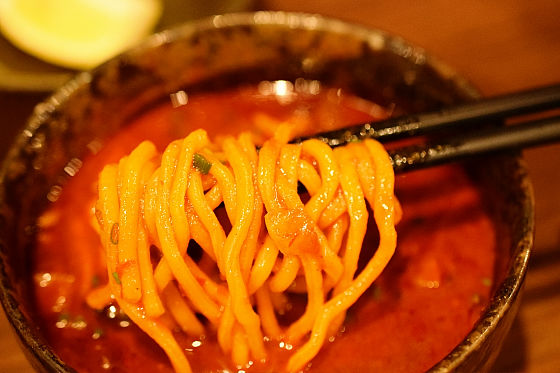 Anyway, it has a strong taste, so I want vegetables.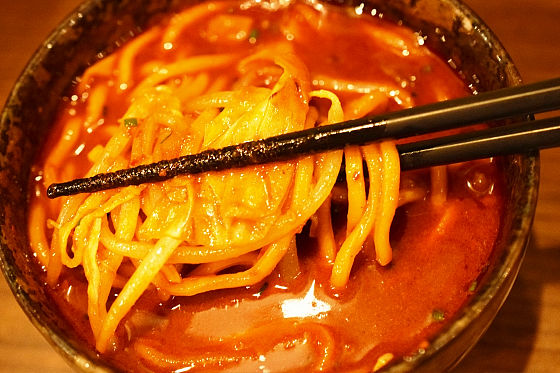 I found a bastard in the juice.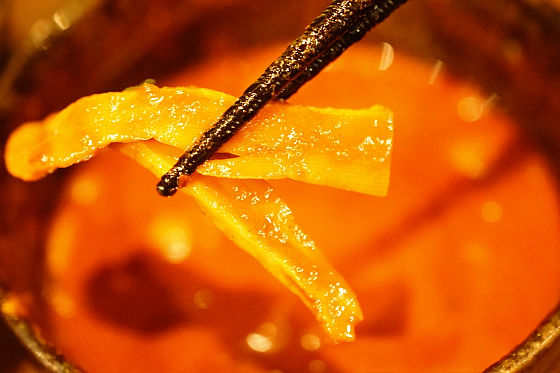 When eating, it looks like this. There is no bamboo but it is 300 grams for noodles As much as there is not much so much, because it is a seasoning which makes you want vegetables anyway, vegetables are felt less.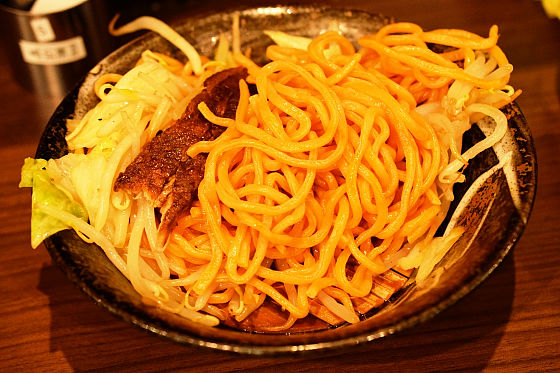 I will squeeze lemon to change the taste.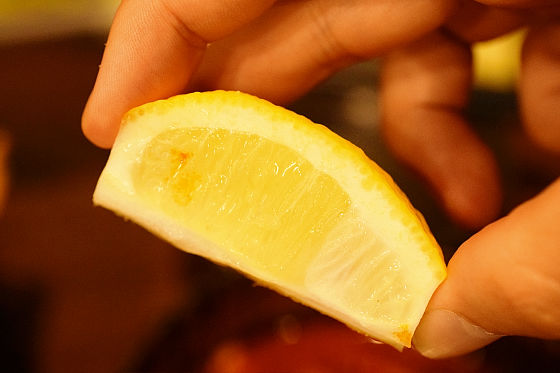 Squeezing the lemon adds sourness and makes it easier to eat for a while, but still feeling of salinity is anxious.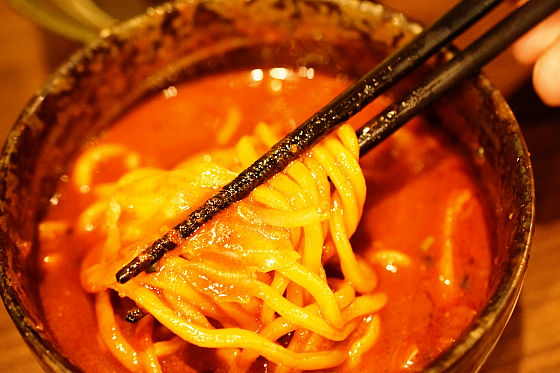 When you bake baked pigs in a soup, it tastes a little bit, but you can enjoy a spicy taste.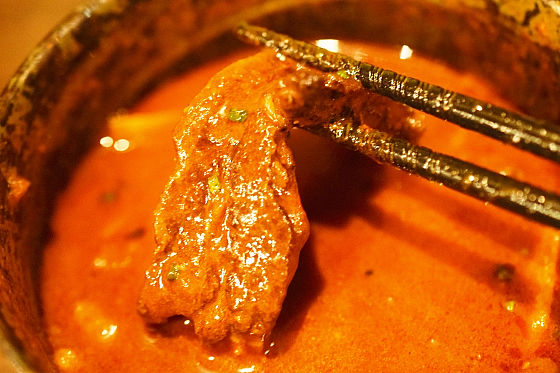 In order to avoid the taste becoming too thick, too, it seems good to eat the noodles soaked in the bottom junk only.



Complete food. Before eating, I prepared for "hot" and "amount" and went to the shop, but the most tight was salinity.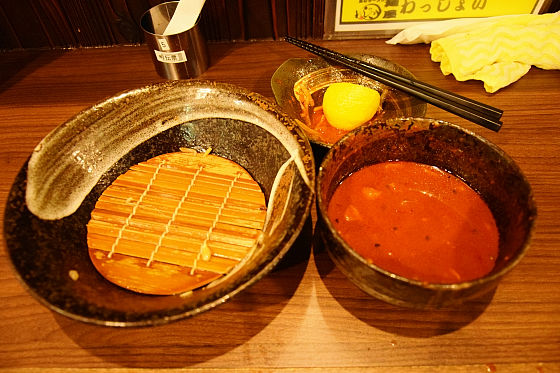 "I tried grinding a man with a spicy hot potatoes" is limited until September 30 (Tue). Incidentally,Dragon flagAt the general headquarters of Tsukuno 's menu "South & Dragon" a menu with vegetables on chilled chicken,Noodles and noodlesWe sell "Naniwa enemy (with) curry spicy soba" etc.

In addition, "I tried grinding a baked tofu noodle shrimp" is sold at home noodles with shipping fee included 2 meals set (2600 yen excluding tax). People who like original fans and salty foods may try it.

It is permanently immortal ramen sauser Wallee! It is! It is! "Naniwa Friends" and "Homepage .com", and 3 popular ramen stores in Osaka collaborate! It is!