I ate only the new wheat harvest time, so I ate noodle Yamaguchi's "New wheat plum salt Tsukisoba"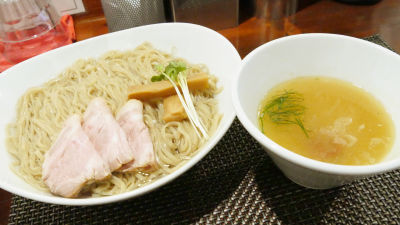 Located in Utsunomiya CityFlower seasonAn event that eats noodles using new wheat just harvested on a ramen shop farm called "Wheat Nouveau"is. In this event you can eat 10 creative menus using noodles using new wheat at 10 stores in Kanto. This time one of the shops that is offering wheat nouveau, in 2013TRY (Tokyo ramen of the year)In Waseda who won the first place in the New Tsukuba noodle category, there are noodles Yamaguchi's "Plum salt of fresh wheat chopsticksI went to eat.

"Rola no Yamaguri" shop owner diary
http://nyami.cocolog-nifty.com/nyami/

Lovely no yamago (nyamio) uses Twitter
https://twitter.com/nyamio

Arrived at the shop.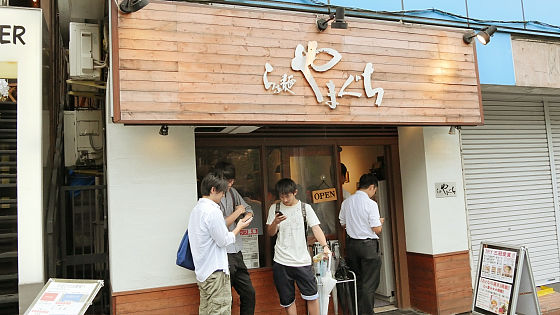 The store opened at 11:30, but a queue was made right after opening.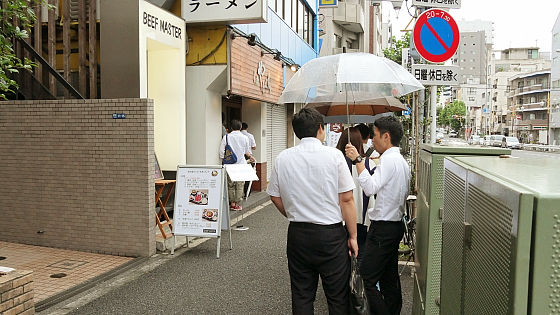 The clipping of the magazine was a mark of the shop.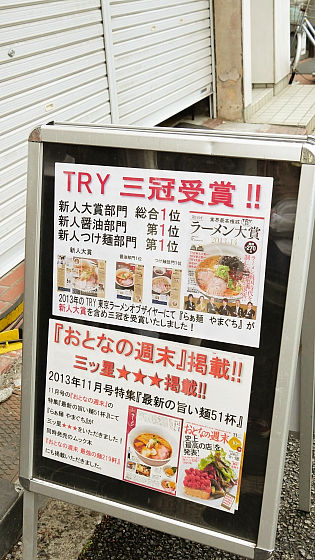 I went to the store inside the store in line for about 20 minutes. When I stand in front of a ticket office ......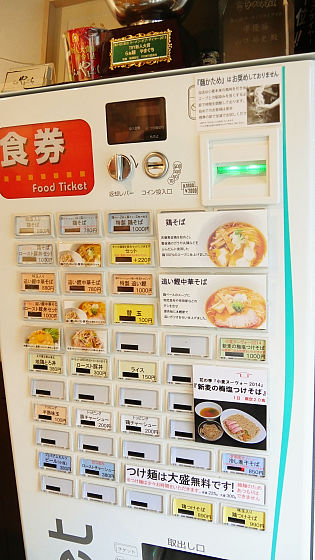 There are still 20 food limited "plum tomato sauce (1000 yen tax included)" of the new barley. Since the heap was also free, I order it in large heaps.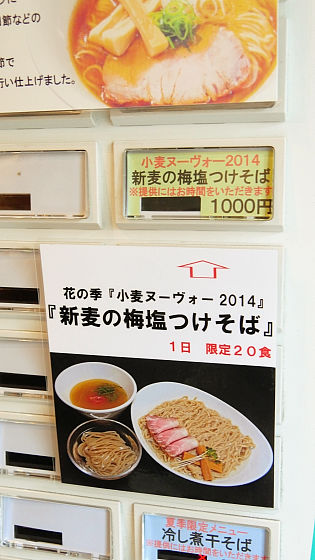 A trophy was placed on the ticket machine.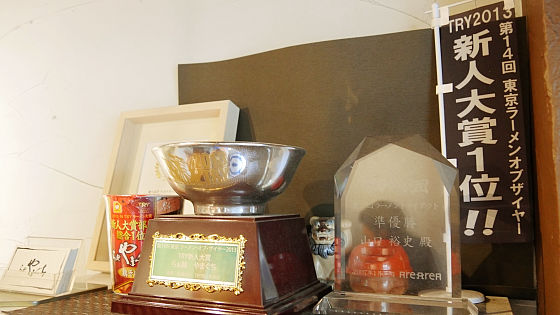 Also in the store are posters of wheat nouveau. Ramen no Yamago is one of the shops in the second half.



When sitting in the seat, I found a novelty of "New Yaku Meizashi Tsukisoba". It seems to be eaten with water soba and plum salt onion and sagger & kelp water.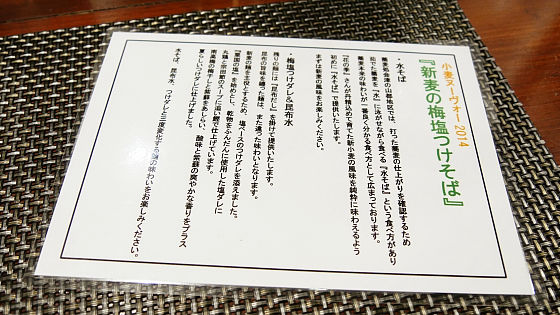 First of all, "water soba" which understands the original taste of the new wheat appeared.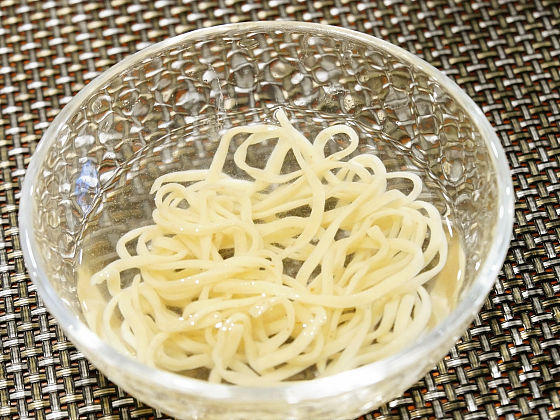 As you approach the noodles, you can see something like brown grains.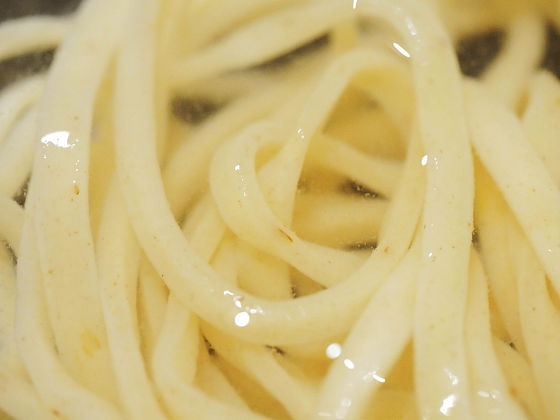 When I try to eat, the fragrance of the wheat spreads to the mouth, and I feel the sweetness slightly. Tsukemen is stuck to the comfort and eating texture in many places, but this noodle is made with noodles around the flavor taste like soba to the last, you can fully enjoy the taste of the material I will.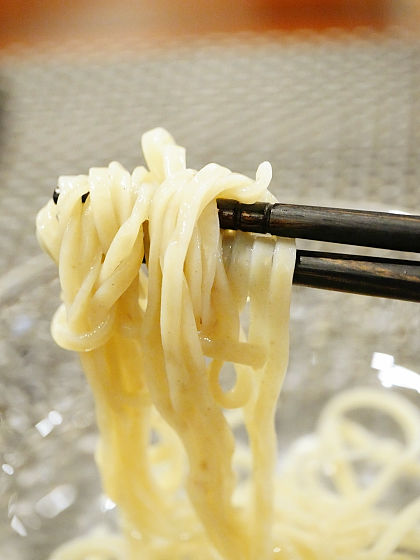 Next, a new wheat noodle floated in the kelp water and a sickle arrived.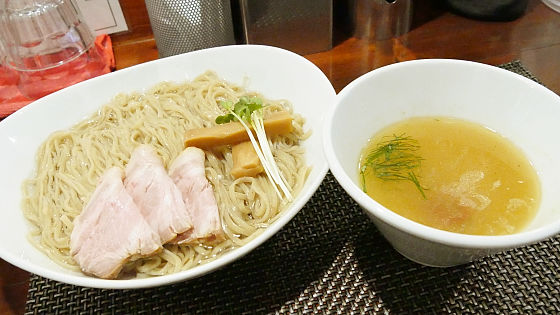 The lean remains in the barbecue.



Slightly thick menma and kaire are on it. It may be because you do not disturb the taste of wheat with the smell of green onion that is using Kaifu instead of green onions.



The noodles are used the same new wheat noodles as water soba, but they are immersed in kelp water.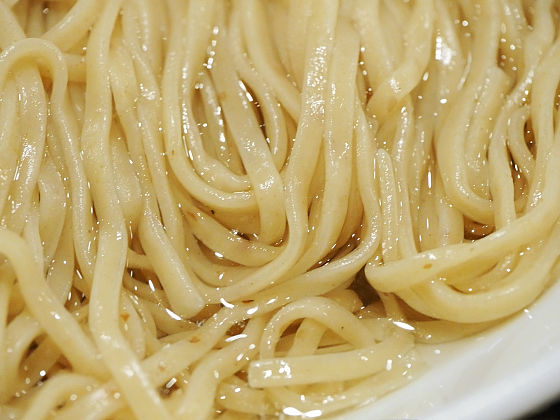 First of all, when you eat new wheat noodles that you have soaked in kelp water, the taste of wheat is firmly the same as water buckwheat, but the taste of wheat stands out by adding the saltiness and umami of kelp. Seasoning is never dark, but I could feel the taste of wheat more strongly.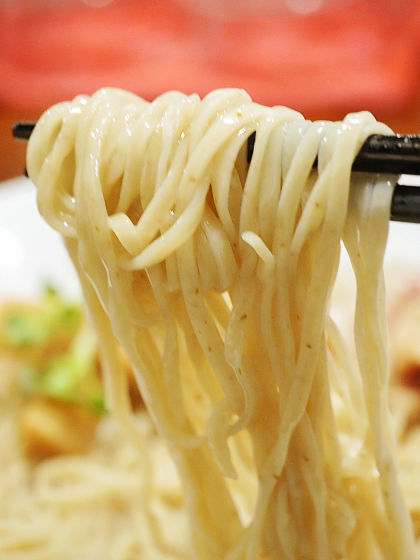 As for the kelp water, the extract of new wheat is also leaking out, and you can fully enjoy the taste of wheat and kelp. There is also a dress, but goodness of the material enough to think that it is complete as a dish without it.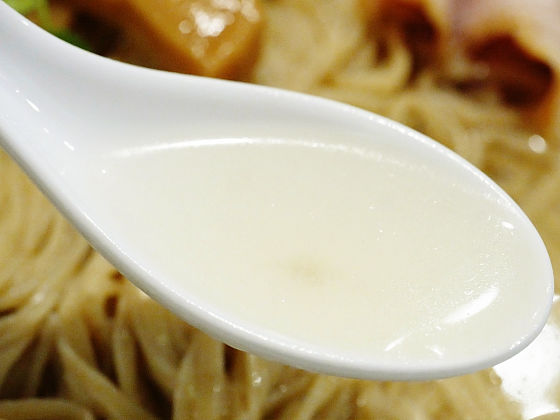 Chashu is also seasoned with a light taste, but as it is on water, the fat is solidified. It may be good to soak in mortar sauce and warm it for a while and eat it.



Menma and kaire are good accent with a good texture and refreshing feeling. It is a vegetable which smells less while giving a refreshing feeling, so it seems like a food ingredient chosen to make use of the texture of wheat.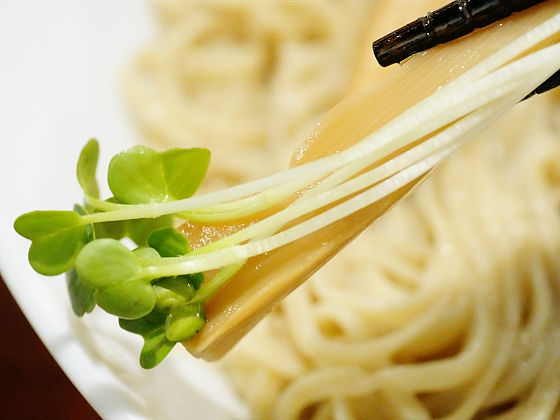 If you eat noodles soaked in kelp water, try eating noodles with sour sauce on plum salt.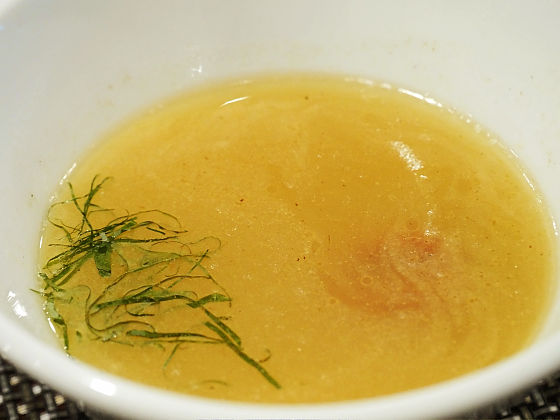 There was a big Japanese soba plum picked in a saga.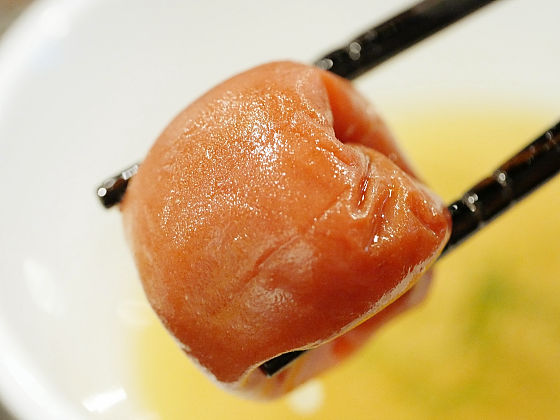 When eating dipped in noodles, the taste of chicken rich flavor and the soup of dry matter such as chasing bonito became tangled and changed to a slightly different taste. Dairet made a thin milk to make use of the taste of wheat, the feeling of soup stock is strong and impeccable quality. However, if you enjoy the original taste of wheat, it may be better to eat with noodles and kelp water without getting attached.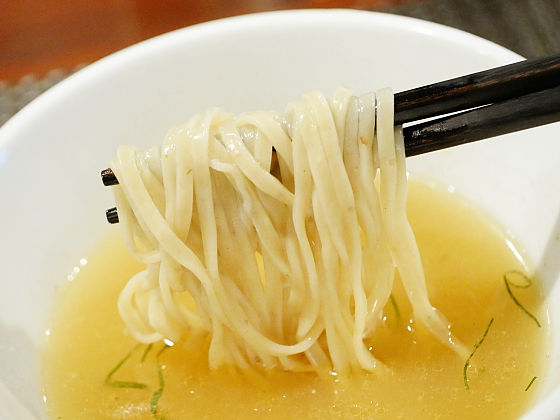 When eating together with Umeboshi it changes to a refreshing taste. Because plum and chicken compatibility is good, feeling good to eat with noodles. The price of 1000 yen including tax is not a cheap one as wearing noodles, but there are not many opportunities to taste the taste of new wheat so much, so if you have a chance to eat, you should order without hesitation.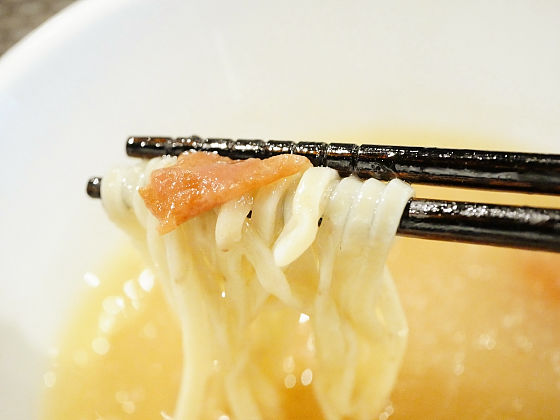 Wheat Nouveau is held until August 31, except for Yamaguchi, Yugawara's "Iida shop· It is offered at "G noodles 7" in Yokohama City · "Narumoru" in Toshima Ward · "Season of flowers" in Utsunomiya. Saturdays and Sundays on the last day crowded, it seems better to go to the shop soon because the limited number is going to be lost. It is recommended not only for people who like tsukemen and ramen, but also for those who like cuisine using wheat such as udon and bread.